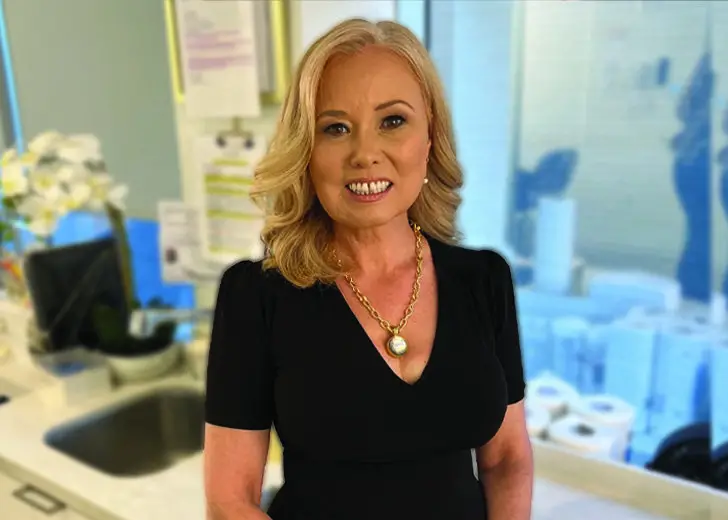 Quick Wiki
Full Name

Rebekah Irina Koffler

Nickname

Rebekah Koffler

Ethnicity

Russian-American

Nationality

American

Birthplace

Russia

Occupation

Author of Putin's Playbook: Russian's Secret Plan to Defeat America

Relationship Status

Married

Husband

Keith Koffler

Husband's Profession Former White House Reporter
Net Worth

Undisclosed
Author of Putin's Playbook: Russian's Secret Plan to Defeat America
Rebekah Koffler | Biography
Author and Strategic Intelligence Analyst
Rebekah Koffler is an US Intelligence expert. She is the author of the currently famous political book 'Putin's Playbook: Russia's Secret Plan to Defeat America.'
---
Who is Rebekah Koffler?
Rebekah Koffler is a renowned political author and former officer of the USA's Defence Intelligence Agency (DIA). She has primarily earned worldwide attention as the writer of the book 'Putin's Playbook: Russia's Secret Plan to Defeat America.'
Rebekah was born in Russia, and later when she became a young woman, she relocated permanently to the USA. She has not spilled out her exact date of birth yet. However, as per the April 2022 article in The Moscow Times, her current age is 56 years.
Regarding her career to date, Rebekah has served as DIA's Senior Intelligence Analyst for Russian Doctrine and Strategy for over eight and a half years, from July 2008 to December 2016. During her tenure, she did commendable jobs in briefing the White House, NATO, and Pentagon about Russian affairs. In addition, she has also led the red team during war games conducted by the U.S. military forces.
Rebekah's contribution to the U.S. Military and CIA (Central Intelligence Agency) has earned her the 'National Intelligence Professional Award.' Along with it, she was also popularly hailed as a national asset by the U.S. military commanders.
After retiring from the DIA in December 2016, Rebekah began working as an independent Doctrine and Strategy Consultant in January 2017. She is still providing her consultation services. At the same time, she is also tenured at Washington DC-based economic advisory firm, The Lindsey Group (TLG), as their Strategic Intelligence Agent. She joined TLG in November 2021 and is still associated with them.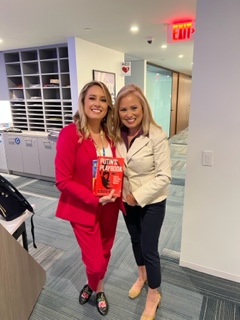 Putin's Playbook by Rebekah
Besides being a U.S. Intelligence expert, Rebekah is also a writer. Recently, on 27 July 2021, she published her book, 'Putin's Playbook: Russia's Secret Plan to Defeat America.' As the title suggests, the book emphasizes Russian President Vladimir Putin's way of thinking. Moreover, it explains Russia's or, more specifically, Putin's carefully devised plan to defeat America and how he is planning to do it.
Rebekah also recently discussed her book during an event at the Hollywood Foreign Press Association in April 2022. She put light on Putin's intention behind maneuvering forces in Ukraine and starting a war there. 
According to her, Russian President Putin wants to take Ukraine and other former Soviet states under its control to ultimately build a fighting power capable of defeating the United States of America. In Rebekah's words,
"Putin's ultimate goal with Ukraine is to bring it back under Russia's control as part of his strategy to reintegrate former Soviet states into a supranational type of alliance, not unlike the former Soviet Union. Putin's plan right now is to reestablish control of post-Soviet states minus the Baltics, because the Baltics are part of NATO. Putin fears NATO. There's nothing worse [for him] than the superior fighting capability of the U.S. and NATO forces."
Her Husband is a Former White House Reporter
Rebekah shares a longtime marital life with her husband, Keith Koffler. Unfortunately, she has not given out her wedding date to the public/media.
Keith Koffler is a renowned American journalist, news editor, and author. He is currently associated with the U.S. news site, The Washington Examiner as their senior political editor. He first joined them in May 2016 and has ever since worked there.
Before The Washington Examiner, Keith worked for more than 20 years as a White House Reporter. He is also the author of famous political books like 'Bannon: Always The Rebel' (published on 3 November 2017) and 'The Obama Scandals: The 22 Worst Outrages of the Obama Administration' (published on 3 May 2017).
As of now, the Koffler couple lives with their children at their house near Washington DC.