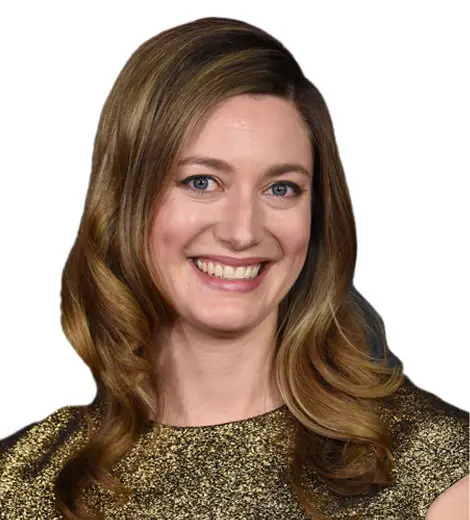 Quick Wiki
Full Name

Zoe Perry

Occupation

Actress

Nationality

America

Birthplace

Illinois, USA

Birth Date

Sep 26, 1983

Age

40 Years, 0 Months
Cast Of 'Young Sheldon'
Zoe Perry | Biography 2021
Zoe Perry portrayed the role of Mary Cooper in 'Young Sheldon,' the character originally played by her real mother, Laurie Metcalf, in the prequel sitcom 'The Big Bang Theory.' She said, "Genetics definitely played a very helpful part in this portrayal because I didn't have to really think about mimicking my mom as Mary — it's just part of who I am, to an extent."
---
Zoe Perry is an American actress, best known for portraying Mary Cooper, mother of Sheldon, in CBS sitcom Young Sheldon, a prequel to hit sitcom The Big Bang Theory.
Who is Zoe Perry?
A daughter of two successful actors, Zoe Perry, played in theater and television at a very young age. However, she entered the industry as a full-time actress after getting an acting bug in her early 20s. During her early career, she began playing minor roles and later earned to get recurring roles in the television series The Family and Scandal and finally landed the breakthrough role in the CBS sitcom Young Sheldon in 2017. 
Perry also performed in several theater productions, including the Broadway production of The Other Place in 2013. She also appeared in films such as Deception (2008), The Loss of a Teardrop Diamond (2008), Turkey Bowl (2011), Cotton (2014), and No Pay, Nudity (2016).
Early Life
Zoe Perry was born in Chicago, Illinois, the United States, on September 26, 1983, to the stage and television actor parents Jeff Perry and Laurie Metcalfe. Her father was also the co-founder of Steppenwolf Theatre Company, where he served as the Artistic Director. Perry graduated from Northwestern University. 
Early Career
Being raised in a family that was in show business, Perry landed a role in television series at a young age. She was eight years old when she appeared as Little Jackie in ABC's popular comedy-drama series Roseanne's Halloween IV episode in 1992. Perry reprised the role in another episode of the series as young Jackie in 1995. She appeared as a flashback of Jackie Harris's character, the character originally played by her mother, Laurie Metcalf.
About her early experience on television, Perry said, "That was really fun because I knew the crew and everyone very well because I grew up on that set from four years old," and added, "For me, it was just like an adventure, getting to play around with friends and getting to cut school for a day."
As a child, Perry never thought she would become an actress in the future. "I was pretty introverted," she recalled. "So it might have also been a shock to my family (for me) to pursue this later. But I don't know, it's a funny one. You sometimes get introverts in these professions," she added.
After a couple of on-screen appearances as a child actor, Perry stayed away from show business for nearly a decade. But, she suddenly got interested in acting during her time at University. 
Expressing how she got insights about the industry, she said, "I definitely feel very grateful that I've had an example with (my mother) and my father because it definitely helps to have a sounding board," she mentioned.
Theatre Works
In addition to television and films, Perry was also a known theater actress. In 1998, she performed in the production of Pot Mom at Steppenwolf Theatre. After several years of gap, she performed in The Lieutenant of Inishmore at Mark Taper Forum, The Autumn Garden, and Peace in Our Time at the Antaeus Theatre.
In 2013, she made her Broadway debut performing in The Other Place at the Manhattan Theatre Club with her mother Laurie Metcalf as the lead. Her other theatre works included the productions of Good Television at the Atlantic Theater Company and The Way West at Steppenwolf Theatre Company. In 2015, she performed the lead character Anna in the production of Anna Christie at the Odyssey Theatre alongside her real-life father Jeff Perry and Kevin McKidd. 
Movies
Perry made her big-screen debut in the short film Allegretto '75 in 2005. She then landed a minor role in the 2008 erotic thriller film Deception. The same year, Perry portrayed the role of Mathilde in the romantic film The Loss of a Teardrop Diamond. In 2011, she starred as Zoe in the comedy sports film Turkey Bowl. She was cast as Maxine in the 2014 drama film Cotton with Gary Cole. She then landed the lead role as Renie in the 2016 comedy-drama film No Pay, Nudity alongside Gabriel Byrne.
Television
After honing acting skills on stage, Perry returned to television in 2006. That year, she guest-starred in NBC's thriller drama series Law & Order: Criminal Intent's episode Vacancy. Then Perry made guest appearances in television series such as Conviction, My Boys, Cold Case, Private Practice, Ave 43, Grey's Anatomy, and Second Shot. She also earned recurring roles on the television series The Family and Scandal. Then she landed the famous role in CBS's hit sitcom Young Sheldon, portraying a younger version of Mary Cooper, a role her mother originated on its spin-off, The Big Bang Theory.
'The Family'
Perry made guest appearances in several series before landing the recurring role in the 2016 thriller television series The Family. She portrayed the role of Jane, kidnapper Doug Anderson's pregnant girlfriend in the series. The series aired for one season from March 3, 2016, to May 19, 2016. The series consisted of 12 episodes, and Perry appeared in nine episodes.
'Scandal'
In 2017, Perry got another significant role in ABC's political thriller television series Scandal alongside her father, Jeff Perry. She played Samantha Ruland, a malevolent behind-the-scenes player who had a hand in brokering former First Lady Mellie Grant's bid for the Presidency. The series ran over seven seasons from April 4, 2012, to April 19, 2018, for 124 episodes. Her father regularly starred in the series, and she appeared only in nine episodes of the series. Even though she had a few episodes in the series, it was enough for her role and father's role to cross paths. Her father also shared that co-working with his daughter was a great joy.
'Young Sheldon'
The same year, in 2017, Perry was cast as a series regular on the Chunk Lorre's highly anticipated comedy sitcom Young Sheldon, a prequel to hit sitcom The Big Bang Theory. She portrayed Mary Cooper in the series initially played by her birth mother, Laurie Metcalf, in The Big Bang Theory (2007-2019). 
Following her Mother's Footstep 
Laurie Metcalf, Perry's mother, is an Emmy-nominated artist. Adjoining the context of Metcalf's accomplishments, The Hollywood Reporter (2017) presented an interview with Perry where she openly conveyed her acceptance of the fact that her mother's success aided her in landing the role in Young Sheldon.
"I don't think there's any way to negate that because, why would you? We have lots of similarities when it comes to our voices and mannerisms, and I'm lucky that I have that at my disposal — not only for this part but in general. When I act, if I stumble upon something that reminds me, unintentionally or unconsciously, of either of my parents, I'm grateful for it because I respect them so much for what they've done. I know if something comes off or sounds like them, I've stumbled upon something good. it's a nice thing to have in my arsenal, whether I know how to harness it or not."
According to Perry, her mother's character assisted her in learning the East Texas accent as required while portraying the character of young Sheldon Cooper's mother.
"And I definitely watched all the episodes my mom had done on Big Bang Theory to make sure we were in the same ballpark", she told The New York Post in 2020. She further said that she signed up for a dialect coach when auditioning for Young Sheldon to help master the East Texas accent. 
"It's a surreal thing to be pursuing this profession that my parents are fairly established in, but it's also kind of a wild treat," Perry told Stuff (New Zealand news media) in 2020. She continued, "So getting to play this part has also been amazing because I very much admire what had already been established for the other Mary Cooper."
Though Perry earned the role through audition, she acknowledged, "Genetics definitely played a very helpful part in this portrayal because I didn't have to really think about mimicking my mom as Mary — it's just part of who I am, to an extent" in the same interview.
Perry's character, Mary Cooper is married to a school football coach, George Cooper, played by Lance Barber in the series. They together have three children including the titular, intellectual Sheldon (young), played by Iain Armitage.
"For me, it was just like an adventure, getting to play around with friends and getting to cut school for a day", she said in a conversation with Stuff (2020).
The Character, Mary Cooper
Further explaining the character she portrayed in the series, Perry said, "Mary Cooper is definitely a very attentive parent." She added, "She brings her faith to the table and expects a certain amount of decorum for her children, even if they don't always meet those standards. What's been fun about watching her progression on the show is that she can be, at times, rigid in her beliefs but there's this constant give and take about what to do when parenting children who don't necessarily share her beliefs."
For her role in Young Seldon, Perry was nominated for 'Best Supporting Actress in a Comedy Series' at the '9th Critics Choice Television Awards' in 2018.
'Young Sheldon' Season 5
The sitcom, Young Sheldon debuted on CBS in 2017 and has completed its fourth season on the network. The sitcom will be renewed for a fifth season, according to the announcement made by CBS Entertainment president Kelly Kahl in March 2021. Furthermore, CBS has extended the sitcom for three more seasons following Season 4, bringing it up to Season 7 and keeping it on the air until at least 2024.
Kahl stated, "The humor, warmth, and heart exuded by the Cooper family is an undeniable hook for the millions of fans who tune in each week. We're excited to see what the next three seasons have in store for a slightly older Sheldon and all the Coopers." 
CBS has yet to announce an official launch date, but Variety said that the fifth season will air nearby 2021-2022, and it's likely that the cast, Iain Armitage will return to the show alongside other co-casts, including, Zoe Perry, Lance Barber, Raegan Revord, Annie Potts, Montana Jordan, and Matt Hobby. 
'No Pay, Nudity'
The 2016 comedy film, No Pay, Nudity follows a group of elderly theatrical actors and their sufferings and prosperity across Broadway. Penned by TV producer Ethan Sandler (New Girl) and directed by theater expert Lee Wilkof, the film briefly captures the world of New York theater, actors' division.
In this comedic piece, Lester Rosenthal (stage name Lawrence Rose), performed by Gabriel Byrne, depict a time in his life when he is preoccupied with his work at the expense of his family and friends which in turn deprives him of the pleasures of both performing and living. However, a role as the Fool in a production of King Lear in his hometown convinced Lester that life may still provide minor pleasures and modest accomplishments. 
No Pay, Nudity is a tale of rediscovery and friendship, as well as showcases what it means to achieve or struggle in one's work and life. Zoe Perry portrays the character Renie in the movie.
Net Worth
According to Celeb Net Worth, Zoe Perry's net worth is at $800,000. Her annual income sums up to $100,000 and her monthly income to $8,333.33. She earns $273.97 per day.
Mother
Metcalf, Perry's mother, is best known for playing Jackie Harris on Roseanne (1988). She was nominated for a 'Tony Award' for 'Best Featured Actress in a Play' for her role in David Mamet's November in 2008, and her performance in Balm in Gilead in 1984, she received a 'Theatre World Award' and an 'Obie Award'. She was also nominated for an 'Emmy Award' for her work as Jackie Harris in Roseanne in the category of 'Supporting Actress in a Comedy Series' in 2018.
Father
Perry's father, Jeff Perry, ventured to the entertainment industry initially through plays, specifically the informal ones in a Highland Park church basement In 1974. He has appeared in three productions with the title Bridges: Brooklyn Bridge (1991) (TV series), Nash Bridges (1996) (TV series), and the upcoming Building Bridges whose premiere date has not been announced yet as of June 2021. He was nominated for a 'Joseph Jefferson Award' in 1993 for Awake and Sing! at the Steppenwolf Theatre Company in Chicago, Illinois, for 'Actor in a Supporting Role' in the play. Following his divorce with ex-wife Metcalf, he married Linda Lowy and they have a daughter, Leah Perry.
Personal Life
Perry's parents, Jeff Perry and Laurie Metcalf divorced in 1992. Her father married casting director Linda Lowy, and her mother married her co-star Matt Roth. Later, she became the older half-sister of Will Theron Roth, Mae Akins Roth, Donovan Roth, and Linda Perry.
Perry is not married and there is no information disclosed regarding her dating life.