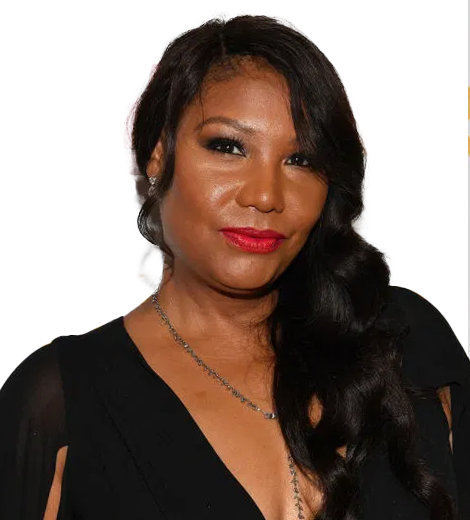 Quick Wiki
Full Name

Traci Braxton

Occupation

Singer, Actress, Radio Host

Nationality

American

Birthplace

Maryland, USA

Birth Date

Apr 02, 1971

Age

52 Years, 5 Months
Cast of 'Braxton Family Values'
Traci Braxton | Biography 2021
When Traci's eldest sister Toni Braxton got an opportunity to sign as a solo artist, Traci and other sisters Towanda, Trina, and Tamar, were generous enough to compromise on the situation and accepted the offer. The four sisters then landed on a record deal with the help of Toni and worked together and came up with an album. Traci has now released two solo albums 'Crash & Burn,' and 'On Earth.' Her third album is on its way.
---
Traci Braxton is an American singer and TV / Radio Personality. She is the first younger sister of R&B singer Toni Braxton.
Who is Traci Braxton?
Traci Renee Braxton was born on 2 April 1971 in Severn, Maryland, USA. Her father is Michael Conrad Braxton. She has four sisters and a brother.
Traci started her music career when she and her sister Toni signed with Arista records. With her third album on the way, she had recorded two solo albums, Crash & Burn and On Earth, in 2014 and 2018, which earned its significant rank in the Billboard Album chart.
She had also appeared in the show Braxton Family Values with all her sisters. In addition, Traci starred in movies such as Sinners Wanted (2018) and All In (2019). She also appeared in a reality show, Marriage Boot Camp Reality Stars. Besides her appearance on TV shows and movies, Traci hosted a radio program, The Traci Braxton Show.
Music Career
Traci's singing career started after she and her elder sister Toni signed with Clive Davis, founder of Arista Records. Soon, the eldest of the five sisters, Toni, got an opportunity to sign a record deal with Kenneth Brian Edmonds (Babyface), founder of LaFace Records, who doesn't want a girls group but a solo singer. Tonic recalled the day to The Los Angeles Times on what her sisters told her, "You sign with Babyface and then you come and help us."
Just after two years, Toni got her sisters a record deal on LaFace Records. When the person who signed her sisters left to Atlantic Records, he took them along. A few years later, the rest four sisters released a record. It wasn't enjoyed much in the US, but it did surprisingly well in other countries, especially in Asia.
Traci released two solo albums, and both received good reviews among critics. The first album, Crash & Burn, was released in 2014. It topped the Billboard Heatseekers Album chart and also debuted at 108th rank on the Billboard Hot 200 with record sales of 4000 in the first week. Her single 'Last Call' in the album was a mega-hit. 
Just before releasing Crash & Burn, Traci expressed her happiness to HipHollywood. "I am so happy to have finally branched off on my own with my singing career. It's something I've wanted to do for so long." "I'm excited that the world will see my true gifts are heaven sent and I am ready to face the world. Dreams do come true if you believe anything is possible. Crash and Burn, my first solo album. Yeeesss Hhhonneyyyy!!!," she added.
Traci released her second album, On Earth, in 2018, and she had more than 2000 monthly listeners on Spotify.  
Traci released a single track called 'Hurry' on 2020 Valentine's Day. Referring to this song, Traci said to CheatSheet, "It's real racy. It's not for the children. This is like baby-making music and it's the perfect time for it since we are all quarantined."
In 2015, all the Braxton sisters reunited and released a Christmas album. The last time such a reunion took place was in 1990 when they came up with their debut single 'Good Life.' Traci was also featured on the Kokayi rapper title 'Moonlight' in the year 2017. Likewise, in 2018 Traci released a single called 'Broken Things' that featured Toni, Towanda, and Trina.
Traci's new and third album is on its way.
'Braxton Family Values'
Braxton Family Values was a TV series that revolved around the lives of Braxton sisters Toni, Traci, Towanda, Trina, and Tamar, along with their mother. Produced by Mission Productions, the show first aired on 12 April 2011.
According to the eldest sister Tina, the show had changed their family dynamics. It was difficult during the initial days of filming as the sisters began to argue and recognize their indifferences more than usual. Tina felt that they were being exposed and became vulnerable.
However, Traci was just looking forward to having fun with her sisters and spending quality time with them on the series and didn't expect the show would be as popular as it had been.
During the show, Traci was seen struggling with her weight. Relating to her weight, she said, "People thought I got liposuction, but it was hard work and dedication that helped me to lose weight." "My gynaecologist, eating right and exercise helped me, not surgery," Traci said to Black Girl Nerds.
The rumors following the cancelation of the Braxton Family Values emerged in February 2020. However, Traci confirmed the show would return. "I haven't received a letter from WeTV. The show is coming back, we were never cancelled." "We are currently on hiatus from filming because of the shutdown due to coronavirus," Traci reported to Showbiz CheatSheet.
Movies
The singer made her debut in the TV One original 2018 movie Sinners Wanted. She portrayed the character of Nana, the grandmother of the lead's character. The movie was about the story of a pastor who fell in love with a sex worker. After realizing that his congregation found out about his relationship and were against it, the pastor strived to teach love and forgiveness. 
She also appeared in the 2019 movie All In, in which she played the role of a foster mother. The movie was premiered at the American Black Film Festival.  
Other Works
Traci appeared in a reality TV series Marriage Boot Camp Reality Stars.
She also hosted a radio show named The Traci Braxton Show that was aired live from Studio 202 in Washington, DC, and was broadcasted to a global audience tuned up in BLIS.F.M. The show aired every Saturday from 12 pm to 2 pm.