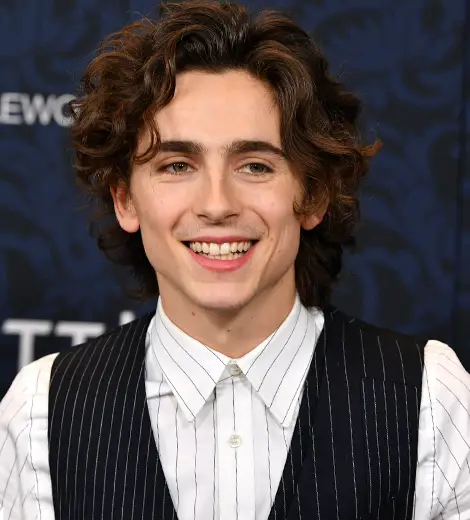 Quick Wiki
Full Name

Timothée Chalamet

Occupation

Actor

Nationality

American

Birthplace

New York, U.S.A.

Birth Date

Nov 27, 1995

Age

27 Years, 10 Months
Timothée Chalamet | Biography 2021
Elio in 'Call me by your name' 
An American actor, the third-youngest actor to be nominated for the Academy Awards. Infamous for his roles in Call me by your name (2017), The King (2019), and Little Women (2019). 
---
The third-youngest actor to be nominated for the Academy Awards, Timothée Chalamet is known for his roles in critically acclaimed movies like Call me by your name (2017), The King (2019), and Little Women (2019). 
Who is Timothée Chalamet?
Chalamet is an American actor, widely famous for portraying the role of Elio in the movie Call me by your name (2017). He also goes by the nicknames of Tim and Timmy. His other notable works include Beautiful Boy (2019) and A Rainy Day in New York (2019). He established himself through minor roles in major movies such as Interstellar (2014), Lady Bird (2017), and Hostiles (2017). 
For his role of Elio, Chalamet received his first Oscar nomination at the age of 22, becoming the third-youngest actor to be nominated under the category of Best Actor. Further, Interstellar and Lady Bird were nominated for Best Pictures at the Oscars, so he has appeared in three Academy-nominated movies.
Early Life 
Timothée Hal Chalamet was born on 27 December 1995, in New York City, USA, to Nicole Flender and Marc Chalamet. His mother was a dancer-turned-real estate agent, while his father worked in UNICEF as an editor and was a correspondent for the French daily newspaper Le Parisian. He grew up in Hell's Kitchen, Manhattan, NYC, with his sister Pauline Chalamet, who is also an actress and a writer. Passionate about singing, his sister started off through musicals and later appeared in Adulting, The King of Staten Island (2020), and Between Fear and Laughter (2016).
Timothée is bilingual, his father is French, and his mother completed her BA in French from Yale University, so he is fluent in the French language. While filming Call me by your name (2017) in Italy, he learned Italian too.  
Timothée pronounces his name as Timo-TAY but he doesn't mind the English pronunciation of Timothy as well.
High school
Chalamet attended Fiorello H. LaGuardia High School of Music, Art, and Performing Arts, following in the footsteps of his mother and sister. Though he wasn't interested in acting as a child and began his career in commercials, his interest shifted in high school. Alongside his developing passionate involvement in acting, he was also a bright student at LaGuardia. 
"I had some excellent teachers and really fell in love with acting. I saw that it could be and should be treated as a craft, it doesn't have to be this kind of machine of fakeness or anything like that", he said to Bwog in 2013 expressing his sincerity to LaGuardia High School of Music, Art and Performing Arts
Although he couldn't get the lead role in school musicals for a few years because his former classmate, the Fault in Our Stars cast, Ansel Elgort, always had it, he starred in school musicals as Emcee in Cabaret and Oscar Lindquist in Sweet Charity. In 2013 he graduated from Fiorello H. LaGuardia High School of Music & Art and Performing Art. 
Columbia University
After graduating high school, he considered becoming a full-time actor, but his agent, especially his mother, forced him to enroll at Columbia University in New York to major in cultural anthropology. 
"It was difficult going from performing arts school into an intense academic environment, which is Columbia. I was surrounded by insanely driven people", he said in an interview.
"I am someone who is turned on by independence, maybe almost too much. It was the first time I left home. Initially, I lived in the dorms but then left halfway through the year. I was like: What am I doing here when I have a nice big bed at home—and good food and wonderful loving parents? Now I just moved off campus with roommates: Washington Heights. Watch out world, here I come!" he added with a particular emphasis on Independence which he enjoyed at Columbia University.
But by the end of his freshman year, he realized he already had a career interest which he would like to pursue in life. So he chose acting over being trained for a backup career, and despite his mother's consistent effort to make him academically invested, he moved out to the Bronx, where his family had lived for several generations and where the rent was affordable for a struggling actor.
Timothée enrolled at NYU in the fall of 2015, after dropping out of Columbia University in 2013. He attended NYU in the fall of 2015 and spring of 2016 but could not continue due to the demands of his ventures.
Career
Although he had appeared in commercials and had a minor role in the television series Law and Order (2009), in the movie Loving Yeah (2010), and an off-broadway play, The Talls. His marked performance was in the series Homeland, on which he worked after having just graduated from La Guardia in 2012. And he, along with the cast, got nominated for the SAG under the category of Outstanding Performance by an Ensemble in a Drama Series. 
Later he made his film debut in 2014, from the movie Men, Women and Children (2014). In the same year, he appeared in Christopher Nolan's Interstellar (2014), after which he left Columbia to join the New York Gelatin. 
Consequently, in 2015, he appeared in The Adderall Diaries and One and Two, and in 2016 he appeared in Miss Stevens and stage theatre Prodigal Son. 
2017 was a turning point in his career, he had appeared in Scott Cooper's Hostiles (2017), and two oscar nominated movies—Lady Bird (2017) and Call me by your name (2017). He had minor roles in Hostiles and Lady Bird, but the lead role in Call me by your name.  
Subsequently, in 2018 he starred in Beautiful Boy (2019) alongside Steve Carell, portraying a troubled teenager's role. He got nominated for the SAG, Golden Globe, and BAFTA under the category of Best Supporting Actor. 
In 2019 he acted in three projects, Woody Allen's A Rainy Day in New York (2019), two of them were historical dramas—The King (2019) and Little Women (2019). 
Other than acting, he made his hosting debut on December 12, 2020, from Saturday Night Live's comedy episode, Timothée Chalamet-Bruce Springsteen. Then in 2021, he appeared as Edgar Scissorhands from the movie Edward Scissorhands, alongside Winona Ryder in Cadillac Super Bowl LV Commercial. 
'Call me by your name' and Timothée Chalamet
Directed by Luca Guadagnino, Call Me by Your Name is a 2017 coming-of-age romantic film that features remarkable cinematic depictions of homosexual love. The movie was set in the summer of 1983 and manifests the then hardship of coming out. Furthermore, Sayombhu Mukdeeprom's captivating camera work passionately captured the holiday snapshots, bleached and sultry scenes with the 80's presentation that portrayed the movie's significance of summer of genuine love.
Call me by your name was based on a novel by Andre Aciman of the same name. Chalamet played the role of 17-year-old Jewish Italian boy Elio who falls in love with his father's summer student Oliver, a role portrayed by Armie Hammer. The story unfolds through Elio's perspective, his confused emotions as a gay teenager dealing with his sexuality, love, friendship, and heartbreak.
"We had the luxury of three weeks together in advance of filming," Chalamet shared to The Guardian on building chemistry with his co-star Hammer. "So we were able to build this chemistry naturally. Sometimes, when you act with someone in an intimate capacity, you have to ask vulnerable questions to speed up intimacy – but that's artificial," he added.
Hammer also took a chance to explain the pace of the film in the same interview.
"The film, unusually, was shot almost entirely chronologically and, with every scene, the intimacy built. It was like foreplay, where you know the excitement is coming and build slowly, slowly, slowly". With a strong belief in the power of non-verbal signals, he added 'Ninety-eight percent of all human communication is non-verbal."
The movie was a financial and critical success worldwide and grossed over 42 million dollars, compared to its 3.4 million dollar budget. It received three nominations at the 2017 Oscars—Timothee was nominated for 'Best Actor', the theme song Mystery of Love for 'Best Original Song', and the script for 'Best Adapted Screenplay'.
Award and nomination
Chalamet holds numerous accolades for his performance in films. He had been nominated for 'Young Entertainer Award' for 'Best Young Ensemble Cast - Feature Film' in Love the Coopers (2015), 'Women Film Critics Circle Award' for 'Best Actor' in Call Me by Your Name(2017), 'Washington DC Area Film Critics Association Award' for 'Best Supporting Actor' in Beautiful Boy (2018) and 'Best Actor' in Call Me by Your Name respectively. 
Furthermore, he was nominated for 2017; 'Vancouver Film Critics Circle Award' for 'Best Actor' in Call Me by Your Name, 2018; 'Teen Choice Award' for 'Choice Movie Actor: Drama' in Lady Bird, 2013, 2018 and 2019 'Screen Actors Guild Award' for 'Outstanding Performance by an Ensemble in a Drama Series' in Homeland, 'Outstanding Performance by a Cast in a Motion Picture' in Lady Bird and 'Outstanding Performance by a Male Actor in a Supporting Role' in Beautiful Boy respectively; each nomination shared with his co-stars in the respective film. 
Additionally, he was nominated for the 2018 and 2019 ' BAFTA Film Award' for 'Best Supporting Actor' in Beautiful Boy and 'Best Leading Actor' in Call Me by Your Name. He was also nominated for the 2018 'Oscar Award" for 'Best Performance by an Actor in a Leading Role' in Call Me by Your Name.
Chalmete's Call me by your Name has won several recognitions like 2017; 'Phoenix Critics Circle Award', 'Chicago Film Critics Association Award', 'Boston Online Film Critics Association Award', 'Kansas City Film Critics Circle Award', 'Los Angeles Film Critics Association Award' for the category of ' Best Actor', 2018; 'Online Film & Television Association Film Award' for 'Best Breakthrough Performance: Male', 2017; 'New York Film Critics, Online Award' for 'Breakthrough Performance and many more.
Upcoming projects
A conglomerate of comedy, drama, and romance, The French Dispatch has completed its filming and is set to exhibit Chalamet as Zeffirelli on 22 October 2021. Chalamet is awaiting the premiere of the adventurous sci-fi drama, Dune on 17 September 2021, where he will be playing the lead role of Paul Atreides. 
The Netflix film Don't Look Up is in its post-production phase and is set to be on screen in 2021 featuring Chalamet as Quentin alongside popular co-stars like Leonardo DiCaprio, Melanie Lynskey, and Matthew Perry. He is also filming for seemingly a thriller film Bones & All where he would appear as the character Lee. 
Besides this, he would also appear in Willy Wonka as the titular character on 17 March 2023. In Warner Bros. and the Roald Dahl Story Co's. Willy Wonka, Chalamet will play the iconic inventor and chocolatier Willy Wonka. Based on Roald Dahl's characters, the story will follow a young Willy Wonka and his adventurous journey before opening the world's most famous chocolate factory. According to Deadline, Willy Wonka will be Chalamet's first opportunity to showcase his musical abilities, with several musical numbers set to appear in the film. For quite some time, he has been the clear favorite in the entertainment industry,
Personal relationships
Chalamet dated Lourdes Leon—singer Madonna's daughter—when they were in high school. In 2019, he was in a relationship with Lily-Rose Depp, but they separated after a year of dating.
Net Worth
As of 2020, his net worth is estimated to be USD 6 million, which is 4.6 million pounds. 
He is also popular on social media with over 12 million followers on Instagram.
Interesting Facts about Timothee Chalamet
1. Chalamet did not make it into LaGuardia in the interview stage, but his sophomore drama teacher gave him the highest score for his enrollment. 
2. In high school, Chalamet was classmates with Ansel Ergot, who would land all the major roles in school plays.  
3. He was only 17 when he joined Columbia University.  
4. He wanted to be a full-time actor, but his mother insisted he attended college. So, he enrolled at Columbia but eventually transferred to Gallatin School of Individualized Study at NYU.
5. He thought Interstellar was going to be his career breakthrough, but it did not. He struggled financially and emotionally for a while after that. 
6. He auditioned for the role of Marvel's Spider-man. He thought getting the part would be like winning the lottery. 
7. Originally, his character in Call me by your name did not have a french-speaking characteristic. It was later modified for him.  
Fact-checking and Ethical Concerns
We assure our audience that we will remove any contents that are not accurate or according to formal reports and queries if they are justified. We commit to cover sensible issues responsibly through the principles of neutrality.
To report about any issues in our articles, please feel free to Contact Us. Our dedicated Editorial team verifies each of the articles published on the Biographyhost.