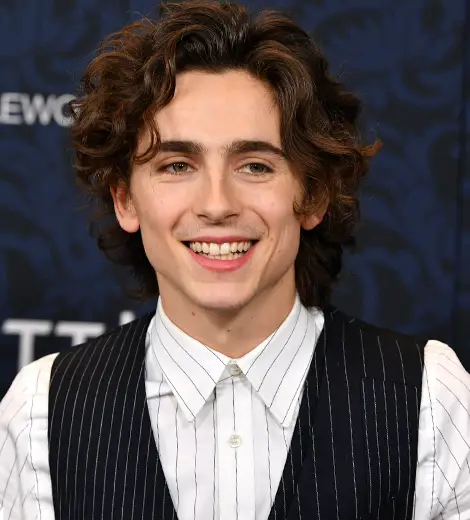 Timothée Chalamet | Biography 2021
An American actor, the third-youngest actor to be nominated for the Academy Awards. Infamous for his roles in Call me by your name (2017), The King (2019), and Little Women (2019). 
---
The third-youngest actor to be nominated for the Academy Awards, Timothée Chalamet is known for his roles in critically acclaimed movies like Call me by your name (2017), The King (2019), and Little Women (2019).
Who is Timothée Chalamet?
Chalamet is an American actor, widely famous for portraying the role of Elio in the movie Call me by your name (2017). His other notable works include Beautiful Boy (2019) and A Rainy Day in New York (2019). He established himself through minor roles in major movies such as Interstellar (2014), Lady Bird (2017), and Hostiles (2017).
For his role of Elio, Chalamet received his first Oscar nomination at the age of 22, becoming the third-youngest actor to be nominated under the category of Best Actor. Further, Interstellar and Lady Bird were nominated for Best Pictures at the Oscars, so he has appeared in three Academy nominated movies.
Early Life and Education
He was born Timothee Hal Chalamet on December 27, 1995, in New York City, USA, to Nicole Flender and Marc Chalamet. His mother was a dancer-turned-real estate agent, while his father worked in UNICEF as an editor and was a correspondent for the French daily newspaper Le Parisian.
He grew up in Hell's Kitchen, Manhattan, NYC, with his sister Pauline Chalamet, who is also an actress and a writer. Timothee is bilingual, his father is French, and his mother completed her BA in French from Yale University, so he is fluent in the French language. While filming Call me by your name (2017) in Italy, he learned Italian too.
In 2013 he graduated from Fiorello H. LaGuardia High School of Music & Art and Performing Art. After high school, he spent a year at Columbia University but eventually moved to the Bronx and enrolled at New York University Gallatin School of Individualized Study.
Career
Although he had appeared in commercials and had a minor role in the television series Law and Order (2009), in the movie Loving Yeah (2010), and an off-broadway play, The Talls. His marked performance was in the series Homeland, on which he worked after having just graduated from La Guardia in 2012. And he, along with the cast, got nominated for the SAG under the category of Outstanding Performance by an Ensemble in a Drama Series.
Later he made his film debut in 2014, from the movie Men, Women and Children (2014). In the same year, he appeared in Christopher Nolan's Interstellar (2014), after which he left Columbia to join the New York Gelatin.
Consequently, in 2015, he appeared in The Adderall Diaries and One and Two, and in 2016 he appeared in Miss Stevens and stage theatre Prodigal Son.
2017 was a turning point in his career, he had appeared in Scott Cooper's Hostiles (2017), and two oscar nominated movies—Lady Bird (2017) and Call me by your name (2017). He had minor roles in Hostiles and Lady Bird, but the lead role in Call me by your name.
Call me by your name was based on a novel by Andre Aciman of the same name. The movie was set in the summer of 1983. Chalamet played the role of 17-year-old Jewish Italian boy Elio who falls in love with his father's summer student Oliver, a role portrayed by Armie Hammer. The story unfolds through Elio's perspective, his confused emotions as a gay teenager dealing with his sexuality, love, friendship, and heartbreak.
The movie was a financial and critical success worldwide and grossed over 42 million dollars, compared to its 3.4 million dollar budget. It received three nominations at the 2017 Oscars—Timothee was nominated for Best Actor, the theme song Mystery of Love for Best Original Song, and the script for Best Adapted Screenplay.
Subsequently, in 2018 he starred in Beautiful Boy (2019) alongside Steve Carell, portraying a troubled teenager's role. He got nominated for the SAG, Golden Globe, and BAFTA under the category of Best Supporting Actor.
In 2019 he acted in three projects, Woody Allen's A Rainy Day in New York (2019), two of them were historical dramas—The King (2019) and Little Women (2019).
Other than acting, he made his hosting debut on December 12, 2020, from Saturday Night Live's comedy episode, Timothée Chalamet-Bruce Springsteen. Then in 2021, he appeared as Edgar Scissorhands from the movie Edward Scissorhands, alongside Winona Ryder in Cadillac Super Bowl LV Commercial.
Personal relationships and Net worth
Chalamet dated Lourdes Leon—singer Madonna's daughter—when they were in high school. In 2019, he was in a relationship with Lily-Rose Depp, but they separated after a year of dating.
As of 2020, his net worth is estimated to be USD 6 million, which is 4.6 million pounds.
Interesting Facts about Timothee Chalamet
1. Chalamet did not make it into LaGuardia in the interview stage, but his sophomore drama teacher gave him the highest score for his enrollment.
2. In high school, Chalamet was classmates with Ansel Ergot, who would land all the major roles in school plays.
3. He was only 17 when he joined Columbia University.
4. He wanted to be a full-time actor, but his mother insisted he attended college. So, he enrolled at Columbia but eventually transferred to Gallatin School of Individualized Study at NYU.
5. He thought Interstellar was going to be his career breakthrough, but it did not. He struggled financially and emotionally for a while after that.
6. He auditioned for the role of Marvel's Spider-man. He thought getting the part would be like winning the lottery.
7. Originally, his character in Call me by your name did not have a french-speaking characteristic. It was later modified for him.
Fact-checking and Ethical Concerns
We assure our audience that we will remove any contents that are not accurate or according to formal reports and queries if they are justified. We commit to cover sensible issues responsibly through the principles of neutrality.
To report about any issues in our articles, please feel free to Contact Us. Our dedicated Editorial team verifies each of the articles published on the Biographyhost.