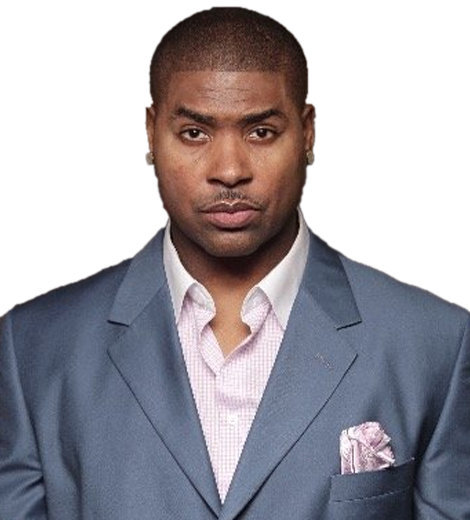 Quick Wiki
Full Name

Tariq Nasheed

Nickname

Tariq Elite, King Flex, K-Flex

Occupation

Author, Film Producer, Radio/Podcast Host

Nationality

American

Birthplace

Michigan, USA

Birth Date

Jul 01, 1974

Age

49 Years, 3 Months
Author of 'The Art of Mackin'
Tariq Nasheed | Biography 2021
Lead Vocalist of the R&B band Mink Slide
Tariq Nasheed traveled around the world at a young age, meeting people from different walks of life and studying their views on relationships. He then came up with dating strategies G.I.C.2 (game, intelligence, and common sense, squared) and went on to teach people the skills. With that experience, he authored America's best-selling book 'The Art of Mackin' and continued writing many related books on seduction, which has laid the foundation for today's seduction industry.
---
Tariq Nasheed is an author of book 'The Art of Mackin' and the producer of the documentary series 'Hidden Colors.'
Who is Tariq Nasheed?
Tariq Nasheed, also known as Tariq Elite, King Flex, K-Flex, is an American author, producer, and musician. He is famously known for his motivational talks and podcasts.
Nasheed moved to Los Angeles when he was 17 years old, after which he traveled around the world and came with dating strategies, known as G.I.C.2 (game, intelligence, and common sense, squared).
With his knowledge and experience teaching the strategies, Nasheed wrote his first book 'The Art of Mackin', in 1999. It became immensely successful.
Then, he continued writing books, which include 'Play Or Be Played' (2004), 'The Mack Within' (2005), 'The Art of Gold Digging' (2008), and 'The Elite Way: 10 Rules Men Must Know In Order To Deal With Women' (2009).
In 2011, he began a documentary film series titled Hidden Colours and released five short movies in subsequent years. 
Nasheed is also the lead singer of the R&B band Mink Slide, whose debut album was Egyptian Musk. 
He hosts two talk shows, The Mack Lessons Radio Show and Tariq Elite Radio Show.
Nasheed claims himself as the "World's #1 Race Baiter" against white supremacy. His comments and opinions against white supremacists have been the topic of headlines on social media due to its controversial nature.
Early Life
Tariq Allah Nasheed was born on 1 July 1974 in Detroit, Michigan, United States.
He moved from Detroit to Birmingham, Alabama, at a young age. Due to the monotony of the social scene in Birmingham, he saved up $125 for a plane ticket and moved to Los Angeles, California, when he was 17 years old.
After relocating to Los Angeles, Nasheed got the opportunity to travel around the world and understanding people's views on relationships in various countries and customs. He developed dating strategies that were a blend of what he learned from older hustlers he met on the streets of Los Angeles, from psychology books, and through dealing with individuals from various nations.
Nasheed dubbed those tactics and named it G.I.C.2 (game, intelligence, and common sense, squared). He took on the role of game counselor and began teaching his G.I.C.2 skills to men and women in Los Angeles.
Career
With that experience, Nasheed published his first book in 1999, titled 'The Art of Mackin'. The book became a huge success and went on to sell over 250,000 copies. The content of the book established the foundation for the present seduction industry.
His follow-up book 'Play Or Be Played' was released in 2004. It was focused and written for women who wanted to learn the game of seduction. Nasheed also published 'The Mack Within,' in 2005, for men.
In 2008, he published another book, 'The Art of Gold Digging,' which received mixed reviews from readers and created many controversies surrounding the subject. Next year, he published 'The Elite Way: 10 Rules Men Must Know In Order To Deal With Women.'
Movies
After his success in books, Nasheed started a documentary film series, Hidden Colors, in 2011. The series released five short movies, Hidden Colors: The Untold History of People of Aboriginal, Moor, and African Descent (2011), Hidden Colors 2: The Triumph of Melanin (2012), Hidden Colors 3: The Rules of Racism (2014), Hidden Colors 4: The Religion of White Supremacy (2016), and Hidden Colors 5: The Art of Black Warfare (2019). 
After Hidden Colors 5 was screened in the United Kingdom, Nasheed was barred from returning to the country. The UK Home Office deemed that his production was not conducive to the public good.
He also wrote and directed a horror movie Dark Medicine in 2013 and produced 1804: The Hidden History of Haiti in 2017.
Alongside his books and movies, he appeared on several shows, including The Tonight Show with Jay Leno, Late Night with Conan O'Brien, MTV Made, and various VH1 and BET programs.
Music and Podcasts
Nasheed was a member of a rap group called The Ghetto Dynasty and released several rap albums such as What's The Name Of Yo Hood?
He later became the lead singer of the R&B band Mink Slide and released a debut album, Egyptian Musk. The album was at no. 12 on the 'Billboard R&B Albums' rankings in 2018. 
Nasheed had also collaborated with the lead vocalist of The APX, Erika Dawn, and released the song 'Your Touch.' It was produced by The APX.
Also, Nasheed gives motivational seminars and talk shows related to his book, 'The Art of Mackin'. The shows, usually called, Mack Lessons sell his venues often, so he started a radio show, The Mack Lessons Radio Show. The show and the podcast have gained over 100,000 subscribers. In 2021, Nasheed launched another show called Tariq Elite Radio Show.
Personal Life
In 2014, Nasheed married Peanut Nasheed, and they have three children - one daughter and two sons.
Controversies
Nasheed refers to himself as the "World's #1 Race Baiter" and sees himself as a fighter against white supremacy and racism in the Black community. Hence, he has been the talk of the discussion on social media on many occasions for his ideas and comments against white supremacists.
Nasheed referred to black women who date outside their race as 'bed wenches,' which had revived and popularized the word. It was the term used in the fourteenth century to insult black women whom their masters raped during slavery. His use of the phrase has been questioned because it excludes a black woman who chooses to have relationships and consensual sex outside her race. 
A bed wench, in Nasheed's definition, is a black woman who defies black patriarchy's institutions. He also developed the phrase "Negro bed wench mindset," which he discusses in-depth on his podcast.
In 2021, he received backlash from Twitter after posting a video of a mentally ill gay man having a breakdown at work. He chose to share a video of a distressed Holiday Inn employee being harassed by the videographer, a Black customer who appeared to be upset about a reservation system error.
The employee appeared to be unable to resolve the problem and claimed that he had mental health issues and he would need some time to complete the work. The customer, on the other hand, continued to follow him and personally criticized the employee. It escalated to the point where the employee was so upset that he repeatedly banged his head on the computer monitor with tears streaming down his face and attempted to flee the place. The client kept filming and following the man while essentially mocking him.
Nasheed, in his content, quoted that the employee was racist by reacting in this manner to a Black man from correcting him for a mistake. He added that before the commencement of the video, the employee called the customer with the 'N' word.
However, the employee seemed to have a different notion of the incident, which he shared on his Reddit account. He claimed that the customer used a homophobic slur against him and that he wasn't offended.
Nasheed and the employee's claims were not corroborated. And, Nasheed was highly criticized by LGBTQI and mental health activists on the media for his actions, creating a chain of social controversy on Twitter. 
Fact-checking and Ethical Concerns
We assure our audience that we will remove any contents that are not accurate or according to formal reports and queries if they are justified. We commit to cover sensible issues responsibly through the principles of neutrality.
To report about any issues in our articles, please feel free to Contact Us. Our dedicated Editorial team verifies each of the articles published on the Biographyhost.