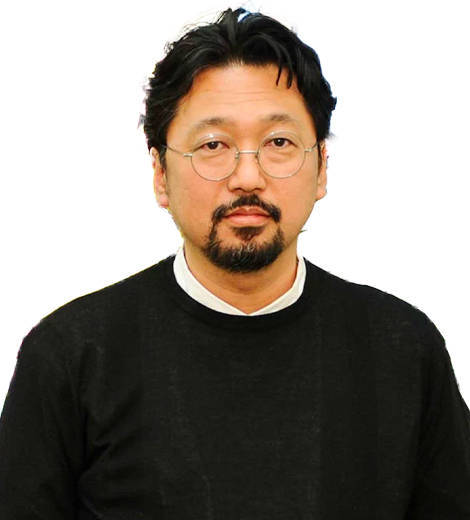 Quick Information
Full Name

Takashi Murakami

Occupation

Contemporary Artist and Entrepreneur

Nationality

Japanese

Birthplace

Tokyo, Japan

Born Year And Birthday

1-02-1962
Takashi Murakami | Biography 2021
Japanese contemporary artist and entrepreneur, Takashi Murakami is famous for his ability to adapt traditional Japanese art aesthetics to work in the context of contemporary culture.
---
Quick Information
Full Name

Takashi Murakami

Occupation

Contemporary Artist and Entrepreneur

Nationality

Japanese

Birthplace

Tokyo, Japan

Birth Date

1-02-1962
Takashi Murakami is a Japanese contemporary artist and entrepreneur who works in fine arts and commercial media. Murakami is known for his ability to adapt traditional Japanese art aesthetics to contemporary culture.
Who is Takashi Murakami?
Murakami first came to prominence as a sculptor in the early 1990s, when he used his art to investigate otaku and the differences between modern Japanese society and American culture. A curator and critic of Japanese art, Murakami showcased his first solo show in 1989 at the Ginza Surugadai Gallery in Tokyo.
In 1996, to work in a more diverse array of media, he set up the Hiropon Factory in Japan, which later became a prominent art and artist management company, Kaikai Kiki Co., Ltd. In 2000, he established the "super flat" movement, a post-modern style inspired by Japanese manga (Japanese comics), graphic design, and traditional Japanese prints and screen paintings.
Blurring the distinctions between fine art and mass culture throughout his career, Murakami has successfully branded and commercialized his work. In 2003, the artist started working with Marc Jacobs to redesign the Louis Vuitton logo and handbags, demonstrating his embrace of the commercial side of fashion.
Collaborating with a wide range of artists, he has worked with famous people such as Pharrell Williams, fashion designer Virgil Abloh, Billie Eilish, Drake.
In 2020, Murakami's artwork was featured on a Supreme Box Logo Tee. Later during the COVID-19 pandemic, all of the proceeds were donated to Benefit USA, which supports youth and families who are homeless.
In 2021, he worked with IVXLCDM on a gold necklace inspired by his 10-meter-tall golden sculpture in Tokyo's Roppongi Hills. Also, the Japanese visual artist reveals that he has begun "rough sketches" for a horror-style anime based on a design by Juice WORLD for his upcoming work.
Early Life & Education
Born on February 1, 1962, in Tokyo, Japan, Murakami's parents introduced him to art by taking him to exhibitions from an early age. But for a young kid, the experience was detesting until one particular moment. When he was eight years old, he had to wait in line with his family for three hours to see a Spanish painting by Francisco Goya. The work depicted the horrifying image of Titan Cronus (or Saturn) devouring his own children, evoking powerful emotions, and serving as the inspiration for his subsequent painting. It taught him that if his work does not move people and elicit a "wow!" reaction, then it was all for nothing.
In elementary school, Murakami became interested in reading manga and watching anime, and he became fascinated with "Ultraman," a robot anime, and sport-themed manga about boxing and baseball. These experiences assisted him in making films, animations, and paintings as well as sculptures.
After an accident in the playground, Murakami couldn't go to school for a month in seventh grade, and as a result, he fell behind academically. As a result, he started high school with a poor academic record, which eventually hampered his studies. So, he became more obsessed with anime and manga, transforming into an otaku—a Japanese term for people with consuming interests, particularly in anime and manga.
Because of his interest in art, Murakami decided to attend pursue fine arts in university. However, he had to reapply twice after failing the entrance exams for art universities. But with commitment, persistence, and help from a preparatory school, he finally got accepted to Tokyo National University of Fine Arts and Music, where he earned his bachelor's degree in 1986.
Career
After finishing his studies, Murakami started to showcase his work in solo and group shows. In 1994, he received a fellowship from the Asian Cultural Council and participated in the PS1 International Studio Program in New York City. During his one-year stay, Murakami was exposed to Western contemporary artists such as Anselm Kiefer and Jeff Koons. Influenced by their work, he established a small studio, which, together with the Hiropon Factory in Japan, became the precursor to Kaikai Kiki.
After returning to Japan, he developed the core concepts behind his practice and began exhibiting regularly at major galleries across Europe and America. His European debut was in 1995 at the 46th Venice Biennale with "TransCulture." Murakami's paintings and sculptures were exhibited at the second Asia-Pacific Triennial of Contemporary Art at the Queensland Art Gallery in Brisbane, Australia, the following year.
Since then, there was no turning back. He has been a part of exhibitions all over the world, from New York to Paris. His latest one was named "Takashi Murakami: GYATEI," which took place in Los Angeles from February 21 to April 13, 2019.
Murakami, who was educated in traditional Japanese art, saw comparisons between Japanese painting's flat composition and the simplistic aesthetics of anime and manga. His design, which emphasized two-dimensional forms and bright, striking imagery, spawned the "Superflat" movement, which not only recognized but celebrated the interaction of the commercial and creative worlds.
Following the Superflat concept, Murakami's work involved repackaging "low" elements and presenting them in the "high-art" market, which eventually led him to multiple collaborations with artists and like-minded people. Among his best-known recurring subjects are smiling flowers, iconic characters, mushrooms, skulls, and Buddhist iconography.
Collaborations & Features
In 2003 Murakami partnered with Marc Jacobs, the Louis Vuitton fashion house's artistic director, to create fashion accessories after curating an exhibition at the Cartier Foundation for Contemporary Art in Paris in 2002. Later in May 2003, his work Miss Ko2 (pronounced "ko ko"), a life-size fiberglass sculpture of a large-breasted blonde waitress in a petite dress, set a record and was auctioned in New York City for $567,500.
In 2007, he designed the cover artwork for Kanye West's album Graduation and directed an animated music video for West's song "Good Morning." He also provided artwork for West's 2018 collaboration album Kids See Ghosts with Kid Cudi.
In 2009, Murakami's collaborative sculpture with music producer Pharrell Williams was unveiled at Art Basel, an international art fair in Switzerland.
In 2018, Takashi Murakami collaborated with fashion designer Virgil Abloh, bringing the fashion world to the art world and ultimately transcending both to create something more.
In March 2019, Murakami directed, and animated singer Billie Eilish's music video for her song "You Should See Me in a Crown. Later, in March 2020, singer J Balvin released his album Colores featuring Murakami's album cover designs and artwork.
Fact-checking and Ethical Concerns
We assure you that we will remove any contents that are not accurate or according to your reports and queries if they are justified. We commit to cover sensible issues responsibly through the principles of neutrality.
If you find any issues in our articles, please feel free to Contact Us. Our dedicated Editorial team verifies each of the articles published on the Biographyhost.