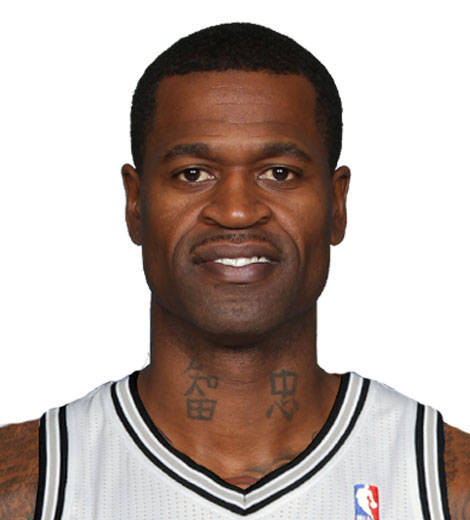 Quick Wiki
Full Name

Stephen Jackson

Occupation

Former Basketball Player

Nationality

America

Birthplace

Texas, US

Birth Date

April 5, 1978
Stephen Jackson | Biography 2021
Stephen Jackson is a retired American professional basketball player. He is also a former National Basketball Association (NBA) champion and has played under the country's most popular teams.
---
Stephen Jackson is a retired American professional basketball player. He is also a former National Basketball Association (NBA) champion and has played under the country's most popular teams.
Who is Stephen Jackson?
Stephen Jackson is a professional basketball player who retired on July 22, 2015, after 14 years of his game with the National Basketball Association (NBA). He became prominent after winning the NBA championship with the San Antonio Spurs in the year 2003.
This NBA star had played for multiple teams across the country, such as the New Jersey Nets, San Antonio Spurs, Atlanta Hawks, Indiana Pacer, Golden State Warriors, Charlotte Bobcats, Milwaukee Bucks, and Los Angeles Clippers.
Early Life
Stephen Jackson, in full, Stephen Jesse Jackson was born on April 5, 1978, in Houston, Texas, US. His mother, Juliette Jackson, raised him as a single mother. His mother took up two jobs to run the family. To support his mother, Jackson started to work in his teenage. He worked in his grandfather's restaurant in Port Arthur, Texas, as a dishwasher and a busser.
High School Basketball Career
Jackson began his high school career at Lincoln High School in Port Arthur, Texas. As a junior at Lincoln, he averaged 16 points, nine rebounds, and five assists. Later, he went to Oak Hill Academy in Virginia. In 1996, at the McDonald's All-American Game, Jackson scored a team-high 21 points, leading the East squad to a 120-105 victory over the West. 
Oak Hill Academy Coach Steve Smith had full confidence in Jackson. He said, "He's one of the three best players I've ever coached. The others are Jerry Stackhouse (Philadelphia 76ers) and Ron Mercer (University of Kentucky). He's sort of a combination of Jerry and Ron."
He had planned to join the University of Arizona to play for NCAA Champion University for the 1996-97 season, but he was disqualified for enrollment. Then, he attended Butler County Community College in Kansas for the spring semester but did not play basketball there. 
Despite the long odds and having to deal with injury struggles, Jackson began his basketball career journey. Before making his NBA debut, he played for the La Crosse Bobcats of the Continental Basketball Association. He also played in the National Basketball League in Australia. Later, he played in Venezuela and the Dominican Republic, where he won a league championship in the Dominican Republic with Pueblo Nuevo.
NBA Career
Jackson had an unconventional journey to becoming an NBA star. His NBA career kicked off with the help and guidance of Virginia Bibby, mother of Mike Bibby, a basketball player. Virginia Bibby saw potential in Jackson and helped him get a workout with the Phoenix Suns that led him to get drafted by the NBA team in 1997. 
However, he made his NBA debut only in October 2000, playing with the New Jersey Nets in 2000-01. He averaged 8.2 points per game in that season. Then, he played with the San Antonio Spurs from 2001 until 2003. After playing 23 games in 2001-02, he averaged 11.8 points per game for the Spurs in 2002-03. In 2003, he won the NBA championship with the Spurs and became an NBA star.
During the next four seasons, Jackson averaged 17 points per game and four rebounds. Jackson played for the Atlanta Hawks from 2003 to 2004, the Indiana Pacers from 2004 to 2007, and the Golden State Warriors from 2007 to 2009. 
In 2007-08 and 2008-09, he scored over 20 points per game for the Golden State Warriors. He even averaged 6.5 assists and 5.1 rebounds in 2008-09. 
In 2009-10, he averaged 20.6 points per game for the Warriors and Charlotte Bobcats. That was the last season he scored 20 points per game and more.
In 2010-11, he averaged 18.5 points per game for the Bobcats, and he was just a good role player in the next three seasons. But in 2011-12, he averaged 9.6 points per game in 47 games on the Milwaukee Bucks and the Spurs. Then he averaged 6.2 points per game in 2012-13 for the Spurs and played only nine games with the Los Angeles Clippers in 2013-14. He did not play in the NBA after that season.
On July 22, 2015, Jackson officially retired from the NBA after playing for 14 seasons.
Malice in the Palace
In retirement, Jackson looked back on the 'Malice at the Palace' incident in 2004. It was a brawl between the Indiana Pacers and Detroit Pistons at The Palace in Auburn Hills, Michigan. He was suspended for 30 games as he was a part of the brawl while playing for the Pacers. The other nine Pacers and Pistons players were also suspended for a total of 146 games. However, he did not regret the incident. 
"I don't regret it. I was there for my teammate, and it was something I took pride in doing," he said. He further added, "I just hate the way I got judged. I'm far from a thug. I'm a loyal friend who will always have your back."
Black Live Matters
Jackson became an activist supporting his friend George Floyd, who was killed on May 25, 2020, by Minneapolis police. Jackson protested against the police officers involved in the arrest and demanded justice for his friend. Started with the support of his friend, he eventually joined the Black Lives Matter movement.
Personal Life
After dating for about two years, Jackson left his former fiancee and mother of his two children, Imani Showalter, who denied signing a prenuptial agreement. In 2009, he married Renata Elizabeth White, and the couple had one child. They divorced after four years of their marriage. The divorce turned messy when she accused Jackson sold off her Bentley without her knowledge. Later, he agreed to a confidential agreement with his ex-wife. Jackson officially converted to Islam in January 2021, following the footstep of legendary Kareem Abdul-Jabbar, a former basketball player. Jabbar converted to Islam in 1968, before he entered the NBA.
Net worth
The success in his NBA career aided Jackson in earning a lot of money in the league, and it also helped him accumulate healthy net worth. Celebrity Net Worth estimates that he has a $25 million net worth. He earned $68.6 million during his 14-year career in the NBA.
Fact-checking and Ethical Concerns
We assure our audience that we will remove any contents that are not accurate or according to formal reports and queries if they are justified. We commit to cover sensible issues responsibly through the principles of neutrality.
To report about any issues in our articles, please feel free to Contact Us. Our dedicated Editorial team verifies each of the articles published on the Biographyhost.