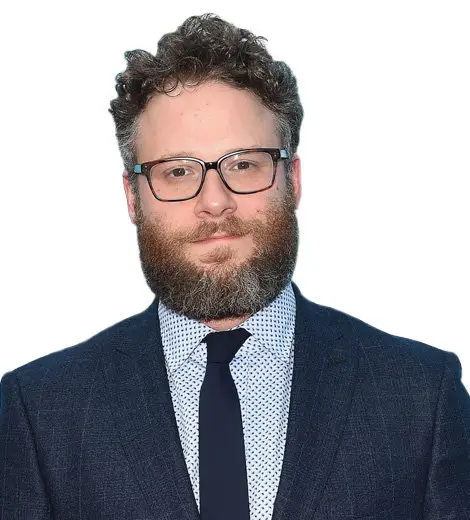 Quick Wiki
Full Name

Seth Rogen

Occupation

Actor, Comedian

Nationality

Canadian, American

Birthplace

Vancouver, Canada, USA

Birth Date

Apr 15, 1982

Age

41 Years, 7 Months

Height

5 feet and 11 inches (1.8m)
Writer/ Producer of 'Superbad'
Seth Rogen | Biography 2021
Has Many Upcoming Credits In The Pipeline Such as 'The Fabelmans,' 'Pam & Tommy,' 'Santa Inc,' 'Teenage Mutant Ninja Turtles,' and 'Invincible'
Rogen was not content with just being an A-list celebrity as he had many other talents to showcase. He proved his skills as a writer and producer in 'Superbad' (2007). It was based on a script that Rogen and his childhood friend, Evan Goldberg, had written when they were 13. The duo also wrote the action-comedy 'Pineapple Express' (2008), starring Rogen opposite his former 'Freaks and Geeks,' co-star James Franco, who played a hippie pot dealer.
---
Seth Rogen is a Canadian-American actor, writer, producer, and director, who started his career as a comedian.
Who is Seth Rogen?
Seth Rogen began his career as a stand-up comedian trying out different comedy gigs in Vancouver, Canada. This familiar face in Hollywood is known for his versatility and ability to work as an all-rounder in the performing art business. The Time Magazine gave him the title 'Stoner King of Comedy,' in 2014 for projecting a sweet, unthreading friendliness and niceness in his movies.
Early Age and Family 
Seth Aaron Rogen was born on 15 April 1982 in Vancouver, Canada, to liberal Jewish parents of Ukrainian and Russian origin. His mother, Sandy Belogus, was a social worker, and his father, Mark Rogen, worked for non-profit organizations and as an assistant director for the Workmen's Circle Jewish fraternal organization. Even though he was born and raised in Canada, Rogen also identifies as American since his father was American-born. "My dad is American, so I've always been an American citizen, which is very nice because it's made my life much easier," Rogen said. Rogen also has an older sister Dayna. 
Rogen went to Vancouver Talmud Torah Elementary School and Point Grey Secondary School. Relating to one of his movies, "My high school years were exactly like Superbad. Lots of people were having sex, but for my friends and I, that was like so outside the realm of our experience. No, I didn't get laid in high school at all, but it wasn't for the lack of trying."
Career
Rogen started his comedy career at the young age of 13, doing stand-up comedy gigs in the local comedy club circuit. He performed at parties and clubs alongside performers over twice his age. "As soon as I realized you could be funny as a job, that was the job I wanted," said Rogen in an interview with the Toronto Star. He won the 'Vancouver Amateur Comedy Contest' at 16.
In 2018, Rogen released his comedy show on Netflix, Hilarity for Charity.
Movies and Television
When Rogen was 16 years old, he auditioned for director Judd Apatow's American high-school television dramedy, Freaks and Geeks (1999-2000), which landed him the part of Ken. Though the series did not air for long, Judd Apatow was impressed by young Rogen's talent and hired him as an actor and writer on a 2001 sitcom, Undeclared. However, the show was short-lived. 
After he discontinued his work in the show, Rogen and his childhood friend, Evan Goldberg, undertook the writing job for the last season of Sacha Baron Cohen's Da Ali G Show (2005). He would later receive a 'Primetime Emmy Award' nomination along with other writers of the show.
Being in the good books of Apatow later paid off for Rogen as he was offered minor parts in films such as Anchorman: The Legend of Ron Burgundy (2004) and The 40-Year-Old Virgin (2005). He also co-produced these movies. Larter, Rogen gave a supporting performance in the film In, You, Me, and Dupree (2006), in which Matt Dillon, Kate Hudson, and Owen Wilson were the leading casts.
In 2007, Rogen landed the lead role for Apatow's Knocked Up, a romantic comedy alongside Katherine Heigl. It was his breakthrough and was enough for him to become a household name. The movie eventually grossed more than $200 million worldwide and proved to be the changing point in Rogen's career. 
But, Rogen was not content with just being an A-list celebrity as he had many other talents to showcase. He proved his skills as a writer and producer in Superbad (2007). It was based on a script that Rogen and his childhood friend, Evan Goldberg, had written when they were 13. The duo also wrote the action-comedy movie Pineapple Express (2008), starring Rogen opposite his former Freaks and Geeks co-star James Franco, who played a hippie pot dealer. Later in 2008, Rogen also played the lead in Zack and Miri Make a Porno, a story on roommates trying to make extra cash by making adult films together. In the same year, he also lent his voice to animated features such as Dr. Seuss' Horton Hears a Who! (2008) and Kung Fu Panda (2008).
Rogen then played a bipolar mall security guard in the dark comedy film Observe and Report (2009). In yet another collaboration with Apatow, Rogen starred alongside Adam Sandler in Funny People (2009), which was about a friendship between a young, inexperienced comic (Rogen) and his mentor (Sandler).
In 2014, The Time Magazine referred to Rogen as the 'Stoner King of Comedy,' as they talked about how his low-budget movies make hundreds of millions of dollars. "Rogen's special gift to the audiences is that he projects a sweet, unthreading geniality - and though he might cringe to hear it, an essential niceness," stated Time.
Upcoming Projects
A longtime Hollywood actor and producer, Rogen has been working on a string of new projects. In the near future, he will be portraying the role of Steven Spielberg's "favorite uncle" in the upcoming semi-autobiographical feature film about Spielberg's childhood, titled The Fabelmans. The project aimed to start production in the 2021 summer, but there has been no official release date yet. 
In addition, Rogen will serve his part as actor and producer in the upcoming biographical romantic TV mini-series Pam & Tommy. He will also be lending a voice to Santa Claus in the upcoming animated TV series Santa Inc, in which he will also be serving as executive producer. 
Further, Rogen has produced the horror-thriller film Cobweb, post-production of which is going on. Next, he will be producing the CG-animated robot film Teenage Mutant Ninja Turtles, which is expected to be released on 11 August 2023. He will also work as the executive producer of the upcoming animated TV series Darkwing Duck. 
'Invincible'
Rogen will be a part of the upcoming live-action movie Invincible, a live-action adaptation of the Invincible series for Universal. Along with the creative partner Evan Goldberg, Rogen will serve as writer, director, and producer of the movie. The project was announced in April 2017. 
The creator of the movie Robert Kirkman said that Invincible would be distinct from the animated series, Invincible. "There will definitely be some significant differences between the movie and the television show. People will easily be able to tell them apart... We're definitely working to make sure that the two can exist and complement each other," Kirkman said.
The live-action adaptation is taking a long time due to the detailed process of the live-action adaptation of the Invincible comic. "The Invincible comic will have one battle on earth, and then the next scene will be a battle in space, and then there'll be an alien invasion, and then there'll be another guy that attacks after the alien invasion. There's no way that we could keep this level of insanity up in live-action. We would have to do a tremendous amount of bottle episodes to level it all out," Kirkman said.
Awards
Rogen had been nominated once for the 'Primetime Emmy Award' for 'Outstanding Writing for a Variety, Music, or Comedy Program for Da Ali G Show. In addition, he had won multiple 'MTV Movie Awards' including the 'Best Musical Sequence' for his work in This Is the End and another for '#WTF Moment' for Neighbors. He had also been nominated for multiple 'People's Choice Awards in his long career in Hollywood.
Life beyond the Cameras: Parents, Wife & No Kids
Rogen shares a very open and friendly relationship with his parents. Both his parents have played an important role in his life and career. His mother, Sandy Belogus, has a good sense of humor like him. He entertains Twitteraits by openly talking about everything under the sun.
Seth is happily married to American actress Lauren Miller Rogen, whom he began dating in 2004. The couple met when he was working on Da Ali G Show. Reminiscing on his first date with his wife, Rogen admitted to pooing his pants. "I'm gonna have to throw these underpants, pants and at this point maybe my shoes and socks in the garbage," he recalled in his book, 'Yearbook.'
Having been married for over a decade, unlike most happily married couples, Rogen and his wife didn't plan on having any kids.
Seth Rogen and James Franco
In May 2021, Rogen stated that he had no immediate plans to work with his recurrent and longtime former co-star James Franco, following the sexual misconduct allegations against Franco. 
In an interview with Sunday Times, Rogen stated that the allegations made against Franco had affected his relationship with Franco. He said, "I can say it, um, you know, it has changed many things in our relationship and our dynamic."
The interview addressed an Instagram post by actress Charlyne Yi where she claimed Rogen as Franco's enabler. In response to Yi's statement, Rogen said, "What I can say is that I despise abuse and harassment and I would never cover or conceal the actions of someone doing it, or knowingly put someone in a situation where they were around someone like that."
He added, "I do look back at a joke I made on 'Saturday Night Live' in 2014 and I very much regret making that joke. It was a terrible joke, honestly." 
In 2014, Franco had made headlines when his flirty messages to a 17-year-old schoolgirl were leaked online. Rogen joked about the incident while hosting Saturday Night Live in 2014, and he later regretted and apologized for his "terrible joke." 
Further Allegations Against Franco
Four years later, in 2018, Franco faced further accusations when five women publicly accused him of sexual coercion and exploitation. Two of those women filed a lawsuit against Franco in the following year, alleging that he attempted to use his acting school to exploit the young girls sexually. But Franco denied the allegations, and the two women settled their lawsuit with him in February 2021. 
Despite the allegations, Rogen had stated in the 2018 interview that he would continue working with Franco, which he later regretted. Roger said, "I also look back to that interview in 2018 where I commented that I would keep working with James, and the truth is that I have not and I do not plan to right now."
House
Rogen bought a home worth $1.65 million in West Hollywood in California in 2006. In 2014, he spent an additional $8 million for that property to acquire the nature-oriented retreat consisting of streams, trees, and trails. Later, he spent another $3 million for adjacent property. The additional purchase made the entire property an impressive setup of a one-story main house, a guest house, a sports court, a swimming pool, and more in 10 acres. In October 2020, he listed his house for sale and sold it for $2.16 million in the next month. 
Rogen bought another house worth $1.1 million in 2012 in West Hollywood, which he listed for sale in early 2020 for $1.7 million. Around the same time, when he listed the home for sale, he bought another house worth $1.9 million in the same neighborhood. 
Pottery
The award-winning actor and producer Rogen has a great interest in pottery. In 2019, he opened up to the world about his hobby of making vases. In March 2021, he made his ceramics available for sale on Houseplant, a cannabis accessories company that Rogen co-founded with screenwriter Evan Goldberg in 2019. One of the vases he created has been featured in the Vancouver Art Gallery's 2021 Art Auction. The company also offered cannabis, lighters, and ashtrays, among others.
Did you Know?
According to Celebrity Net Worth, Rogan has an estimated net worth of $80 million as of 2020.