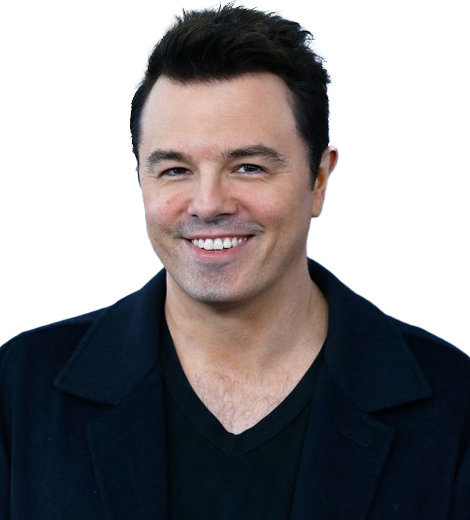 Quick Wiki
Nationality

American

Birth Date

October 26, 1973 (age 47)
Seth MacFarlane
Seth MacFarlane is a man of multiple accomplishments; he is an actor, singer, screenplay writer, director, and producer.  MacFarlane has been a part of the entertainment industry for over two decades. Some of his major projects include movies, cartoons, and TV shows, such as Family Guy, Sing, A Million Ways To Die in the West, Logan Lucky, Dexter's Laboratory, Ted, Ted 2, and A Million Ways to Die in the West. 
---
Seth MacFarlane is a man of multiple accomplishments; he is an actor, singer, screenplay writer, director, and producer.
MacFarlane has been a part of the entertainment industry for over two decades. Some of his major projects include movies, cartoons, and TV shows, such as Family Guy, Sing, A Million Ways To Die in the West, Logan Lucky, Dexter's Laboratory, and Ted, Ted 2.
Who Is Seth MacFarlane?
Seth MacFarlane is best known as the creator and a voice actor for Family Guy. In Fox's long-running series, MacFarlane voices some of the main characters: Peter Griffin, Brian Griffin, Stewie Griffin, and Glenn Quagmire. In addition to the producing and acting duties, he also worked as a screenplay writer for the show until 2010.
Early Bio
Born in Kent, Connecticut, on October 26, 1973, Seth Woodbury MacFarlane is the eldest child and only son of Ronald Milton MacFarlane and Ann Perry (Sager). His father, Ronald, was a prep school teacher, while his mother was an admissions office worker.
MacFarlane was raised alongside a younger sister named Rachael MacFarlane in a family of four. Rachael is also a voice artist and writer like her elder brother.
Seth received his primary and secondary education from the Kent School and graduated in 1991. He later joined the Rhode Island School of Design, where he learned filming and animation. He eventually graduated with a Bachelor's degree in fine arts.
Career
Seth MacFarlane started his career as a writer for Hanna-Barbera (now merged with Warner Bros.) in 1995. At Hanna-Barbera, he worked at Cartoon Network and was a part of shows such as Johnny Bravo (1995-2004), Dexter's Laboratory (1996-2002), Cow and Chicken (1997-1999), and I Am Weasel (1997-2000).
At the same time, he was also a freelancer for companies such as Walt Disney Television Animation and Nelvana Limited. While as a freelancer, he worked on shows such as Ace Ventura: Pet Detective (1996-1999) and Jungle Cubs (1996).
MacFarlane then created his breakthrough show, The Family Guy (1999–2003, 2005–ongoing), followed by American Dad (2005– ongoing ), The Cleveland Show (2009–13), and The Orville (2017– ongoing ).
'Family Guy
MacFarlane while working at Hanna-Barbera, pitched an idea for a cartoon show, to the studio executives. The executives in turn offered MacFarlane to construct the pilot of the show he suggested with a relatively small amount of money for the budget. Within six months' duration, without any sleep and no distractions, MacFarlane created a pilot and presented it to the studio executives. The studio loved his production and in 1998, Fox bought the pilot of the show titled The Family Guy. And in 1999 the show debuted, alongside MacFarlane became the youngest executive producer at the age of 24. 
MacFarlane wrote, animated, and gave voices to the characters of the show. The story of The Family Guy revolved around the Griffin family consisting of, Peter Griffin, Chris Griffin, Stewie Griffin, Lois Griffin, Meg Griffin, and Brian Griffin. Among the characters, Macfarlane voiced over, Peter, Stewie, Brian from the main characters, and additionally other characters such as Glenn Quagmire and Tom Tucker.
The show recounts the family's story with contemporary pop culture references like celebrities, controversies, news, etc. with added humor. The adult content of the show was considered offensive by some of the viewers, so the show was canceled in 2003.
But the recorded DVD sales of the first two seasons were sold in a number of 40,000 copies per month. It rendered the show immensely popular and successful after which Fox issued the series for further contents in 2004.
MacFarlane received five Emmy Awards, among which four of them were under the category of Outstanding Voice-Over Performance, which made him the most voice-over Emmy winner.
In 2021 the show is running on its 19th season, while MacFarlane was actively writing the episodes only till 2010. On Jimmy Kimmel Live, he admitted that he has not written for the show since 2010, while he voices over the characters and remained up to date on watching them.
'Gilmore Girls
Amidst his Family Guy hiatus and future projects, MacFarlane appeared in two episodes of the popular comedy-drama series Gilmore Girls. He appeared in season two on the episode titled ' Lorelai's Graduation Day' as one of the students Lorelai attends business school with. Then followed by in season three, the episode titled 'I Solemnly Sear' as Emily Gilmore's lawyer named Bob.
'Star Trek: Enterprise'
Later, in 2004 appeared as a minor character on the popular show Star Trek: Enterprise. He played the character of Ensign Rivers, a male Starfleet engineer serving under Tucker, and boarded the Enterprise NC-01 during the Xindi Mission to assist in conduit repair after the Battle of Azati Prime. Then a year later, Rivers was transferred to the engineering section on the sister ship Columbia.
MacFarlane in 2011, sparked interest in rebooting the franchise for the television series. He told, "I don't know who would give me the keys to that car. But I'd love to see that franchise revived for television in the way that it was in the 1990s: very thoughtful, smartly written stories that transcend the science fiction audience."
'American Dad'
After the subsequent success and revival of Family Guy in 2005, MacFarlane went on to create another show, American Dad (2005- ongoing).
The show was about an American father, Stan Smith, a conservative CIA agent, who is dealing with his family life and keeping America safe with his random escapades and absurd way of saving the day.
MacFarlane's this creation was said to be better than his first, Family Guy. The plot of the show interacted better with each other when compared. The protagonist of the story, Stan Smith a conservative husband, with his wife Francine, was ditsy and a pushover followed by their nerdy son Steve and daughter Haley who is outspoken and hippie, constantly clashes against her father's beliefs; created room for more interesting stories and dialogues.
The show in early 2021, announced its 18th season, while one of the episodes of the 17th season co-written by the popular pop singer The Weekend; he also appeared as one of the characters and performed his new song 'I'm a Virgin'.
The series has garnered a cult following and is one of the best sitcoms created by Macfarlane alongside Family Guy.
'Cavalcade of Cartoon Comedy'
Then in 2008, Macfarlane created a web series titled, Seth MacFarlane's Cavalcade of Cartoon Comedy (2008- 2010). The series ran for two seasons with 50 episodes.
They comprised of series of non sequitur skits, which were the cutaway gag scenes of Family Guy which could not be shown on television, hence was released on the internet.
The series consisted of most of the Family Guy's cast, but the chemistry of the actual show was not instructed. The series was later released on DVD in uncensored form.
'Ted' and 'Ted 2'
MacFarlane made his film debut with the release of the comedy movie Ted (2012). He directed, wrote, and voiced one of the main characters of the movie.
The plot of the movie depicts the story of John Bennett, portrayed by Mark Wahlberg, who brought a teddy bear to life, voiced by MacFarlane, after making a birthday wish in his childhood. But when he enters into adult life, he has to decide between keeping his friend, the teddy bear, and his girlfriend Lori, portrayed by Mila Kunis.
MacFarlane initially was skeptical about the success of the movie. The movie had a 50 million dollar budget and endorsed a talking teddy bear with R-rated humor. He thought that the audience will not be able to grasp the context and eventually will be a flop.
Regardless of his intuition, Ted was a huge success, the movie brought more than 500 million dollars in profit. The movie was lined for a sequel, Ted 2 which got released in 2015.   
MacFarlane as previously, wrote, directed, and voiced over the character Ted, the teddy bear in the sequel. Ted 2 was about the newlywed couple, Ted and Tami-Lynn, acted by Jessica Barth, who decided to adopt a baby, for which Ted has to prove in court that he is a person.
MacFarlane talked about the diversity between the movies while he intended to make the sequel different from the first one, "You know we just wanted to do something that wasn't going to be repetitious. We didn't want to do the same movie twice, I think, that sometimes the trap that comedy, sequels in general fall into the doing of the same movie twice because it worked the first time around. And this movie [Ted 2] is the complete departure of the first one"
The movie even attracted a lawsuit. Bengal Mangle Productions LLC 2014 filed a copyright lawsuit against the productions of the movie, alleging that the character of the movie 'Ted' the teddy bear was 'strikingly similar' to their 2008 created character Charlie, as appeared in YouTube and FunnyorDie.
The allegations were withdrawn in 2015, Bengal Productions stating that they are, "satisfied that, based on discovery produced in the action, the character Ted was independently created by Seth MacFarlane using his own efforts and creativity and was not copied from plaintiff's Charlie character."
'Cosmos: A Spacetime Odyssey
In 2014, MacFarlane produced one of Fox's successful award-winning documentary series, Cosmos: A Spacetime Odyssey. The show was premiered simultaneously on Fox, NatGeo, and other 10 Fox Networks which was the largest premier of all time.
The show was hosted by popular scientist Neil deGrasse Tyson and won four Emmy Awards, a Peabody Award, two Critics' Choice Television Awards, and a Television Critics Award.
'A Million Ways to Die in the West
Followed by Ted, in 2015 MacFarlane's second film was A Million Ways to Die in the West (2014). He co-wrote and starred in the movie alongside Charlize Theron and Liam Neeson.
The movie plots the story of a cowardly farmer who falls in love with a mysterious new woman in town, portrayed by Theron, but has to put up his courage to a test when her husband, Neeson, a notorious gun-slinger is about to come to the town.  
The movie received mixed reviews; with praiseworthy humor in the plot but while MacFarlane's acting was not as deemed as influential as his jokes.
'The Orville'
Further, in 2016, MacFarlane's other series The Orville which was inspired by the infamous movie series Star Trek was picked by Fox for release. The show was created, produced, and starred by MacFarlane.
The series was set in a futuristic spaceship Orville in the time 400 years from now. The first season released in 2017, was not acclaimed by the critics. MacFarlane commented on the critical rejection of the show and the landscape of reviews, "There's a bizarre ax to grind for sure. I don't know where it comes from or what's causing it, but when you're looking at that kind of discrepancy, either they're just not connected with what the audience is thinking or there is some sort of agenda that completely eludes me. It's mystifying."
Nevertheless, the second season was renewed and released in 2018. MacFarlane emphasized that the second season was the original intention of presenting the show, and season one was a tonal experiment of blending comedy with science fiction in a television series.
"This show was a tonal experiment of sorts, Comedy, and sci-fi when you blend them together, they don't always mix well. In features they do, but television is kind of hard to sustain. The pleasant surprise for me was that fans and viewers were willing to let us tell a story. They weren't waiting for the next joke to come."
In 2020, the series was made available on Hulu, and its third season was renewed in 2021.
Music
Alongside writing, acting, and producing, MacFarlane has released multiple albums showcasing his singing talents. He got vocal training in the late 90s from a couple, Lee and Sally Sweetland. They taught him to utilize and maintain the instrument. In his future musical explorations, MacFarlane referenced them internally.
MacFarlane released his first album, Music is Better Than Words, in 2011, which was nominated for the Grammy Awards. Followed by Holiday for Swing (2014), No One Ever Tells You (2015), In Full Swing (2017), Once in a while (2019), and Great Songs from Stage and Screen (2020). While in 2021 he released his seventh album with Liz Gillies titled, Songs from Home.
In 2016, MacFarlane released his version of My Way for the Original Motion Picture Soundtrack.
Then in 2020, on the Tonight's Show Starring Jimmy Fallon, Macfarlane was challenged to sing one song with many voices. He sang You're Nobody till Somebody Loves You, in the voice of the Family Guy characters, Peter, Brian, Stewie, Quagmire, Roger, then Stan from the American Dad, followed by Kermit the Frog and then Liam Neeson.
What Is Seth MacFarlane's Net Worth?
Celebrity Net Worth calculates MacFarlane's net worth as $300 million. Up until 2018, his net worth was estimated at $200 million. However, the value took a significant rise after he signed a contract worth nearly $200 million with NBCUniversal in early 2020.
MacFarlane's income also comprises the revenue generated by his movies and royalty from his shows.
One of his most successful movies, Ted—which he co-produced, wrote, and played the titular role—has earned over $218 million at the U.S. domestic box office alongside a worldwide collection exceeding $549 million, according to Boxofficemojo.
Its sequel Ted 2 couldn't live up to the original, but it still has managed to summon a global box office collection of over $215 million against a $68 million budget.
Likewise, MacFarlane also voiced one of the main characters named Mike in the $634 million worldwide-grossing animated movie Sing (2016).
Income From 'Family Guy
Though his movies' proceeds cover a part of Seth's net worth, his earning is still heavily dependent on his shows' income. Family Guy was valued at an astounding $2 billion in 2008; the brand's worth has gone significantly over the years. Further, Gazette Review reported in 2016 that, in addition to the royalty, Seth also earned $50,000 as an episode fee from the show and a minimum annual salary of $2 million from Fox Television.
Personal Life and Marital Status
MacFarlane has reportedly dated multiple women but has not been married to one yet. Back in 2006, he briefly dated Tamera Mowry-Housley, who later in 2013 credited herself for making MacFarlane interested in African-American girlfriends.
Then from 2008 to 2009, although he never confirmed the relationship status, he was seen with Buffy the Vampire Slayer star Eliza Dukshu. In 2008, he was also reported to be dating actress Amanda Bynes, who was 12 years younger than him and the relationship did not last long.
Then in 2010, he was in a relationship with the MTV star of the 2007 season The Real World Sydney, Trisha Cummings. The pair lasted for two years and ended things in 2012.
Then in 2012, he was in a relationship with the infamous Game of Thrones actress Emilia Clarke. The pair broke up in 2013, after a year into a relationship. While the two were together, Clarke's fans disapproved of the relationship as they often considered the actress way out of Seth's league. Clarke mentioned this in her Glamour interview about how a particular Game of Thrones fan approached her and expressed disapproval.
Later in 2020, his relationship with actress Anne Winters was confirmed by Winters via her Instagram story.
In his previous interviews, MacFarlane has quoted his interests in marriage, " I'm wide open to getting married, but actors are not easy people to date. I very much like the traditional courtship method of making a date. That's what they do in normal places, but Hollywood's not normal."
9/11
On September 11 of 2001, MacFarlane was scheduled to board on American Airline Flight 11. He missed boarding the flight by 10 minutes, due to a severe hangover after which he overslept, and also his travel agent had messed his timings in his itinerary by 15 minutes. The flight was later hijacked by terrorists and eventually hit the Twin Towers in New York World Trade Center.