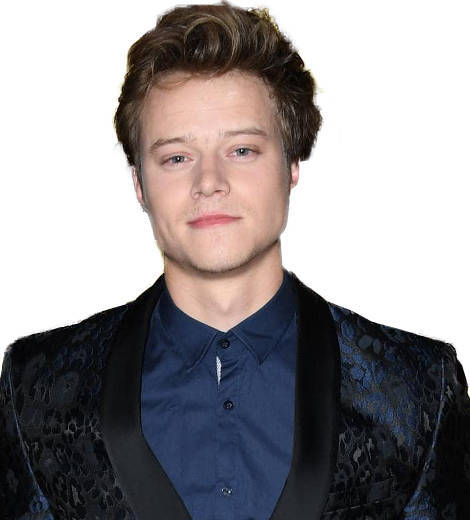 Quick Information
Full Name

Rudy Pankow

Occupation

Actor

Nationality

America

Birthplace

Alaska, USA

Born Year And Birthday

August 12, 1998
Rudy Pankow | Biography 2021
Rudy Pankow is an American actor known for his role J.J. Maybank on the Netflix teen drama series Outer Banks.
---
Quick Information
Full Name

Rudy Pankow

Occupation

Actor

Nationality

America

Birthplace

Alaska, USA

Birth Date

August 12, 1998
Rudy Pankow is an American actor known for his role J.J. Maybank on the Netflix teen drama series Outer Banks.
Who is Rudy Pankow?
Rudy Pankow is prominently known for his works in Not Me (2018), Deviant (2018), and Outer Banks (2020)
Born and raised in Alaska, Pankow moved to Los Angeles to enroll in culinary school but decided to take a year break and pursue acting before that. He joined 'acting,' without any intention, but after a few classes and improv sessions, Pankow decided 'acting,' as his career. Then, he did plays in the theatre and appeared in minor roles in movies such as Nobody Knows (2017), Do Good Things (2017), 11:47 (2017), Not Me (2018), and Deviant (2018).
In 2020, he appeared in a Netflix series Outer Banks as one of the lead characters. The series was released in April 2020 and received significant popularity due to its mystery-infused adventure drama. The series promptly got renewed for the second season in July 2020, and Pankow will be reviving his role of J.J. Maybank in its upcoming season.
Early Life
Rudy Pankow was born on 12 August 1998 in Ketchikan, Alaska. He did his schooling at Ketchikan High School.
After graduating from high school, he received a scholarship for a culinary school in Los Angeles, California. He was supposed to move to California for college but did not feel good about the decision. He asked his mother what she wanted to become if given a chance, and she told him she wanted to become a dancer. She was also good at gymnastics but did not pursue it.
It brought a change in Pankow, who wished to take a year break to explore his interest before joining the culinary school. He stayed with one of his family friends in Los Angeles and went to improv and scene study classes, to which he fell in love and decided to pursue acting as his career.
Career
Pankow began his career doing minor roles in 2017. In his debut year, he acted in a television series Sunny Family Cult as Aaron. The series revolved around some families who retained dark histories. The same year he appeared in Nobody Knows (2017) as Abe Wooldridge, Do Good Things (2017) as Mike, and a short movie 11:47 (2017) as Jesse, the lead of the story. Pankow played the role of an adolescent boy who must make amends with his alcoholic father after the death of his mother.
In 2018, he appeared in a short music video directed by Lance Drake titled Muse: Thought Contagion alongside Sydney Schafer. He also played a minor role in a short drama movie Last Summer II (2018) and a television series Solve (2018- ongoing). He also did two major roles in Not Me (2018) and Deviant (2018).
In Not Me, he portrayed a true event-based role of Ashton, a 21-year-old server assistant responsible for providing for a rich hotel guest, who traps Ashton in a compromising situation by luring him to do something he does not desire to do.
In Deviant, he played the role of Marcel, a sexually conflicted teenager in the early sixties who escapes the tortures of electrotherapeutic conversion therapy to find faith and acceptance.
The following year, Pankow appeared as a minor character in the Netflix series by Ryan Murphy The Politician starred by Ben Platt. The series was about a rich high school student who aspires to become the president and starts to handle the political engagements of the high school to make the wish come true.
'Outer Banks'
In 2020, Pankow appeared as one of the leading casts of the Netflix series Outer Banks (2020) Season 1. The series revolved around a group of best friends who go out to unravel a treasured mystery behind the disappearance of the father of the group's leader.
The leading characters of the series were Chase Stokes as John B, Madelyn Cline as Sarah Cameron, Madison Bailey as Kiara' Kie', Jonathan Daviss as Pope, and Rudy Pankow as J.J. Maybank.
Pankow originally auditioned for the role of John B, but the creators of the show, Josh Pate, Jonas Pate, and Shannon Burke, were not sure about his placing. They conducted multiple takes of Pankow as John and J.J. but couldn't decide even then. After they later finalized Stokes to play as John, Davis to play as Pope, they got convinced with Pankow's chemistry read as J.J. and decided to cast him for this role.
In retrospect, he talked about changing characters within a short amount of time, "So, basically I screwed up John B and I was like, 'All right, I can come in as J.J.!' They sent me three new scenes and I'm like, 'All right, this is ridiculous! Three new scenes, only one more chemistry read, and I have to be a different character.' I was kind of stressed out just a little bit," he explained. "That's when I met Chase [Stokes], and when I met Chase, the following chemistry read, it was crazy because I even saw it. … JD (Jonathan Daviss), the guy that plays Pope, helped me find J.J. the day before and I brought the version of J.J. that's in the show today, thanks to J.D.," Pankow added.
Pankow's role of J.J. was the center of the group, a surfer and a best friend of John B. His character plays a classic reckless trouble maker from a troubled background and is always there to mess the risky part of the treasure hunt.
The first season was adventure and action-based, where the climatic surroundings significantly impacted the production. Pankow talked about it in one of his interviews that the most challenging segment of the shoots had to be done on the unset scenes of the day due to the sudden change in the weather.
Pankow connoted, "Knowing things can change in an instant because of weather or other natural causes. Like the plan could be to shoot a boat scene but then the water is too choppy or started raining so we shoot a completely different scene. You would need to be prepared way ahead of time just because of that reason."
The second season of the series was renewed in the same year of its release. During the renewal interview of the show, one of the creators, Jonas Pate, talked about Pankow and his relationship with his character J.J.
"I love Rudy Pankow, the actor that plays J.J., so much," he said and continued, "He has such a mischievous streak in his actual personality. So, it's really easy to write for J.J. because you really just think of Rudy. J.J. is the best because he's had all these terrible things happen to him with his father and he's got all these rage issues, yet he's doggedly loyal, so I just like him as a character. He's really fun to write."
Though the series has been renewed for its second season, the creators have penned the story till the fourth season.
Upcoming Project
Pankow was set to star in Spencer Whiteout's Space Waves (2020) as Joey Kite. It is the first role for Pankow as the lead in a full-length feature movie. The movie was about two young characters, Marvin and Joey, who are willing to do anything to catapult their misadventure podcast.
Personal Life
Pankow was an active advocate against police brutality during the Black Lives Matter Protests following the death of George Floyd. He took physical steps to take part in the protest and on social media. He primed, "I am a white male in a biased country. We are not one people. Even though this country claims we are. Racism hasn't stopped and will not stop, until the bases [sic] of this country reforms along with the ones who are sworn to protect it."
In an interview with Marie Claire, US, Pankow revealed that he has been working on writing a play.
After the first season, Pankow is close friends with his Outer Banks co-stars, Madison Bailey and Chase Stokes.
Fact-checking and Ethical Concerns
We assure our audience that we will remove any contents that are not accurate or according to formal reports and queries if they are justified. We commit to cover sensible issues responsibly through the principles of neutrality.
To report about any issues in our articles, please feel free to Contact Us. Our dedicated Editorial team verifies each of the articles published on the Biographyhost.