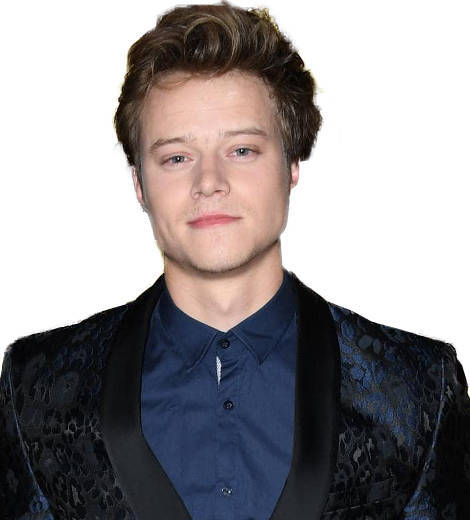 Quick Wiki
Full Name

Rudy Pankow

Occupation

Actor

Nationality

American

Birthplace

Alaska, USA

Birth Date

Aug 12, 1998

Age

25 Years, 3 Months

Height

6 feet (1.83m)
JJ Maybank in the Netflix Series 'Outer Banks'
Rudy Pankow | Biography 2021
Joey Kite in the Spencer Whiteout's Upcoming Feature Film, 'Space Waves,' and Leo Grecco in the Upcoming Comedy Drama Film 'The Crusades'
In 2020, Pankow appeared in a Netflix series Outer Banks as one of the lead characters, J.J. Maybank. The series was released in April 2020 and received significant popularity due to its mystery-infused adventure drama. The series promptly got renewed for the second season in July 2020. In the upcoming season, Pankow will be reviving his role as J.J. Maybank. The new season of Outer Banks (season 2) will premiere on Netflix on 30 July.
---
Rudy Pankow is an American actor known for his role as JJ Maybank on the Netflix teen drama series Outer Banks.
Who is Rudy Pankow?
Rudy Pankow is prominently known for his works in Not Me (2018), Deviant (2018), and Outer Banks (2020) 
Born and raised in Alaska, Pankow moved to Los Angeles to enroll in culinary school but decided to take a year break and pursue acting before that. However, his journey to acting was not intentional. After a few classes and improv sessions, Pankow decided to pursue acting. Then, he did plays in the theatre and appeared in minor roles in movies such as Nobody Knows (2017), Do Good Things (2017), 11:47 (2017), Not Me (2018), and Deviant (2018).
In 2020, Pankow appeared in the Netflix series Outer Banks as one of the lead characters, JJ Maybank. The series was released in April 2020 and received significant popularity due to its mystery-infused adventure drama. The series promptly got renewed for the second season in July 2020. In the upcoming season, Pankow will be reviving his role as J.J. Maybank. The new season of Outer Banks (season 2) will premiere on Netflix on 30 July.
How Old is Rudy Pankow?
Rudy Pankow was born on 12 August 1998 in Ketchikan, Alaska. He did his schooling at Ketchikan High School.
After graduating from high school, he received a scholarship for a culinary school in Los Angeles, California. However, he did not feel good about moving to California. He asked his mother what she wanted to become if given a chance, and she told him she wanted to become a dancer. She was also good at gymnastics but did not pursue it.
The conversation with his mother brought a change in Pankow, who wished to take a year break to explore his interest before joining the culinary school. At the same time, Pankow visited one of his family friends in Los Angeles and went to an improv class and a scene study class. Pankow adored his experiences in the classes; they helped him decide whether he should take a one-year break.
Early TV series and Movies
Pankow began his career doing minor roles in 2017. In his debut year, he acted in a television series Sunny Family Cult as Aaron. The series revolved around some families who retained dark histories. The same year he appeared in Nobody Knows (2017) as Abe Wooldridge, Do Good Things (2017) as Mike, and a short movie 11:47 (2017) as Jesse, the lead of the story Jesse—an adolescent boy who must make amends with his alcoholic father after the death of his mother. 
In 2018, Pankow appeared in a short music video directed by Lance Drake titled Muse: Thought Contagion alongside Sydney Schafer. He also played two minor roles in the short drama movie Last Summer II (2018) and the crime documentary TV series, Solve (2018- 2010). He also did two major roles in two short movies, Not Me (2018) and Deviant (2018).
'Not Me'
Not Me is a short drama movie based on true events. In the film, Pankow portrayed Ashton, a 21-year-old server assistant responsible for providing for a rich hotel guest, who traps Ashton in a compromising situation by luring him to do something he does not desire.
'Deviant'
In the shirt drama movie, Deviant, Pankow played the role of Marcel, a sexually conflicted teenager in the early sixties. The character escapes the tortures of electrotherapeutic conversion therapy and eventually finds both faith and acceptance.  
'The Politician'
The following year, Pankow appeared as a minor character in Ryan Murphy's Netflix series, The Politician starring stars such as Ben Platt and Ben Platt in lead roles. The series is about a rich high school student who aspires to become the school president and starts to handle the political engagements of the high school to make the wish come true.
'Outer Banks'
In 2020, Pankow appeared as one of the leading casts of the Netflix mystery teen action-adventure drama series Outer Banks (2020) Season 1. The series takes place around a coastal town in North Carolina called Outer Banks. The town has two groups of residents—Krooks are wealthy seasonal residents, whereas Progues are local working-class residents. The plot revolves around a group of Pogue teen best friends who go out to unravel a treasured mystery behind the disappearance of the father of the group's ringleader.
The leading characters of the series are Chase Stokes as John B, Madelyn Cline as Sarah Cameron, Madison Bailey as Kiara' Kie', Jonathan Daviss as Pope, and Rudy Pankow as J.J. Maybank.
Pankow's Character
Pankow originally auditioned for the role of John B, the ringleader, but the creators of the show, Josh Pate, Josh Pate, and Shannon Burke, were not sure about his casting in the roles. They conducted multiple takes of Pankow as John and J.J. but couldn't decide even then. After they later finalized Chase Stokes to play John B and Jonathan Davis to play as Pope, they got convinced that Pankow would be a good fit for the character, J.J. after a chemistry read, John B's loyal best friend who is also a surfer,
In retrospect, he Pankow about changing characters within a short amount of time, "So, basically I screwed up John B and I was like, 'All right, I can come in as J.J.!' They sent me three new scenes and I'm like, 'All right, this is ridiculous! Three new scenes, only one more chemistry read, and I have to be a different character.' I was kind of stressed out just a little bit," he explained. "That's when I met Chase [Stokes], and when I met Chase, the following chemistry read, it was crazy because I even saw it. … JD (Jonathan Daviss), the guy that plays Pope, helped me find J.J. the day before and I brought the version of J.J. that's in the show today, thanks to J.D.," Pankow added.
In the series, Pankow's character J.J. is one of the central characters to the story's plot. The character is a troublemaker who has a penchant for adventure but struggles with his home troubles ( abusive father).
The first season was adventure and action-based, where the climatic surroundings significantly impacted the production. Pankow talked about it in one of his interviews that the most challenging segment of the shoots had to be remodeled due to the sudden change in the weather.
Pankow connoted, "Knowing things can change in an instant because of weather or other natural causes. Like the plan could be to shoot a boat scene but then the water is too choppy or started raining so we shoot a completely different scene. You would need to be prepared way ahead of time just because of that reason."
Outer Banks Season 2
The second season of the series was renewed in the same year of its release. Netflix announced the renewal for the second season of Outer Banks on Twitter on 24 July 2020, after three months of its initial 15 April 2020 U.S. release. During the renewal interview of the show, one of the creators, Jonas Pate, talked about Pankow and his relationship with his character J.J.
"I love Rudy Pankow, the actor that plays J.J., so much," he said and continued, "He has such a mischievous streak in his actual personality. So, it's really easy to write for J.J. because you really just think of Rudy. J.J. is the best because he's had all these terrible things happen to him with his father and he's got all these rage issues, yet he's doggedly loyal, so I just like him as a character. He's really fun to write."
Production
The production of season 2 was started on 31 August 2020 in Charleston, South Carolina. The filming was scheduled for completion by the end of the year, but it got stretched for a few more months. Finally, the filming was wrapped on 8 April 2021. Later, it was announced that Pankow and the other main cast would be reprising their roles in season 2 of Outer Banks. Around the final days of production, Pankow took Instagram to share his exciting experience during the filming of Season 2. On 4 April 2021 Instagram post, he wrote, "IT'S IN THE CAN YA'LL! CHECK THE GATE! ... we good... tight. Well lads and ladies prepare yourselves cause issa coming! A SEASON WELL EARNED and fought for during the kookiest of times!! It rocked our world so I hope it'll rock yours!! Be seeing y'all soon." 
On Season 2
Outer Banks season 1 followed the story of a group of Pogue teenagers, and it concluded with a cliffhanger. In the Outer Banks season 1 finale, JJ, the character Pankow portrayed, had sacrificed his potential scholarship for the sake of his best friend, Pope. In an interview with Seventeen, Pankow said that the second season should explore the remaining Pogues' struggle for friendship. He elaborated, "I want to see, rather than just JJ, I want to see the Pogues really struggle with keeping their friendship tight. I think that would make season 2 a lot more entertaining to watch." He continued. "The Pogues are so tight in season 1, and I would love to see them get crushed by what happened with John B. and really struggle with finding the Pogues' bond again and that closeness. Something that I really want to see is that they fall apart, and then they find who they were as kids again. The first season I think is like 15 days or just a couple of weeks that all this stuff goes down. I'd like to see season 2 have a bit more of a time skip. I want to see the Pogues be a mess and then bond again and find each other."
In a 14 May 2021 joint statement, creators and executive producers of Outer Banks, Shannon Burke, Jonas Pate, and Josh Pate, stated that the second season would be more exciting to watch than the previous season. In the statement, they said, "Season 2 is going to test our crew like never before. We've turned up the dial on everything fans loved about season one – more mystery, more romance and higher stakes. It's a full throttle, action-packed adventure and these photos offer a glimpse into the next chapter for our Pogues. All we can say for now is buckle up, it's going to be a wild ride."
Release Date and Future Plans
Outer Banks Season 2 has been scheduled for release on 30 July 2021 on Netflix.
Though the series has been renewed for its second season, the creators have planned to lengthen the story till the fourth season. In a 2020 interview with Entertainment Weekly, Outer Banks co-creator and executive director Jonas Pate revealed that the team would probably extend the series to four to five seasons from the beginning of the project. "Ever since we started, we always viewed it as something that was probably like a four-season, maybe five-season show, but definitely four seasons." 
New Cast
The Outer Banks season 2 is also bringing new faces to the show. Carlacia Grant — popular for her breakout role on Alex Haley's 2016 TV mini-series Roots — will be portraying a recurring role of Celo in the second season of Outer Banks. 
Lost actress Elizabeth Mitchell will be another new cast for the second season of the Outer Banks. She has been cast in the recurring role of Limbrey. Deadline describes Limbrey as "a long-time Charleston native; a compelling woman with a level of toxicity and menace underneath her seemingly courteous ways" and Grant as "confident and fearless, Cleo is a Nassau girl, a formidable artful dodger, whose world collides with the Pogues."
Trailer and Potential Death
After the Outer Banks latest full trailer got out in mid-July 2021, there have been speculations about JJ's death since one scene of the trailer showcases Kiara crying while holding JJ on her chest. The trailer follows fugitives John B and Sarah in the Bahamas after they survived a massive sea storm. The Pogues unite in the Bahamas in a treasure adventure
 "We'll definitely have at least a part of Season 2 that'll take place in the Bahamas, but it'll all come back to the Outer Banks because that's our spiritual home." Outer Banks creator Jonas Pate said to Entertainment Weekly back in April. "So we'll get back to the Outer Banks pretty quickly, I'm sure, but there'll be definitely an episode or two that that has some Bahamas in it." The Season 2 announcement on Instagram was also captioned, "See you in the Bahamas."
What happened in season 1?
John B was accused of his father Big John's murder when it was Sarah's father, Ward, who killed Big John and stole the treasure from the country. After that, Sarah and John B flee their country as fugitives on a stolen boat, only to encounter a massive storm and end up in the Bahamas. 
MTV Awards 2021
On 16 May 2021, Pankow and other cast members of Outer Banks attended the 2021 MTV Movie and TV Awards in Los Angeles, California. Pankow stepped out on the red carpet with co-stars Chase Stokes, Jonathan Daviss, Madelyn Cline, and Madison Bailey. At the award ceremony, the Outer Banks co-stars and real-life couple Chase Stokes (John B) and Madelyn Cline (Sarah) won the 'MTV Movie + TV Award' for 'Best Kiss,' and they also got the "golden popcorn."
Fans Hope
In the show, JJ is the only character that Kiara hasn't kissed in her friend group. However, the two best friend characters are getting fans' support in social media to develop romantic chemistry in the upcoming season. 
When EW asked Pankow (JJ) and Bailey (Kiara) on fans' expectations on seeing two friends excelling in their relationship, Bailey said, "I think people want what they don't have, in a way. If it was me and J.J., then people would be like, "Well, what about Pope?" It's just the one connection that we didn't even realize we were creating at all, and J.J. is the only other Pogue that Kiara doesn't have any romantic interaction with, so I think that's why they want it."
During the conversation, Panko replied, "I agree. When we were filming, we had no idea that that was going to be something the audience, but also the editors, were going to put in there. I don't know if the editors meant to do that, but there are some scenes there that the fans were like, "What about this?" I was like, "Yeah, I never saw that." I never thought that that was something that everybody would latch on to. But I guess! Sure, yeah."
Later, the interviewer Sydney Bucksbaum, mentioned in the interview that showrunner Jonas Pate had said to her that they were "seriously thinking" about Kiara and JJ relationship in season 2 
Netflix's 'Outer Banks' Lawsuit
On 21 December 2020, a high school English teacher and creative writer named Kavin Wooten, a resident of Hamptonville, North Carolina, filed a lawsuit against Netflix and creators of Outer Banks, citing copyright infringement. Wooten filed the lawsuit accusing that the series's creators copied the plot, setting, and characters of his 2016 novel titled 'Pennywise: The Hunt For Blackbeard's Treasure!' 
In the lawsuit, Wooten stated that the series had a similar story as his novel involving "a group of young adults overcome dangerous and challenging obstacles while following clues to a hidden treasure recovered from a fabled shipwreck."
However, according to the attorneys representing Netflix, even though the novel and show's storylines have similarities, the novel and the show have significant differences.
"To be sure, both works involve shipwrecks and treasure hunts. But to analyze their plots at such a high level of abstraction would render every work involving a hunt for buried treasure susceptible to copyright infringement," according to the Netflix attorney's statement.
Ultimately, a federal judge dismissed a lawsuit with prejudice on 7 June 2021. "Having found that the two works here are not substantially similar as a matter of law, Defendants' motion to dismiss is granted with prejudice. The Clerk is directed to close this case," the judge's order reads.
'Space Waves' and 'The Crusades"
Pankow is set to star in Spencer Whiteout's Space Waves as Joey Kite. It is the first role for Pankow as the lead in a full-length feature movie. The movie is about two young characters, Marvin and Joey, who are willing to do anything to catapult their viral misadventure podcast.
In June 2021, Pankow signed a deal to star in the comedy-drama film The Crusades. The movie from writer-director Leo Milano will feature Pankow as Leo Grecco. 
Who is Rudy Pankow Dating?
As per Seventeen, the Outer Banks star Pankow wasn't dating anyone as of 16 June 2020, based on the analysis of his social media. As of 23 July 2021, his Twitter and Instagram still lack evidence of any romantic involvement. Pankow likes hanging out with friends and traveling.
Did You Know?
Pankow was an active advocate against police brutality during the Black Lives Matter protests following the death of George Floyd. Pankow took physical steps to participate in the protest, and on social media, he stated, "I am a white male in a biased country. We are not one people. Even though this country claims we are. Racism hasn't stopped and will not stop, until the bases [sic] of this country reforms along with the ones who are sworn to protect it."
In an interview with Marie Claire in 2020, Pankow revealed that he had been writing a play. For Marie Claire's video series called Shelf Portrait, Pankow also gave a tour of his in-house bookshelf.
During the tour, he showed a collection of books of famous playwrights, including Neil Simon, Kenneth Lonergan, and Tennessee Williams. In addition, Pankow also said that he had a separate shelf for fiction novels and nonfiction books. He revealed 'Zen in the Art of Archery' by Eugen Herrigel as his favorite book. His other favorite books include Larry Moss's 'The Intent to Live,' Tom Stoppard's 'Rosencrantz and Guildenstern Are Dead,' Kenneth Lonergan's 'This Is Our Youth Clifford Odets's 'Golden Boy.' Pankow also has a sizable collection of records of artists such as Sam Cooke, Alabama Shakes, Jack Johnson, and Panic! At the Disco.