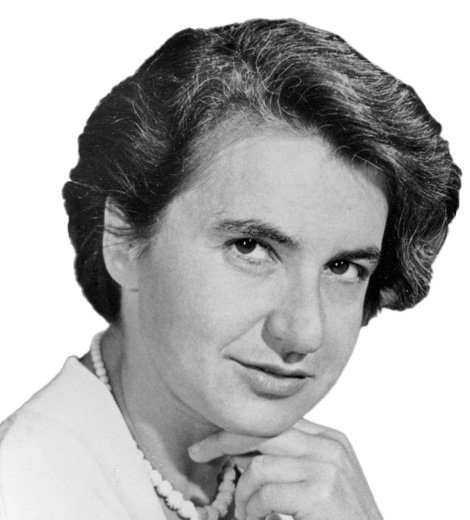 Quick Wiki
Full Name

Rosalind Franklin

Nationality

British

Birthplace

London, England, UK

Birth Date

July 25, 1920

Age At Death

37 yrs & 8 months

Occupation

Chemist, X-ray crystallographer, Researcher, Scientist

Place Of Death

Chelsea, London, UK

Death Date

April 16, 1958
Quotes
"It has just occurred to me that you may raise the question of the creator. A creator of what? ... I see no reason to believe that a creator of protoplasm or primeval matter, if such there be, has any reason to be interested in our significant race in a tiny corner of the universe, and still less in us, as still more significant individuals. Again, I see no reason why the belief that we are insignificant or fortuitous should lessen our faith – as I have defined it."
"Sodium thymonucleate fibres give two distinct types of X-ray diagram … [structures A and B]. The X-ray diagram of structure B (see photograph) shows in striking manner the features characteristic of helical structures, first worked out in this laboratory by Stokes (unpublished) and by Crick, Cochran and Vand2. Stokes and Wilkins were the first to propose such structures for nucleic acid as a result of direct studies of nucleic acid fibres, although a helical structure had been previously suggested by Furberg (thesis, London, 1949) on the basis of X-ray studies of nucleosides and nucleotides.While the X-ray evidence cannot, at present, be taken as direct proof that the structure is helical, other considerations discussed below make the existence of a helical structure highly probable."
"Science and everyday life cannot and should not be separated. Science, for me, gives a partial explanation of life"
Pioneer in Discovering the DNA Helical Structure
Rosalind Franklin | Biography
Discovered that the RNA molecules Had a Single Strand Rather Than a Double Helix Structure
Overcoming the odds faced by women in those days, especially women in the field of science, British chemist and X-ray crystallographer Rosailind Franklin investigated the DNA structure through incessant engagement in mathematical computations and more than 100 hours of exposure to photographic radiations to come up with 'Photo 51.' Her pioneering research and findings were a precursor to discovering the double-helix structure of DNA, but Watson and Crick proposed it in 1953. Her efforts in those days, which have improved health and longevity around the world today, were highly overlooked back then.
---
Rosalind Franklin was an English chemist and X-ray crystallographer who bore an instrumental name in discovering the structure of DNA. She also played a key role in setting the groundwork for structural virology by providing new insights into the structure of viruses.
Who is Rosalind Franklin?
A Chemist, researcher, and crystallography scientist, Franklin captured the B form of DNA and named it as 'Photo 51', but unfortunately, her discoveries were predominantly unrecognized for nearly 50 years. 
Overcoming the odds faced by women in those days, especially women in the field of science, Franklin investigated the DNA structure through incessant engagement in mathematical computations and more than 100 hours of exposure to photographic radiations to come up with 'Photo 51.'
Her pioneering research and findings were a precursor to discovering the double-helix structure of DNA, but Watson and Crick proposed it in 1953. Her efforts in those days, which have improved health and longevity around the world today, were highly overlooked back then. Her photograph 'Photo 51,' which disseminated key insights into DNA structure, was cleverly used by Watson and Crick to support their theory and claimed the credit. It may be noted that Francis Crick, James Watson, and Maurice Wilkins received The Nobel Prize in Physiology or Medicine in 1962 for the same, but Rosalind Franklin was not even given a mention.
By the end of 1953, Franklin had stopped studying DNA and chose another field, Structural Virology, where she made a significant contribution in identifying the location of TMV's genetic material (RNA). It was found lodged in the inner wall of its protective protein shell.
Early Life and Education
Rosalind Franklin, full name, Rosalind Elsie Franklin, was born on 25 July 1920, in London, England. Franklin was raised in a well-to-do Anglo-Jewish family that was into Banking, Publishing, and Community Services. She was the second of five daughters in the family. Her father, Ellis Franklin, shared a partnership with publisher Routledge and Kegan Paul at Keyser's Bank, one of the family's major businesses. In addition to business, he and his wife Muriel were both active in public service and charity. 
Degrees in Science
She acquired education at preparatory schools like North London Collegiate School and St. Paul's School for Girls, where she showed great excellence in science. As she had a passionate knack for math and science from an early age, Franklin left St. Paul's School in 1938 to attend Newnham College, one of two women's colleges at Cambridge University. She studied Physics and Chemistry at the University. 
Even though World War II much influenced her undergraduate years as many professionals, especially in science, were drafted for war service, Franklin successfully graduated with Second Class Honors in her finals in 1941. Her qualification was equivalent to the bachelor's degree in terms of job credentials at the time. Franklin then received her Ph.D. degree from Cambridge in 1945 with the help of the British Coal Utilisation Research Association (BCURA). She yielded a doctoral thesis on coal porosity and about five scientific papers from her study at BCURA.
Fellowship and PhD
After earning her BA in 1941, the Department of Scientific and Industrial Science granted her a fellowship to do one year of research along with the research endowment. That year, she worked in the lab of R. G. W. Norrish, a specialist in photochemistry. However, with the war already going on in 1942, she had to choose between being enlisted for more conventional war service or pursuing a Ph.D.-oriented research role in an area related to wartime demands. She decided on the latter and began working in British Coal Use Research Association. Subsequently, she completed her Ph.D. thesis titled 'The Physical Chemistry of Solid Organic Colloids with Special Reference to Coal and Related Materials' in 1945, which provided her the opportunity to tour around the role as a guest speaker.
Post Graduate Research
Dr. Franklin moved to Paris in 1946 and invested four years in postgraduate research at Paris' Laboratoire Central des Services Chimiques de l'Etat. Those four years helped her gain expertise in X-ray crystallography skills, which later became her biggest strength. By the age of 30, she had established herself as an international authority on carbons, with several publications in peer-reviewed journals to her name. In 1950, she received a three-year Turner and Newall Research Fellowship in John T. Randall's Biophysics Unit at King's College, London. Despite her admiration for the autonomy and way of life in Paris, she returned to London to pursue her job at King's College.
Fellowship at King's College
At the Randall's Biophysics Unit at King's College, the lab director Dr. Randall had intended to have Franklin establish the crystallography section and work on protein analysis. However, at the request of the assistant lab chief, Maurice Wilkins, Randall placed Franklin to look into DNA instead.
Later, Randell informed Franklin by a letter that she, Ray Gosling (a doctoral student), and an assistant would be working on her research. Randall, on the other hand, was already working with Maurice Wilkins on DNA fibers. They needed Franklin's x-ray diffraction experience to complete their study, but they only gave her a three-year fellowship with no rank or academic post. 
In less than eight months after starting at King's in early 1951, Franklin took patently apparent X-ray diffraction photographs of DNA, finally discovering that there were two forms—wet and dry—that produced very different images, and both had two helices. 
What did Rosalind Franklin Discover in DNA?
Franklin was to establish and improve the X-ray crystallography unit at King's College using her skills. At King's College, Maurice Wilkins was already employing X-ray crystallography to try to solve the DNA conundrum. Franklin arrived while Wilkins was away, and Wilkins assumed she had been employed as his assistant when he returned. Wilkins was disappointed to realize that the female assistant he had expected to work for him was actually a competent researcher in her own right.
Later, Franklin was able to obtain two sets of high-resolution pictures of crystalline DNA fibers while working with a student, Raymond Gosling. The data from the photographs suggested that the phosphates were on the outside of the deduced helical structure. However, franklin opted out to publish the results until she got more affirmatory data.
Wilkin's Data Share: Robbed of Credit on the Discovery of the Structure of DNA
Franklin and Wilkins initially worked together to study the structure of DNA. Later, they walked separate ways due to some misunderstanding that came their way and their opposing personalities, giving rise to conflict. Although Franklin didn't care about the situation and continued working alone, Wilkins, on the other side, sought company at the Cavendish Laboratory in Cambridge, where his friend Francis Crick was working on a model of the DNA molecule with James Watson. Crick and Watson's original study, which lasted over a year, eventually resulted in the discovery of the first structural model of DNA after Wilkins gave the rare photograph and the crystalline parameters.
The Background
Franklin had no idea that Watson and Crick had seen some of her game-changing unpublished results, including the magnificent 'Photo 51' that Wilkins had shown to Watson. Watson was inspired by the X-ray diffraction image of a DNA molecule (the pattern was a helix). Watson and Crick then developed their famous DNA model using Franklin's photograph in combination with their data. However, as they sent a formal account of her incomplete observations to publish it in Nature, the pair neither told Franklin that they had seen her materials nor did they expressly accept their debt to her work despite her significant contribution to DNA crystallization research.
Venture into the field of Virology
Later, Franklin decided to stop working on DNA and arranged for her fellowship to be transferred to J. D. Bernal's crystallography laboratory at Birkbeck College. There she paid special attention to the structure of plant viruses, especially the Tobacco Mosaic Virus (TMV). There, she worked with her colleagues, including eventual Nobel laureate Aaron Klug to capture meticulous X-ray diffraction images of the viruses. Her take on the diffraction patterns clued to, among other things, that TMV's genetic material (RNA) was lodged in the inner wall of its protective protein shell.
Discovery
Franklin discovered that the RNA molecules had a single strand rather than a double helix structure through her research. She also demonstrated that the proteins of the tobacco mosaic virus formed a hollow spiral tube with RNA wrapped around it using X-ray crystallography. This discovery, ironically, corroborated the spiral tube idea proposed by James Watson in the early 1950s. 
However, Franklin's descriptions were quite detailed; she noted that the RNA's angle was located about the virus's axis. This exquisite study served as a predecessor to the poliovirus study, which Klug completed after Franklin's death and had published in her honor. 
Within five years, Franklin published 17 scholarly papers on viruses. Her team succeeded in laying a profound foundation for structural virology.
Nobel Prize
The Nobel Prize in Physiology or Medicine was shared by Francis Crick, James Watson, and Maurice Wilkins in 1962 for discovering the double-helix structure of DNA. Franklin was robbed of her significant finding, 'Photo 51', which eventually led to the discovery of the double-helical structure of DNA by Watson and Crick. 
Rosalind Franklin was not awarded the Nobel Prize in 1962 for a few reasons. First, she died of ovarian cancer four years prior, and the Nobel committee never considered deceased nominations. Furthermore, because the Nobel committee frequently preferred those who enforced the award-winning study, Maurice Wilkins still would have been the favored contender instead, as his lab's work into the structure of DNA had begun long before Franklin arrived from Paris.
Later, Watson suggested that Franklin and Wilkins should have shared the Nobel award in chemistry if Franklin was alive. However, he believed that he and Crick still deserved the Nobel award in physiology and medicine.  
Challenges 
Despite her intellect, perfect test scores, scholarship, and desire to remain committed to the science industry, she faced many humiliations and sexist encounters from how the credit for her work on the DNA was wrongfully taken away; to her time at Birkbeck College, where she was told to stop researching and quit fretting about her DNA studies.
Franklin's friend Anne Sayre wrote a biography in 1975 as a vehement rebuttal to James Watson's book 'The Double Helix: A Personal Account of the Discovery of the Structure of DNA,' and to explain the world about Franklin's involvement in the discovery.
"While the male staff at King's crashed in a big, cozy, somewhat clubby dining room," Sayre claimed, "the female staff of all grades had their lunch in the student's hall or further from the premises." 
Previously, Watson, on his book The Double Helix (p. 20), acknowledges that at King's, "the best home for a feminist was in another person's lab."
Marriage, Cancer, and Death 
Rosalind Franklin never married or had children; she saw her decision to pursue science over marriage and children.
Franklin was diagnosed with ovarian cancer in September 1956, said to be due to continuous exposure to X-rays. Despite three operations and experimental chemotherapy, she continued to work for the next two years. She then had a 10-month remission and continued to work until a few weeks before her death on 16 April 1958, at 37.
"Her Research and Discoveries on Viruses Remain of Lasting Benefit to Mankind," reads the inscription on her headstone at London's Willesden Cemetery.
Legacy
Franklin might be heavily noted for being robbed of recognition for her contributions to discovering DNA's helical structure, but her reputation has been broader. She was a frequent traveler to foreign conferences and collaborated closely with international associates. She was awarded a one-of-a-kind grant from the National Institutes of Health in the United States (together with Klug). Additionally, she was a global link in the burgeoning early days of virus structure research: a pathogenic virus expert with a worldwide reputation who was passionate about seeing her findings put to good use.
She regularly posted articles - 19 on coals and carbons, five on DNA, and 21 on viruses and their structure throughout her life. In addition, her papers provided her with several opportunities to speak at renowned conferences and conventions worldwide during her last few years. If only she had not acquired the disease and had lived more, she would have gained numerous professional accolades and recognition, including the Nobel prize.
Rosalind Franklin's name is currently associated with an Oxford research institute and the ExoMars robot, which was planned to launch in 2020 and was created in the United Kingdom. The ExoMars Rosalind Franklin spacecraft was supposed to launch to Mars in July/August 2020, but engineers could not complete the mission on time; therefore, it will not fly until 2022.
In 2003, The Royal Society introduced the 'Rosalind Franklin Award' to support and promote women in Science, Technology, Engineering, and Mathematics (STEM).
In recognition of her contributions, Rosalind Franklin University of Medicine and Science became the first medical institution in the United States to commemorate a female scientist with an honorable namesake on 27 January 2004.