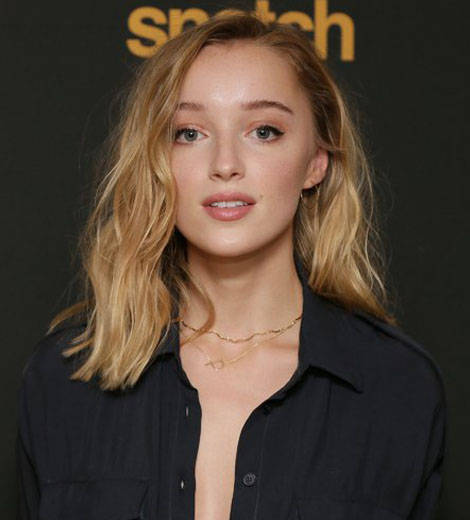 Phoebe Dynevor | Biogrpahy 2021
Phoebe Dynevor is a British actress renowned for starring Daphne in the Netflix series Bridgerton. Her acting career started with the fifth drama series of Waterloo Road.
---
Phoebe Dynevor is a British actress renowned for starring Daphne in the Netflix series Bridgerton. Her acting career started with the fifth drama series of Waterloo Road. Dynevor has appeared as a supporting character in the BBC series Prisoner's Wives, the BBC period dramas The village and Dickensian, the TV land comedy-drama Younger, and portrayed the lead role in the Crackle crime series Snatch.
Who is Phoebe Dynevor?
Dynevor started acting at the age of 14 with her first role as Siobhan Mailey in the BBC Show Waterloo Road. During A-level, she played the main role of the famous Greek play; Antigone, one of Dynevor's most prominent moments.
After her graduation, Dyenveor was cast in the BBC series Prisoners' Wives (2012-2013) and later in a BBC period drama The Village(2014). She also appeared in other period dramas Dickensian (2015-2016).
The roles kept on coming; she acted in more modern shows; from 2017 to 2018 she was cast as the lead role in the TV series Snatch. Additionally, from 2017 to 2019 she appeared as Josh's Love Interest in Younger; an American comedy-drama.
Being in the TV world for a while, in 2020 Dyenevor finally came to the limelight after her lead role of Daphne Bridgerton on Netflix's hit drama Bridgerton
Early Life
Sally Dynevor was born on April 17, 1995, in Manchester, England. She was born to an actress Sally Dynover; an actress who is known for starring as Sally Metcalfe in the iconic British soap opera Coronation Street, and to Tim Dynover; a television screenwriter. Dynevor has a younger brother Samuel and a younger sister Harriet.
Even though coming from a showbiz family, her parents didn't encourage her to pursue an acting career but for Dyenveor they were an ideal example and she decided to follow in their footsteps.
When she was 11 she convinced her parents to audition for The Golden Campus. While she didn't get through the audition it was the "best day" for Dynevor and from that moment she decided to make acting her career.
At the age of 14, Phoebe got an on-screen role in the BBC show Waterloo Road, where she played a well-off teenage schoolgirl in a comprehensive school. Phoebe played the role of Siobhan Mailey in the fifth series of the show. She appeared in 20 episodes in total. Having early professional experience in front of the camera was both a great and difficult experience as she had to manage her normal school classes and on-set tutoring during her show.
After appearing in Waterloo Road as a teen, she rarely participated in school drama because she wasn't really into singing and dancing. However, during her A levels at Cheadle Hulme school, she was cast by her English Teacher in the titular role in the ancient Greek play Antigone.
It was one of the best moments for the teenage actress.
"That feeling of being on stage and that rush and the thrill of finding out about who a person is... There are so many aspects of acting that you fall in love with, and then before you know it you're in and you can't get out," she recalls.
Being a star on the screen Dyenvor didn't excel academically as she admitted she wasn't the " brightest" but later with determination and hard work Dynevor graduated A Levels with good grades.
Career
Following the completion of the A-Level, she planned to audition for drama school. Before she got the chance to audition she was cast in the BBC soap opera Prisoners' Wives as the daughter of a gangster. Later, in 2014 she appeared in the second series of BBC drama The Village. From 2015- 2016 she appeared in another BBC period drama Dickensian where she played Martha Cratchit
In 2017 she starred in Crackle's crime comedy-drama Snatch. The series is about a group of scammers with a truck loaded with stolen gold bullion and are involved in world organized crime. Dynevor portrayed the character of Lotti Mott; a strong female character.
The same year, the actress was cast in a recurring role as Clare in TV Land's comedy-drama Younger. She played Josh\s girlfriend who later marries for a green card in Ireland. She appeared in 11 episodes so far.
Despite being on screen from a young age Dyneveor was disappointed and confessed she wasn't excelling as she expected to which led to " points of really low self-esteem".
As she expresses,"I had a really strange period in my early 20s with the industry, and not succeeding the way I wanted to, and I put a lot of pressure on myself."
Eventually, she passed that phase by neglecting those thoughts and building newfound attitudes and self-confidence.
Bridgerton
On December 25, 2020, she landed in the bigger role of a period drama Bridgerton premiered on Netflix. Bridgerton is a story seen from the perspective of a powerful Bridgerton family about wealth lust and betrayal set against the backdrop of Regency-era England. The series comprises eight seasons and in January 2021 it was renewed for a second season.
Dynevor played Daphne Bridgerton, the eldest daughter of the family who is hoping to find a husband on the circuit. After being impressed by no man she meets Simon Bassett and the story unravels.
Prior to filming, she went to intensive training such as horse riding, piano lessons, and etiquette training. In addition, she learned to work with her co-star Rege-Jean Page. They spent a long time together rehearsing for dance which helped them build connection.
"We just got time to play and sort of form a connection. I think that was so beneficial actually in getting the chemistry right," Dynevor shares.