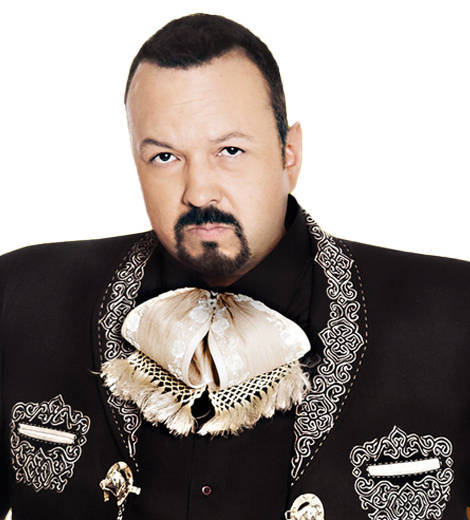 Quick Wiki
Full Name

José Antonio Aguilar Jiménez

Nickname

Pepe Aguilar

Nationality

Mexican-American

Birthplace

San Antonio, Texas, USA

Birth Date

7-08-1968
Pepe Aguilar | Biography 2021
Singer, Songwriter, and Producer
Pepe Aguilar is a Mexico-American singer, songwriter, and producer who has earned four Grammy Awards, five Latin Grammy Awards, nineteen Lo Nuestro Awards, and a star on the Hollywood Walk of Fame.
---
Pepe Aguilar is an American-born, Mexico-raised singer, songwriter, and producer who has produced famous Latin hits such as 'Me Estoy Acostumbrando A Ti,' 'Por Mujeres Como Tú' and 'Prometiste.'
Who is Pepe Aguilar?
Pepe is a legendary Mariachi singer. Initially, he composed rock music, but with time he began producing a mixture of rock and Mexican. His prominent albums were Por El Amor De Siempre, Por Una Mujer Bonita, Historias De Mi Terra, 100% Mexicano, and Bicentenario.
With more than 15 million copies of albums sold, Pepe has won four Grammy Awards, five Latin Grammy Awards, thirteen Lo Nuestro Awards—including an Award for Excellence, and a number of Latin Billboard Awards. Prominently, he has his own star on the Hollywood Walk of fame on 7060 Hollywood Boulevard.
Early Life
José Antonio Aguilar Jimenez, aka Pepe Aguilar, was born on August 7, 1968, in San Antonio, Texas, USA. His parents—Antonio Aguilar and Flor Silvestre—were both legendary Mexican singer-actors. Pepe was actually born when they were on tour!
Due to his family's work nature, Aguilar completed his elementary school in Tayahua, Zacatecas, while studying high school education with private teachers, traveling on the road. Recollecting his childhood, he says, "I could say I grew up between concerts because I spent most of my childhood at my parents' shows… As soon as I was able to take the mike and sing, I was part of that show."
His career was primarily launched when he was three years old, and his father gave him a microphone to perform in Madison Square, New York. And the rest, as they say, is history.
Despite gravitating towards rock music in his teens, Aguilar was highly influenced by his father and the Mexican culture. His father encouraged him and understood his explorations with music.
"From a very young time I knew what he wanted, to be a singer, to be in the middle of the show…[my father] encouraged me and said, get the things that everyone deserves for their work and nothing but their work," Jimenez shares.
Career
Aguilar, who started writing music at the age of 16, was a fan of rock music. His older brother was a great influence on his passion for rock music. He shared, "My brother, who is eight years older than me, made me know this music that I was supposedly not supposed to listen to at seven or eight, Pink Floyd, The Who, to name a few."
In 1987 he released his first album, along with his band Equs. The album had ten songs, and eight of them were his composition. However, the band did not last long. So, at the age of 20, Aguilar went back to composing and producing the Mexican music genre. He signed with a recording company named Musart, and in 1989, he released his recording debut album Pepe Aguilar Con Tambora.    
Then in 1991 and 1992, he released two albums, Con Tambora I and Recuerdame Bonito respectively, the latter achieved no. 8 positions at the Billboard's Regional Mexican Chart.
In 1999 he released  Por El Amor De Siempre, a breakthrough in his musical career. The album reached the top 20 of the Billboard Top Latin Album Chart and was nominated for Grammys under Best Mexican-American Performance for 1999. Subsequently, he released his next album Por Una Mujer Bonita, which attained the no. 2 position on the Regional Mexican chart and won him his first Grammy under Best Mexican/Mexican-American Album for 2000.
Although in 2003 he left Musart and established his own recording studio and label, his Grammy-winning journey did not end there. It continued when he won an additional two in 2006 for Historias De Mi Terra and in 2007 for 100% Mexicano. In 2011, his album Bicentenario won a Grammy under Best Regional Mexican or Tejano Album.
Cinema Ventures
Aguilar has explored his abilities in acting as well. His family owned two production companies—Aguila Productions and Talileo Productions. On his extended indulgence on acting, he elaborates:
I have been a charro for all my life and all my life my ideal has been to be a singer. What I am! If, in addition, I have acted in the cinema, it is because in the family we have two production companies, Producciones Aguila and  Producciones Talileo (my dad is Taurus; my brother Libra and mom and I are Leo), and it came out as a consequence. Making movies was normal, as a means of communication. I made movies, because it is one of the most beautiful artistic experiences. I participated in 14 films, three of them at a stellar level. If there is an upcoming movie I have to make it fully prepared. As an artist, if I don't do good enough creative work, I'd rather not do it. By this I mean that from now on I am going to dedicate one hundred percent to singing.
Among his films, he hand-picked original screenplay by Ricardo Garibay, La Sangre de un Valiente as his favorite, followed by his debut movie, Laberto Quintero's Son. Aguilar's recent production was in 2017, a documentary film, Flor Silvestre, on which he wanted to share his mother's artistic career and her family life.
Projects
In 2014, Aguilar collaborated with MTV and produced their project Pepe Aguilar: MTV Unplugged, a live recording of Aguilar's musical collaboration with other artists.
On joining the show, he said, "It's a great honor for me to be the new guest of the MTV Unplugged franchise…This project represents a great opportunity to return to my essence and expose it to my fans while allowing me to collaborate with a talented group of colleagues for which I have great respect and admiration." 
Later he collaborated with his son Leonardo in 2021 and recorded their version of the duet of No One Is Eternal, which was Pepe's father Don Antonio's piece. Aguilar, via a newsletter, conveyed, "No one is eternal is a theme that Don Antonio Aguilar popularized and that today his second and third generation, that is Pepe and Leonardo Aguilar, reinterpret it and in what way, this being the first time that father and son have the release of a duet, resulting in a unique and otherwise significant interpretation."
The duet got nominated for the Latin Music Awards under Favorite Virtual Concert.
Awards and Legacy
Aguilar reaped his artistic freedom and focused only on his audiences, which led him to produce modern-cultural music. Among his recordings, fifteen were at the top of the billboard charts, which expanded boundaries for the Mexican music genre.
Further, he was critically acclaimed as the "a True Latin Music Star" by major newspapers and magazines in the USA and Mexico. He has collectively won four Grammy Awards and five Latin Grammy Awards, including an Award for Excellence and thirteen wins from the Lo Nuestro Awards, several Latin Billboard Awards, including special recognition for his musical legacy. The legendary Rubén Fuentes connoted, "Pepe Aguilar is a before and after in Mexican music."
Aguilar's historic achievement incorporated his eternal mark on the Hollywood Walk of Fame at the 7060 Hollywood Boulevard on July 26, 2012, followed by his Grammy Museum exhibition in 2014. He was the first Mexican artist to obtain his own exhibition, which was on display for a year on the site.
"I feel more comfortable on the stage than anywhere else, so that's my place, I am in control. Where can you say that you're in control of life? And I am in control of the stage, and I love it, to give and have that connection with the audience, which is pretty unique…You know it's been 35 years now that I've done this, and I still feel little butterflies in there. It's not that I am nervous about it or afraid, nothing like that. It's just I'm anxious to go at it. I mean, that's my life. I truly enjoy what I do," Aguilar said in 2016. 
Personal Life
Aguilar, who is married to Aneliz Aguilar Alvarez, keeps his personal life away from the limelight. But in one of his interviews, he opened up about his wife and his brother's kidnapping that occurred in Mexico. 
 "It was the type of kidnapping that they're calling them 'express kidnappings. What they do is they kidnap you, and they put you in the trunk of your car just drive you around take your car, take your money, go to the ATM get all the money they have, and then after 4-5 hours drop you in the middle of nowhere," Aguilar explained.
He has four children—Emiliano, Aneliz, Leonardo, and Ángela. Leonardo and Angela are also singers.
Fact-checking and Ethical Concerns
We assure our audience that we will remove any contents that are not accurate or according to formal reports and queries if they are justified. We commit to cover sensible issues responsibly through the principles of neutrality.
To report about any issues in our articles, please feel free to Contact Us. Our dedicated Editorial team verifies each of the articles published on the Biographyhost.