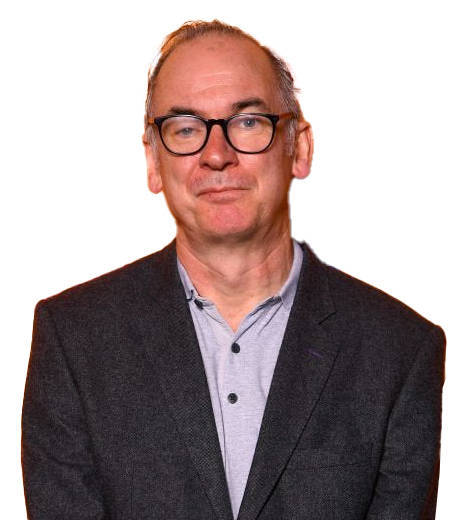 Quick Wiki
Full Name

Paul Ritter

Occupation

Actor

Nationality

British

Birthplace

Kent, UK

Birth Date

December 20, 1966
Paul Ritter | Biography
Eldred Worple in 'Harry Potter and the Half-Blood Prince'
Paul Ritter is a 'Tony Award' winner and 'Oliver Award'-nominated English stage and screen actor.
---
Paul Ritter is a 'Tony Award' winner and 'Oliver Award'-nominated English stage and screen actor.
Who is Paul Ritter?
Ritter is a British actor who began his career on stage and then went on playing supporting yet significant roles in television series and movies.
After college studies, Ritter left for the German National Theatre, Hamburg, for a year. After returning home, he changed his stage name from Simon Paul Adams to Ritter after the German actor he admired. He then started acting in popular theatres starting from Royal Shakespeare Theater, London Theatre to National Theatre Academy, and worked with major production houses. He is the recipient of 'Tony Award' and got nominated for 'Oliver Award' for his stage contributions.
His popular TV dramas include 'Friday Night Dinner' (2010-2020), 'Not Like That, Like This' (2014), 'We're Doomed! The Dad's Army Story' (2015) and 'Chernobyl' (2019). Ritter had also played a significant role in the movie 'Harry Potter and the Half-Blood Prince' (2009).
Ritter passed away on April 5, 2021, from a brain tumor at the age of 54.
Early Life
Ritter, originally Simon Paul Adams, was born on December 20, 1966, in Dartford, Kent. His mother, Jean (née Mooney), was a school secretary, and his father, Ken Adams, was a toolmaker at power stations. He grew up among four older sisters.
Ritter completed A-level in theatre studies from Gravesend Grammar School and went to St John's College, Cambridge, to study Modern Languages. After graduation, he spent a year at the German National Theatre in Hamburg.
After he came back to Britain, he took Ritter as his stage name after a German Actor he got inspired, as there was already an actor with his name Simon Adams.
Stage-Theatre
Ritter started his career in stage acting. One of his earliest actings was at the famous Bush Theatre, London, in 1994, where he acted in Snoo Wilson's play 'Darwin's Flood.' During his stage days, Ritter worked at numerous theatres, including Royal Shakespeare Company in Stratford in 1996, in London in 1997, Peter Hall's Company at the Old Vic Theatre, and National Theatre from 2000 to 2002. At National Theatre, Ritter performed in several plays, including All My Sons (2000), The Coast of Utopia (2002), Coram Boy (2005), and The Curious Incident of the Dog in the Nighttime (2012). He originated the role of Ed in The Curious Incident of the Dog in the Nighttime.
In 2006, he acted in 'Coram Boy' by Jamila Gavin at the National Theatre, for which he was nominated for the 'Olivier Award' for best-supporting actor category. In Helen Edmundson's Coram Boy, a stage adaptation of Jamila Gavin's book of the same name, he performed as Philip Gardam and company. Ritter appeared with the American Actor Stephen Mangan in 2009 in a Broadway production of the trilogy 'The Norman Conquest' by Alan Ayckbourn. He got nominated for 'Tony Awards' for his role in the trilogy. The Norman Conquests trilogy was revived for the first time in 34 years in The Old Vic theatre, in which he was cast in the role of Reg.
Later, in 2013, he enacted the former Prime Minister of the UK, John Major's role, in 'The Audience' by Peter Morgan. In 2016, Ritter performed in the 20th-anniversary revival of French playwright Yasmin Reza's hit play Art at The Old Vic theatre in London.
Television
Ritter got his first television role in 1992 in the series 'The Bill.' He popped up in two episodes of Britain's famous police TV series The Bill. He appeared as Walgrave in episode 'Overdue' in 1992 and as Terry Webster in episode 'Accidents Will Happen' in 1996. The TV series ran for many years for over 25 years from 1984 to 2010. However, he got his regular role as the gangster Scott Sweeny in the 2007 comedy-drama 'City Lights.' Ritter had also appeared in the last season of 'Land Girls' in 2011.
In 2014, he appeared in the cold war spy thriller 'The Game.' Broadcasted on BBC America. The TV mini-series ran from 5 November 2014 to 10 December 2014 for six episodes. In the mini-series, he played the role of the ambitious civil servant Bobby Waterhouse who serves as the Head of MI5 K Branch under Brian Cox codenamed as 'Daddy'.
Ritter had performed two biopic roles in TV - the first in 2014 as the comedian Eric Sykes in 'Not Like That, Like This' by Tommy Cooper and the second in 2015 as the comedian/ scriptwriter Jimmy Perry in 'We're Doomed! The Dad's Army Story.'
Ritter had also appeared in the BBC drama 'Great Expectations' in 2011. Then took up a forensic pathologist role in the crime drama 'Vera,' from 2011 to 2013. In the crime series Vera, he starred as Billy Cartwright, alongside Brenda Blethyn.
Again, he played a forensic expert in a police series, 'No Offence' by Abbott from 2015 to 2018. The series ran for three seasons with 21 episodes, in which Ritter starred as Randolph Miller. In 2018 he also appeared in the improvised comedy 'Hang Ups' with Mangan.      
Ritter got one of his prominent roles in the HBO-Sky series 'Chernobyl' in 2019, in which he acted as the deputy chief engineer at the nuclear factory. The same year he appeared in the Irish war independence drama 'Resistance.' Set in the 1920s, this historical TV mini-series is a sequel to the 2016 mini-series titled Rebellion, which was set during the 1916 Easter Rising. It ran for five episodes from 6 January to 3 February 2019. In the mini-series, Ritter played the role of Dublin Castle's Chief of Intelligence General Ormonde Winter.
One of Ritter's longest-running shows was Channel 4's 'Friday Night Dinner' written by Robert Popper and produced by Big Talk Productions. He was in the show from 2010 till 2020, alongside Tamsin Greig, Simon Bird, and Tom Rosenthal. In 2020, he appeared in an episode of BBC One drama The Trial of Christine Keeler, as Jeremy Hutchinson, a defense barrister of Christen Keeler. The drama is based on an actual story of a 19-year-old Christine Keeler who finds herself in the middle of a political sex scandal in the 1960s that rocked the British government. The scandal came to be known as the 'Profumo affair.' Keeler died at 75 after battling lung cancer in December 2017. At that time, BBC was making a show about the Profumo affair while filming of the series was announced to begin in the subsequent year.
'Chernobyl'
Ritter played one of his prominent roles in the historical thriller drama TV mini-series Chernobyl, based on the 1986 explosion at the Chernobyl nuclear power plant. He portrayed the real-life character of Anatoly Dyatlov, who was in charge of the control room on the night of the Chernobyl disaster. In an interview with Bradford Zone in May 2019, he explained the character he portrayed in Chernobyl. He said, "I play a man called Anatoly Dyatlov, born in Siberia in 1931. He was the assistant chief engineer in charge of the control room on the night of the disaster. He was a very experienced nuclear engineer in charge of running what was, with horrible irony, a safety test. It was the fourth attempt to carry out this test. On the previous occasions, Dyatlov had sensed that it wasn't going well and had entirely shut the system down. On the night of the disaster Dyatlov, who was a terrible workplace bully, was at a top level meeting with his immediate bosses and corralled his team into working from a manual. Many of the team were rookies, and they failed to shut it down." 
The nuclear meltdown at Chernobyl claimed the lives of most of the people who were exposed to radiation within a month, but fortunately, Dyatlov survived for nine years. Ritter explained, "Most of the people who suffered equivalent radiation exposure were dead within a month. He survived for nine years, five of them in a hard labour camp. He grew up in the navy town of Novosibirsk, fitting much smaller nuclear reactors into submarines and survived that too. He seems to have had a genetic predisposition to resist radiation."
'Friday Night Dinner'
Ritter played his career-defining role as Martin Goodman in the Channel 4 comedy TV series Friday Night Dinner, focused on the weekly Shabbat dinner of a middle-class Jewish Goodman family and somehow, something always goes wrong during each meal. 
In the show, Ritter played the husband of Jacqueline "Jackie" Goodman, played by Tamsin Greig, and the father of two sons Adam and Jonny, played by Simon Bird and Tom Rosenthal. The two siblings share Friday night dinners with their parents.
In a final interview before his death, Ritter said that his role in the popular comedy series had been the highlight of his career and he loved playing the role. "I'd be nothing without him," he said, about his character Martin Goodman. "Seriously. I mean it was the great career gift. In terms of interesting parts, he's been absolutely everything to me, and I have loved playing him. I've loved all the extraordinary scenes we do."
He played the role for nine years in the six seasons of the Channel 4 comedy Friday Night Dinner. After Ritter's death, the show's creator Robert Popper announced in May 2021 that Season 6 was the last season of the show and there will be no more new episodes. The comedy series ended in May 2020 with the revelation that both Adam and Jonny's girlfriends were pregnant. Popper said, "I was thinking this will be the end, because I didn't want to do a series where they had kids and babies, and Jim would have seven dogs, also, like, the world's weirdest dog that you couldn't find seven of. So that was going to be the end, yeah." The tragic death of Ritter further led the creator to end the show. Popper said that he has no plans to continue the show without Ritter and felt the show had reached its natural end. 
A special documentary titled Friday Night Dinner: 10 Years And a Lovely Bit of Squirrel was made to celebrate the 10th anniversary of the iconic comedy sitcom on May 28, 2021. Tamsin Greig, who played Jackie as Ritter's on-screen wife on the show said that she tried to convince Ritter not to interview for the show's anniversary special documentary due to his poor health condition. "Sadly at the time of making the documentary, Paul was pretty unwell and to be honest – and don't tell the producers this – but I did try and persuade him not to do the interview." Greig said. "But it is testament to Paul's courage and generosity and dignity and complete lack of vanity that he wanted to take part in the documentary, to do an interview, and to really celebrate this little world that he's been a part of and that he's enjoyed so much over the years."
Dedicating Ritter, the documentary would feature Ritter's infamous squirrel-based catchphrase and exclusive interviews of Ritter along with other cast members.
Movies
Ritter's movie debut was in 1999 as a supporting actor in 'Greenwich Meantime.' He then went on to act in movies and theatre plays simultaneously. His movies list include 'The Nine Lives of Tomas Katz' and 'Esther Kahn' in 2000, 'The Libertine' in 2004, 'On a Clear Day' in 2005, 'Son of Rambow and Hannibal Rising' in 2007, 'The Other Man,' and 'Quantum of Solace' in 2008. In the spy film Quantum of Solace, Ritter played a minor antagonist Guy Haines, a special advisor to the British Prime Minister and a high-ranking member of the criminal organization, Quantum. Quantum of Solace is the 22nd film in the James Bond series that follows James Bond's attempt to stop a mysterious organization from eliminating a country's vital natural resource.
Ritter's significant role was in 'Harry Potter and the Half-Blood Prince' in 2009, where he enacted the role of a wizard writer, Eldred Worple. 
The same year he did 'Nowhere Boy.' He had also appeared in 'The Eagle' in 2011, 'Eliminate Archie Cookson' in 2012, 'The Audience' in 2013, 'Suite Francaise' in 2014, 'Inferno' in 2016. 
His last movie before his death was 'Operation Mincemeat' alongside Colin Firth, Matthew McFadyen, and Kelly Macdonald. This upcoming war drama film is under production. In the film, he played the role of Bentley Purchase. Based on a real incident of the British deception operation of World War II, the movie follows the story of British intelligence officers who use a corpse and false papers to outwit German troops and achieve one of the most successful wartime deceptions called Operation Mincemeat. The film is expected to be released on 7 January 2022. Netflix has pre-bought North America and Latin America rights for the movie for around $15 million after seeing footage of the film.
'Harry Potter and the Half-Blood Prince'
Ritter played the role of a wizard named Eldred Worple in the Harry Potter franchise Harry Potter and the Half-Blood Prince. The character he played in the movie studied and lived with vampires at the Hogwarts School of Witchcraft and Wizardry, where he became a favorite student of the school's Potions Master and Head of Slytherin House, Horace Slughorn. Worple later becomes a writer who specializes in the lives of vampires and writes a book called 'Blood Brothers: My Life Amongst the Vampires.' Worple meets Harry Potter at Slughorn's Slug Club Christmas party where he tries to convince Potter to let him write his biography, but Potter declines. 
'Meet Me at the Museum' - BBC Radio 4
Besides stage, Ritter played Anders Larsen on Meet Me at the Museum, a radio adaptation of Anne Youngson's moving, elegiac bestseller novel of the same name. It was dramatized on BBC Radio 4 'Woman's Hour' and Ritter starred alongside Tamsin Greig. About collaborating with Ritter on Meet Me at the Museum, co-star Greig said, "I also had the enormous privilege of collaborating with Paul on a BBC Radio 4 adaptation of Anne Youngson's novel Meet Me at the Museum, a few weeks before he died. He plays Anders Larsen. At times, it feels as if you are simply listening to a documentary about an isolated Danish museum curator, so skilfully does Paul inhabit the character. It took enormous courage and effort for him to record the drama remotely from his home when he was so ill, and I am honoured that he so willingly agreed to do it. It is a fine legacy and tribute to his artistry, and a gift of time and experience that I will treasure."
Awards and Nominations
For his performance in the play Coram Boy, Ritter was nominated for 'Olivier Award' for 'Best Performance in a Supporting Role' in 2006. He also garnered 'Tony Award' nomination for 'Best Performance by an Actor in a Featured Role in a Play' for The Norman Conquests in 2009.
Shared with the Chernobyl cast members, Ritter was nominated for the 'OFTA Television Award' for 'Best Ensemble in a Motion Picture or Limited Series' in 2019, and the next year, the Chernobyl team won the 'Merit-Honorary Award' at the 2020 CinEuphoria Awards.
Shortly after his death in April 2021, Ritter was later nominated for the 2021 'BAFTA TV Award' for 'Male Performance in a Comedy Programme' for his role in Friday Night Dinner.
Personal Life
Ritter's first wife was Michele Barber. They got divorced. Later, Ritter married Polly Radcliffe in 1996. They had two sons Frank and Noah.
Ritter passed away from a brain tumor on April 5, 2021, at 54, at his home, beside his wife and sons.
Ritter's 'Friday Night Dinner' co-star Robert Popper recalled him on the set, "He was so quiet and focused before he went on, and then as soon as he went on, all that energy just popped out of him. It was amazing. I don't think he ever did anything wrong… he was very professional, and he was a lovely guy."
Other co-stars of Ritter, Stephen Mangan, and Simon Bird paid tribute to him and remembered his influence. Mangan, Ritter's friend from their schooldays, said, "Trying to find a way to talk about Paul Ritter and struggling. My friend since we were students together. So much talent and it shone from him even as a teenager. I was so lucky to know him and lucky too to work with him many times over the years. Wonderful man. RIP."
Net Worth
According to Idol Net Worth, Ritter had a net worth of around $10 million before his death. He had accumulated his wealth from decades of acting.
Paul Ritter Height
Ritter had a height of 5 feet and 11 inches.
Fact-checking and Ethical Concerns
We assure our audience that we will remove any contents that are not accurate or according to formal reports and queries if they are justified. We commit to cover sensible issues responsibly through the principles of neutrality.
To report about any issues in our articles, please feel free to Contact Us. Our dedicated Editorial team verifies each of the articles published on the Biographyhost.