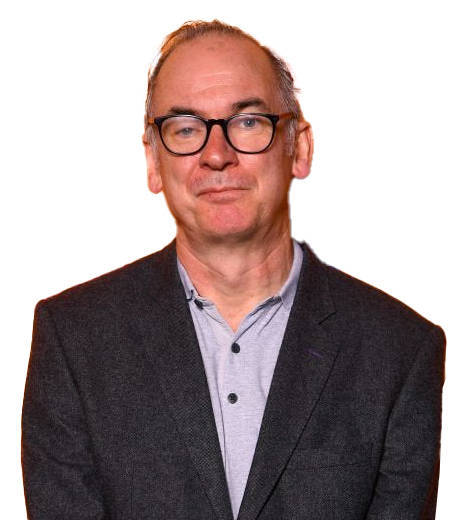 Quick Information
Full Name

Paul Ritter

Occupation

Actor

Nationality

British

Birthplace

Kent, UK

Born Year And Birthday

December 20, 1966
Paul Ritter | Biography 2021
Paul Ritter is a 'Tony Award' winner and 'Oliver Award'-nominated English stage and screen actor.
---
Quick Information
Full Name

Paul Ritter

Occupation

Actor

Nationality

British

Birthplace

Kent, UK

Birth Date

December 20, 1966
Paul Ritter is a 'Tony Award' winner and 'Oliver Award'-nominated English stage and screen actor.
Who is Paul Ritter?
Ritter is a British actor who began his career on stage and then went on playing supporting yet significant roles in television series and movies.
After college studies, Ritter left for the German National Theatre, Hamburg, for a year. After returning home, he changed his stage name from Simon Paul Adams to Ritter after the German actor he admired. He then started acting in popular theatres starting from Royal Shakespeare Theater, London Theatre to National Theatre Academy, and worked with major production houses. He is the recipient of 'Tony Award' and got nominated for 'Oliver Award' for his stage contributions.
His popular TV dramas include 'Friday Night Dinner' (2010-2020), 'Not Like That, Like This' (2014), 'We're Doomed! The Dad's Army Story' (2015) and 'Chernobyl' (2019). Ritter had also played a significant role in the movie 'Harry Potter and the Half-Blood Prince' (2009).
Ritter passed away on April 5, 2021, from a brain tumor at the age of 54.
Early Life
Ritter, originally Simon Paul Adams, was born on December 20, 1966, in Dartford, Kent. His mother, Jean (née Mooney), was a school secretary, and his father, Ken Adams, was a toolmaker at power stations. He grew up among four older sisters.
Ritter completed A-level in theatre studies from Gravesend Grammar School and went to St John's College, Cambridge, to study Modern Languages. After graduation, he spent a year at the German National Theatre in Hamburg.
After he came back to Britain, he took Ritter as his stage name after a German Actor he got inspired, as there was already an actor with his name Simon Adams.
Stage-Theatre
Ritter started his career in stage acting. One of his earliest actings was at the famous Bush Theatre, London, in 1994, where he acted in Snoo Wilson's play 'Darwin's Flood.' During his stage days, Ritter worked at numerous theatres, including Royal Shakespeare Company in Stratford in 1996, in London in 1997, Peter Hall's Company at the Old Vic Theatre, and National Theatre from 2000 to 2002.
In 2006, he acted in 'Coram Boy' by Jamila Gavin at the National Theatre, for which he was nominated for the 'Olivier Award' for best-supporting actor category. Ritter appeared with the American Actor Stephen Mangan in 2009 in a Broadway production of the trilogy 'The Norman Conquest' by Alan Ayckbourn. He got nominated for 'Tony Awards' for his role in the trilogy.
Later, in 2013, he enacted the former Prime Minister of the UK, John Major's role, in 'The Audience' by Peter Morgan.
Television
Ritter got his first television role in 1992 in the series 'The Bill.' However, he got his regular role as the gangster Scott Sweeny in the 2007 comedy-drama 'City Lights.' Ritter had also appeared in the final season of 'Land Girls' in 2011.
In 2014, he appeared in the cold war spy thriller 'The Game.' Ritter had performed two biopic roles in TV - the first in 2014 as the comedian Eric Sykes in 'Not Like That, Like This' by Tommy Cooper and the second in 2015 as the comedian/ scriptwriter Jimmy Perry in 'We're Doomed! The Dad's Army Story.'
Ritter had also appeared in the BBC drama 'Great Expectations' in 2011. Then took up a forensic pathologist role in the crime drama 'Vera,' from 2011 to 2013. Again, he played a forensic expert in a police series, 'No Offence' by Abbott from 2015 to 2018. In 2018 he also appeared in the improvised comedy 'Hang Ups' with Mangan.
Ritter got one of his prominent roles in the HBO-Sky series 'Chernobyl' in 2019, in which he acted as the deputy chief engineer at the nuclear factory. The same year he appeared in the Irish war independence drama 'Resistance.'
One of Ritter's longest-running shows was Channel 4's 'Friday Night Dinner' written by Robert Popper and produced by Big Talk Productions. He was in the show from 2010 till 2020, alongside Tamsin Greig, Simon Bird, and Tom Rosenthal.
Movies
Ritter's movie debut was in 1999 as a supporting actor in 'Greenwich Meantime.' He then went on to act in movies and theatre plays simultaneously. His movies list include 'The Nine Lives of Tomas Katz' and 'Esther Kahn' in 2000, 'The Libertine' in 2004, 'On a Clear Day' in 2005, 'Son of Rambow and Hannibal Rising' in 2007, 'The Other Man,' and 'Quantum of Solace' in 2008.
Ritter's significant role was in 'Harry Potter and the Half-Blood Prince' in 2009, where he enacted the role of a wizard writer, Eldred Worple. The same year he did 'Nowhere Boy.' He had also appeared in 'The Eagle' in 2011, 'Eliminate Archie Cookson' in 2012, 'The Audience' in 2013, 'Inferno' in 2016. His last movie before his death was 'Operation Mincemeat' alongside Colin Firth, Matthew McFadyen, and Kelly Macdonald. This upcoming war drama film is under production.
Personal Life
Ritter's first wife was Michele Barber. They got divorced. Later, Ritter married Polly Radcliffe in 1996. They had two sons Frank and Noah.
Ritter passed away from a brain tumor on April 5, 2021, at 54, at his home, beside his wife and sons.
Ritter's 'Friday Night Dinner' co-star Robert Popper recalled him on the set, "He was so quiet and focused before he went on, and then as soon as he went on, all that energy just popped out of him. It was amazing. I don't think he ever did anything wrong… he was very professional, and he was a lovely guy."
Other co-stars of Ritter, Stephen Mangan, and Simon Bird, paid tribute to him and remembered his influence. Mangan, Ritter's friend from their schooldays, said, "Trying to find a way to talk about Paul Ritter and struggling. My friend since we were students together. So much talent and it shone from him even as a teenager. I was so lucky to know him and lucky too to work with him many times over the years. Wonderful man. RIP."
Fact-checking and Ethical Concerns
We assure our audience that we will remove any contents that are not accurate or according to formal reports and queries if they are justified. We commit to cover sensible issues responsibly through the principles of neutrality.
To report about any issues in our articles, please feel free to Contact Us. Our dedicated Editorial team verifies each of the articles published on the Biographyhost.