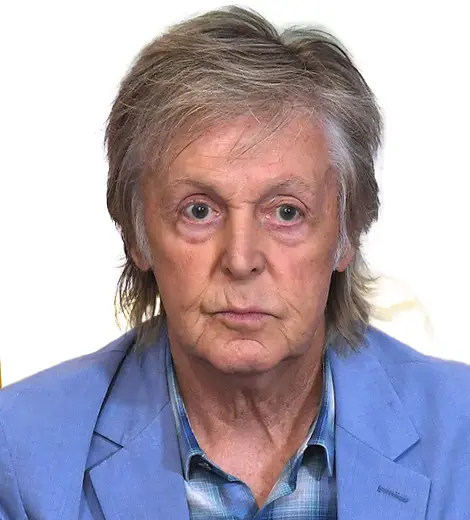 Quick Information
Full Name

Paul McCartney

Occupation

Musician

Nationality

British

Birthplace

Liverpool, UK

Born Year And Birthday

June 18, 1942
Paul McCartney | Biography 2021
Paul McCartney is a famous British singer-songwriter, musician primarily known as the lead vocalist of the legendary band 'The Beatles.'  
---
Quick Information
Full Name

Paul McCartney

Occupation

Musician

Nationality

British

Birthplace

Liverpool, UK

Birth Date

June 18, 1942
Paul McCartney is a famous British singer-songwriter, musician primarily known as the lead vocalist of the legendary band 'The Beatles.'
Who is Paul McCartney?
McCartney is one of the phenomenal British artists of all times. He was the lead vocalist of the rock band 'The Beatles.' He then established his solo career.
Duly encouraged by his father, McCartney learned music and started writing songs from the age of 14. He later met musician John Lennon at a church festival and joined his band that later evolved into 'The Beatles.'
With the Beatles, McCartney composed and released 12 studio albums. Almost all of them were jointly written by Lennon and other members. His worldwide success with the band and the band's unique capacity of creating music revolutionized the pop culture of the 60s and the 70s.
After the band broke up, he formed another band with his wife. It did not last long, and so he started doing solo. McCartney had released 60 gold records and accumulated 18 'Grammy Awards.' He had also garnered two inductions into the Rock and Roll Hall of Fame in 1988 and 1999.
The Queen of England knighted him in 1997, and so his royal title became Sir James Paul McCartney. He had also been given the Legion of Honors by her majesty and 'Gershwin Award' by the former president of America, Barack Obama.
Early Life
James Paul McCartney was born on June 18, 1942, in Liverpool General Hospital. His mother, Mary Patricia (nee Mohin), was a medical nurse and midwife at the same hospital where he was born. His father, James 'Jim' was a cotton salesman and a pianist leading 'Jim Mac's Jazz Band.' McCartney has one younger brother Michael.
McCartney studied music and art from his young age. He passed the 11+ exam, also known as 'the scholarship' in Liverpool, at the age of 11. Through the scholarship, McCartney studied A level in English and Art from 1953 to 1960 at Liverpool Institute for Boys.
Reminiscing his time of school days, after decades, he said, "Whenever I do a speech at the graduation, I always remember my mum and dad coming to events at the school when we were kids, like speech day, and your mum and dad would be there all proud of you and stuff, so when I'm standing there, talking to all the parents and all the kids, I get quite emotional. I've got a million memories in that place and most of them are great, most of them are lovely."
Career
McCartney wrote his first song, 'I lost my little girl,' when he was 14 years old. At the age of 16, he wrote another song, 'When I am Sixty-Four' with the hopes of selling it to singer Frank Sinatra. He wrote 'I lost my little girl,' after his mom died of breast cancer. Shortly after that, he met John Lennon in 1957 at the age of 15. They both participated in the local church festival, where McCartney was in the choir and Lennon was a guitarist. McCartney was very impressed by Lennon's guitar skill and joined Lennon's band 'The Quarrymen.' Lennon and McCartney jointly wrote the lyrics of the songs. The band consisted of three members - Stuart Sutcliffe, Lennon, and McCartney, all guitarists. They played the rock version of their songs only when they had a drummer. Sutcliffe and McCartney came up with the name 'Beatles.' It eventually evolved to 'The Beatles.'
The Beatles
In the 1960s, Beatles had already entered clubs and bars. They werre also regularly playing in the Liverpool Cavern, where 500 people would be present to hear them in the 200 people capacity club. The band attained local popularity and got an opportunity to play in Hamburg.
While recording their first tracks in Hamburg, a music columnist Brian Epstein offered to be their manager. It was a turning point for the band. Epstein identified the star quality in their music and worked hard for the band to land a record deal. Eventually, the band signed a record deal with the record label EMI. They also hired a drummer Ringo Starr.
After their sign with the EMI, the revolutionary impact their music created was called 'Beatlemania.' From 1962 to 1970, the band had released 12 studio albums influencing the youth of many nations. By early 1964, the band attained international popularity, and they were touring in many countries. They sang about love, friendship, happiness, and peace. The band had a never-ending space of flourishment with their balanced sync over their team. The band was shaping the rock and pop genre of the music. The artists inspired American pop with British dominance and had established a unique theme of melody.
McCartney had multi-instrumental skills. He could play over 40 instruments. Besides, he was one of the songwriters and the lead vocalist. His singular hit during the Beatles was 'Can't Buy Me Love,' which changed the style, fashion, and taste of the industry. McCartney wrote it when he was on an 18-day Paris tour. The song featured him as a solo writer. Until then, all the Beatles songs were co-written by Lennon-McCartney. The song changed the dynamics of pop songs and also the band. In its first week of release, it sold two million copies and topped both the UK and USA charts.
Nevertheless, 'Can't Buy Me Love' altered McCartney's career. He later revealed that 'You Know My Name' was his best Beatles song. The reason, he said, "All the memories— I mean, what would you do if a guy like John Lennon turned up at the studio and said, 'I've got a new song.' I said, 'What's the words?' and he replied, 'You know my name, look up the number.' I asked, 'What's the rest of it?' '…No. No other words, those are twords. And I wanna do it like a mantra!' We did it over a period of maybe two or three years…it didn't work. Eventually, we pulled it all together and I sang, and we just did a skit. Mal (Evans) and his gravel. I can still see Mal digging the gravel. And it was just so hilarious to put that record together. It's not a great melody or anything, it's just unique. Some people haven't discovered that song yet."
The band constantly toured from 1962 to 1966, and their last live performance was on August 29, 1966, at the Candlestick Park in San Francisco. The band fell apart after the death of Epstein, and the appointment of Allen Klein was not agreed upon by McCartney. Lennon was the first member to back out. In 1970, all the four members of the band - Lennon, McCartney, Harrison, and Starr released their solo albums.
Solo Career
McCartney's solo was the first album to release. The album 'McCartney 1970' received mixed reviews but was loved by the public. It was the top seller of the US Charts. Gaining courage from the response, McCartney formed a band 'Wings' with his then-wife, Linda McCartney. McCartney's discography consists of 26 studio albums.
Among the 26 albums, 'McCartney III' was one of his most experimental and legendary albums. While his other albums gravitated towards rock and pop, this one was acoustic and instrumental. The album was the series album preceded by 'McCartney I' and 'McCartney II.'
About the moment of realization to compile the album, he said, "Right at the end of it, I'd just been stockpiling tracks, and I thought, 'I don't know what I'm going to do with all of this – I guess I'll hang onto it,' and then I thought, 'Wait a minute, this is a McCartney record,' because I'd played everything and done it in the same manner as McCartney I and II. That was a little light bulb going off, and I thought, 'Well, at least that makes a point of explaining what I've been doing, unbeknownst to me.' "
Collaboration
Following his success in the 60s, 70s, 80s, and 90s, McCartney collaborated with the millennial pop artists Rihanna and Kanye West in 2015. They released a 'stripped-down' pop song, 'FourFiveSeconds,' which showcased McCartney's everlasting talent of creating pop music that impacts the youth of any decade.
Previously in the 80s, his fabled collaborations were with Michael Jackson and Steve Wonder. Both were a commercial and critical success.
Books
Apart from his music composition, McCartney published two children's storybooks and one cookbook. His storybook 'Hey Grandude!' was released in 2019.
About the book, he said, "a very personal story… celebrating Grandudes everywhere and their relationships and adventures with their grandchildren."
Its following sequel, 'Grandude's Green Submarine,' was released in 2021. About the new book, he said, "continues the adventures of Grandude and his grandchildren as they set off on a quest to find their music-loving grandmother, Nandude!"
Again in 2021, McCartney's released a cookbook. It was published alongside his daughters, Mary and Stella, from his marriage to Linda McCartney. The book was named 'Linda McCartney's Family Kitchen: Over 90 Plant-based Recipes to Save the Planet and Nourish the Soul.' The book included plant-based recipes and favorite family stories behind the recipes Linda used to make for the family.
Awards and Recognitions
In more than 70 years of his music career, McCartney had accumulated an impossible number of accolades. His achievements include 60 gold records, 18 'Grammy Awards' including 9 with the Beatles.
The Queen of England knighted McCartney in 1997. In 2012, he was given the 'Leigh of Honors' by her majesty.
In 1996, McCartney established the Liverpool Institute for Performing Arts, one of England's most prestigious art schools providing higher education in music.
McCartney was inducted twice in the Rock and Rock Hall of Fame - first in 1988 as a member, when 'The Beatles' was inducted and second as a solo artist in 1999.
He was also named as the 'MusiCares Person of the Year,' in 2012. In 2014, McCartney was honored with the 'Gershwin Award' by the former president of America, Barack Obama.
Personal Life
McCartney's first wife was Linda Eastman, a music photographer from London. They got married in 1969. Linda had a daughter Heather from her previous relationship, whom McCartney adopted after their marriage. Later they had two daughters Stella and Mary. Linda passed away from breast cancer in 1998 at the age of 56.
McCartney married Heather Mills in 2002. They had one daughter Beatrice McCartney. The couple got separated in 2006 and eventually divorced in 2008.
McCartney's third wife was Nancy Shevell. They got married in 2011 and have been together ever since.
Fact-checking and Ethical Concerns
We assure our audience that we will remove any contents that are not accurate or according to formal reports and queries if they are justified. We commit to cover sensible issues responsibly through the principles of neutrality.
To report about any issues in our articles, please feel free to Contact Us. Our dedicated Editorial team verifies each of the articles published on the Biographyhost.