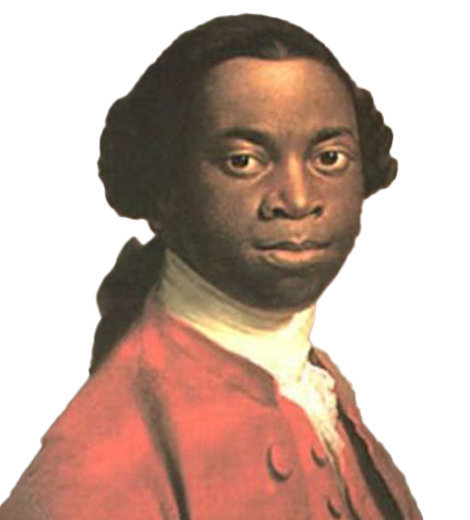 Quick Wiki
Full Name

Olaudah Equiano

Nickname

Gustavus Vassa

Occupation

Writer, Abolitionist

Nationality

British

Birthplace

Two possible places have been debated: Osaka, Eboe, Kingdom of Benin (now Nigeria) and South Carolina, British North America

Birth Date

1745

Death Date

1797-03-31
Quotes
"Surely this traffic cannot be good, which spreads like a pestilence, and taint what it touches!"
"Thus by repeated cruelties are the wretched first urged to despair, and then murdered."
"In this place I was called Jacob; but on board the African snow I was called Michael."
"O, ye nominal Christians! Might not an African ask you, learned you this from your God?"
"Tortures, murder, and every other imaginable barbarity and iniquity are practiced upon the poor slaves with impunity."
Anti-slavery Pioneer
Olaudah Equiano | Biography
According to his account, he was kidnapped at the age of eleven and was taken to be sold for slavery. While he was being transported out of Africa, he visited multiple places and crossed oceans. He later wrote about his voyage from Africa to Virginia (where he was sold) later in his memoir 'The Interesting Narrative Of The Life Of Olaudah Equiano, Or Gustavus Vassa, The African.'
---
Olaudah Equiano was a writer and abolitionist enslaved in his childhood and resold to numerous owners before he could purchase his freedom by 1767.
Who was Olaudah Equiano?
Olaudah Equiano was the first publishing writer in Britain of African descent. He later penned as Gustavus Vassa in the late 1780s.  
According to his account, he was kidnapped at the age of eleven and was taken to be sold for slavery. While he was being transported out of Africa, he visited multiple places and crossed oceans. He later wrote about his voyage from Africa to Virginia (where he was sold) later in his memoir.
He worked on a plantation in Virginia before he was bought by a British Navy Soldier who taught him to read, write and introduced him to religion. He traveled through many oceans with British soldiers and then was sold to a prosperous merchant from Philadelphia.
The merchant, Robert King, provided Equiano freedom to trade during their work and travel in commercial vessels. Through trading, Equiano bought himself freedom from King but kept on working as a business partner with King. After getting freedom, he also worked as a sailor in the British Navel Vessels and other commercial vessels.
As such, he traveled for 20 years until finally settling in London. There he joined the Abolitionist movement and funded the Black Lobbyist group 'Sons of Africa' and also published the memoirs of his experiences with slavery. The book became immensely popular, which attracted him to royalties and fame. In his later years of life, Equiano conducted lectures throughout the country and actively advocated against slavery, which was eventually abolished in Britain in 1807, while he passed away in 1797.
Early Life & Way Out Of Slavery
 Equiano wrote in his autobiography 'The Interesting Narrative of the Life of Olaudah Equiano, or Gustavus Vassa, the African' (1789) that he was the youngest son born in the Kingdom of Benin (now in Nigeria) in 1745. He stated, "My father, besides many slaves, had a numerous families, of which seven lived to grow up." He recalled his childhood among the people of his village, Esaka, Eboe, in the memoir. According to his account, his father was one of the elders or chiefs who could give verdicts on disputes and crimes or initiate the slave trade.
"Sometimes indeed we sold slaves to them, but they were only prisoners of war, or such among us as had been convicted of kidnapping, or adultery, and some other crimes, which we esteemed heinous." He Wrote. "When a trader wants slaves, he applies to a chief for them, and tempts him with his wares ... and accepts the price of his fellow creature's liberty with as little reluctance as the enlightened merchant." 
The memoir also describes a kidnapping incident that occurred in his village. He wrote that he and his sister were eventually kidnapped when they were at home looking after the premises when their parents had gone to work. He recalls that he was separated from his sister, both of whom were sold to the slave traders and were eventually onboarded on a European slave ship alongside 244 enslaved Africans to reach Barbados, British West Indies, before being sent to the Colony Of Virginia to be sold. 
However, scholar Vincent Caretta has opined that Euaino could have been born in Colonia, South Carolina. He wrote, "Equiano was certainly African by descent. The circumstantial evidence that Equiano was also African-American by birth and African-British by choice is compelling but not absolutely conclusive. Although the circumstantial evidence is not equivalent to proof, anyone dealing with Equiano's life and art must consider it."
Caretta based his claim on Equiano's baptismal record and a navy muster roll that deem him as a South Carolinian. He alleged that Equiano could have made up his narrative about his African origins. But scholars such as Alexander X. Byrd, Paul Lovejoy, and Douglas Chambers have written in support of Euaino's account based on its richness and contextual interpretations of historical contexts. 
Serving Michael Pascal
Then in Virginia, he was sold to Lieutenant Michael Pascal, a Royal Navy Officer. Pascal renamed Equiano after the 16th century Swedish King' Gustavus Vassa'. Equiano spent a short time in Virginia and went on to serve Pascal on his journey on the British trading vessel. He spent eight years traveling across the oceans visiting, visiting England, Holland, Scotland, Gibraltar, Nova Scotia, the Caribbean, Pennsylvania, Georgia, and South Carolina. Pascal, throughout their voyage, taught him to read and write while also baptized him.
Pascal then sold Equiano to Captain James Doran, who later sold him to a prosperous merchant from Philadelphia, Robert King. From King, Equiano learned about trading, while King also allowed Equiano to make trades in a small amount. They worked on trading vessels in the Caribbean and North America. By 1767, Equiano had collected enough money to buy his freedom from King and freed himself from slavery.
Life After Gaining Freedom
Equiano had gained his freedom, but it was relatively dangerous for an unclaimed African-American person to sustain without being kidnapped back into slavery. King had suggested Equiano remain with him and work on their trade as business partners.
Equiano then moved to Britain, worked in the Royal Navy as a sailor along with commercial vessels. While working, he was almost kidnapped in Georgia. He traveled the world for the subsequent 20 years after gaining freedom. In his memoir, he wrote about exotic places such as Turkey, Central America's Mosquito Coast, and the Arctic.
Arctic Expedition
Upon return, he settled in London, England, where he converted to Christianity in 1759. Later, he became a member of the Phipps expedition in 1773. During the expedition, he went to the Arctic while attempting to discover the Northwest Passage and reach the North pole.
He wrote about his Arctic expedition, "And thus ended our Arctic voyage, to the no small joy of all on board, after having been absent four months; in which time, at the imminent hazard of our lives, we explored nearly as far towards the Pole as 81 degrees north, and 20 degrees east longitude; being much farther, by all accounts, than any navigator had ever ventured before; in which we fully proved the impracticability of finding a passage that way to India."
After his return from the Arctic, he participated in Abolitionists movements campaigning against the Slave Trade. Through their encouragement, Equiano published his memoirs in 1789.
Fighting Slavery
Equiano was in a black lobbyist group enhancing the Abolitionist movements called 'Sons of Africa' alongside his fellow activist Ottobah Cugoano and eleven others. His publications were indeed a part of campaigning against slavery.
Equiano also actively advocated against the cruelty induced by the British slave owners in Jamaica during his lectures. He was also a commissary for the Committee for the Relief of the Black Poor in Sierra Leone. He worked in companying the settlement of 500 to 600 previously enslaved people and also for their treatment.
Other Compositions
Equiano's first autobiography, 'The Interesting Narrative of the Life of Olaudah Equiano or Gustavus Vassa, the African,' was published in 1789. The book was a huge success. Its publications incidentally coincided with the prominent parliamentary debate of the time on 'Salve Trade' so it promoted the abolitionist cause at that time. He was the first black African writer to be published and it made him very rich.
Further, the book had garnered immense popularity and was translated into many languages. The book went through eight editions of publications while Equiano was alive. And during the fame of his writings, he traveled to many countries to give lectures on the Abolitionist Cause. He advanced the anti-slavery movements through his writings.
Connoting his words, "But is not the slave trade entirely a war with the heart of man? And surely that which is begun by breaking down the barriers of virtue involves in its continuance destruction to every principle, and buries all sentiments in ruin."
Then, his other writing, 'The Kidnapped Prince: The Life of Olaudah Equiano', adapted by Anne Cameron was published on 25 January 2000. The book journeyed Equiano's abduction from his birthplace in Benin, Africa, at the age of 11 and his following 11 years as a slave in England, the United States, and the West Indies before he bought his freedom. This book was the updated form of his 1789 best-seller. 
Equiano's narration of adventure, treachery, brutality, and bravery followed by the brutality of his abduction, the deplorable circumstances aboard the slave ship, the sale, and the forced work has been incorporated in vivid detail. 
After that, on 1 February 2007 another book, 'Sold As a Slave (Great Journeys)' was published. In this book, Equiano chronicled his crisscrossed voyage of the Atlantic world, from West Africa through the Caribbean, the United States, and finally Britain, either as a slave or fighting with the Royal Navy. It was a deeper version of the treachery he went through as a slave that was terrifying, harsh, and cruel. He recorded the vast civilizations, ice barriers, violent and unforgiving jungles, deserts and mountains, and a plethora of new-to-science birds and flowers he had witnessed in his journey. 
Then in 2015 Equiano's writing was published in the collective book, 'Seven Slave Narratives.' It consisted the three stories by Frederick Douglass, one story by Equiano or Gustavus Vassa, one story by Harriet Jacobs, one story by Booker T. Washington, and one by Ellen and William Craft.
The collection featured Equiano's 'The Interesting Narrative of the Life of Olaudah Equiano, or Gustavus Vassa, the African' 
And on 2020, the third edition of his book 'Equiano's Travels: The Interesting Narrative of the Life of Olaudah Equiano or Gustavus Vassa the African' was published.
Personal Life and Death
Equiano married Susanna Cullen, an Englishwoman, in 1792 at a Soham Church. She was an English woman of Scottish origin whom he met in Cambridgeshire in 1789 while on a book tour. They had two daughters, Anna Maria and Joanna.
Ann Mary (Maria) was born on 16 October 1793. Equiano was involved in his book promotion and the abolitionist cause, so he could be present during Maria's birth but her baptism may have been postponed until 30 January 1794 in order for him to be present. However, after her mother.
Their second daughter, Joanna was born on 11 April 1795. She was christened on April 29, 1795, at St. Andrew's Church in Soham.
One year after Joanna's birth at the age of 34, following a protracted illness, Equiano's wife passed away in 1796. And barely six months later, most likely as a result of a measles outbreak at the age of four, Maria passed away on 21 July 1797 and was buried in the Chesterton area.
Equiano too on 31 March 1797 approximately the age of 52. He did not live to see the abolishment of slavery which the British government formally abolished in 1807.
Only Joanna, the eldest of their two daughters, lived to maturity, and at the age of 21. She went on to receive £950 from her father's inheritance. And in 1821, she married Henry Bromley, a Congregational pastor, but did not have any children. Eventually, in 1857 Joanna passed away and was buried in London's Abney Park Cemetery.