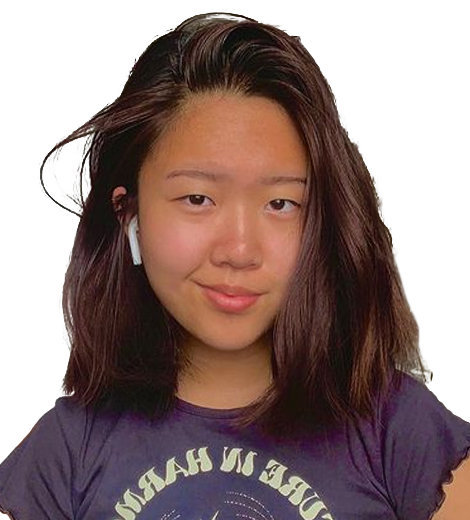 Quick Wiki
Full Name

Nina Lu

Occupation

Actress

Nationality

American

Birthplace

California, USA

Birth Date

Sep 18, 2003

Age

20 Years, 0 Months
Cast of 'Bunk'd'
Nina Lu | Biography 2021
Singer, Dancer
Nina Lu portrayed Tiffany Chen, a studious character on the Disney Channel's comedy series Bunk'd. She appeared in 42 episodes for two seasons from 2015-2017. Bunk'd's plot featured three siblings, Emma, Ravi, and Zuri Ross, advancing to a rural Maine summer camp where their parents first met when they were teenagers. In 2015, Lu reprised her role in another Disney show, 'Disney Monstober,' in two episodes - 'BUNK'd Bear Scare,' and 'Bunk'd Masked Man Madness.'
---
Nina Lu is an American actress best known for playing Tiffany in the Disney Channel series Bunk'd.
Who is Nina Lu?
Nina Lu kick-started her acting journey through small commercials and quickly ascended to establishing a recognizable profile as an actress at a very young age. Her notable credits include Bunk'd (2015), Sunnyside Up (2019), and Disney Monstober, which started in 2011 but starred Lu in its 2015 October episodes.
Early life and Education
Nina Lu was born on 18 September 2003 in Los Angeles, California, and of Chinese descent. Lu had her heart on acting and wanted to pursue it as a career since she was a child. Recognizing her interest and aptitude in acting, Lu's parents transferred her from a standard academic school to an acting school. She joined Barbizon Modeling and Acting School in Hollywood when she was just eleven years old. 
After that, she appeared in a series of modest advertisements until the AEF Talent agency elevated her career in 2015 with Bunk'd. Pursuing big roles at an early age hindered her schooling. She was then home-schooled. But, according to her Instagram account, she currently attends the University of Southern California and has planned to graduate in 2025 with a degree in screenwriting.
From her Instagram account, it is evident that Lu has been brought up in a loving environment. She frequently posts pictures with her parents and sister Macy Lu in her handle.
Career
Lu landed her breakthrough appearance as Tiffany Chen on the Disney series Bunk'd premiered on 31 July 2015. She played on the comedy series for two seasons and appeared in 42 episodes until her last appearance in 2017. Her acting venture gained momentum after Lu portrayed her prominent character, Tiffany, in two episodes of Disney Monstober that began in 2011 - Bunk'd Masked Man Madness and BUNK'd Bear Scare both aired on 1 October 2015. Furthermore, she also starred in the TV movie, An American Girl Story: Ivy & Julie 1976 - A Happy Balance as Ivy Ling in 2017. 
In 2018 she appeared in all seven episodes of the music web series Baby Doll Records playing the character Busy followed by her appearance on another TV series, Sunnyside Up, portraying Mila Wong from 2019 to 2020.
On 29 August 2018, Lu shared with Famous Birthdays why she enjoys acting. She said, "I've always liked acting because it is something I thought I wouldn't be doing today, I thought I would be a doctor or something, but it's a different way for me to express myself and I feel the most confident when I'm acting."
Lu is also present in Cameo, a website that allows users to hire celebrities to make customized films.
'Bunk'd'
The series, Bunk'd's plot featured three siblings, Emma (Peyton List), Ravi (Karan Brar), and Zuri Ross (Skai Jackson), advancing to a rural Maine summer camp where their parents first met when they were teenagers. The story revolved around their attempts to fit into their exciting and challenging new lives at Camp Kikiwaka, despite their new friends, love triangle, and camp concerns.
Tiffany on 'Bunk'd'
Lu played the studious character, Tiffany Chen, in the comedy series Bunk'd. "She's an exaggerated version of me because I'm not that smart," Lu shared to OnTheSpotInterviews in 2015 about her character Tiffany.
Lu enjoyed playing Tiffany at first as it was her debut job, and she was way too excited to be working for Disney. However, after the audience pointed out her character as racially stereotyped, she instantly resonated with her portrayal and the audience's perception.
"Sometimes I look back on the character and I'm like I didn't realize that she was so stereotypical," she said while answering a fan's question on whether she hated the character, Tiffany, in her YouTube channel (ninaluwho) in 2021. 
Despite all this, Lu's favorite memory on Bunk'd was hanging out with the show's cast members as they were all very close.
Why did she leave 'Bunk'd'?
Lu left Bunk'd not because of alternative acting opportunities, as people assumed, but because of her age. Disney wanted younger people for Bunk'd, and indeed they featured younger kids after Lu left the show. According to the Q/A session Lu conducted in 2021 using her Instagram poll as a medium for questions from her followers and her YouTube channel (ninaluwho) to answer those questions, she stated her age as a reason for why she had to leave Bunk'd.
Tiffany on 'Disney Monstober'
In 2015, Lu reprised her role as Tiffany in another Disney show, Disney Monstober, which aired as short episodes between regularly scheduled episodes and was only available throughout October. BUNK'd Bear Scare and Bunk'd Masked Man Madness were the two episodes in which she appeared.
'An American Girl Story: Ivy & Julie 1976 - A Happy Balance'
Ivy Ling, played by Nina Lu, and Julie Albright, played by Hannah Nordberg, were the central protagonists in An American Girl Story - Ivy & Julie 1976: A Happy Balance, each struggling with their issues. The plot assembles Ivy's dilemmatic situation to choose between her passion for gymnastics and her family responsibilities when the biggest break she's looking forward to lines up on the same night at her family's Chinese New Year dinner. Alongside was her friend Julie's struggle to deal with her parent's amicable divorce.
The show premiered on 24 March 2017.
'Baby Doll Records'
Released in 2018, Lu starred in all seven episodes of Baby Doll Records.
Baby Doll Records, featuring Ariel Martin as Dru, Nina Lu as Busy, Lauren Giraldo as Kiba, Aidan Alexander as Theo, and Matthew RC Taylor as Ricky, was a film about the birth of an underground music label. The protagonist Dru's struggle to match studies with her great goals of becoming a music producer was the subject of this musical web series. The series was created by Annie Stamell and directed by Nayip Ramos.
'Sunnyside Up'
Sunnyside Up was a Brat web series that premiered in 2019. The series was based on Rhyme McAdams' fictional story about Lily McKay, who moves up with her aunt in the Sunnyside neighborhood.
The series starred Nia Sioux as Lily McKay along with Nina Lu, Chase Liefeld, Samantha Partida, and Kaycee Rice as co-stars, each portraying Mila Wong, Zane James, Pearl Laurant, and Avery James, respectively. 
Music
Lu owns a YouTube channel with over 9K subscribers. She uploads vlogs and other entertaining content along with music covers. On 18 April 2021, Lu uploaded a cover of 'Cherry Wine' on her channel, showcasing her skills in singing. She also posted singing videos on her Instagram initially, which did pretty well in terms of engagement at the start. Gradually, she started giving less importance to it as the number of views and engagement began to decline with every consecutive music postings.
"I still wanna put them out but I don't know if they'll do well," she shared in a Q/A session she organized through her YouTube channel in 2021.
Awards and Nominations
Lu hasn't received any award yet. But, she was nominated for the 2018 'Young Entertainer Award' for 'Best Supporting Young Actress - Television Series' for Bunk'd (2015)
Personal Life
Lu likes singing, playing guitar, ukulele, finding chord progressions, and attempting new songs during her free time. Besides knowledge on acting and singing, Lu is also good at dancing. She did ballet, hip-hop, and Jazz at school. In addition, Lu is fluent in Mandarin, which she speaks at home, and learned English in school. She can also speak French.
Lu loves the series Stranger Things and all the kids cast in it. She wishes to work with them if given a chance.
Fact-checking and Ethical Concerns
We assure our audience that we will remove any contents that are not accurate or according to formal reports and queries if they are justified. We commit to cover sensible issues responsibly through the principles of neutrality.
To report about any issues in our articles, please feel free to Contact Us. Our dedicated Editorial team verifies each of the articles published on the Biographyhost.