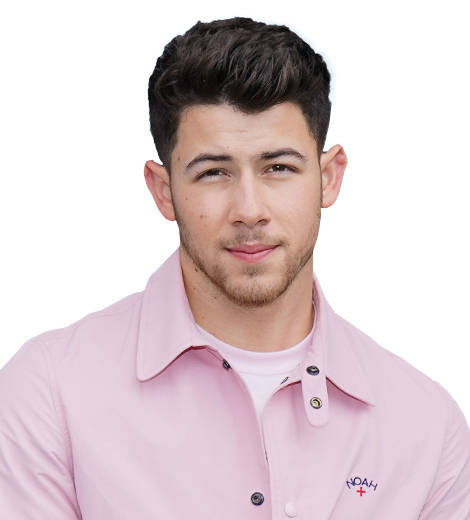 Quick Wiki
Full Name

Nicholas Jerry Jonas

Nationality

American

Birthplace

Dallas, Texas

Birth Date

16-09-1992

Wife

Priyanka Chopra Jonas

Relationship Status

Married
Nick Jonas | Biography 2021
Singer, Songwriter, and Actor
Nick Jonas is an American singer-songwriter and actor, better known as a member of the pop-rock band the Jonas Brothers.
---
Nick Jonas is a singer, songwriter, and actor best known as one of the members of the American pop-rock band the Jonas Brothers, a band he formed with his older brothers Joe and Kevin.
Who is Nick Jonas?
Nick Jonas started his professional career at the age of seven, performing in Broadway's plays such as A Christmas Carol, Les Misérables, Beauty and the Beast, and Annie Get Your Gun. As a teenager, he and his two older brothers formed Jonas Brothers. After they were featured on different Disney Channel shows and movies—including Hannah Montana and Camp Rock—the band gained international recognition and fame.
In 2013, the band took a hiatus after releasing four successful albums, so Jonas pursued a solo career in music and appeared in several films. His solo career consists of Billboard chart-topping hits such as 'Jealous,' 'Levels,' and 'Last Year Was Complicated.'
Early Life
Nicholas Jerry Jonas, aka Nick Jonas, was born on September 16, 1992, in Dallas, Texas, US. He was born as the third son of Denise and Paul Kevin Jonas. His mother formerly worked as a sign language teacher and singer, while his father is a songwriter and musician and a former ordained minister.
Jonas was raised in Wyckoff, New Jersey, in a musical family, along with his older brothers Kevin and Joe. 
Early Career
Although all the brothers grew up playing music together, Jonas' singing talent was discovered when he was spotted singing in a hair salon where his mother was getting a haircut. Thanks to that, he landed a role on Broadway at the age of seven. He played Tiny Tim in the 2000 Madison Square Garden Production of A Christmas Carol. He went on to receive roles on Broadway in Annie Get Your Gun (2001) and as a replacement alternates in Beauty and the Beast (2002).
While working on Broadway in 2002, he wrote a Christmas Prayer with his father titled 'Joy to the World,' which featured on the compilation album Broadway's Greatest Gifts: Carols for a Cure, Vol.4. It was later released through INO Records in 2003 as Jonas' debut single. This single was noticed by Columbia Records, which landed him to sign a record deal with Columbia Records in 2004.
He began recording songs and released his debut studio album Nicholas Jonas at the age of 12. The album featured 11 tracks, some of which were written by Jonas in collaboration with his brothers. Columbia Records president Steve Greenberg was pleased by Jonas' voice and the three brothers' collaboration. As a result, the trio was signed together by Columbia Records as the group the Jonas Brothers, and it eventually turned into a band in 2005.
The Jonas Brothers 
In August 2006, the Jonas Brothers released their debut studio album It's About Time through the Columbia label, featuring singles such as 'Mandy' and 'Time for Me to Fly.' But shortly afterward, Columbia Records dropped the band due to poor record sales.
In early 2007, the Jonas Brothers signed with Disney's Hollywood Records, and they steadily built their popularity through soundtrack appearances on Disney Channel. In August, they released their self-titled album Jonas Brothers, and it became their breakthrough record. The album reached Top 5 on the Billboard Hot 200 chart in its first week and was soon certified double platinum. The album's single 'S.O.S.' soared to #1 on iTunes.
In August 2007, the Jonas brothers starred on the Disney musical comedy television series Hannah Montana. They appeared in an episode titled Me and Mr. Jonas as special guest stars. Later, in May 2008, the brothers started their own show Jonas Brothers: Living the Dreams, but their real breakthrough followed their appearance in the 2008 Disney movie musical Camp Rock. The movie received 8.86 million views.
The Jonas Brothers became a pop-culture phenomenon with their third album, A Little Bit Longer (2008). The album sold over two million copies in the United States, and it also achieved multi-platinum status. In 2009, the brothers released their fourth album, Lines, Vines, and Trying Times, which offered a more mature sound.
From May 2009 to October 2010, the Jonas brothers starred in a new Disney television series Jonas, where they played as teenage pop stars who set out to find their real identity while dealing with stardom. In 2010, they also appeared in Camp Rock's second installment—Camp Rock 2: The Final Jam.
In 2012-13, the brothers went on a world tour. They released a new single, 'Pom Poms,' in April 2013 as the lead single from the planned fifth studio album. They scheduled to start a tour later that year, but it was canceled. Subsequently, the Jonas Brothers officially announced that the band had split up in October 2013 to focus on side projects.
'Happiness Begins'
However, after six years of hiatus, the band was reunited in 2019. They released a new album, Happiness Begins, which featured their hit song, 'Sucker.' Released on 7 June 2019 through Republic Records, the trio's fifth album debuted at No. 1 spot on Billboard 200 Chart, becoming the trio's third No. 1 album on the chart. Happiness Begins made a whopping 357,000 in album sales on its debut week, which was mainly powered by sales generated from a concert ticket and album sale redemption offer of the trio's forthcoming Happiness Begins tour across the US. The album's lead single 'Sucker' also topped the Billboard Hot 100 chart, marking the Jonas Brothers' first song to debut on No. 1 on the chart. The single would later earn the Recording Industry Association of America (RIAA) 3x Multi-Platinum in the United States. The multi-platinum single garnered a 2020 'Grammy Award' nomination for 'Best Pop Duo/Group Performance.' The trio was also named Billboard's 2019 Top Charting Duo/Group.
On 5 April 2019, the trio released the album's second single 'Cool' which reached No. 27 on the Billboard Hot 100 chart and climbed at No. 3 on the Digital Song Sales chart with 29,000 downloads in the first week. They released an 80s-inspired music video of the album's third single 'Only Human' on 13 August 2019.
The Jonas Brothers embarked on the Happiness Begins tour throughout 2019 with an impressive over one million tickets sold out and a gross of over $100 million. After two years of the historic tour, The Jonas Brothers announced that the trio will be going on for Remember This tour in August 2021.
Solo Journey
In 2010, Jonas released his solo studio album Who I Am under Nick Jonas & the Administration. His second eponymous studio album Nick Jonas was released through Island Records in November 2014. The critically acclaimed album included the triple-platinum single 'Jealous' and the double-platinum single 'Chains.' In June 2016, he released his third album, Last Year Was Complicated, which sold 66,000 copies in its first week of release. In 2016, Jonas won the Hall David Starlight Award at the Songwriters Hall of Fame.
Most recently, he released his fourth studio album, Spaceman, in March 2021. 
TV and Movies
In addition to his role in Camp Rock and Camp Rock 2: The Final Jam, Jonas also made guest appearances on short-lived comedy Mr. Sunshine (2011), ABC's television film thriller Last Man Standing (2011), and the Broadway drama series Smash (2012). 
In 2013-14, he made several guest appearances on the CBS television drama series, Hawaii Five-O, portraying Ian Wright's role. Later, he starred as a mixed martial arts fighter Nate Kulina in the drama series Kingdom in 2014 and as a gay character Boone Clemens in the satirical comedy television series Scream Queens (2015). 
Furthermore, he starred in the 2015 erotic thriller Careful What You Wish For and the 2016 drama film Goat, based on the book Goat: A Memoir by Brad Land. He played supporting roles in the fantasy adventure comedy Jumanji: Welcome to the Jungle (2017) and Jumanji: The Next Level (2019). He also appeared in the 2019 World War II epic Midway and the 2021 sci-fi adventure Chaos Walking.
'Jersey Boys'
Jonas will be portraying the role of Frankie Valli in the upcoming made-for-TV movie Jersey Boys, adapted from the 'Tony Award'-winning long-running Broadway musical of the same name. It follows the story of rise, struggles, personal clashes and the ultimate triumph of the four young men from New Jersey who incorporate to form the rock group Four Seasons, in which Valli was the frontman. Performed on Broadway from 2005 to 2017, the musical was adapted for the film of the same name in 2014. John Looyd Young who played the 'Tony Award'-winning role of Valli in the musical reprised the role in the film adaptation directed by Clint Eastwood.
In the upcoming TV adaptation of the musical, Jonas will also be singing the Four Seasons' the 1960s hit songs. It will be produced by Frankie Valli, Bob Gaudio, and Graham King ("Bohemian Rhapsody"). Sharing about the journey of the musical, Valli said, "When it went to Broadway I never would've dreamed in a million years that it would've lasted 10 or 11 years the way it did. And it's always exciting because something new is always going on. 'Jersey Boys' has been on cruise ships, it's been in almost every country that you can possibly think of. And now it's being filmed for television and Nick Jonas of the Jonas Brothers is playing Frankie, so I'm really excited about that." 
'The Blacksmith'
In 2020, Jonas was set to cast in the lead role of Wes Loomis alongside The Matrix star Laurence Fishburne in Pierre Morel's action thriller film The Blacksmith, based on Malik Evans and Richard Sparkman's graphic novel and its screen adaptation by Ben Ripley. The movie was scheduled for production starting from September 2020 but due to a delay in the start of shooting amid the COVID-19 pandemic, Jonas dropped out of the film owing to his busy schedule.
Broadway
Jonas, who had started his theatre career, returned to Broadway in 2012 to replace Daniel Radcliffe and Darren Criss in How to Succeed in Business Without Really Trying, in which he performed the role of J. Pierrepont Finch. He played the role from January 24 to July 1. On his Broadway comeback, Jonas said, "It's great to come back to Broadway. I always said my return to Broadway would have to feel right - the right role at the right time. This felt right." Jonas was also cast in the role of Marius Pontmercy in the 25th-anniversary concert celebration of Les Misérables in 2010.
The Voice
Jonas first appeared on The Voice in season 8, where he served as a part-time advisor. Eventually, he was brought on as the coach of season 18, which aired from February to May 2020. Jonas served alongside Kelly Clarkson, Blake Shelton, and John Legend.
Hosting Career
In January 2010, Jonas co-hosted an episode of Live! With Regis and Kelly, filling in for Regis Philbin. Three years later, Jonas hosted the 2013 Miss USA pageant with television personality Giuliana Rancic. In March 2015, he hosted the Kids' Choice Awards, marking his first time hosting an award show.
'Saturday Night Live'
After performing on Saturday Night Live multiple times, Jonas made the Saturday Night Live hosting debut on 27 February 2021. In regards to his appearance on Saturday Night Live, Jonas wrote on his Twitter, captioning, "A dream come true. Let's get it @nbcsnl!! See you February 27th!" 
Jonas booked a double duty as host as well as a musical guest on Saturday Night Live. On the show, he performed his two new singles 'Spaceman' and 'This is Heaven' from his latest album Spaceman. 
'BBMAs'
On 23 May 2021, Jonas hosted the Billboard Music Awards for the first time. The award ceremony was aired live from the Microsoft Theater in Los Angeles. Jonas joined his brothers Joe and Kevin, along with Marshmallow on the closing performance. Jonas shared on his Instagram post that to be asked about the show which he had watched since he was a kid was an honor for him. He also informed that he hosted the BBMAs a week later after he suffered a bike accident. On May 24 Instagram post, he also shared his words of gratitude towards his wife Chopra, captioning, I started this last week by taking a brutal tumble on a bike fracturing my rib and ended it hosting the @bbmas with my incredible wife by my side who helped me every step of the way to recover and feel my best. I love you @priyankachopra."
Personal life
Jonas dated Miley Cyrus, Selena Gomez, Australian singer Delta Goodrem, and Miss Universe 2012 Olivia Culpo before settling down with Indian actress Priyanka Chopra. Jonas made the first step to start a relationship with Chopra when he slid into Chopra's Twitter direct messages in September 2016 with a casual message, "I'm hearing from a few mutual friends that we should meet." Chopra responded on the same day stating that he can text her instead of Twitter DMs. Then they eventually began flirtatious conversations over text and met in person for the first time at the Vanity Fair Oscar party on 26 February 2017. On 1 May 2017, they made a red carpet appearance, claiming that they were "just friends' at the time. However, Jonas hinted at his romantic relationships with Chopra in May 2018 through his Instagram posts and stories. On 19 July 2018, Jonas proposed to Chopra for marriage with a $200,000 Tiffany ring on Chopra's 36th birthday, and they got married on December 1, 2018, at Umaid Bhawan Palace in Jodhpur, India. The wedding ceremony was conducted combining both Hindu and Christian marriage traditions.
Beyond Type 1
Jonas was diagnosed with Type I diabetes in 2005 at the age of 13. In 2008, he went public with his diabetes diagnosis. Since then, he has been an advocate for diabetes support and awareness.
In 2015, he co-founded Beyond Type 1, a non-profit organization dedicated to funding, education, advocacy, and the path to cure scientific research.
Bike Accident
Jonas met with an accident on 15 May 2021 when he fell off of a bike while he was filming for the upcoming show titled Olympic Dreams Featuring Jonas Brothers. The bike accident cracked his rib and also a few other bumps and bruises. Both of his brothers Kevin and Joe witnessed the accident and Jonas took the help of his brother to inform the incident to his wife Chopra. He explained, "Basically I was there, and the medics were kind of attending to me. I was about to be put on the gurney to get into the ambulance, and obviously I had to call Priyanka, my wife, to say this has happened, but obviously I wasn't really in a spot where I could talk to her." He added, "So it was a choice between Joe and Kevin. Who do you give your phone to call your wife in a time of crisis? And I gave it to Kevin." Reportedly, Jonas was hospitalized on the same day the accident happened and discharged the next day.