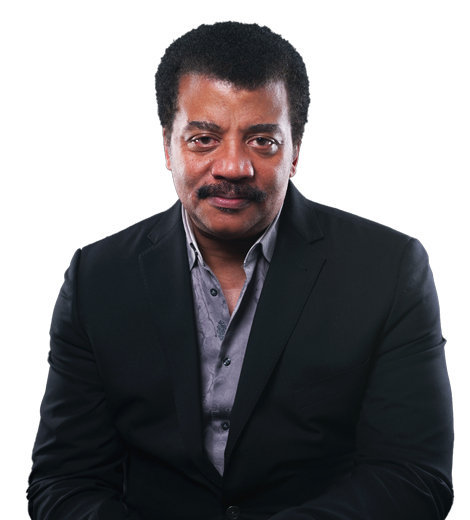 Quick Wiki
Full Name

Neil deGrasse Tyson

Occupation

Astrophysicist, Radio host, Author, Scientist

Nationality

American

Birthplace

Manhattan, New York City

Birth Date

1958-10-5
Quotes
"The universe is hilarious! Like, Venus is 900 degrees. I could tell you it melts lead. But that's not as fun as saying, 'You can cook a pizza on the windowsill in nine seconds.' And next time my fans eat pizza, they're thinking of Venus!"
"Any time scientists disagree, it's because we have insufficient data. Then we can agree on what kind of data to get; we get the data; and the data solves the problem. Either I'm right, or you're right, or we're both wrong. And we move on. That kind of conflict resolution does not exist in politics or religion."
"Our galaxy, the Milky Way, is one of 50 or 100 billion other galaxies in the universe. And with every step, every window that modern astrophysics has opened to our mind, the person who wants to feel like they're the center of everything ends up shrinking."
"The Universe is under no obligation to make sense to you."
"We are part of this universe; we are in this universe, but perhaps more important than both of those facts, is that the universe is in us."
Director At The Hayden Planetarium And Leading Astrophysicist
Neil deGrasse Tyson | Biography 2021
Tyson's interest in astronomy began at the age of nine when he visited the sky theatre in Hayden Planetarium located at the American Museum of Natural History. The visual of an infinite number of stars in the Planetary dome bewildered him. The disparity between the number of stars he saw in the real sky from his childhood home in the Bronx, New York, and the stars he saw in the dome ignited his curiosity.
---
Neil deGrasse Tyson is an astrophysicist credited for raising awareness about the principles of science and their importance through his television appearances, seminars, and books.
His passion for describing complex concepts occurring in the universe, star clusters, and the evolution of galaxies in general and his fascination with the therein dynamics have made him famous in his academic and professional fields.
Who is Neil deGrasse Tyson?
An astrophysicist, planetary scientist, author, and science communicator, Neil deGrasse Tyson, the current Hayden Planetarium director at the Rose Center for Earth and Space, has made several notable contributions to the field of astronomy—few of which includes managing the Hayden Planetarium's renovation and Pluto's reclassification as a dwarf planet. He was awarded numerous honorary accolades for his contributions, such as 'NASA Exceptional Public service Medal,' 'Medal of Excellence' by Colombia University, and 'Knight Innovation Award—CUNY School of Journalism, NYC.'
Born in New York City, USA, Tyson completed his education in public schools before graduating from New York's Bronx High School of Science. He then went on to Harvard University for his BA in Physics and Columbia University for his Ph.D. in Astrophysics.
Early Life and Education
Born on 5 October 1958 in Manhattan, Tyson is the second child ( siblings Stephen Joseph Tyson and Lynn Antipas Tyson) of father Cyril deGrasse Tyson and mother Sunchita Maria Tyson.
Tyson's interest in astronomy began at the age of nine when he visited the sky theatre in Hayden Planetarium located at the American Museum of Natural History. The visual of an infinite number of stars in the Planetary dome bewildered him. The disparity between the number of stars he saw in the real sky from his childhood home in the Bronx, New York, and the stars he saw in the dome ignited his curiosity. Tyson then enrolled in astronomy classes offered by the same Planetarium and eventually became obsessed with astronomy.
He later graduated from The Bronx High School of Science in Astrophysics Emphasis in 1976 before completing his studies from Harvard University in Cambridge, Massachusetts, with a bachelor's degree in physics in 1980. He also got a master's degree in astronomy from the University of Texas at Austin in 1988. Tyson later earned a master's degree in astrophysics (1989) and a doctorate in astrophysics (1991) from Columbia University in New York City. From 1991 to 1994, he worked as a postdoctoral research associate at Princeton University before joining the Hayden Planetarium as a staff scientist.
Scientific Career
Tyson served as a visiting research scientist and lecturer (1994-2003) and a postdoctoral research associate (1991-1994) at Princeton University's Department of Astrophysical Sciences, a lecturer (1987) in the University of Maryland Project's Department of Astronomy, a scientist and subsequently the director (1994-2000) at Hayden Planetarium's Rose Center for Earth and Space, and the Founder and Chair (1997-1999) of the Department of Astrophysical Sciences. In 1996, he was appointed as the director of The Hayden Planetarium and ensured the completion of its $210 million reconstruction project, which was completed in 2000.
Working Under Bush
In 2001, under the discretion of then-President Bush, Tyson served on a 12-member commission that researched on the future of the US Aerospace Industry. Later in 2004, the then-president Bush again appointed him to serve on a nine-member committee on the Implementation of the United States Space Exploration Policy, called the Moon, Mars, and Beyond commission. Tyson also got appointed to NASA's esteemed Advisory Council by the head of NASA in 2006.
Contribution To Scientific Papers
In addition to various positions and duties, he has made significant contributions to varied scientific papers, including 'The Faint-End Slopes of Galaxy Luminosity, 'Functions in the COSMOS Field,' 'COSMOS: Hubble Space Telescope Observations,' 'The Cosmic Evolution Survey (COSMOS): Overview,' and 'Optical light curves of the Type IA supernovae SN 1990N and 1991T' and many more which were all published in highly recognized scientific journal expresses such as Astrophysical Journal supplement, Astrophysical Journal Letters, Astronomical Journal and Astrophysical Journal. 
'StarTalk'
To launch an initiative to address the public's need for science and literacy, Neil began his one-hour radio talk show, StarTalk, in 2009. There, he welcomed guests from entertainment backgrounds to talk about space, science, and popular culture. Cosmic Queries, a StarTalk segment where listeners' questions about the universe get addressed in the show, later became the basis for his book 'Cosmic Queries.' 
In the talk show available that is also available on Youtube, Tyson engages thousands of audiences in understanding the universe with a fun fusion of comedy and science through his podcast.
Allegations Of Sexual Assault
During November and December 2018, four women accused Tyson of sexual assault. One of the supposed victims accused him of drugging and raping her, while the other three accused him of inappropriate sexual advances. Tyson later confirmed the basic facts surrounding the incident with those three women, claiming it to be a misinterpretation of his actions, and apologized for it. He strongly refuted the rape allegation. Upon the investigation from Fox, National Geographic, the producers of Cosmos, and the Museum of Natural History, each announced continuation of the show Tyson was hosting, and the continuation of the position of Hayden Planetarium director Tyson was holding, respectively. 
Publication and Television
In addition to varied career, author Tyson is set to release his latest books: 'Welcome to the Universe in 3D' illustrating the exploration of cosmic objects in 3D, and 'A brief welcome to the Universe,' which is a portable and accessible version of the textbook 'Welcome to the universe' incoming spring and coming fall 2022 respectively.
A few out of the total of sixteen books he has published till now, including 'The Pluto Files: The Rise and Fall of America's Favourite Planet,' 'Origins Fourteen Billion Years of Cosmic Evolution, and 'Astrophysics for People in a hurry.' He also wrote 'StarTalk: The Book,' 'The Sky Is Not the Limit: Adventures of an Urban Astrophysicist, and many more.
Media Appearances & Hosting
Tyson also has had various media appearances. Besides the award-winning StarTalk Podcast, he has hosted COSMOS: Possible Worlds, NOVA scienceNOW, The Pluto Files, Origins, and COSMOS: A SpaceTime Odyssey. Furthermore, he made tons of youtube appearances. His collaboration with Master Class on Scientific thinking gained a massive view of 24 million just on the video trailer. Also, it got featured in documentaries like Food Evolution, Hubble's Cosmic Journey, NOVA: Space Shuttle Disaster, 400 Years of the Telescope as a Narrator. Later, he initiated a Reddit Ask Me Anything (AMA) session and also appeared on famous science television shows such as The Big Bang Theory and The Simpsons.
Awards and Honours
Considering his contribution and achievements, Tyson has been recognized with honors of more than twenty-five awards, some of which are 'Stephen Hawking Medal for Outstanding Communication,' 'Emmy Nomination: Outstanding Narration.' 'Most Influential Nerds of 2014', 'Harvard 100: Most Influential Harvard Alumni',' iTunes Best Podcasts of 2014', and 'The Time 100'.
He also received more than twenty honorary doctorates of Humane Letters and Science from twenty-one different recognized Universities such as Yale University, Eastern Connecticut State University, and Howard University.
Personal Life
Tyson lives in New York City with his wife Alice Mae Young, who he met in a physics class during graduate school at the University of Texas. They got married in 1988 and now have two children: first daughter, Miranda, who was named after one of Uranus' 18 identified moons, and son, Travis Tyson. 
Fact-checking and Ethical Concerns
We assure our audience that we will remove any contents that are not accurate or according to formal reports and queries if they are justified. We commit to cover sensible issues responsibly through the principles of neutrality.
To report about any issues in our articles, please feel free to Contact Us. Our dedicated Editorial team verifies each of the articles published on the Biographyhost.