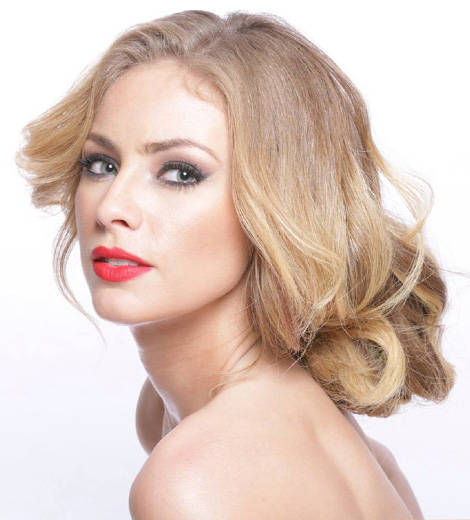 Quick Wiki
Nickname

Natalia Rivera

Occupation

TV Host, Actress, Radio Host, Model, Former Beauty Pageant

Nationality

Puerto Rican, American

Birthplace

Puerto Rico

Birth Date

Apr 25, 1989

Age

34 Years, 5 Months
Host Of 'Pegate al Mediodia' and 'La Terapia' 
Natalia Rivera | Biography 2021
Bragged 'Miss Puerto Rico Teen' ('Miss Bayamon Teen') at the Age of 16
Natalia Rivera has expanded her professional credits to acting, hosting, and entrepreneurship. In addition to being recognized for the Purto Rican game show Pegate al Mediodia and Puerto Rican comedy variety show El Remix, Rivera is also credited for her movie appearances in 'Mi verano con Amanda 3' (Puerto Rican, 2013), 'The Rum Diary' (American comedy, 2011), and 'Back To The Beginning' (Puerto Rican drama-action movie, 2015), and as a founder of clothing line Relevant Bae. 
---
Puerto Rican-born American television host Natalia Rivera is known for hosting Puerto Rican entertainment and game show Pegate al Mediodia. She is also recognized among fashion enthusiasts as the owner of her progressive clothing store, Relevant Bae.  
Who Is Natalia Rivera?
Natalia Rivera has expanded her professional credits to acting, hosting, and entrepreneurship. In addition to being recognized for the Puerto Rican game show Pegate al Mediodia and Puerto Rican comedy variety show El Remix, Rivera is also credited for her movie appearances in Mi verano con Amanda 3 (Puerto Rican, 2013), The Rum Diary (American comedy, 2011), and Back To The Beginning (Puerto Rican drama-action movie, 2015), and as a founder of clothing line Relevant Bae. 
Early Life And Career
Natalia Rivera was born on 25 April 1989 in Puerto Rico. She bragged 'Miss Puerto Rico Teen' ('Miss Bayamon Teen') at the age of 16. She had previously won the 'Face of Avon' in 2004 and was a finalist in the Elite Model Look in 2005. After that, she went on to represent Chicago at Mss Teen International held in Chicago. The Miss Teen crown brought her numerous brand deals and other engagements. In 2006, she handed the crown to Katiana Vazquez and continued modeling photo shoots, ramp, and promotions. 
Rivera has also appeared in the movies such as The Rum Diary (2011) and Mi verano con Amanda 3 (2013). In 2013, she was also cast in a Puerto Rican movie Reggaeton the Movie. Previously, she had worked on television shows such as Nuestra Belleza Latina, Don Amor, and Sirenas, all in 2008. In the same year, she also reached the semifinal of the realty beauty pageant show, Our Latin Beauty.
In 2011, she ventured out to fashion by launching her jeans line called Passion Jeans. The jeans were made to highlight the curves and were made with embroidery details. "This is a piece in which we are basically going to see Natalia's taste, from the most casual to the most elegant," she said at the time to highlight her passion for jeans, one of her favorite everyday wears. Sometime along the way, Rivera again expanded her entrepreneurship ambition with her self-clothing line, Relevant Bae. Under its name, she started selling dresses for men and women, coining unique dress descriptions (such as "Sunny Dress," Warm Feeling Dress," "Mean Girl," 'Gun Show," and "Blue Waves") for each of the dresses. She says that the clothing line "began with a dream."
"My passion for fashion and style, has morphed into a fashion forward and trendy online store: Relevant BAE. Relevant Bae is for women of all shapes, sizes, styles and personalities. I just want to empower my baes to feel confident and relevant with their outfits. Do you wanna know a secret? We spot trends B.A.E (Before Anyone Else)," she expands. 
Rivera also owns another fashion brand, Hectik, a clothing line with Puerto Rican design elements embedded.
In 2015, she portrayed the role of Michelle Montalvo, the wife of Erick Montalvo, in the movie Back to the Beginning. Later, she appeared on Scorpian Girls in 2017 and in Driven in 2018. She also boasts theatre experience; her first theatre role was the lead character in Flow alongside Javier Baerga.
Hecktik and Relevant Bae
It was the year 2013 when Rivera launched her clothing line, Hecktik. With the brand, she wanted her team to give her customers trendy products (clothes, footwear, and backpacks) to "please all the styles."
"I'm one of those who go out and, I swear, I love seeing how women dress. I admire the beauty and fashion sense of women". When talking about her favorite style, she emphasizes that it is very varied, but she loves the hippie-chic look, she said. "I follow fashion, but I like to be different. I can mix pieces that are in season with others that are retro, vintage".
She added, "I have a team with whom I meet to discuss prints, colors, designs. We take care of being able to please all styles". 
Her products are sold online and also at boutiques in Puerto Rico.
In addition to Hectik, Rivera's other clothing line, Relevant Bae, offers wearables for "women of all shapes, sizes, styles, and personalities. The company offers tops, crowns, sunglasses, purses, and bikinis.
'Back to the Beginning'
In the movie Back to the Beginning, her character Michelle's husband gets released from prison with a determination to change his life and reintegrate into society. On the contrary, he is stigmatized by society due to his ex-convict reputation. The situation turns complicated after Michelle falls pregnant and the baby has a premature birth. 
The David Aponte directed movie cast members include Ricardo Alvarez, Carlos Ferrer, Carlos FontanE, Pedro Juan Figueroa, Carlos Maldonado, Javier Yaga and Ken-Y. 
In an interview with Metro in 2015, the actress hoped that Back to the Beginning would help her native citizens believe in the movie industry so that it could flourish. 
'Bellum - Proof of Concept'
She was also a main cast member of Bellum – Proof of Concept, which premiered on 25 December 2020. It was a prototype of a TV series, which only consisted of Puerto Rican cast members and production talents. John BelNava and David Borges developed this particular action-science fiction project, and the plotline involved a group of women fighting together against social injustice as "vigilantes."
Bellum – Proof of concept is a short movie with a running time of 10 min and 43 seconds. This movie was made with a purpose and commitment to developing the Puerto Rican film industry to achieve international recognition and participate in international competitions. To achieve the ultimate objective of this project, all the cast members, including Rivera, had undergone tactical and self-defense training.
Television and Radio
Rivera hasn't just been in movies, but she is also a TV presenter and a radio host. She is the host of the TV Show Pégate al Mediodia, an entertainment program at Wapa TV. She has also been a radio host at La Terapia alongside Lizmarie Quintana and Agustin Rosario since 15 March 2020.
 She made her radio debut through the show, which is a Puerto Rican evening radio program of La X. In the program, Rivera and her co-hosts comment, discuss and humorize the latest news, politics, and entertainment.
"It is a tremendous station with much-loved talents and we are happy to join the La x team," Rivera said in 2020. Her co-host for the radio program, Rosario, added, "Our chemistry and diversity of personalities will be our best letter of success. We are crazy to start."
"We are very excited that Natalia, Lizmarie and Agustín join our team and we are sure that they will be able to transform the public's afternoon, from wherever they tune in to us," commented Dávila, the general manager of La X, on the new recruits.
Who is Natalia Rivera's Boyfriend?
On the occasion of 2021 Valentine's day, Rivera posted some romantic photos on her Instagram of her with her current boyfriend, Francis Torres. "You and I are light years away but still close to the sun ... and today I am totally happy inside, it seems that it is all a dream and to think that it is only the beginning makes me hallucinate", she captioned her Instagram's post. 
Previously, Rivera had tied the knot with Francis Rosas on 13 September 2014 and later officially divorced on 19 December 2019. The couple got married at the El Conquistador Hotel in Fajardo in the presence of 170 people at their dream wedding.
Rivera was involved in a romantic affair with Francis Torres when she was still married to Rosas. Torres was a former participant of the 'Guerreros' program at WAPA TV. Later, there were rumors about the separation of Rivera and Rosas when some photos of the Puerto Rican actress and Torres were public. Eventually, the divorce rumors were later verified when they officially separated in December.
On Separation 
On her Instagram in December, Rivera put her thoughts regarding her separation from Rosas and shared that they had tough times during their marriage. "These last two years have not been easy in terms of my marriage, above the gossip and false attacks, we already had our situations as a couple," she said.
She also disclosed that their effort to work out their relationship after separation didn't work out. They had separated in the year 2018. 
Similarly, in the same month, Rosas wished her best wishes on Facebook and said that he would prioritize his work, son and family first.
"I feel super good, very relaxed, but a lot of people won't understand it. I'm not going to get depressed either, if it didn't work, it didn't work. What happened happened and I'm going to move on, I don't look back," Rivera's former husband Rosas later told EL VOCERO in January 2020.
In an interview on Alejandro Gil's YouTube channel, Rosas also said that the separation process was pretty standard and that he wasn't going to look back. 
Later, Rosas told Elnuevodia in June 2020 that he and Rivera weren't speaking to one another at WAPA premises TV after their divorce.  
Did You Know?
Rivera is a basketball fan, and she has posted few sensual pictures of her along with a basketball on her Instagram. Apart from her Basketball craze, she also enjoys skating. She published a few pictures of her practicing rollerblading on her Instagram account amid the Covid-19 pandemic. 
Once, Rivera said on her social media that her dream was to be a maxillofacial surgeon.
Rivera has 300k followers on her Twitter (@NataliaRiveraPR) and 1.1 m followers on her Instagram (nataliariverapr), as of 19 July 2021.