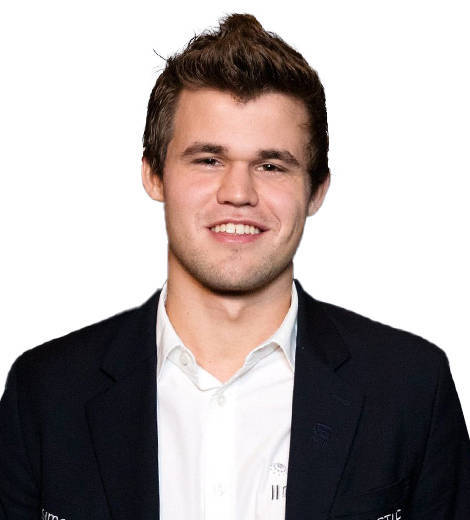 Quick Wiki
Full Name

Magnus Carlsen

Nationality

Norwegian

Birthplace

Tonsberg, Norway

Birth Date

Nov 30, 1990

Age

32 Years, 11 Months
World Chess Champion
Magnus Carlsen | Biography 2021
Chess Player
Carlsen, as a child, showed advanced intellectual abilities—he was able to solve the 50-piece jigsaw puzzle by the age of two and then confidently construct Lego pieces meant for 10-14 years old by the age of five. Recognizing his abilities, his father introduced him to chess when he was eight years old. However, he was not interested in chess right away.
---
Magnus Carlsen is a Norwegian chess grandmaster. He is currently the 'World Chess Champion,' 'World Rapid Chess Champion,' and 'World Blitz Chess Champion.'
Who is Magnus Carlsen?
Carlsen is the number one chess player who earned the grandmaster title at the age of 13. He is ranked no. 1 in the 'Fide Rating' list with 2847 points, as of 26 May 2021.
By the age of 28, he had won the 'World Chess Championship' ten times, 'Blitz World Championship' four times, and 'Rapid World Championship' twice.
As a young child, he showed high intellectual capacities, so his father taught him chess as a sport. At first, he did not give much concern to it, but later, he started practicing chess to win against his eldest sister. That eventually led him to be a champion and win uncountable competitions in the future.
Not just a champion, Carlsen has broken many records as well. He was the youngest chess grandmaster at the age of 13 years and four months. Later, he would break the unbreakable FIDE rating of Garry Kasparov. He would also win his first championship against former champion Viswanathan Anand.
Carlsen has won the 'World Chess Championship' ten times.  
Early Bio
Carlsen was born on 30 November 1990 in Tonsberg, Norway, to IT Consultant Henrick Albert Carlsen and chemical engineer Sigrun Oen. Carlsen is the youngest child out of three elder sisters. 
His parents always wanted to homeschool their children as they were keen travelers. They moved between Finland and Belgium before finally returning to Norway, settling down in the suburban area of Haslum, outside Oslo.
Family Background
Carlsen has a very close relationship with his family. His father used to be a chess enthusiast himself and had always given Carlsen the benefit to play his games on his terms.
Among the obstacles of being a child prodigy, Carlsen could have financially struggled because he was from a middle-class family. He shared the house with three other siblings. His tournaments needed him to be in foreign countries often, and it would not have been possible without proper financial aid. Hence, his personal ambitions could have been a strain on his family.
But Carlsen's father Henrik says that they were supportive of Magnus' drive in chess and would have supported him in any case. He reveals that Carlsen had a sponsorship deal with Microsoft at the age of 13. His collaborations would help the family to support him without any financial strain. Henrik says:
I think we were a bit fortunate, coming from Norway, being a rich country, we came from a middle class background. Until some point we could spend money on Magnus without doing harm to our other kids. But Magnus, through his main trainer at that time, Simen Agdestein already got a sponsor when he was eleven. And this was not our initiative, it was Agdestein's.

At the age of 13, Magnus had Microsoft as his sponsor. They covered a lot of his expenses related to traveling. This made it easier for us to make Magnus follow his passion because it didn't hurt the family financially.

Yes, we were fortunate, but I think he would have been allowed to play chess even if we didn't get a sponsor because we could afford it. Already by the age of 13 or 14 he started to make good amount of money from chess. It went so smoothly, Magnus being a strong chess player and coming from a Norwegian background. I think we were fortunate in this respect.
On the other hand, his mother was concerned that young Carlsen would use the computer too much. She used to ask him to play online games for only a certain period of the week. When the 9/11 attack occurred, the news was flooded with the reporting of the attack, and his mother asked him to turn the news on his computer during Carlsen's computer playtime. He was not happy to turn on the news in the middle of playing games, so he would ask them to let him play.
"9 11 attacks for instance that was like right when I was in my computer time of the week and so my mother said like please shut up you need to learn about this and so I was watching the news for a few minutes and then I said, can I please go back I mean I understand the world is burning down but this is my computer time so please," Carlsen recalled in an interview.
Chess Siblings
Among his three sisters, Ellen, Signe, and Ingrid, his eldest sister Ellen and youngest sister have also delved in chess. Ellen represented Norway in the 'European Team Chess Championship' two times, and she was also only 13 years old when she started competing in chess. She was the first person Carlsen won against in a game of chess. 
She reminisced about playing with Carlsen in an interview. She said, "I am the first victim of Magnus Carlsen, He started playing against me and I was a better player initially before I became the first player he ever beat in chess. Yes, it's also nice to note that I am one of the players to beat Magnus; there are not too many of them, after all."
Later, she stopped playing chess professionally and went on to study medicine in Oslo. His youngest also sister Ingrid competed in the 'World Youth Championship' and several other tournaments. She also eventually stopped playing chess professionally and continued pursuing her dancing ambitions.
Growing Up As Genius
Carlsen, as a child, showed advanced intellectual abilities—he was able to solve the 50-piece jigsaw puzzle by the age of two and then confidently construct Lego pieces meant for 10-14 years old by the age of five. Recognizing his abilities, his father introduced him to chess when he was eight years old. However, he was not interested in chess right away.
Carlsen was more inclined towards remembering areas, population, flags, and capital cities of all the countries in the world. He also remained enthusiastic about football till he was 12 years old. But at about the age of eight to nine, he compelled himself to practice chess and be good at it to win against his eldest sister. Unlike other children who were indulged in many games at once, Carlsen only focused on just one thing: chess. His first win was against his sister, and by the age of nine-and-a-half, he won against his father too.
Eventually, he took part in multiple chess tournaments while traveling around Europe with his family. He proclaims that those days of struggle as one of his best experiences. He connotes, "I recall the fondness on how little it took to be happy, we didn't really expect too much we certainly lived off a budget. And I also remember like finding an Internet Café and playing some blitz online after not having had internet for a month or so that was also pretty cool."
While traveling for half a year, he was homeschooled, and upon return, he continued his school education. Then at the age of 16, he decided that he did not want to study anymore. He was focused on his tournaments most of the time, and his parents had to ask him to manage time to complete his homework. Later, he dropped out of high school and got enrolled in one of the top athlete schools, Simen Agdestein Chess Academy. Even there at the academy, he could not dedicate himself totally towards the curriculum because he was taking part in tournaments, eventually dropping out. 
Career
Before becoming famous as the youngest grandmaster, Carlsen's had one of the finest games in the history of chess tournaments. It was at the 'Reykjavic Rapid' tournament in 2004. In the game, he made two moves that established him as a prodigy at a young age. First, he won against the former world champion Anatoly Karpov. Then after, he grabbed a win against another legendary world champion Garry Kasparov. He was only 13 years old at that tournament and had beaten two world chess champions in some way. And after that particular game, Kasparov started coaching him.
Not later than that, Carlsen made history in 2004 by receiving a grandmaster title, becoming the youngest grandmaster at that time after winning the 'Dubai Open Championship.' He was 13 years old and four months at the time. Reminiscing the moment of the win, he shares. "I still very much remember the nervousness that I felt on the day and the game where I finally got the title. My opponent, I think offered a draw in a somewhat worse position, and frankly, I couldn't have taken the draw any faster, because I just wanted the title."
At the age of 14, his FIDE (International Chess Federation or World Chess Federation) rating was 2792. It established his reputation as a child prodigy, being one of the best young Norwegian players. By January 2010, he was ranked at the top of the FIDE rating list! In 2012, for the third time, Carlsen won the 'London Chess Championship,' which increased his FIDE rating to 2861. At that time, Kasparov's highest rating was 2851 in 2011, but Carlsen outstood Kasparov and his unbeatable record.
In 2013, Carlsen became the 'World Chess Champion' (WCC) after beating the former champion Viswanathan Anand in the tournament that took place in Chennai. It increased his rating to 2882, and subsequently, in 2014, he won the 'Rapid World Championship' and the 'Blitz World Championship.'
The same year, Carlsen defended his 'World Championship,' making history by withholding all three championships—World, Rapid, and Blitz Championship—by a single player in the same year. Similarly, in 2015 he defended his 'Rapid Championship,' being the first player to withhold the position two years in a row.
By 2016, he won the 'Tata Steel Chess Tournament' for the fifth time, won the 'Norway Chess Tournament,' and won the 'World Chess Championship' held in New York. Then in 2017, he won the 'World Blitz Champion' in Riyadh for the third time.
In 2018, he was ranked no. one on the rating list, won the 'Tata Steel Chess Tournament' for the sixth time, the 'World Chess Championship' for the tenth time, and the 'Blitz Championship' for the fourth time.
On 21 February 2021, Carlsen represented the Kindred Group at the 'FIDE Online World Corporate Chess Championship,' followed by the 'Tata Steel Tournament' in 2021, where he was ranked in the sixth position. Although it was his first time after a long streak below in the 'Tata Steel Champion,' he was still no. one in the world.
He also won the first 'Meltwater Championship Chess Tour' in 2021, making it against Hikaru Nakamura and winning $30,000 in cash prize.
Influence
After Carlsen's immense success, Norway had an increased number of Chess players compared to other countries. He feels that his influence was duly noted, "If I've played a role in sort of leading people towards realizing that [chess] I am very happy about it…it is a part of the culture in so many countries and it's a truly global game, so I don't think it is going to go away."
Meanwhile, during the online tournaments, he inspired the young generation of players with the hopeful prospects of virtual games.
"I think there are certainly new opportunities online for people who want to make a living from chess, but purely from playing of course it's getting very difficult. Also, one thing is in a longer perspective I'm not sure that it's great that you educate younger players to become only rapid and blitz players online," he shares.
Upcoming Project
The global pandemic has halted Carlsen's previous tour plans. But as he has been participating in virtual championships, his upcoming game is the 'FTX Crypto Cup First Bitcoin Chess Tournament' from 23-31st May. This tournament is organized by Carlsen's Play Magnus Group along with FTX, a leading cryptocurrency exchange.
FTX Cup is the final major in the $1.5 million Meltwater Championships' tour. The final prizes are $200,000 in prize money and an additional $100,000 in bitcoin.
Further, in 2021, he is scheduled to head towards the Norway Chess field at the 'Altibox Norway Chess,' then to 'Candidates Tournaments Round' in Yekaterinburg, Russia, followed by 'Champion's Showdown: Chess 9LX' in September, and the 'World Chess Championship' in Dubai where he will be defending his reigning title of the 'World Champion' during October.
During the Dubai' World Championship', he will be competing against the Russian Grand Master Ian Nepomniachtchchi. It is one of the anticipated games of the season. In 2020, Russia had banned its players from competing in most of the international championships.
Business ventures
In 2013, Carlsen launched a gaming app called 'Play Magnus,' which allows the players to play against him at various stages of his career based on the historical data of his games. The gist behind the mobile app was to encourage new generation players globally to make a living out of chess as he did.
In late 2020, he launched 'Magnus Carlsen Invitational,' an online chess tournament with the reward of $250,000, which was one of the highly rewarding chess tournaments in history.
The company was also listed at the Oslo Stock Market in October of 2020, with fresh equity of $30.2 million. 9.5 percent of the company is owned by the Carlsen family, while its largest shareholder is the American Luxor Capital, with 10.96 percent of shares.
Carlsen plans to utilize equity in the development of technology and subsequent growth of the company. In his words, "The company's unique vision is to make chess available to new target groups all over the world. In addition, our model will help many more chess players and coaches to be able to make a living from chess. The company has just started on this journey and I look forward to being part of it going forward."
Play Magnus acquired chess training platform Chessable and Chess24 (a platform to learn, play via game settings, and watch chess internationally) in 2019. 
The company then purchased the chess tactics learning platform iChess in 2020 to expand the chess community through virtual means.
In March 2021, the company purchased another company, Gloucester Publishers, which owned Everyman Chess. It was one of the largest publishers of chess. Among its publishments, some of them were a 12-volume catalog collection of Garry Kasparov, the world champion before Carlsen, along with five volumes about world champions.
Net Worth
As of 2020, his net worth was accounted to be $8 million and early earnings to be $2 million, according to Celebritynetwoth.
In 2020, he won the 'Chess24' championship 2020, registering the prize money of $510,587. Along with that, he attained $70,000 prize money after winning the richest online chess tournament of the year 'Magnus Carlsen Invitational.' Previously, his 2020 reigning win of the 'World Championship' was bided to over a million dollars.
As of 2020, he was the highest-earning esports player in the world.
Who Was Magnus Carlsen Girlfriend?
Carlsen was previously in a two-year relationship with Elisabet Lorentzen Djonne, a criminology student from Oslo. Carlsen revealed about their relationship in 2020, after one year of dating, but by 2021, they parted ways. Djonne used to accompany him to his tournaments, and she was present during his championship win of 2019 in Moscow.
Did You Know?
Many sources have reported that he has an above-average IQ score of 190, which is possessed by only 0.5 percentile of people in the world. But none of such sources have provided adequate evidence on the claim. Instead, Carlsen has said in the past that he was unaware of his IQ. In an interview with Maik Grossekathofer, he replied, "I have no idea. I wouldn't want to know it anyway. It might turn out to be a nasty surprise," after he was asked about his IQ being "190." 
Carlsen has politically recognized himself as a social democrat.
Fact-checking and Ethical Concerns
We assure our audience that we will remove any contents that are not accurate or according to formal reports and queries if they are justified. We commit to cover sensible issues responsibly through the principles of neutrality.
To report about any issues in our articles, please feel free to Contact Us. Our dedicated Editorial team verifies each of the articles published on the Biographyhost.