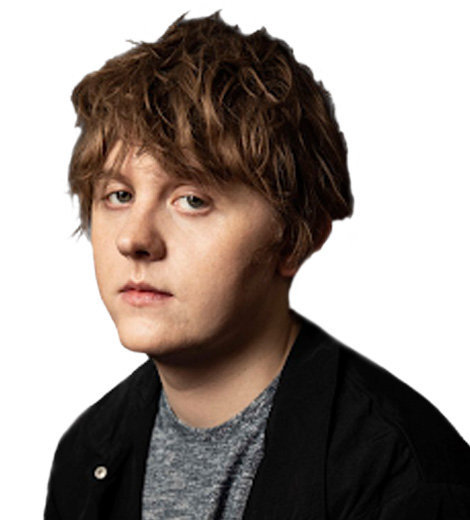 Quick Wiki
Full Name

Lewis Capaldi

Occupation

Singer, Songwriter

Nationality

Scottish

Birthplace

West Lothian, Scotland

Birth Date

Oct 07, 1996

Age

26 Years, 8 Months
Creator Of Album 'Divinely Uninspired to a Hellish Extent'
Lewis Capaldi | Biography 2021
Was Rejected in the Audition Round of the 'Britain Got Talent'
Scottish singer Lewis Capaldi's debut album, Divinely Uninspired to a Hellish Extent, was released on Virgin EMI in May 2019. The incredible album featured his four Top Ten UK singles, including the top hits' Someone You Loved' and 'Before You Go.' The album narrates the scars, pitfalls, and joys of the many highs and lows that come as a part of life. The album attempts to discover the beauty in not-so-perfect moments of life and translate those moments into captivating songs
---
Lewis Capaldi is a Scottish singer-songwriter who got into the limelight in early 2017 when he released the track 'Bruises,' a brooding depiction of a broken relationship featuring his intimate piano and vocal sound.
Who is Lewis Capaldi?
In 2019, Capaldi's wildly successful debut album, Divinely Uninspired to a Hellish Extent, established him as pop's reigning master of heartbreak and misery. 
Capaldi started his professional career through YouTube. In 2018, he released his single 'Someone You Loved,' which hit no. 1 on the UK Singles Chart for seven weeks and topped the US Billboard Hot 100 in November 2019. It was also nominated for 'Song of the Year' at the 62nd Annual Grammy Awards in 2020. The same year, the single received the 'Brit Awards' for 'Song of the Year,' and Capaldi was named as 'Best New Artist.'
After the tremendous success of his first album, he's now preparing for his second album.
Early Life
Lewis Capaldi Lewis was born on 7 October 1996 at Bathgate, West Lothian, Scotland. He was born as the youngest child among his four siblings. His father is a fishmonger and has a fish shop, and his mother is a nurse.
Growing up in a Scottish-Italian family, Capaldi discovered his passion for music at an early age. On a family trip to a summer camp, he went up on stage where a band was performing and showed his talent by singing a few Queen songs.
Capaldi started playing the guitar at the age of 9. Then, at 11, he started writing his own songs.
He preferred playing music to academics during his school days in St. Kentigern's Academy. Later, Capaldi joined New College Lanarkshire to pursue a professional career in the music industry. He also graduated in Higher National Diploma (HND) Music from the College's Motherwell Campus in 2016.
After that, Capaldi then spent two years at the college mastering his songwriting and live performance skills through a practical course, which included a showcase performance at the famous King Tut's in Glasgow at the end of the year. 
Early Career: Youtube
Universal Music quickly recognized Capaldi's unique talent and signed him shortly after his graduation. 
One of Capaldi's former lecturers at the College, Scott Cowie, said, "Lewis completed his HND in Music with us and goes from strength to strength every single day. We are all incredibly proud of him, to say the least. Putting extreme bias aside, he may well be the most entertaining artist in the charts just now and in many ways, it's just the beginning."
The talented singer eventually began composing, performing, and recording his original works from his bedroom and uploaded them on YouTube. Soon, he amassed a devoted fan following.
Gaining Popularity
The musical artist debuted his music career with the single 'Bruises' on 31 March 2017. His intense piano and vocal sound added depth to the breakup feel of the song.
As the days passed, Capaldi became the fastest unsigned artist to hit a quarter million Spotify plays. The track also went on to receive over 81 million plays on YouTube in the official audio. Following the success of 'Bruises,' Capaldi was signed by Virgin EMI Records and Capitol Records.
The Scottish singer also sold out Glasgow's famous King Tut's on the strength of his single before releasing his follow-up single 'Lost on You,' later that summer. 
EP: Bloom
Later, in October 2017, Capaldi featured both songs and two more singles to his debut Extended Play (EP), Bloom. For the EP, he worked with the 'Grammy Award' winning producer James Ryan Ho, better known as Malay.
Eventually, Capaldi rounded off the stellar year with a 'Scottish Music Award' for 'Breakthrough Artist of the Year.' He then spent the first half of 2018 touring in North America and Europe. His next singles, 'Rush' and 'Tough,' came out soon after the tour. Both songs appeared on his next EP, Breach, which was released in November of the same year.
'Divinely Uninspired to a Hellish Extent'
Capaldi's debut album, Divinely Uninspired to a Hellish Extent, was released on Virgin EMI in May 2019. The incredible album featured his four Top Ten UK singles, including the top hits' Someone You Loved' and 'Before You Go.'
Lyrical Composition
The album narrates the scars, pitfalls, and joys of the many highs and lows that come as a part of life. The album attempts to discover the beauty in not-so-perfect moments of life and translate those moments into captivating songs. 
For instance, the song 'Forever' from the album narrates the story of a man's regret over the end of his romance. It showcased that, despite no promises being made about the relationship lasting forever, he did not want their bond to end. Capaldi immediately followed the single with tracks such as 'The One,' which inflames a reflection on the scars people carry from relationship to relationship. 
The twelve songs on his album include 'Grace,' 'Bruises,' 'Hold Me While You Wait,' 'Someone You Loved," Maybe," Forever,' 'One, 'Don't Get Me Wrong,' 'Hollywood,' 'Lost On You,' 'Fade,' and 'Headspace.'
"All I want is to not release something completely shit, and the response to the tunes makes me feel like I'm doing okay so far," Lewis said in response to the recognition gained by the album. 
The album was certified Gold only a week after its release, making it the year's fastest-selling album. It was also the most-streamed week one debut album of all time.
'Someone You Loved,' which he dedicated to his late grandmother, reached number one for seven weeks in the UK before crossing over to the United States for a one-week stay in late 2019. 
Awards and Accolades 
Capaldi won the 'Scottish Alternative Music Awards' for 'Best Acoustic Act,' and the 'Scottish Music Awards' for 'Best Breakthrough Artist,' in 2017. The same year, he was listed as one of 'Vevo dscvr's 2018 Artists to Watch.'
In 2018, he received the 'Great Scot Awards' and the 'Forth Awards.' He was also nominated for the BBC Music's 'Sound of 2018.' In 2019, he received the 'MTV's Brand New Award' and 'Q Awards' Best Track' for 'Someone You Loved.' Capaldi also won 'BBC Teen Awards' for 'Best British Singer' and 'Best Single' the same year. 
In 2020, Capaldi won the 'Global Awards' for 'Best Mass Appeal Artist' and 'Most Played Song.' He was also nominated for the prestigious 'Grammy Awards' for 'Song of the Year' in 2019 for 'Someone You Loved' and received the 2020 'Brit Awards' for 'Song of the Year' and 'Best New Artist.' 
Capaldi also won the 2020 'Scottish Music Awards' for 'Best UK Artist' and also got nominated for several categories in the 'American Music Awards,' 'UK Music Video Awards,' 'Billboard Music Awards,' 'MTV Video Music Awards,' 'Ivor Novello Awards,' 'LOS40 Music Awards,' and 'Kid's Choice Awards.' 
The same year, Capaldi topped the list of winners at the 2020 Brit Awards. He won the 'New Artist' category, as well as 'Song of the Year' for 'Someone You Loved.'
But his first-ever BRIT Awards speech was cut short after he drank his beer and cursed on stage. He attempted to celebrate his best new artist award by carrying his beer on the stage and gulping it down as the audience applauded. However, because ITV censored Capaldi's acceptance speech, viewers were unable to hear it.
According to The Independent, Capaldi said, "Thank you very f——— much see you in a bit, good night."
'Britain's Got Talent'
Capaldi's first attempt at fame failed when he tried to get in front of BGT judges Amanda Holden, Simon Cowell, and David Walliams. 
In an exclusive interview with Jamie and Amanda on Heart Breakfast in 2019, Capaldi revealed the details of his audition for Britain's Got Talent. He said he had performed a cover of Mumford & Sons' 'White Blank Page' and got rejected. The news of the best and the fastest-selling singer being rejected from the show baffled both the hosts. Amanda Holden, the co-host on Heart Breakfast and one of the judges during Capaldi's performance, exclaimed, "OMG, we turned down Lewis Capaldi?!"
"It was in the round where they did the filming with the producers. Looking back, thankfully I never got on to the TV stage or the chance to be in front of the likes of Simon Cowell but I did audition for that show", he told Daily Record.
Even though the judges praised his performance and that the BGT crew called him shortly afterward to assure him that he would be put through, he was never called again.
 "I didn't get in, I got a resounding, 'No', – but here we are now so I'm pleased," he added.
Collaboration with One Direction star Niall Horan
In 2019, Capaldi spoke about his career at the Q Awards, where he won Best Track for juggernaut single 'Someone You Loved.' Additionally, he also discussed his collaboration with One Direction star Niall Horan.
Capaldi also casually dropped the news that the pair have already penned a song together after discussing how they had been friends for a long time.
He told Planet Radio in 2021, "We've written a song together before. So we've written stuff, we've been in the studio and worked together before, but whether it comes out or not - and whether it's actually any good, because it was a while ago - is a different story. "But I'd love to work with Niall, we're friends and he's been very nice to me for a very long time in terms of. He's been a supporter of my music stuff for a while, so I love him and I'd love to work with him!" 
Although they both had previously worked together in the studio, they didn't disclose what they produced. Later, they utilized the period of the pandemic to collaborate on new music.
Eventually, Niall revealed in an Instagram Live that the duo had been video chatting every weekend and was planning a virtual songwriting session. 
"On Zoom we usually have a few drinks on Saturday nights, but we didn't talk this weekend. I believe I'll be writing with him this week. We're on a tight schedule", Niall told his Instagram audience.
Fame Conscious
In an interview with Music Week magazine in 2019, Lewis Capaldi revealed that he turned down big names who wanted to collaborate on his hit song 'Someone You Loved' because of fear that they would dominate him with their fame, citing Camila Cabello as one example. 
"I said, 'No, I'd rather have a number three by myself than a number one with a feature' because it was still so new in America that everyone would think it was someone else's song," he explained to Capital FM in 2019.
New album
In March 2021, Lewis Capaldi broke his social media silence and provided fans with an extensive update on his upcoming tour and second album. He announced that he would postpone his tour until 2022 to focus on finishing the follow-up to his debut album Divinely Uninspired to a Hellish Extent.
"I'd be lying if I said I haven't been terrified about making my next album since the moment I finished Divinely Uninspired To A Hellish Extent! I've been writing loads of tunes I'm really excited about and I can't wait for you to hear them", he wrote on his Instagram.
However, Capaldi didn't mention the exact release date. Previously in May 2020, Lewis stated, "I now have 11 songs written for the new album. Hopefully, it will be released sometime next year," during a Q&A held at an event for the charity CALM (Campaign Against Living Miserably)
Personal Life
Capaldi was in a relationship with the reality dating series Love Island winner Paige Turley until she cheated on him. Their dating relationship lasted for more than a year after they had met in college.
According to Capaldi, Turley got the ITV2 gig, the channel that aired the series, only because of his name, and he wanted a share of the £50,000 prize amount if she won.
He said to Daily Mail, "The prize is like £50,000 and I'll be like Well, listen. They asked you to go on it right I'm not saying I'm the reason but also… slide me two grand."
In 2020, the singer then met Catherine Halliday shortly before lockdown and dated her for seven months. According to The Sun sources, the couple separated because of Capaldi's hectic work schedule.
What is Lewis Capaldi's Net Worth?
According to The Sunday Times, Lewis Capaldi's net worth is £17 million as of 21 May 2021.