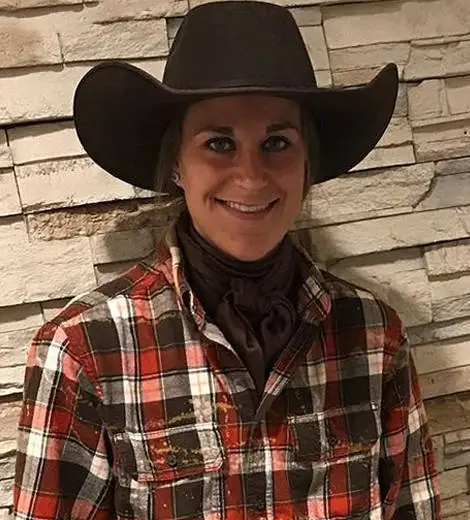 Quick Wiki
Name

Kristen Tuff Scott

Nationality

American

Occupation

Horse Trainer, Horse Breaker

Education

University degree (Bio-chemistry major )

Did You Know?

She got famous after posting a humorous video explaining that she wouldn't break her clients' horses because of flue.

Birth Date

Aug 08, 1988

Age

35 Years, 1 Months

Family background

Farming

University

Arizona State University

Ideological Affiliation/Affinity

Pro-parenthood, Religious

Political Affiliation

Republican

Sexual Orientation

Has described herself "as the only gay republican she ever met"

Relationship Status

Private

Full Name

Kristen Tuff Scott

Birthplace

Piggott, Arkansas, U.S.
Singer known for Singles 'DANCIN' DRESS,' 'Clay Country,' and 'Grandpa'
Kristen Tuff Scott | Biography
When Scott was breaking horses for her clients, she caught the flu and called her clients to inform them about her condition. She recorded those calls, their reaction and also uploaded those videos, which in turn went viral.  She then continued making funny videos and also began influencer marketing on her social media. Subsequently, with the increase of followers, she expanded her brand as an influencer living on a ranch.
---
Kristen Tuff Scott is a famous social media personality, well known for her daily vlogs about her life as a horse-breaker and influencer living on a ranch. She was featured on season 5 of CMT's Redneck Island.
Who is Kristen Tuff Scott?
Scott is an influencer popular among the audience of horse-breaking and horse riding communities. She is known as one of the toughest cowgirls in the town. She is famous for her unfiltered personality and witty remarks.
She got famous after posting a humorous video explaining that she wouldn't break her clients' horses because she had been suffering from the flu. After her sudden fame, she started sharing her witty reviews on life with her followers and also began influencer marketing on her social media.
She was one of the contestants of the 5th season of CMT's Redneck Island. She is also a published songwriter and singer; her dedicated song 'Grandpa' has reached the top 10 of the 'iTunes' 'Top Country Songs.' She also does comedy and music tours (one is under the pipeline at the end of 2021).
Age, Early Life, and Education
On August 8, 1988, Scott was born to a southern family with a long farming history. She was born and raised in Piggott, Arkansas. Scott's grandfather, John T Becking, fought in the US Navy during World War II. He was born on 18 June 1922 and died on 11 May 2011 at the age of 89. 
Scott grew up like any dirt road country in Arkansas, familiar with hunting, fishing, and horses. From some of her Instagram posts, it has been known that she has two biological brothers (elder and younger). Her father and mother separated a long time ago. Later, both of her parents would get married and have their respective families. 
Growing up, she was very close to her mother. Scott says she still has a sisterly bonding with her.
In the first grade, she was diagnosed with dyslexia and dysgraphia, which made it hard for her to study. She says she had a hard time blending in school and her mother was the one who helped her learn. 
"Telling you my biggest accomplishment by far will be graduating college. In first grade, I was diagnosed with dyslexia and dysgraphia. They kind of wanted to push me off to the side and didn't want to take time to teach me how to read. My mama wasn't having that," she shared.
She added, "Nobody thought I'd graduate high school. I did so then I went on to college and finished that too. I graduated with a degree in pre-medical studies. I have a degree in chemistry biology, so you take two of the hardest degrees, and I got it, you know. I mean it's a big accomplishment for me even though I don't use it," she replied to a fans' query on her biggest accomplishment in 2016." 
After high school, she never thought she would go to college but decided to enroll after hearing about a music scholarship while being "heavy on-road sodies" during graduation. However, she liked science and chose it as her major despite being told that the subject wouldn't fit her. She later graduated from Arkansas State University in 2014 with a degree in pre-medical studies with a concentration in chemistry and biology.
After graduation, she took pre-medical studies to study medicine but dropped out halfway because she did not want to go to medical school anymore. So, she moved out of her place to be on the road. She then started her saddle-breaking in Missouri and was also sharing her journey via social media.
What's the Story behind Kristen Tuff Scott?
When Scott was breaking horses for her clients, she caught the flu and called her clients to inform them about her condition. She recorded those calls, their reaction and also uploaded those videos, which in turn went viral. 
She then continued making funny videos and also began influencer marketing on her social media. Subsequently, she expanded her brand as an influencer living on a ranch with an increase in followers. On her Twitter, Instagram, and Facebook accounts, she showed her humorous takes on trivial issues, her life as a horse-breaker, and her love for singing, dogs, cows, and fishing. 
CMT's 'Redneck Island
In 2016, Scott appeared as a contestant on season 5 of CMT's Redneck Island, a reality tv-show where contestants pit against each other for the prize money of $100,000. The show was fueled by the contestants facing physical challenges and dealings with friendships, romance, and rivalries with fellow contestants. The show was hosted by the wrestling icon Steve Austin with Melissa Rycroft.
In the show, she recognized herself as the toughest cowgirl in the town and that she came from a lineage of farmers who believed in hard work. Her introduction to the game gave her an image of music and animal lover. She had also mentioned being raised to be a respectable southern lady but was not afraid to bespeak her mind.
During the introductory part of the show, she recognized herself as the roughest and toughest cowgirl in the town and that she came from a lineage of farmers and hard work. Her introduction to the game gave her an image of music and animal lover. She had also mentioned being raised to be a respectable southern lady but was not afraid to be blunt and speak her mind.
Although Scott did not win the season's prize money, she later said that she would go back to the show if she had the chance in the future. She recalled the whole experience of the show as a fun environment and expressed that it was too much fun not to do it all over again.
Scott reminisces one of her favorite scenes of the show—it was with her co-contestant Jordan when Jordan applied makeup on her while they were drunk—and also shares other memorable experiences with Intellifluence. She said:
Well, they encouraged a lot of adult beverages on that show, so memories are here. Probably when I let Jordan put makeup on me, it was not for my skin it was not, you know, I mean I had kind of and not – the colors were all wrong. I mean I'm no makeup guru, but the colors were all wrong. I don't need a dark shade of lipstick, but she put one on me anyway, but it's okay. I saw I enjoyed that, I enjoyed Stone Cold trying to drink more whiskey than me because you can't and probably him trying to remember any of his lines like he's been hit in the head too many times. He'd be like, "alright guys today is the name – alright today guys today's name a challenge is what I name this sh*t oh yeah" you know, I mean like he can't remember his line like it's terrible. I mean obviously the camaraderie of it all I mean you're living in a house of 24 people and like when hot pockets – oh I'm sorry when rednecks are involved and hot pockets and balogna get low it gets moody in there. So there was that and then, you know, me there's a big 360 camera in the living space I would yell quite frequently "hey we're out of sodie, hey w don't have any balogna, hey" cause you can't go to production or he night that I got so drunk that I fell asleep on the couch – I was trying to go to sleep and they wouldn't unmike me and the rules are it's a fine if you go to bed with your mic on so I was laying on the couch with my necklace, like this, I was like "if you don't come unmike me I'm going to do it myself I don't care about the fifty dollars I need to go to bed now" it took them an hour and I got a fine.
On Influencer Marketing
After getting famous, Scott continued making funny videos and uploaded the contents on her page. She also started reviewing the PR packages (of products such as beauty products and wearables) she received from companies as her popularity increased. Scott says she believes in giving "open and honest" feedback about the products or brands she features on her social media profile.
She emphasizes that she wouldn't outrightly refuse to work with a product if it doesn't fit her. Instead, she reasons that she would tell the people about her honest thoughts on the product and why it didn't work for her. She assures that people who come to her to hear "the truth or the truth" will not have to "spend money on something that's not going to work for them. She remarks that she would not work with a brand or a product made with sub-par standards.
"I mean I think that's – I've seen people do it and I mean I'm going to give an honest opinion like if it's straight-up acid I'm probably going to send the product back to the person and just send their money back because I rather do that than lie to my fans because I mean like the deal is like I said they come to hear the truth or my truth," she says.
"I'm not going to sit here and tell people – because like my clientele is mainly hard-working like country-style riding horses, you know, I'm not going to have them spend money on something that's not going to work for them, you know when they work for it," Scott reflects on her approach to dealing with brands through influencer marketing.
Scott has also modeled multiple times for companies. In 2021, she collaborated with Shopify to sell products and services via her brand website. 
'Pokemon Go'
One of her trendy video uploads was about her encounter with the infamous video game Pokemon Go. In early 2017 after the game was launched, many players came to her ranch to catch and find the game's characters.
The game was subsequently very popular, and its fame increased the number of people coming to her work for the game. But after some time, she was fed up with it. So, she thought if she could play the game herself and catch all the characters located on her ranch, players would stop bugging her. She then downloaded the game and collected the characters, but then found out that is not how the game works.
After finding the working mechanisms of the game, Scott got furious and uploaded her reaction to the game on her Facebook page, which in turn got viral.
She said, "And I thought because I didn't know how it worked if I downloaded the game I could catch all the Pokémons in my work, then people would quit coming in to catch them. Well, that's not how it works. So now I have a bunch of Pokémons and there's people still coming in to get the Pokémons. So now I feel like a nerd because I'm like 'go back there, make a left, Zubat's over there, and Squirtle's in lawn and garden, by the way. But lawn and garden's not my area so I can't go get him. But I feel stupid. This is just not where I saw myself at 27 years old."
At the time, Scott stated that she had a problem with the situation and she needed to 'get it together before it got out of hand. Her experience was relatable to so many of the players, which led to her comment section being flooded with relatable stories. The video eventually garnered 25 million views. In the end, the game ended up being one of her favorite games.
Kristen Tuff Scott's Music
According to Scott, her music is a retelling of an actual and real experience she hopes will be felt and experienced by all of her listeners. In total, Scott says she has more than 100 self-written songs in her name. She has dropped some of them on her YouTube and Facebook, where she also occasionally uploads song covers. She has also uploaded covers on songs such as George Strait's 'You Look So Good In Love,' Ronan Keating's 'When You Say Nothing at All,' and Keith Urban's 'Rain on Sunday.'   
'Grandpa'
In 2021, she released her first original song dedicated to her great-grandfather, who had passed away. The song was titled 'Grandpa,' which she had written the very next day he died, and sang it during his funeral.
On the Southern Momma Podcast, she said, "He passed away on Wednesday I wrote this on Thursday and played at his funeral on the veteran's cemetery on Friday and it's all real dates and if they're the one significant part of it if you catch on like really pay attention and pick on like he said he remembers it like and then I say I'll remember it like it was it's because he had Alzheimer's he couldn't remember no more so I remember both of us so it's kind of like the thing in the song."
She added that it was a very personal song for her. She revealed that her grandfather, who fought during the second world war from the navy, taught her how to tie navy knots, building things, and working hard.
The song was previously uploaded on YouTube in 2015 but was officially released under the label New Country Song, and eventually reached no. 10 spot on iTunes 'Top Country Song Chart.'
'Clay County'
As every song of hers has a backstory, this song also holds a special place in Scott's heart. She wrote the song in college when she was a little homesick and published the original song on YouTube on 7 February 2015. The video has over 16 thousand views as of July 2021. The song was officially released in May 2021.
"I write music from the heart for people to listen to and relate their life to it on some level or aspect…Music can help you through and/or over anything if you connect to it in the right way," she said on the release of the song.
 'DANCIN' DRESS'
On 24 July 2021, she revealed about her upcoming song titled 'DANCIN' DRESS' on Instagram, posting a poster of a young girl wearing a white dress and taking a twirl. The country music song was all set for pre-order on 2 August 2021, and album sales began on 7 August 2021. Bang Productions produced the song. 
'American Idol'
In one of her videos, Scott has also revealed that she applied for America's Got Talent while in college and made it through the first three interviews. According to her, she was called back and was supposed to contest in Florida, but she later dropped out because she had chemistry papers to write.
Tuff Comedy and Music Tour
A gifted performer, she blends her real-life experiences and sentiments into artistic prose. Scott is currently sharing the comedy stage with DJ Slim McGraw for the fun nights of laughter and music. She offers a wonderfully wicked collection of her favorite anecdotes and many original songs that perfectly represent her unique experiences during her routines.
Most recently, the comedian performed at Off the Hook Comedy Club in Naples, Florida, on 7 July 2021 and at Hazard Fest 2021 in Green County Fairgrounds in October 2021. 
Kristen Tuff Scott Merch
Scott also has an exclusive collection of merchandise she sells through her website and permanent store. She sells a collection of t-shirts, hoodies, sweatshirts, tank tops, camping mugs, and trucker hats with her logo on the items. She also uses her social media platforms with millions of followers to advertise her merchandise. 
Did Kristen Tuff Scott Change her Gender?
In mid-2010, Scott was diagnosed with breast cancer and underwent a mastectomy to control the spread of cancer. After that, she was under-recovery for years; she was also not as active in her media platforms as she used to be. Because of the medical condition, she appeared to be physically different than before. Because of that, she got comments and questions from her followers asking if she was transgender and whether she had undergone a gender or sex reassignment surgery.
She then uploaded a Facebook video explaining the queries from the audience. She clarified that her reduced chest size resulted from a mastectomy surgery she underwent to stop her breast cancer from spreading. She enthusiastically mentioned that she would start riding horses once she felt better. She also talked about her hematoma scars and the drainage tubes she had to don even after two months of surgery. In her own words, "My t**s tried to kill me, so I cut them off. That's how that went."
She also assured in the video that her disease was under control after the surgery, but she still needed to recover from the surgery wound. On her social media pages, she also continued actively talking about her journey as a cancer survivor.
Before Surgery
Even before surgery, the social media celebrity was always outspoken about her disease and her surgeries. Scott had revealed in one of her videos she had feared going to the clinic initially. But after the operation, she said she gained a lot of confidence and self-esteem. After the successful surgery, she started posting images on Instagram with the hashtag #survivor.
On 16 October 2016, Scott had taken took to Instagram for the first time since her surgery to inform her fans and followers that she had successfully beaten cancer. She openly shared a photo of her chest with her breast removed. "I've debated on post this photo but I decided to. Don't wait till tomorrow folks...it may not come! I may lose followers but it's ok and well worth it if I save one person," she captioned the post.
Scott also posted a pre-surgery video on her Facebook account in October 2016. She recorded the live video for her fans right before the surgery, in which she was seen lying on the hospital bed, getting ready for the surgery.
In April of 2020, she informed her fans of her other surgery. She uploaded a video explaining her undergoing mole surgery on her back. She reasoned that she had to go through it because her mole made her nervous about swimming in a river full of fish. She also remarked that she had a similar surgery on her chin in the past.
Sexuality & Being Republican
Scott identifies herself as gay and also as a Republican. And in one of her videos, she quoted that she was the only "gay republican" she had encountered.
She added that her fans expected her to incline towards the candidate who would endorse gay marriages Subsequently when she had supported former President Trump during his candidacy. To that, she responded by saying, "To me, in this country, there are so many more things that we as a country have to worry about whether or not a candidate supports gay marriage. People are dying, we've got Black Lives Matter rallies going on, we've got people trying to kill the police for no reason."
The Dating Rumor 
The Arkansas native was rumored to be dating a girl named Missy. Legit reports that she hasn't addressed the rumor.  
Did you Know?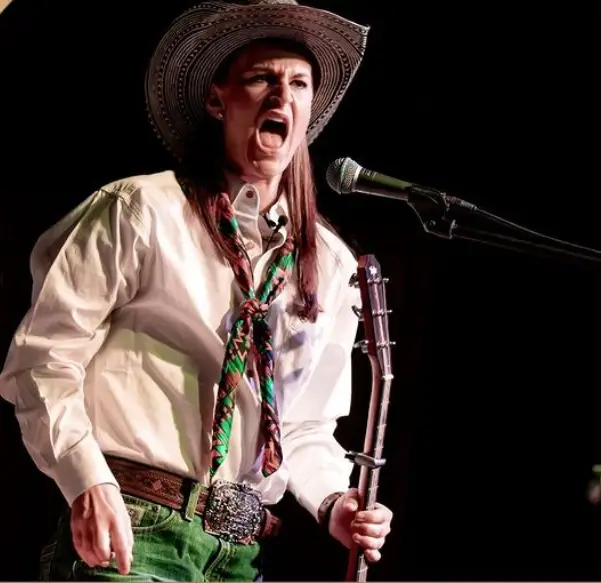 In 2020, she had uploaded a video mentioning that she was going to her hometown to settle some legal matters, and she needed a lawyer. Immediately, her fans responded by assuming that she got into some trouble with the law and was being sued. She assured in the video that she was not in trouble with the law but was down to the place because she was up to some exciting project involving "ponies and horses."  
In November 2019, Scott uploaded a video on Facebook, in which she shared a video about a mother and son conversation she heard in a clothing shop. The discussion was about the son coming out as gay to his mom. Scott said that she intervened in the conversation and helped them to resolve their fight. Many of her followers were very happy with what she did and appreciated her for the help. A person wrote, "That's beautiful most people dont care about others around them to go out of your way and help the boy and his mom is like a falling star beautiful people always do it, you just rarely see it."