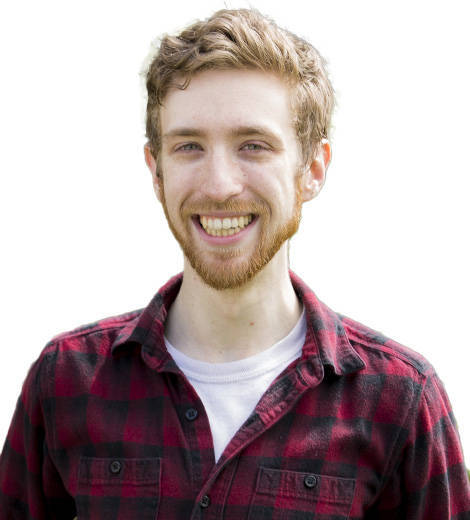 Quick Wiki
Full Name

Justin Briner

Occupation

Voice Actor

Nationality

America

Birthplace

Maryland, USA

Birth Date

August 23, 1991
Voice Actor
Justin Briner | Biography 2021
Briner's career as a voice actor began at a very early age. He was just five years old when he debuted his voice work for Marcello in the 1996 anime television series 'B'T X.'
---
Justin Briner is an American anime voice actor best known for his role as Izuku 'Deku' Midoriya in the 2016 anime television series My Hero Academia.
Who is Justin Briner?
Justin Briner is a voice actor who began his voice-acting career at the age of five. He then lent voices for English-version of numerous Japanese anime television series throughout his career. His major anime voice works include Mikaela Hyakuya on Seraph of the End: Vampire Reign (2015), Qwenthur Barbotage on Heavy Object (2015), and Izuku 'Deku' Midoriya on My Hero Academia (2016), among many others. He also voiced in the 2017 anime film Black Butler: Book of the Atlantic. Briner had also voiced several video game characters, including Ichi/Blake on Cibele in 2015.
Early Life and Education
Justin Patrick Briner was born on 23 August 1991. Born and raised in Maryland, United States, Briner studied theater at the University of North Texas. He also engaged in musical theater while growing up.
Early Career
Briner's career as a voice actor began at a very early age. He was just five years old when he debuted his voice work for Marcello in the 1996 anime television series B'T X. The following year, he lent voice for the same character in its sequel B'T X Neo. Briner then began voicing the English version of the anime television series with the 2011 comedy-drama anime Gosick, which was based on a Japanese light novel series written by Kazuki Sakuraba and illustrated by Hinata Takeda. In the following years, Briner continued to voice for many more characters in anime television series.
Rise to Fame
Briner rose to fame in 2015 when he entered Funimation and got his first significant role. He did the English dub voice for Michaela Hyakuya in the action-adventure anime television series Seraph of the End: Vampire Reign. 
Sharing how he got the role, Briner recalled, "It was the rise of SimulDubs at the time, so everything was sort of getting upended, and the director needed someone who sounded like a little kid. He knew me because I was just recently auditioning for him, and he called me in for that. And it ended up being a very large role!"
In 2015-16, he voiced the protagonist Qwenthur Barbotage in the mecha-themed action-comedy anime television series Heavy Object and Elam and in the anime television series The Heroic Legend of Arslan.
'My Hero Academia'
In 2016, Briner's recognition peaked along with the astronomical popularity of the superhero anime television series My Hero Academia. He became famous because of his breakout voice work in the series as Izuku 'Deku' Midoriya, a superhero-loving boy who is determined to enroll in a superhero academy without any powers to learn what it means to be a hero. Because of the huge success of the series, it has constantly been releasing at least a season per year, and the series was also adapted into films in 2018 and 2020.
More works
Briner's incredible voice work, followed by the massive success of My Hero Academia earned him more challenging roles and a string of opportunities to work on other television series. 
Sharing how he was approached after the success of My Hero Academia, Briner said, "It's been pretty funny and fascinating in some ways. It's definitely made my voice more accessible – people know how I sound now. But it's also prompted people to cast me outside of that comfort zone more often, now that I've pretty firmly planted my feet in this role of the young, spunky hero. I've been getting cast as villains or antagonists of some sort... just generally not nice people. Which has been fun! It's cool to be able to stretch your wings in that way."
About getting numerous invitations to work on other projects, he said, "It's a lot. And [Funimation] sent a text to me when I confirmed that I would be available for the role. They said, "So this show... it has X, Y, and Z going on. And it's a little so-and-so in nature." And I was like, All right. Let's do it. Let's do it!."
The same year, in 2016, Briner voiced Alfonso San Valiante in the anime television series Garo: The Animation, and the English cast was described by critics as a rich lineup, particularly highlighting Briner. Other television series he voiced in 2016 include Space Patrol Luluco, Taboo-Tattoo, Danganronpa 3: The End of Hope's Peak High School, Kanda-Kun, Cheer Boys!!, Show by Rock!!, Yuri!!! On Ice, Kiss Him, Not Me, Drifters, Puzzle & Dragons X, Trickster, and Nanbaka. 
In 2017, he voiced lead characters, Haruki Mishima, in a slice of life and romance anime Convenience Store Boy Friends, Tazuna Takatsuki in the action anime series Hand Shakers, and Ernest 'Eru' Chevalier in mecha-themed fantasy anime series Knight's & Magic. He lent voice on much other anime television series in the same year.
In 2019, he voiced a nerdy, over-the-top character Enta in the fantasy anime series Sarazanmai. The same year, he voiced for Akatsuki/Punitsuki in the mystery anime series The Ones Within, Yuki in the mystery drama series Yu-No: A Girl Who Chants Love at the Bound of this World, and Maki in sports-drama anime series Stars Align. In 2019, he voiced Ginro and lent additional voices in the action-adventure anime series Dr. Stone and Moriarty and additional voices in the mystery anime series, Case File nº221: Kabukicho.
In 2020, he voiced Hanako in the fantasy comedy anime series Toilet-bound Hanako-Kun and additional voices in the action-adventure anime series Black Clover. In 2021, he voiced Sojiro in the sci-fi anime series Log Horizon.
Films
Briner also voiced in numerous anime films. In 2017, he voiced Edward Midford in the supernatural disaster anime film Black Butler: Book of the Atlantic, which was based on the 'Black Butler' manga series written and illustrated by Yana Toboso. The following year, Briner voiced his famous character Izuku Midoriya in My Hero Academia: Two Heroes, a film adaptation of the hit television series My Hero Academia. In 2019, he again voiced the same character in the movie sequel, My Hero Academia: Heroes Rising, released in February 2020.
Video Games
In addition to anime television series and films, Briners voiced several video game characters, including Moska on Dust: An Elysian Tail (2012), Yayan on DreadOut (2013), Enchanted Change (Jade Rabbit) on Smite (2014), Naruse on Burn Your Fat with Me! For Girls! (2015), Ichi/Blake on Cibele (2015), Megane Taro on Akiba's Beat (2016), Dalton/Thunk/Edgren on Borderlands 3 (2019), Announcer on Dragon Ball Z: Kakarot (2020), and Izuku Midoriya on My Hero: One's Justice 2 (2020). He gave additional voices on Regalia: Of Men and Monarchs (2017), Octopath Traveler (2018), and Dragon Ball FighterZ (2018).
Abridged Series
While working at Funimation, Briner met the team of Team Four Star. Later, Team Four Star cast him as Gohan in their abridged web anime series Dragon Ball Z Abridged and Cloud Strife in Final Fantasy VII: Machinabridged. 
Awards and Nominations
For his standout role in the anime series My Hero Academia as Izuku Midoriya, Briner won the 'Best Male Lead Vocal Performance In An Anime Television Series/OVA' at the 6th Annual 'Behind the Voice Actors Award' (BTVA) in 2018. The previous year, he received the 'BTVA People's Choice Voice Acting Award' and 'BTVA Anime Dub Television/OVA Voice Acting Award' under 'Best Vocal Ensemble In An Anime Television Series/OVA,' along with other cast members. He was also nominated 'BTVA Anime Dub Voice Acting Award' for 'Breakthrough Voice Actor of the Year' in 2016 and 'Voice Actor of the Year' in 2018.
Interesting Facts
Talking about his love for cooking, he said, "I just really like the act of cooking, messing up and trying again next time... I love the gratification that you get from making food, serving it to yourself and others, and getting to enjoy the work that you put in."
During an interview in September 2019, Briner revealed that he loves card games and often played Hearthstone during its initial days.
Fact-checking and Ethical Concerns
We assure our audience that we will remove any contents that are not accurate or according to formal reports and queries if they are justified. We commit to cover sensible issues responsibly through the principles of neutrality.
To report about any issues in our articles, please feel free to Contact Us. Our dedicated Editorial team verifies each of the articles published on the Biographyhost.