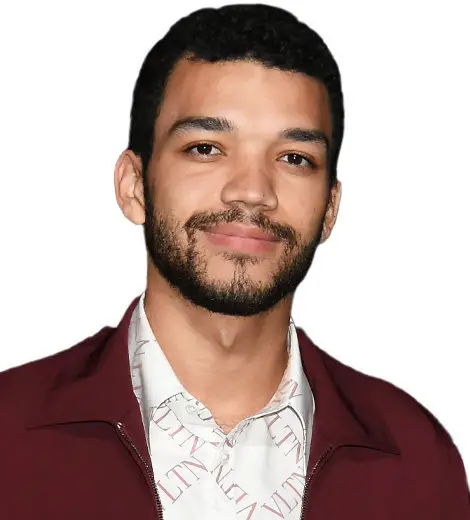 Quick Wiki
Full Name

Justice Smith

Occupation

Actor

Nationality

America

Birthplace

California, USA

Birth Date

Aug 09, 1995

Age

27 Years, 9 Months
Cast of 'All the Bright Places'
Justice Smith | Biography 2021
Franklin Webb in 'Jurassic World: Fallen Kingdom'
Justice Smith played the role of Theodore Finch in the movie 'All the Bright Places' that premiered in February 2020. He made his stage debut in Yen, an Off-Broadway play, where Smith starred the opposite of Lucas Hedges, an Oscar nominee. The 2 hr. 15 min play began its previews on January 12, 2016 and was opened on January 30.
---
Justice Elio Smith is a well-renowned American actor famous for his portrayal as Franklin Webb in the science fiction movie Jurassic World: Fallen Kingdom, Theodore Finch in All the Bright Places, and Tim Goodman in Detective Pikachu.
Who is Justice Smith?
Smith is a versatile actor who loves to play diverse characters. Besides his appearance in movies and series, Smith had also done a few theatre plays. At 18, he got his big break in a Nickelodeon show, The Thundermans. 
Besides being recognized for the movie Jurassic World: Fallen Kingdom (2018) and Detective Pikachu (2019), Smith received credit for his role in a Netflix series, The Get Down (2016-2017), and the ongoing HBO series Generation.
Smith will appear in yet another Jurassic world movie in 2022 and had reserved his place in the upcoming 2023 fantasy movie Dungeons & Dragons.
Early life and Education
Born on August 9, 1995, in Los Angeles, California, Smith graduated with a major in acting from Orange County School of the Arts in the year 2013. His parents Wayne Smitha and Duilla, are singers. While the actor's father was an African-American, his mother belonged to Italian and French-Canadian ancestry. The young actor has a big family. He has eight brothers and sisters, and he is the fifth of the total nine children in their family.
Smith wrote stories and scripts at a very young age. He was also passionate about acting from an early age. His parents supported his aspiration to become an actor. Smith was seen more inclined towards method acting. He would deeply remain in character until he got scared with the feeling that he was losing track of his real self.
During Smith's final year of high school, the National YoungArts Foundation ranked him in the top 1% of young artists in the USA.
Early Career
When Smith was 15 years old, he did an Apple commercial and played a middle school news reporter speaking about wind turbines and how they were a fine source of electricity.
When he turned 18 years, he appeared in a Nickelodeon show, The Thundermans, which was his first big break. It was about a superhero family. He was cast in a couple of episodes as a drummer in the kid's band and shortly replaced. The show members didn't give any explanation but simply ghosted on him. However, within a week, he grabbed the comedy-drama film Paper Towns (2015). It brought him happiness as he got a significant part in his first movie. He played the role of Radar in the movie.
Movies and TV Shows
After appearing in Paper Towns in 2015, Smith starred in the Netflix musical drama series The Get Down premiered on August 12, 2016. The actor was also a cast in Brett Haley's romantic drama movie All the Bright Places in 2020.
In 2019, Smith played the role of Tim Goodman in Detective Pikachu, where he embarked on a journey to find out what happened to his father. He also appeared in the movie Jurassic World: Fallen Kingdom in 2018, playing the character of Franklin Webb, besides his appearance in Every Day the same year. 
'The Get Down'
The Get Down series aired from August 2016 to April 2017. The Netflix series comprised 11 episodes. It's a story of four teenagers growing up in the Bronx neighborhood. Smith played the character of Ezekiel, one of the crew members in the group of South Bronx teenagers. The character Ezekiel was a sharp, resourceful teen overflowing with untapped potential and unreciprocated love. "The characters these young actors play in The Get Down unwittingly become a band of brothers," said Baz Luhrmann, the creator of the series, in an interview with Variety in 2015.
As the series was based on the musical drama genre, Ezekiel was supposed to rap and do more poetry. So, the actor prepared himself for the role by watching relevant documentaries, listening to more music, and exactly copying them. He made himself connected with Poetry as he had done Shakespeare and Greek plays before.
When Smith was selected for the movie, he hadn't realized that he was the lead part of the movie until someone from the set informed him. He was surprised at that moment.
'All the Bright Places'
The movie premiered on February 2020. In an interview with CinemaBlend, the actor expressed that he believed in the script, and the character was something that he felt like a wheelhouse yet found challenging. 
According to him, sustainability was common between him and his movie character Theodore Finch. "The way he pushes through his pain and I think he does it to a fault of like dealing with things on its own but I do admire in theory the idea of like…...Picking yourself up and pushing forward," Smith told CinemaBlend. 
Smith's character Finch had a lot of running scenes in the movie as he would try to cope up with his pains by running. Before shooting the movie, the actor prepared himself by running 5 miles a day and later reducing it to 3 miles.
Smith co-starred with Elle Fanning in the movie. He met Fanning at his screen test, where they played an intimate relationship. Smith felt kind of odd while doing that intimate scene as he had never met her before. The actor reported that he asked Fanning for a hug before playing that scene as it would really have made them feel comfortable with each other. 
'Detective Pikachu'
Smith played the role of Tim Goodman in the film Detective Pikachu. Tim is a young guy who goes searching for his dad and only discovers Pokemon Pikachu, which only he understands. Tim's father has vanished, and Pikachu has amnesia, so the two work together to solve the mystery of Tim's father's abduction.
It was released on 2 May 2019, which grossed over $400 million worldwide with positive reviews from both audiences and critics. Detective Pikachu was directed by Rob Letterman, produced by Legendary Pictures and The Pokémon Company, and the story was by Dan Hernandez, Benji Samit, and Nicole Perlman. 
He is a major admirer of Pokemon and still has Pokemon trade cards from the first generation. "I was a huge fan of Pokémon. I watched the anime. I had all the original cards. I played all the games. I had Pokémon Gold, Pokémon Crystal…. I mean, I was just a huge fan of it," Smith told THR. "It meant a lot to me as a kid and so to mix my job with my childhood, what's better than that?" he said in an interview with Hollywood Reporter.
Smith reaffirmed his doubts about the sequel's ability to get off the ground in an interview with Inverse. He said, "I would love to participate in Detective Pikachu 2. I don't know if it's going to happen. I think we have to just kind of bury our hopes. I don't think it's going to happen. I really hope so though. Honestly, I'm such a huge fan, who knows, who knows? I hope so."
Theater
He made his stage debut in Yen, an Off-Broadway play, where Smith starred the opposite of Lucas Hedges, an Oscar nominee. The 2 hr. 15 min play began its previews on January 12, 2016 and was opened on January 30.
The drama was about dissatisfied lower-class British teens and their family disorganization. Smith played the role of Bobbie, who is the half-brother of the character Hench, who is played by Hedges. The two brothers spend their off-school days playing video games and watching porn. Their mother is an alcoholic who occasionally pays a visit as she lives with her new boyfriend. The two brothers are only accompanied by their pet dog named Taliban.
Smith also worked with Isabelle Huppert and played in the drama The Mother.
Current and New Projects
Smith plays the role of Chester in Genera+ion, an ongoing TV series in HBO Max. His character, Chester, is an A- grade student and also a star athlete. At his school, he runs the Gay-Straight Union.
'The Voyeurs'
Written and directed by Michael Mohan, The Voyeurs is an upcoming erotic thriller drama. The movie stars Smith, Sydney Sweeney, Natasha Liu Bordizzo, and Ben Hardy feature in the film. It is produced by Greg Gilreath and Adam Hendricks under the label of Divide/Conquer. The film has completed the production process and will be available exclusively on Amazon Prime Video in 2021. 
It follows the story of Pippa (played by Sweeney) and Thomas (played by Smith) who move into their dream home and discover that their windows face straight into their neighborhood apartment, allowing them to observe the complicated relationship of the couple across the street. However, when they try to intervene in their lives secretly, they unknowingly put in motion a chain of events that will lead to calamity.
'Dungeons & Dragons'
Written and directed by John Francis Daley and Jonathan Goldstein, Dungeons & Dragons is an upcoming American fictional adventure movie, based on the same-named role-playing game and a reboot of the same-named film series. Smith will be starring alongside Rege Jean Page, Chris Pine, and Michelle Rodriguez in the film. It is expected to be premiered in theaters on 3 March 2023 by Paramount Pictures.
'Jurassic World: Dominion'
Jurassic World: Dominion is an upcoming Science fiction action-adventure movie directed by Colin Trevorrow, who also co-wrote the narrative with Emily Carmichael, built on a plot by Trevorrow and Derek Connolly. It is the follow-up to Jurassic World: Fallen Kingdom released in 2018, the third installment in the Jurassic World trilogy, and the sixth part of the Jurassic Park franchise. The movie will be released next year on 10 June 2022.
The sci-fi movie stars Smith alongside Chris Pratt, Sam Neill, Laura Dern, Bryce Dallas Howard, Mamoudou Athie, Scott Haze, Jeff Goldblum, Daniella Pineda, Dichen Lachman, Isabella Sermon, Campbell Scott, Omar Sy, DeWanda Wise, and BD Wong. 
What Is the Net Worth of Justice Smith?
According to Celebrity Net worth, Smith has an approximate net worth of $1 million as of 2021. 
Personal Life
In 2020, the young actor disclosed his sexuality after participating in a BLM (Black Lives Matter) protest. Smith doesn't use terms like bisexual or gay and identifies himself as a queer. 
Smith is in a relationship with Nicholas Ashe, actor of the series Queen Sugar, since 2019. Smith has also flaunted several pictures of him and Ashe on Instagram. The couple is not together as of 2021. Smith previously dated Rafaella Meloni, who is the actress of the movie Noah Wise.
Supporter of The Black Queen and Trans Lives
Smith has been a vocal supporter of Black queer and trans people, after coming out as queer. Expressing his solidarity for the black trans and queer group, he took to Instagram in June 2020 and shared a video from a protest in New Orleans.
"We chanted 'Black Trans Lives Matter,' 'Black Queer Lives Matter,' 'All Black Lives Matter'. As a black queer man myself, I was disappointed to see certain people eager to say Black Lives Matter, but hold their tongue when Trans/Queer was added," he captioned it.
The actor went on to say how important it is for Black Lives Matter protests to include Black queer voices. He also advocated equal rights for Black, queer, and trans people, as well as their right to exist, to live and prosper in a public setting without fear of being persecuted or facing violence.
He explained that if the revolution does not include Black Queer voices, it is "anti-black." "If your revolution is okay with letting black trans people like #TonyMcDade slip through the cracks in order to solely liberate black cishet men, it is anti-black," he added.