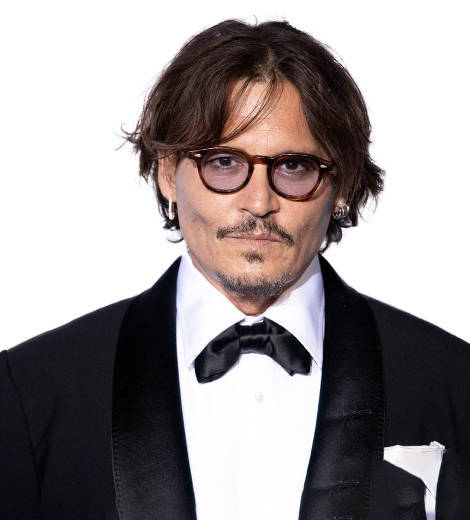 Quick Wiki
Full Name

Johnny Depp

Occupation

Actor, Musician

Nationality

America

Birthplace

Kentucky, USA

Birth Date

June 9, 1963
Johnny Depp | Biography 2021
Johnny Depp is an American actor known for his leading portrayals in films 'Edward Scissorhands' (1990), 'Sleepy Hollow' (1999), and 'Pirates of the Caribbean' franchise (2003- 2017).
---
Johnny Depp is an American actor known for his leading portrayals in films such as Edward Scissorhands (1990), Sleepy Hollow (1999), Alice in Wonderland (2010), and Pirates of the Caribbean franchise (2003- 2017).
Who is Johnny Depp?
Johnny Depp made his first film debut in the 1984 American horror film Nightmare on Elm Street directed by Wes Craven. The teen idol came in the spotlight after his role in the 1987 Canadian filmed television series 21 Jump Street. In 1990, he quit 21 Jump Street and appeared in John Waters's Cry-Baby and Tim Burton's Edward Scissorhands. 
Following this, Depp has made dynamic portrayals in the movies such as Dead Man (1995),  Donnie Brasco (1997), The Ninth Gate (1999), and Blow (2001).
In 2003, he appeared in the action film Once Upon the Time in Mexico, directed by Robert Rodriguez. The same year, he starred as Captain Jack Sparrow in the big-budget Disney media franchise Pirates of the Caribbean: The Curse of the Black Pearl. 
Respiring the role of Sparrow, Depp appeared in other Pirates of the Caribbean series - Dead Man's Chest (2006),  At World's End (2007), On Stranger Tides (2011), and Dead Men Tell No Tales (2017).
Depp was also acclaimed for his portrayal in the 2005 American musical fantasy film Charlie and the Chocolate factory. He was well-received as the voice actor of the groom in the animated tale Corpse Bride. 
His other notable roles are, Alice in Wonderland (2010), Dark Shadows (2012), The Lone Ranger (2013), Tusk (2104), and Alice Through the Looking Glass (2016). Depp was also seen as a part of, Murder on the Orient Express (2017), Fantastic Beasts: The Crimes of Grindelwald (2019), and Minamata (2020).
In his upcoming works, Depp will voice the character Johnny Puff in the animated series Puffins. Besides, he is cast in the movie Cities of Lies released on March 19, 2021.
Early life
Born on June 9, 1963, in Owensboro, Kentucky, Johnny Depp is the youngest of the four children of John Christopher Depp and Elizabeth Betty Sue Depp. His father was a civil engineer by profession, and his mother a waitress and homemaker. Due to his father's work, Depp's family constantly relocated. They finally landed in Miramar, Florida, when he was seven years old. 
When Depp was 12, he indulged in smoking and began experimenting with drugs to self-harm due to the stress out of his family problems. His parents got divorced in 1987. He used to collect the weekly child-support money at his father's office, but this ended up on bad terms with his father. 
A year after his parent's divorce, he dropped out of high school to pursue his career in music. He became a member of The Kid, a garage band. The band became popular enough to open for the bands Talking Heads and B-52's. 
Johnny Depp's stepfather Robert Palmer was his inspiration for his growth. He died in 2000. Johnny Depp's song 'As Bad As I am' was taken from the words of stepfather's toast.
About his stepfather, Johnny said, "He was this really cool guy. He was a bit of a rounder. He spent about half his life in prison, in Statesville Ill. And he had this toast. 'Here's to you, as good as you are. Here's to me, as bad as I am. You're still as good as you are, as bad as I am.'"
In 1983, Depp was married to a makeup artist, Lori Arrison, who later introduced him to her friend Nicolas Cage. Seeing potential in Depp, Cage further introduced him to the Hollywood agent. The unemployed musician who had never considered seeking a career in acting landed several small roles before taking up the lead in the 1984 horror film 'Nightmare on Elm Street'. 
Three years later, Depp divorced his wife, and his band also dispersed. In 1985, he met Sherilyn Fenn while filming the short film 'Dummies', but their relationship was also short-lived. Determined in acting, Depp studied acting in Los Angeles's Loft Studio and later with a private coach.
Career Start
After his acting lessons, he made his breakthrough role in the 1987 Canadian television series 21 Jump Street. Garnering him the immediate stardom, he became a prominent teen idol. Later in 1989, his contract with the film expired, and he pursued further eccentric roles in notable movies.
In 1990, he appeared in the film Cry-Baby. Later that year, he acted in the first of several collaborations with director Tim Burton in Edward Scissorhands. In 1993, Depp's Benny & Joon and What's Eating Gilbert Grape were considered sleeper hits after the success of Edward Scissorhands.
Another notable film played by Depp is the 1995 film Don Juan DeMarco where he portrays a character who believes he is the famous fictional Don Juan. In 1997 he featured as an undercover FBI agent in the movie Donnie Brasco.
With The Astronaut's Wife in 1999, Depp tried a different genre, sci-fi horror. In the same year, he starred as a prim, powered Ichabod Crane in another Burton's film, Sleepy Hollow. The following year, he starred in the small but successful romantic drama Chocolat, followed by a big-budget appearance in Blow in 2001 as real-life cocaine kingpin George Jung. In 2001, Depp starred in the horror film From Hell, and in 2002, he starred in Robert Rodriguez's Once Upon a Time in Mexico.
'Platoon'
Platoon is a 1986 war drama written and directed by Oliver Stone. It was the first of a film series of Stone's Vietnam War films, which also includes Born on the Fourth of July released in 1989, and  Heaven & Earth released in 1993. The movie starred Johnny Depp as Lerner along with Tom Berenger as Sgt. Barnes, Charlie Sheen as Chris, Willem Dafoe as Sgt. Elias, Keith David as King, Kevin Dillon as Bunny, Forest Whitaker as Big Harold, and John C. McGinley as Sgt O'Neill. 
The stars gathered for a reunion at Depp's Hollywood Hills house in Los Angeles in July 2017 to celebrate the 30th anniversary. 
'Edward Scissorhands'
Edward Scissorhands is a Tim Burton-directed American fantasy romantic movie released in December 1990. The movie was produced by Burton and Denise Di Novi and written by Caroline Thompson based on a scenario she and Burton wrote. Depp was chosen for the role of Edward Scissorhands by the film's director, Burton because he admired his performance in 21 Jump Street. It was the first collaboration between Depp and Burton. 
The romantic drama follows Edward (played by Johnny Depp) who is an incomplete artificial humanoid, with scissor blades instead of hands. Then one day, he discovers a suburban family who shows him their world and falls in love with their young daughter Kim (played by Winona Ryder). 
When the film was first released, it did not become an instant hit. According to a 2015 article from Variety, its appealing characters, unique love story, and mystical visuals eventually captivated the audience. Depp's performance as a bashful mechanical youngster abandoned half-finished by an elderly scientist is still recognized as one of his most famous parts, thanks to Oscar-nominated makeup by Stan Winston and Ve Neill.
'What's Eating Gilbert's Grape?'
What's Eating Gilbert Grape, is a 1993 drama movie directed by Lasse Hallström and a screenplay written by Peter Hudges. The movie starred Johnny Depp, Leonardo DiCaprio, Darlene Cates, and Juliette Lewis. The movie follows the story of 24-year-old Gilbert (played by Depp), a grocery store employee in a rural Iowa hamlet who lives with his morbidly overweight mother (played by Cates) and mentally challenged younger brother Arnie(played by DiCaprio).
The film got favorable reviews, with many critics applauding Depp and DiCaprio's on-screen performances.  However, the movie did not do well at the box office when it debuted in December 1993, earning only $10 million. 
Depp believed the movie was a modern Catcher in the Rye, written by J. D. Salinger. He connected with his character as Gilbert and agreed to work with the director, Hallström even before the script was even written, who was one of the first people who agreed to be part of Gilbert Grape. 
'Captain Jack Sparrow'
In 2003, Depp starred as Captain Jack Sparrow in Pirates of the Caribbean: The Curse of the Black Pearl.' In 2004, he was nominated for the Best Actor category for his performance in the movie. The film was a box office success, resulting in the creation of the Pirates of the Caribbean franchise. Depp returned to the role of Jack Sparrow in the Pirates of the Caribbean sequels Dead Man's Chest (2006), At World's End (2007), On Stranger Tides (2011), and Dead Men Say No Tales (2017), the greatest grossing films of all time.
Over the course of 14 years, Depp portrayed Captain Jack Sparrow in five films. The franchise has grossed over $4.5 billion at the movie office, making it the sixth most successful of all time.
Disney, on the other hand, is alleged to have put a stop to the actor's planned cameo in the next film.
It's unclear if the studio, which has never before cut relations with Depp, had any intentions to bring him back as Jack Sparrow.
The original film's author, Stuart Beattie, suggested confirming Depp's time as the character was finished in 2018, saying, "I think he's had a great run."
'Corpse Bride'
Corpse Bride is an animated musical fantasy film directed by Mike Johnson and Tim Burton released in September 2005. The movie had a screenplay by John August, Caroline Thompson, and Pamela Pettler based on Burton and Carlos Grangel's characters. The story takes place in a fictional Victorian-era English village.
The main lead Victor Van Dort is voiced by Johnny Depp, and Emily, the titular bride, is voiced by Helena Bonham Carter. 
'Secret Window'
Secret Window is a 2004 psychological thriller movie featuring Johnny Depp and John Turturro in the lead. David Koepp wrote and directed the film, which was based on Stephen King's novel titled Secret Window, Secret Garden. Columbia Pictures released the picture on 12 March 2004, to middling reactions and moderate commercial success.
The film follows the story of a successful writer, Mort Rainey, portrayed by Depp. He is stalked by a would-be writer in the midst of a difficult divorce with his wife Amy Rainey (played by Maria Bello) at his lonely lake cottage, alleging plagiarism. 
Trivia about 'Secret Window'
The director, Koepp intended stars Maria Bello and Timothy Hutton to look astonished and afraid in the moment where Depp barges in on them in the motel. Before Depp stepped in, he insisted them both lie in bed for fifteen minutes. When the screenplay called for them to be afraid, the production crew set up big speakers that blasted static noise. The lights in the room were also programmed to turn on when Depp entered the room, further shocking the artists.
Music Career
Before becoming an actor, Depp was a guitarist before, and he has since appeared in songs by Oasis, Aerosmith, Marilyn Manson,  Shane MacGowan, Iggy Pop, Vanessa Paradis, and The New Basement Tapes, among others. In 2012, he joined Manson on stage at the Revolver Golden Gods Awards.
Performing in music videos for Tom Petty and the Heartbreakers, The Lemonheads, Avril Lavigne, and Paul McCartney, Depp has also played guitar on the soundtracks of his films Chocolat and Once Upon a Time in Mexico. He was also a member of P in the 1990s, which included singer Gibby Haynes of the Butthole Surfers, bassist Flea of the Red Hot Chili Peppers, and guitarist Steve Jones of the Sex Pistols.
In 2015, Depp joined the supergroup Hollywood Vampires alongside Alice Cooper and Joe Perry, as well as Bruce Witkin, a former member of his 1980s band The Kids. In September 2015, Hollywood Vampires released their self-titled debut studio album. Eleven famous rock covers were included, as well as three original tracks (all co-written by Depp).
Making its live debut in September 2015 at The Roxy in Los Angeles, the band had since completed two global tours in 2016 and 2018. Rise, their second studio album, was released in June 2019 and features mostly original material, including Depp-written songs. Depp also sings a cover version of David Bowie's "Heroes" on the CD.
In 2020 Depp and guitarist Jeff Beck released a cover of John Lennon's "Isolation", and Depp announced that they would be releasing more music together in the future.
'Gelleert Grindelwald'
In 2016, Depp was also cast in a cameo role in Fantastic Beasts and Where to Find Them, the first episode of the Fantastic Beasts franchise, as dark wizard Gellert Grindelwald.
For more than a year, Depp had been plagued by news about his shattered marriage to actress Amber Heard, who claimed Depp had physically and verbally assaulted her on numerous occasions. Despite Heard's claims, many of Rowling's fans were outraged in late 2017 when Depp was due to star in the follow-up, Fantastic Beasts: The Crimes of Grindelwald, despite his cameo in 2016's Fantastic Beasts and Where to Find Them.
Depp stated on Instagram on Nov. 6 that Warner Bros. has asked him to "resign" from playing Grindelwald in the third Fantastic Beasts picture, almost three years later. The actor wrote, "I respect and agree to that request." With a brief statement, Warner Bros. confirmed Depp's departure, thanking him for his contributions to the films and stating that "the role of Gellert Grindelwald will be recast."
'Minamata' 
In 2020, Johnny Deep will star in Minamata, a film produced by HanWay Films and set to premiere at the forthcoming American Film Market.
The film will follow the reclusive Smith as he travels to Japan in the 1970s to complete a commission from Life editor Ralph Graves, following his renowned WWII exploits. He travels to Minamata with only his trusted Nikon camera to chronicle the Minamata sickness scandal, which involves the Chisso Corporation's irresponsible mercury poisoning and local police and government cover-ups. The victims' battle against the firm responsible for the environmental disaster has resulted in one of the largest settlements in history, with current Minamata illness sufferers still pursuing compensation in court.
According to the producer's team, they spent time in Minamata meeting some of the victims and their relatives, and the film will be made with their help. Also having Depp portray the character Levitas was honored and he said, "Working with Johnny to give voice to those who have been silently suffering is a responsibility we do not take lightly. Much like Eugene Smith in 1971, we could not feel more privileged or humbled to be tasked with the mission of bringing this incredible story to the world."
Upcoming Projects
Johnny Depp will voice the character Johnny Puff in a new animated series titled Puffins from Italy's Iervolino Entertainment, which was founded by producer Andrea Iervolino and co-owned by Monika Bacardi.
Puffins will be a mobile-first, short-form toon series with 250 five-minute episodes following the exploits of a bunch of charming birds that serve the cunning walrus, Otto. Iervolino Entertainment said in a statement that it would promote positive messaging by weaving in issues such as gender and race equality, as well as environmental protection.
Relationships
Depp has dated Winona Ryder, Kate Moss, and Vanessa Paradis from 1989 to 1993, from 1994 to 1998. (1998 to 2012). He later began dating Heard after meeting her on the production of 2009's "The Rum Diary."
Winona Ryder
In 1989 Depp and Ryder met and embarked on a passionate four-year romanticism during their New York premiere before everything was broken. However, the Hollywood stars always remained close despite their separation.
At the start of their relationship the 26 years old, Johnny was the first big love of a 17-year-old Winona. Their first date was at the house of a friend. In 1990, the couple was completely inseparable and even co-starred by Edward Scissorhands and Johnny asked Winona to be his wife only after five months. But unfortunately, in the summer of 1993, the two split, and Winona's replacement blamed her age, saying that they are young and have grown apart.
Amber Heard
Depp met Heard at The Rum Diary in 2009. Heard. She and Depp began dating at the beginning of 2012. The same year, Depp and Paradis, the long-time partner, published their separation after 14 years.
In 2014, Heard was seen wearing a ring People's magazine reported that after the picture of the actress with an ornate engagement ring, Depp and Heard became involved.
In 2015 at a privately held ceremony in their home in LA,  Depp and Heard married people reporting photos after several years of date. Depp had two Paradis children: Lily-Rose (born 1999) and John Christopher (2002).
The marriage came to an end after Heard filed for divorce from Depp on 23 May 2016 and was also given an order to temporarily restrain the Oscar-nominated actor. She alleged that during her relationship, Depp physically abused her and usually stayed under the influence of drugs and alcohol.
Son - Johnny Christopher "Jack" Depp III
Johnny Christopher "Jack" Depp III,  is Johnny Depp's son whom he shared with Vanessa Paradis, a French singer/actress. Jack was born to the couple during their 14-year relationship, which lasted from 1998 until 2012. He has mainly remained out of the spotlight for much of his life. He is 19 years old as of 2021 and he is in a relationship with French model Camille Jansen. 
In a 2014 interview, Depp stated he was very proud of his son, adding that he wasn't meant to be an actor but looked impressive in other creative professions. "My boy, Jack, has always been a very talented draftsman," Depp revealed to the Inquirer. "He draws really super well. He also plays music very well, and I couldn't be any more proud of him. Even if he doesn't want to be an actor like his old pops."
Daughter - Lily-Rose
Born on 27 May 1999 in Paris, France, Lily-Rose Melody Depp is a French-American actress and model. She is the daughter of Johnny Depp and Vanessa Paradis. Lily-Rose has succeeded in her dad's footsteps in the acting field, having made film appearances since 2014. 
She began her acting career with a small role in Tusk in 2014. She went on to star in the period dramas The Dancer (2016), Planetarium (2016), and The King (2019).
Drugs
Heard, Depp's ex-wife has accused him of being aggressive during their 15-month marriage, which he has disputed, claiming that he was the victim of domestic abuse.
The Pirates of the Caribbean actor told a British High Court Judge that he began using "at a very young age" during the first day of testifying in his libel case.
 "My mother used to ask me to go and get her 'nerve pills' and I think I was around the age of 11 that it dawned on me that 'nerve pills' were calming her nerves, so I brought her her nerve pills and I took one and that began my drug use," he said.
Depp continued, "The only method I knew to numb the agony" was to use drugs and drink in his early years.
Depp, 57, then sued News Group Newspapers (NGN), the parent company of the U.K. tabloid The Sun, for libel over an article in which the actor was referred to as a "wife-beater" in relation to his previous marriage to actress Amber Heard. However, on November 2, 2020, he lost his case against News Group Newspapers for a report published in The Sun in 2018 that called him a "wife-beater" after his ex-wife Amber Heard, accused him of abuse, which he strongly denied.