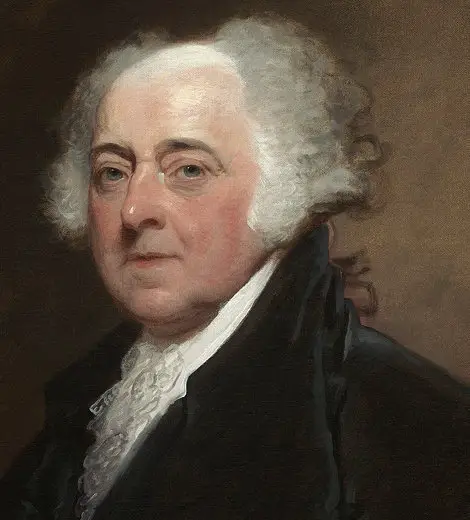 Quick Information
Full Name

John Adams

Occupation

Constitutional Advocate, Politicians

Nationality

American

Birthplace

Braintree (now Quincy), Massachusetts

Born Year And Birthday

10-30-1735

Place Of Death

Peacefield, Quincy,Massachusetts

Death Date

7-4-1826

Did You Know?

In 1751, John Adams enrolled at Harvard University after earning a scholarship.

Father

John Adams Sr. (deacon in a Congregational Church, farmer, and councilman)

Mother

Susanna Boylston (descended from the Boylstons of Brookline, a renowned colonial family of colonial Massachusetts)

Height

5 feet and 7 inches (170 cm)

Did You Know?

On May 15, 1776, Congress sanctioned Adams' proposal to form an independent government for each of the colonies.

Wedding Date

October 25, 1764

Beliefs On Religion

Congregationalist-turned-unitarian

Ideological Affiliation/Affinity

Anti-slavery, Conservative

Education

Masters of Arts

University

Harvard University

Great-great-grandfather

Henry Adams

Family background

Puritan colonists

Zodiac Sign

Scorpio

Religious Affiliation

Federalist Party
John Adams | Biography
John Adams was appointed as the second president of the United States of America in 1797. He served the presidency until 1801.
---
Quick Information
Full Name

John Adams

Occupation

Constitutional Advocate, Politicians

Nationality

American

Birthplace

Braintree (now Quincy), Massachusetts

Birth Date

10-30-1735

Place Of Death

Peacefield, Quincy,Massachusetts

Death Date

7-4-1826

Did You Know?

In 1751, John Adams enrolled at Harvard University after earning a scholarship.

Father

John Adams Sr. (deacon in a Congregational Church, farmer, and councilman)

Mother

Susanna Boylston (descended from the Boylstons of Brookline, a renowned colonial family of colonial Massachusetts)

Height

5 feet and 7 inches (170 cm)

Did You Know?

On May 15, 1776, Congress sanctioned Adams' proposal to form an independent government for each of the colonies.

Wedding Date

October 25, 1764

Education

Masters of Arts

University

Harvard University

Great-great-grandfather

Henry Adams

Beliefs On Religion

Congregationalist-turned-unitarian

Ideological Affiliation/Affinity

Anti-slavery, Conservative

Family background

Puritan colonists

Zodiac Sign

Scorpio

Political Affiliation

Federalist Party
John Adams was a Founding father and the only President elected under the Federalist party's banner in 1797. He was the second President of the United States.
Adams also served as the first Vice President of the nation from 1789 to 1797. His son, John Quincy Adams, became the nation's sixth president in 1825.
Who Was John Adams?
John Adams was from a family of Puritan colonists from Massachusetts Bay. After a year from earning the master's degree from Harvard in 1758, he was admitted to the bar.
In the political scene, he emerged as a vocal critic of the controversial Stamp Act formulated by Great Britain's parliament in 1765. He wrote an article titled "Essay on the Canon and Feudal Law," in which he publicly condemned the British Parliament for imposing a direct tax on goods on British colonies in America.
In 1770, he commenced his political career as a member of the Massachusetts Assembly. He was appointed as a member of the First Continental Congress in 1774. In 1776, Adams played a leading role in drafting the historical Declaration of Independence. He succeeded George Washington as the second President of the USA in 1797. Adams, however, lost the election for his second term to Thomas Jefferson in 1801.
Between 1789 to 1793, Adams worked as a diplomat across Europe before nominating himself for the presidency as the Vice President and the Senate's presiding officer. However, he would later lose against Washington on two presidential campaigns.
Early Bio & Family
John Adams was born to John Adams Sr. and Susanna Boylston on October 30, 1735, in Braintree (now Quincy), Massachusetts.
Adams' father, John Adams Sr. was a deacon in a Congregational Church, a farmer, and a councilman. He was a descendant of Henry Adams, a Puritan who shifted to Massachusetts Bay Colony from England in 1638.
His mother, Susanna Boylston, descended from the Boylstons of Brookline, a renowned colonial family of colonial Massachusetts.
Education & Early Career Journey
In 1751, John Adams enrolled at Harvard University after earning a scholarship and graduated in 1755 when he was 20 years old. After his graduation, he taught in schools and studied law under a popular lawyer named James Putnam in Worcester, Massachusetts. The decision was against his father's wish; Henry wanted his son to enter the ministry.
In 1758, he completed his master's study at Harvard and started practicing law after being accepted to the bar.
Personal Life & Marriage
At the age of 29, John Adams got married to 19-year-old Abigail Smith on October 25, 1764; Smith was his third cousin. Together, the couple had six children: three daughters—Abigail (1765), Susanna (1768), and Elizabeth (1777), and three sons—John Quincy (1767), Charles (1770), and Thomas Boylston (1772).
Adams' first son and second child, John Quincy Adams, became the sixth president of the United States of America in 1825.
Law Practice
In 1765, Adams authored the 'Braintree Instructions," which prominently opposed the Stamp Act 1765 enacted by the British regime.
It was a letter to the representatives of Braintree that explained how the act infringed two fundamental rights guaranteed: the right to be taxed only by consent and the right to be tried by a jury of one's peers. It was an act of direct defense against colonial rights and liberties. His articles and advocacy became a model for the other town's instruction that would follow in the future.
In 1770, Adams took one of the most highlighted and controversial cases of his law career. He defended eight English soldiers accused of killing five civilians in an incident known as the "Boston Massacre."
During the trial, he argued that the soldiers had the right to act out of self-defense as a charging mob threatened their lives. He also presented the supporting evidence to the jury.
The court acquitted six of the soldiers, while two were found guilty of manslaughter. The case brought wide criticisms to Adams and affected his law practice.
Political Career Initiation
John Adams was elected as a member of the Massachusetts Assembly in 1770. In 1774, he served as one of the five delegates to represent the colony at the First Continental Congress event. In 1775, he also nominated George Washington as the first Commander-in-Chief of the Continental Army after its creation by Congress.
On May 15, 1776, Congress sanctioned Adams' proposal to form an independent government for each of the colonies. He had written the preamble of this proposal. The resolution from his side gave a formal passage to pass the Declaration of Independence. He then wrote the first draft of the historic document.
Diplomacy Career Across Europe
After the historic signing of the Declaration Of Independence in 1776, the US's trade relations with Britain suffered heavily. To smoothen the trades with Europe, Congress sent Adams on a diplomatic mission across Europe.
In 1778, he accompanied Arthur Lee and Benjamin Franklin in negotiating a treaty with France.
In 1779, Adams returned to Massachusetts but was soon sent back to France as a delegate authorized to negotiate a peace agreement with Britain. During negotiations with Britain, he refused to negotiate until Britain recognized the USA as an independent country. A treaty was eventually signed on September 3, 1783.
Dubbed the Treaty of Paris, it was the agreement between delegates from England and the USA to establish the US as a free country officially. The treaty helped all the associated parties to end the Revolutionary War.
During his stay in Europe from 1784 to 1785, he secured several commerce treaties with Europeans. At the time, he also traveled to the Netherlands and secured a loan amounting to $2 million.
From 1785 to 1788, he served as the first ambassador of the United States to Britain. He then returned to Massachusetts, participated in the Constitutional Convention, and continued his political interests.
Political Career & Presidency
As expected, John Adams and other candidates lost both the Presidential Elections of 1789 and 1792 to George Washington. After Washinton's retirement, Adams finally won his first Presidential Election in 1796 as a Federalist nominee against the Democratic-Republican candidate, Thomas Jefferson.
At the time of Adams' presidency, a war was ongoing between France and Britain. The war had caused France to halt its commercial relationship with the United States.
To solve the trade barriers, Adams sent three representatives to negotiate terms, but French officials refused to comply unless the US delegates paid a huge bribe. However, Adams refused, and his non-compliance to the bribe demand created a national scandal called XYZ Affair.
The approach from France generated a conflicting situation between the two nations. Many Americans favored the war with France, but Adams remained true to America's neutrality and refrained from calling for a war declaration.
In 1798, he passed the Alien and Sedition Act, which was vested solely for American interests giving the government immense power to deport 'enemy' aliens and arrest the people acting against the government's interests.
His then opponent, Jefferson, and his allies were against it, and they assailed, claiming the act being contrary to the constitution. This opposition led to declination in his popularity among the general population. As a result, he lost his second presidential election against Thomas Jefferson in 1801.
Death
Post the end of his presidency in 1801, Adams moved back to live with his family home in Quincy. There, he spent the rest of his life alongside his beloved wife, Abigail Smith.
Adams eventually passed away at the age of 90 on July 4, 1826. Coincidentally, his successor Thomas Jefferson—the third US President—also died on the same day, which was also the 50th anniversary of America's Independence from Britain.
Fact-checking and Ethical Concerns
We assure our audience that we will remove any contents that are not accurate or according to formal reports and queries if they are justified. We commit to cover sensible issues responsibly through the principles of neutrality.
To report about any issues in our articles, please feel free to Contact Us. Our dedicated Editorial team verifies each of the articles published on the Biographyhost.