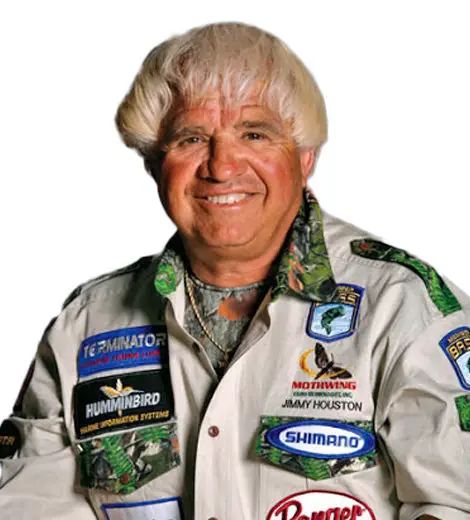 Quick Wiki
Full Name

Jimmy Houston

Occupation

Pro Angler and TV host

Nationality

American

Birthplace

San Marcos, Texas, United States

Birth Date

Jul 27, 1944

Age

77 Years, 4 Months

Did You Know?

On 5 April 2021, Jimmy confirmed on Facebook that his wife had been suffering from a severe brain condition. 

Parents

Jack Houston
Television Show: Jimmy Houston Outdoors
Jimmy Houston | Biography
TV Personality
Jimmy Houston is recognized as America's most celebrated fisherman. After winning tournaments, he began filming television shows and doing several personal appearances, over the years.
---
Jimmy Houston is the host of his outdoor television show Jimmy Houston Outdoors. For the past 30 years, the show stands as one of the most-watched outdoor shows in America with millions in viewership. 
With several years of expertise in fishing, Houston has displayed his ability in many tournaments, including Bass Master tournaments. In this particular tournament, he won over $350,000.
Who is Jimmy Houston?
Jimmy is recognized as America's most celebrated fisherman. He was born on 27 July 1944 in San Marcos and was brought up by a single father. 
Today, he is the host of the national television show Jimmy Houston Outdoors presented on NBC Sports Outdoors. He has also authored five books, including 'Catch of the Day,' which focuses on how his faith in God and love of fishing synchronized with one another. 
Early Life and Education
Raised in Moore, Oklahoma, Houston developed a passion for the outdoors at a very young age. For this reason, he says his dad, uncles, and grandad would often take him fishing before "he could walk." With several ponds around his home, he used to go fishing almost every day after school.
"I distinctly remember catching a bass, six or seven pounds, out of the ponds. It stayed in one place, underneath a big tree. It wouldn't leave and I thought it was so stupid that it wouldn't swim off. I actually remember crawling out on a limb on a willow tree, shinnied out on that limb, right above that bass, dropped a grasshopper right down in front of that bass' nose, and caught the bass," Houston retrospects his early fishing experiences. "I remember when I brought it home, I told my grandma that I had caught the stupidest bass in the world. I had no idea it was on a (spawning)."
His family would also take him to Lake Tenkiller on many vacations. His father bought a resort in Tenkiller in 1960, and he would eventually move there at just age 16. He says his life changed after moving to the lake area as he had to adjust his lifestyle "from living in the city to living in the lake." He would fish every day and also work as a guide to make money.
Studying at Northeastern Oklahoma State University
To forward his learning, Houston later began studying at the Northeastern Oklahoma State University in Tahlequah. During his time at the university, he attempted to create earnings on the lake by acting as a guide and selling catfish. The income then helped him pay for his education at Northeastern. He majored in Political Science and Economics from the university in 1966.
"I think Northeastern is a great school. We [he and wife Chris] had a wonderful time during our four years there. Chris and I were actively involved in all the sports programs and we had great teachers, said Houston. I think there's absolutely no way that we could have accomplished what we've accomplished in the business world without that education," he says. "College is a special four years. It turns a person into a different one than if you just simply lived those four years of your life, said Houston. That's one of the critical things that it gets you from 18 to 22. At 18 you think you're the smartest person in the world. Those four years get you to the point where at 22 you realize you're not."
Lake Tenkiller and Early Fishing Memories
In 1962, he took part in his first (fishing) tournament on Lake Tenkiller when he was still a teenager in his senior year of high school. It was only after winning the tournament that he wanted to engage in other tournaments in years to come. In 1966, his father bought him his first Ambassadeur casting reel for his first national tournament Oklahoma State Championship, which he would win. After winning the tournament, he started appearing on television shows and gradually rose to fame. He was also later awarded the 'Angler of the Year Crown' in 1976 and then in 1986 on the Bassmaster tour. 
During his childhood, the fishing experiences he gained from living in Tenkiller and through participation in fishing tournaments during his high school and college years were most likely the defining periods of his early years. He would gather the experience in this period to become the professional angler that he is today. 
"Dad carried me quail hunting when I could barely walk. I learned to kill quail 'flying' with a .22 rifle because I had shot at literally hundreds of quail with my Daisy BB gun. Dad would tell me I was hitting those birds with that BB gun and I thought I really was," Houston wrote. "My best childhood memories include all-night catfishing trips in a 14-foot aluminum boat on Lake Hefner, walking for miles during the hot summer along the Washita River in Murray County, fishing low water pools, and weeklong summer vacations on Lake Tenkiller." 
'Jimmy Houston Outdoors'
After frequently appearing in TV shows such as Joe Krieger's show and Don Wallace's show post his wing at the 1966's tournament held at Lake Tenkiller, he got the idea to create an outdoor show of his own. In this pursuit, he spent almost two years exploring and studying the ways of professional sport fishermen.
During the time, he fell under the influence of both Roland Martin and Bill Dance; their shows taught Houston the key to hosting a successful show. After learning the ropes, he eventually created his own show, Bass Fishing America, which would later be renamed Jimmy Houston Outdoors.
 For the show, Houston would go to the USA's various locations for fishing and share his fishing tips and techniques with viewers.   
"I studied their shows relentlessly. I looked at the things they were doing that I considered right and I wanted to emulate and looked at all of the things that made me want to throw up. I tried to avoid those. We hired a production company in Tulsa. I signed a contract for about $120,000 for them to produce, edit and syndicate the show and we started trying to sell sponsorships. We called in Bass Fishing America," Houston explained in an interview. 
The show was aired on ESPN for 21 years and became one of the longest-running shows in the history of ESPN. The show was later switched to the Outdoor Life Network and several other media networks. 
As per Jimmy Houston's official website, the show currently airs on numerous networks such as Discovery, World Fishing Network, WGN, My Family TV, and many other reputed networks and channels. 
His other show, Jimmy Houston Adventures, air on the likes of WGN, JHL TV, WGN, and Hunt TV.
Describing the whereabouts of his show Jimmy Houston Outdoors, Houston explained in an interview in 2008, "We shoot everything live. Our fishing show is the original reality show. We have never staged a fish in 31 years. We have never hooked a fish on and landed it for television. Not once. Now I have fished with my buddy Roland Martin, and he has taken some of my fish and hooked on for his show, or caught some of his twice. But Roland just believes that's OK and most of the guys do believe that's OK. Kissing fish and my stupid hair and my stupid laugh (are my trademarks)."
Award and Honors
In the world of fishing, Houston is considered among the most experienced living anglers in history. He has taken part in more than 245 tournaments, finished 15 BASSMaster Classics, and won two' BASS. Angler of the Year title ( 1976 and 1986).' He was also named 'King of Sports for Fishing' in 1989.
For his contributions as a tournament angler, Houston was inducted into the National Fresh Water Fishing Hall of Fame' in 1990 and the 'Professional Hall of Fame in 2002'. In June 2004, the Jim Thorpe Association recognized Houston as the 'Jim Thorpe Man of the Year.'
In 2008, Houston was inducted into the 'IGFA Freshwater Fishing Hall of Fame' and the 'Legends of the Outdoors Hall of Fame. He was recognized as the 2013's 'Distinguished Alumnus' of Northeastern State University. In 2016, he was inducted into the 'Oklahoma Sports Hall of Fame. In 2017, he, Bill Dance, and Roland Martin won the 'National Lewis and Clark Conservation Award.' The same year, Houston received a 'Bass Pro Shop Angler of the Century Award.'
Later Career and Success
Along with his long-time colleagues and friends Roland Martin and Bill Dance, Houston later founded the outdoor and fishing accessories company Th3 legends.
Houston also published five books, including a bestselling fishing book titled 'Caught Me a Big'un (1997)'. In 1999, he released 'Hooked for Life,' a book that elaborates about fishing as the country's national pastime. He published a fishing guide book 'The Reel Line:An Angler's Guide to the Ultimate Catch (2001)'.
In 2005, he published Catch of The Day, which is about his faith in Christ and love for fishing are intertwined. Later, the updated version of Catch of the Day was released in 2012. In 2020, he also participated in an MLF Legends team event at Table Rock Lake. He was paired with Bass Pro Tour angler Ott DeFoe. In 2016, he marked 50 years as a pro bass angler.
Merchandising and Showroom
Houston sells outdoor merchandise such as rods, sunglasses, and gift tins on his official website. 
He also has a 24-hour showroom at Park Hill, Oklahoma called Jimmy Houston Marine & Kawasaki, from which he offers new and used boats of various brands such as Mercury, Tracker, Suntracker, Nitro, and Kawasaki. 
 YouTube
In February 2019, Houston began the YouTube channel of his show Jimmy Houston Outdoors to make his hard work count. 
"We work really really hard. I mean, we spent a lot of time doing a lot of things like 39 television shows and 500 videos for YouTube. We were six or seven tournaments a year, doing around 100 personal appearances. That's almost one every three days, a little bit more than one every three-four days." Houston said during an interview. "But it's we work hard at this game, so the start of the YouTube channel obviously one of the reasons why we start to branch out, and the reason why you're on 11 networks." 
He added, "I would imagine, is the same reason why we're on six networks is that the ratings on the television have just gone down and so we have guarantees that we need to you know that we made 10 years ago and the sponsors are expecting those kinds of numbers. So it's like you add another network and another network and another network and you get back to kind of the original viewing that what you once had on ESPN."
In addition to Jimmy Houston Outdoors, Houston also creating began daily devotional content through the title 'Catch of the Day on YouTube. He also keeps updating about his personal life as well as professional works on his social media. 
On Retirement
In 2020, Houston decided to take time off from participating in the tournaments—he said that he wouldn't participate in the upcoming FLW Pro Circuit. Instead, he promised to keep on his fishing passion alive. 
"I might not ever fish another national tournament, or I might fish another one next year. It's definitely not a retirement. People have been using that word, but not me," he said in an interview.
He also revealed that he took the decision in the year 2019 after a new rule was added to "line 6 of the FLW Pro Circuit Rules". The rule prohibited anyone accompanying a pro from providing a supporting hand. The rule reads: "Under no circumstance may a person accompanying a pro on tournament waters fish or assist with locating fish."
Because of the added rule, the pro angler couldn't carry on with his long-running custom of having practice sessions with his wife before the tournament. He also was on the brink of participating in the Bassmaster Elite Series in 2019 but dropped out from it due to a similar rule. 
But the deciding point for the fishing expert was during the end of the 2019's FLW Tour season. He got bored of attending the competition without his wife Chris and also finished 162nd because he lacked practice. Before attending the competition, he had participated in the Lake Champion season finale and got busy in sponsors obligation after that. 
At present, Jimmy is actively taking part in sporting events as a guest or a judge. He has also been involved in promoting trade shows and sports stores. According to his website, he has been involved with various outdoor-related companies such as O'Reilly Auto Parts, Ranger Boats, High Seas Fishing Line, Mercury, Shel Rotella, Bass Pro Shop, and many others. He also gives inspirational speeches at many churches around the country. 
Promoting Businesses Through Self Ethics 
Houston is known to conduct promotional marketing through his self-ethics. He opts out of marketing such products that he regards as opposite from his faith and ethics. 
In an interview, Blakemore Lures' former owner, Joe Hall, said that Houston wouldn't sell all of its products despite selling millions of its Road Runner fishing lures. He commented, "Forget about the money. You are not buying Jimmy Houston off," Hall said. "If he doesn't like the product, he will not promote it, and people know that."
2021 & Beyond
In February 2021, Bass Pro Shops founder Jim Morris revealed that several fishing legends, including Jimmy Houston and Roland Martin, would be attending as the celebrity weighmasters in the upcoming (to be held on 11 September 2021) 'US. Open National Bass Fishing Amateur Team Championships' organized by the company. He revealed that the tournament would have a prize purse of $4.3 million in total and a $1 million fund for improving fish habitats of the tournament location: Old Hickory Lake. 
Since 2021, Houston has been growing his audience base in social media, especially on Youtube, where he shares about his personal life and fishing experience and talks about his devotion to Christianity. In 2020 alone, he pursued a goal to post 500 videos on Youtube. 
Jimmy Houston Family
Jimmy Houston is married to Chris Houston, whom he met during high school in 1961. He lives with his wife in Southern Oklahoma. The couple has two children and six grandchildren. 
Jimmy Houston Wife's Hospitalization
Chris, a professional angler like Jimmy, has regularly appeared on Houston's YouTube channel. On 5 April 2021, Jimmy confirmed on Facebook that his wife had been suffering from a severe brain condition. 
"My beautiful wife Chris had a brain aneurysm and a stroke and is not very well at all. She's not regained consciousness," he said. According to Jimmy, he had been away on his way to a fishing trip to Alabama when the stroke happened, just moments after he got off a call with her. "Last time I talked to her she was fine all day long." 
As per Jimmy's update on Facebook, his wife was hospitalized and went through surgery on 13 April. He further informed that they transferred to Tulsa on 17 April for the next step in Christ's treatment. In April 2020, he remarked that "it's a major battle right now" regarding his wife's condition and thanked everyone for their good wishes. He also said that he was planning a garden so that the pair would get fresh vegetables after Chris' return.
How many Children does Jimmy Houston have?
The Houston pair together has two children, a son Jamie and daughter Sherri. Both of them are also professional anglers like their parents. Houston's son helps him in a boat dealership, and his daughter handles his schedule and runs their travel agency and subway store.
Pet deer Lucy
In 2018, Houston's wife informed him about a just born orphaned deer on the ranch. After a few days, they realized the newborn baby deer was abandoned. Houston also found the little deer was about to die, so he picked the deer and raised the doe. The doe was later named Lucy. Despite being a free-range deer, Lucy eventually became a part of the Houston family.
What is Jimmy Houston's Net Worth?
Despite him being 76 years old, he does not intend on retiring anytime soon. Instead, he wants to become the oldest angler in history. He's determined to make more appearances on TV and perhaps even film a TV series. Availed by the number of achievements and a spirited personality, Jimmy Houston continues to be sought by his fans and viewers. 
According to Celebritynetworth, the veteran fishing expert has a net worth of around $6 million. 
Interesting Facts
In an interview in 2008, Houston reminiscences about his high-pitched definitive laugh and the time his wife had advised him to change it. "We were walking down the hallway in the studio and my wife, Chris, was with me. Three or four editing bays away we heard this ungodly laugh. Chris turned to me and said, 'I'm just going to give you some advice right now. You will never make it in this game if you don't change the way you laugh. They will run you off the television.' It's one of the few errors she has made in her life. People loved it. That was part of the magic."
In 2003, Houston—who was hosting Jimmy Houston Outdoors under ESPN2 banner and was a First Southern Baptist Church's deacon in the eastern Oklahoma town of Keys—declined to wear a Busch beer apparel patch and include a Busch decal to his boat in the particular events that were important for the qualification in the BASS Master's Classic tournament. With his exit from the competition, he also diminished his chances of attaining the 'Angler of the Year' prize worth $100,000.
As the only pro bass angler out of 122 to refuse to don the Busch logos, Houston said that he had to take such a decision because of "ethical, moral and scriptural reasons." He said he only found later about the provision signed by BASS with the sponsor and deemed it "inappropriate with its family-friendly history."
He is a fan of the American dancing reality show Dancing With the Stars.
Houston, who also loves hunting, has been known for kissing a fish on television since forever. 
In an interview in 2018, he called Peacock Bass fishing "the most exciting freshwater fishing and boasted that he "pioneered Peacock Bass (Pavon) fishing for Americans over 40 years ago, first in Colombia and then Venezuela, Brazil, etc."
He has acted as Grand Marshal in popular racing events such as Talladega Raceway and Quaker State 400 NASCAR. He has also ridden the pace car at Kentucky Speedway for NASCAR.
Houston grew up to be a Brooklyn Dodgers fan because he followed 50's baseman Charlie Neal. He has also been following Oklahoma Sooners since his school days.