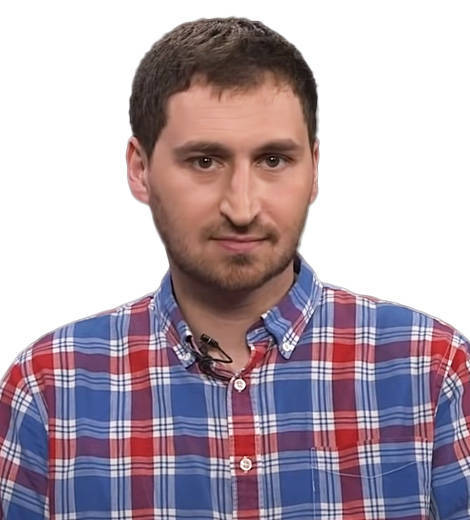 Quick Wiki
Full Name

Jesse Richard Singal

Occupation

Investigative Journalist, Podcaster, Author

Nationality

America

Birthplace

Brooklyn, USA

Birth Date

Nov 24, 1983

Age

39 Years, 10 Months
Co-host of 'Blocked and Reported'
Jesse Singal| Biography 2021
Since March 2020, he has been co-hosting the Blocked and Reported podcast alongside journalist Katie Herzog. A short description on the podcast's website describes it as, "Journalists Katie Herzog and Jesse Singal scour the internet for its craziest, silliest, most sociopathic content, part of an obsessive and ill-conceived attempt to extract kernels of meaning and humanity from a landscape of endless raging dumpster fires. (And sometimes they talk about other stuff, too)."
---
Jesse Singal is a Brooklyn-based journalist known for his comments on LGBTQ issues, critiques of social science methodologies, and the use of evidence in ethnography.
Who is Jesse Singal?
Jesse Singal is an American journalist, podcaster, and author. He has experience of working as a contributing writer, writer-at-large, and a senior editor of the behavioral science vertical, 'Science of Us' at New York Magazine. His works have appeared in magazines such as The New York Times, Slate, The Boston Globe, The Daily Beast, and many other publications. He has also launched a newsletter, Singal-Minded, with a mission to cover various topics, including conflict and collaboration measures of science, social-justice-advocacy, and current events.
Since March 2020, he has been co-hosting the Blocked and Reported podcast alongside journalist Katie Herzog. A short description on the podcast's website describes it as, "Journalists Katie Herzog and Jesse Singal scour the internet for its craziest, silliest, most sociopathic content, part of an obsessive and ill-conceived attempt to extract kernels of meaning and humanity from a landscape of endless raging dumpster fires. (And sometimes they talk about other stuff, too)."
On 6 April 2021, he wrote a book titled 'The Quick Fix: Why Fad Psychology Can't Cure Our Social Ills,' in collaboration with popular publishing company Farrar, Straus and Giroux.
Early Bio and Family
Jesse Richard Singal was born on 24 November 1983 in Brooklyn, New York City, to his Jewish mother, Sydney L. Altman (1949–21 April 2021, lost her life to lung cancer), and Hindu father, Bruce A. Singal.
His mother was a psychologist, lawyer, and author. Her books, including the mock catalog 'Victoria's Rejects' and the nursery rhyme parody 'Mother Goose Tells The Truth About Middle Age,' are comedic takes on middle-aged women's experiences.
His father, Bruce A. Singal, is a lawyer best remembered for defending pharmacist Barry Cadden after his New England Compounding Center caused dozens of deaths and wounded hundreds more in a meningitis outbreak mapped to the compounding pharmacy in 2012.
Singal has two brothers, Alex and Gabe.
Education
Singal graduated in Philosophy from the University of Michigan, Ann Arbor, in 2006. He was a Bosch Fellow in Berlin, Germany, in 2013. The same year, he received his post-graduate degree in Public Affairs and Domestic Policy from Princeton University's Woodrow Wilson School of Public and International Affairs, where he could study about inequality in America and probable solutions to address it.
Journalism Career
Singal started his career in an independent, nonpartisan policy institute called Centre for American Progress, where he worked as an associate editor for 'CampusProgress.org.' He worked between 2007 and 2009. In July 2009, he left the institute to work for 'The Washington Monthly' as a web editor. However, he left the magazine after five months. 
Then he worked as a contract opinion writer for 'The Boston Globe' from December 2009 to July 2011. He finally landed in the 'New York Magazine' in March 2014. In his time with the magazine, he worked as a senior editor of the magazine's behavioral-science vertical, Science of Us, and as a writer-at-large magazine covering various issues, including social science, politics, sex, and the internet culture. Later, he collaborated with the magazine only in contributing capacity. 
His Twitter bio describes him as a "former" member of the magazine. 
'Blocked and Reported'
Although Herzog lived in Washington state and Singal in New York City, the duo decided to co-produce the popular podcast Blocked and Reported, which the podcast website describes as "a podcast about internet nonsense."
They discuss the growing inhibition of speech among progressives, the causes and solutions to "cancel culture," the stifling of open inquiry and honest disagreement due to identity politics, and surviving the demise of alt-weeklies. They also discuss Patreon, an online interface that enables developers to generate subscription revenue straight from fans (Blocked and Reported raises money from the platform).
After one of his podcast episodes in which he interviewed a trans woman and Bay-Area-based gender clinician, Dr. Erica Anderson, he was chastised on social media with allegations that he was transphobic who portrayed LGBTQ people negatively. His previous community articles were also pulled into the controversy. Singal was eventually added to the 'GLAAD List' similar to Donald Trump, Mike Pence, and other public figures. The GLAAD Accountability Project claims that these individuals have taken anti-LGBTIQ stances, which should not be tolerated. 
Cancel Culture and Jesse Singal
In one of his Singal-Minded - Substack Newsletter, Jesse described his apprehension on cancel culture. He defined cancel culture as a broad coalition of obnoxious, roiling debate about how technology has changed the dynamics of righteous indignation and humiliation, amounting from stories of anonymous people caught up in harsh shame-vortices to essays contending that social media (or generational change) is making everyone more delicate than they used to be, and so on.
"Bill Gates was canceled. Gwen Stefani and Erykah Badu were canceled. Despite his relatively strong play in the World Cup, Cristiano Ronaldo was canceled. Taylor Swift was canceled and Common was canceled and, Wednesday, Antoni Porowski, a Queer Eye fan favorite was also canceled. Needless to say, Kanye West was canceled too. Significantly, all of these figures are alive, well, and prosperous today," he wrote in his Newsletter.
The Debate on Transphobia 
In March 2021, Jesse became controversial when he shared his views about transgender communities. He was canceled multiple times by those who alleged his views and articles had been anti-trans. His previous articles on the LGBTQ community were also pulled into the controversy. He was criticized for writing that children and teens with gender dysphoria are over-medicalized, confused, and unethically pushed towards hormones and transgender identity. One such article of Singal is, 'When Children Say They're Trans.' 
Responses To Singal Views
While many people were criticizing Singal on Twitter, LGBTQ community activist Dan Savage came to his rescue, defending him against "trans twitter extremists." 
"I want to say, 'I challenge anyone to listen to this interview (jessesingal) did with youth-gender clinician Dr. Erica Anderson and tell me he's transphobic,'" Savage tweeted. In the tweet, he also noted, "But I know people will continue to insist he's transphobic. But he isn't."
Clarifying his position on trans views and responding to the allegations that he made transphobic remarks, Singal states:
The 20 July episode of 1A (show) referenced 'transphobic comments' I supposedly made. This is a false claim — I do not believe I have ever made a transphobic comment, and 1A could not point to one when I reached out asking for a correction. This was apparently a reference to my work on transgender and gender-nonconforming youth, which has focused on the complicated question of what the assessment process should look like for gender dysphoric children and teenagers seeking puberty blockers, hormones, and surgery. That work is certainly controversial because in the eyes of some individuals to even discuss this subject in a careful, journalistic way is transphobic. But this conversation is vital, and I completely disagree with the idea that it should be off-limits — as does a broad swath of gender clinicians, researchers, and trans people themselves, quotes from whom pepper my work on this vexing subject.
GLAAD Accountability Project
According to The GLAAD Accountability Project, it documents anti-LGBTQ propaganda and prejudicial actions by politicians, pundits, organization heads, legal figures, and faith leaders who have used their platforms, influence, and authority to make false claims and harm LGBTQ people.
" (glaad) needs to fix this immediately. It's totally inexcusable and discredits the organization. GLAAD Took False, Previously Disproven Internet Scuttlebutt And Used It To Justify Putting Me On A List Of Anti-LGBT Bigots", Singal tweeted with a link to his Newsletter where he attempted to debunk the alleged aspects on 22 March 2021.
There in his Singal-Minded Substack Newsletter, he wrote, 'I'm on it. Not sure when I was added but there I am, alongside Donald Trump, Mike Pence, and various other figures that make those two look like ardent social liberals. I guess things were so urgent they didn't have time to add my first name to the pulldown menu.'
The Newsletter basically contained the list of all of the alleged tidbits accusing him of being an anti-LGBT bigot and his explanation behind all of the accusations, which he felt incorrectly marked him as transphobic.
Fact-checking and Ethical Concerns
We assure our audience that we will remove any contents that are not accurate or according to formal reports and queries if they are justified. We commit to cover sensible issues responsibly through the principles of neutrality.
To report about any issues in our articles, please feel free to Contact Us. Our dedicated Editorial team verifies each of the articles published on the Biographyhost.