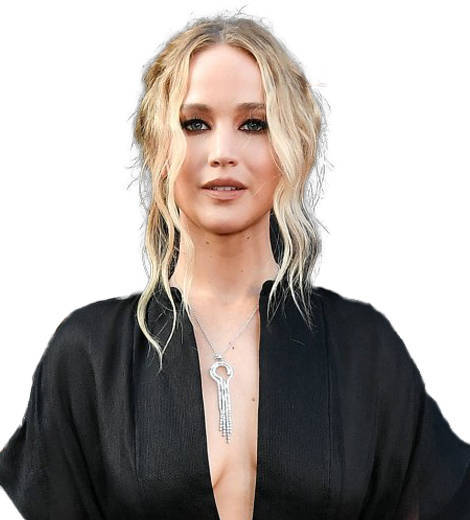 Quick Information
Full Name

Jennifer Lawrence

Occupation

Actress

Nationality

America

Birthplace

Kentucky, USA

Born Year And Birthday

Aug 15, 1990

Age

30 Years, 10 Months
'Academy Award' Winning Actress
Jennifer Lawrence
In 2012, Jennifer Lawrence had another career-defining movie in 'Silver Linings Playbook,' which garnered her an 'Academy Awards' under the category 'Best Actress' at age 22. She played the role of a professional dancer who befriends a struggling man with mental illness.
---
Quick Information
Full Name

Jennifer Lawrence

Occupation

Actress

Nationality

America

Birthplace

Kentucky, USA

Birth Date

Aug 15, 1990

Age

30 Years, 10 Months
Jennifer Lawrence is an Oscar-winning American actress known for her roles in X Men, Joy, Winter's Bone, Silver Linings, and The Hunter's Game. Playbook. She received 'Oscars' for Silver Linings Playbook in 2021.
Who is Jennifer Lawrence?
Jennifer is an American actress who has played lead roles in highest grossing movies such as The X-Men Series, The Hunger Games, American Hustle, and Passengers.
She is the second-youngest actress (age 20) to be nominated for the "Academy Awards" and the youngest to be nominated twice under the "Best Actress category." She won the "Oscars" at 22 for her role in the movie Silver Linings Playbook. Jennifer is also the youngest actor to be nominated four times for "Oscars" before she was 25.
Known for her witty sense of humor and transparent personality, Jennifer became the highest-paid actress globally in 2015 and 2016.
Early Life
Jennifer Shrader Lawrence was born on 15 August 1990, in Northeast of Louisville, Kentuck, USA. Her father, Gary Lawrence, was in the construction field, and her mother, Karen Lawrence, ran summer camps. Jennifer was the first girl child born in her paternal family in 50 years. Her family owned a horse farm when she was growing up.
Jennifer has two brothers. While her brothers were into fishing, Jennifer was all about horses, and her first horse was a pony named 'Muffin.' Growing up as a tomboy, she never shied away playing softball, field hockey, and basketball with the boys' team.
Jennifer had always been an energetic child, which got her name 'Nitro' from her brothers. She was not allowed to play with other girls in her preschool as she was too harsh. She was voted the 'most talkative' in the 7th grade. She was a cheerleader in middle school and was on the team 'Kammerer Middle School.' However, she wasn't good in her studies." I felt stupid all during school, I just felt dumb…especially at math. I felt like when I look around and everybody's getting it, am I the only one that's completely clueless," she stated.
Outside of her academics, she used to participate in school plays and local theatre. Due to her growing interest in plays, she convinced her parents to pursue acting at 14.
Jennifer was identified by the talent scout at the age of 14 at an audition at Union Square Park in New York when she was on her vacation to the city. She then dropped out of middle school to move to New York to get into modeling. Without a high school diploma, she calls herself "self-educated."
Early Career
Jennifer did a couple of television shows before debuting into the film industry. She acted in the comedy series The Bill Engvall Show (2007-2009) as a teenage daughter of a psychotherapist for three seasons. During that stage of her career, she had auditioned for the role of Bella Swan of the Twilight movie but lost to Kristen Stewart.
She then played the lead in Winter's Bone (2010), a novel-based movie, where she portrayed a teenager who takes care of her mentally ill mother and siblings while trying to find her missing father. It garnered her first Oscar nomination under the Best Actress category. She was 20 years old then, and she was the second youngest to be nominated.
Subsequently, she acted in Like Crazy (2011) and Jodie Foster's The Beaver (2011). The role of a Mystique in the superhero film X-Men: First Class (2011) was her highest-grossing film at that point of her career.
'The Hunger Games'
Her next release was in The Hunger Games film series (2012-2015), where she played the lead role of Katniss Everdeen, who initiates her path of rebellion against the capitalist and totalitarian government ruling the post-apocalyptic earth. The Hunger Games became the top-grossing movie and gained worldwide success. The sequel of movies was Catching Fire (2013), Mockingjay-Part I (2014), and Mockingjay- Part II (2015).
Her Character
Hundreds of actresses took part in the movie's auditions, from Shailene Woodley to Saoirse Ronan, Chloe Grace Moretz, and Hailee Steinfeld. But Lawrence had a certain self-confidence and ferocity that no one could deny, as she had demonstrated in Winters Bone. The author of the books, Suzanne Collins, approved her with the final stamp stating that she was the only actress who really caught up with the role she had written in the script.
Lawrence, who was just 20 at the time, went through extensive physical training, which included practicing archery. She admitted to Diana Sawyer that she almost turned down the role of Katniss Everdeen because she was afraid of how being the star of a blockbuster film would impact her life.
After she wrapped the final Hunger Games movie, Lawrence said she was unsure how she felt about the big chapter coming to a close. Lawrence added, "These movies had been my life for so long and they had to come first in everything," she told Sawyer. "I was also in a relationship with somebody for five years and that was my life. So my life was this person and these movies and we broke up around the same time that I wrapped those movies."
Looking back to the past year, Lawrence continued, "being 24 [years old] was this whole year of 'Who am I without these movies? Who am I without this man?' It was always 'we.' It sounds so young to say that but it's true."
'Silver Linings Playbook'
The same year in 2012, she had another career-defining movie in Silver Linings Playbook, which garnered her an 'Academy Awards' under the category "Best Actress" at age 22. She played the role of a professional dancer who befriends a struggling man with mental illness.
The movie made her the youngest person to be nominated for best actress twice and the second youngest person to win the Oscars under that category. During the ceremony, her fall at the stairs while accepting the award topped the headlines at that time.
In 2013, she played a controlling wife of a con artist in American Hustle. She was later nominated for the 'Academy Awards' under the category of 'Best Supporting Actress for the movie. Her further projects were Serena (2014), Joy (2015) (she received another Oscar nomination for Best Actress), Passengers (2016), and Mother! (2017). Her anticipated movies are the Netflix movie Don't Look Up featuring Leonardo DiCaprio and Bad Blood.
'Red Sparrow'
In 2018, she starred as Dominika Egorova in the psychological thriller Red Sparrow, in which she played a Bolshoi ballerina-turned-spy, who was trained to seduce and ensnare her targets. But Lawrence had spent years playing emotionally complex, mature roles — such as in American Hustle and Silver Linings Playbook, the latter of which earned her an Academy Award — while avoiding roles that depend on sexuality and nudity.
To recruit her in the movie, the director was nervous as he remembered conversations they had when she was 21 or 22 in Hunger Games when she had said that she wasn't really interested in making movies. The director was very nervous that she wasn't going to want to do it.
About the dilemma to take the role, Lawrence shared, "Obviously, it's very sexy, and I wasn't quite sure yet where my head was on that, so I just wanted to talk about it (with Francis Lawrence). Knowing that she had to make the decisions sooner or later, Lawrence further added, "We both knew I was going to have to decide to do the scenes as they're written or another actress should do the role. And here I am. I'm still alive."
Nudity in the Movie
Francis Lawrence directed the Nude Scenes in the Spy Thriller, and Jennifer Lawrence was in charge of how they would look. She had the right to cut something out that she didn't want to include in the project. The director showed her the final cut of Red Sparrow before everyone else, including producers and the studio. He gave her that choice, but she never used it.
The sensual scenes in Jennifer Lawrence's upcoming spy thriller, Red Sparrow was empowering for the actress. At the film's New York premiere on Monday night, the actress said the demanding part helped her resolve insecurities, including those that originate after her intimate private photos were hacked and released in 2014.
On Her Hacked Photos
After her pictures were hacked and released, she claimed that it was not a scandal but rather disgusting. She said distressingly, "The law needs to be changed, and we need to change. That's why these Web sites are responsible. Just the fact that somebody can be sexually exploited and violated, and the first thought that crosses somebody's mind is to make a profit from it. It's so beyond me."
Eventually, Lawrence recovered from the incident and started pursuing peace, which she believes is the only choice. "Time does heal, you know," she shared to Vanity Fair. "I'm no longer crying about it. I can't bear being upset any longer. I can't put my happiness in the hands of these people being apprehended, because they may not. All I need to do now is find my own peace."
Personal Life
She got married her boyfriend Cooke Maroney, an art gallerist, in October 2019, at Rhode Island.
Cooke is the director of the Gladstone Gallery in New York, which has represented artists such as Carroll Dunham, Lena Dunham's father, Richard Prince, Anish Kapoor, and Matthew Barney. He previously used to work at the famous Gagosian gallery and is well-known in the art party scene. Maroney attended Vermont high school and attended New York University to study art history.
Laura Simpson, one of Jennifer Lawrence's closest colleagues, reportedly introduced the new couple. "They met through Jen's friend Laura," a source told Page Six.
On Saturday, 19 October 2019, the couple married in a lavish ceremony in Newport, Rhode Island. They married at the historic Belcourt mansion, where she wore a Dior gown, and her husband donned a classic tuxedo.
Activism
After her movie American Hustle, she expressed her disappointment in the film for the gender pay gap in the industry and ever since has been a supporter of equal pay. In 2015, she founded the Jennifer Lawrence Foundation, which has advocated for America's Boys & Girls Clubs and the Special Olympics.
Did You Know?
According to Celebritynetworth, he estimated net worth is $160 million.
Fact-checking and Ethical Concerns
We assure our audience that we will remove any contents that are not accurate or according to formal reports and queries if they are justified. We commit to cover sensible issues responsibly through the principles of neutrality.
To report about any issues in our articles, please feel free to Contact Us. Our dedicated Editorial team verifies each of the articles published on the Biographyhost.