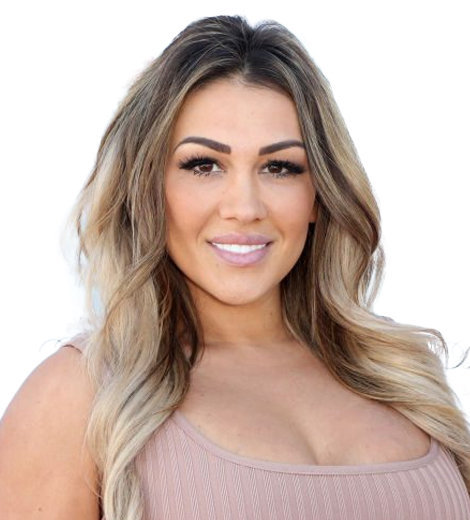 Quick Wiki
Full Name

Jen Harley

Occupation

Realtor, Instagram Personality

Nationality

American

Birthplace

Oklahoma, USA

Birth Date

Oct 28, 1987

Age

35 Years, 10 Months
Ex-Girlfriend of Ronnie Ortiz-Magro
Jen Harley | Biography 2021
Actress
Jen Harley began dating 'Jersey Shore' star Ronnie Ortiz-Magro in 2017. The duo became parents within a year after they got acquainted with each other. She gave birth to their daughter Ariana Sky in April 2018, a few weeks after which their relationship began to grow bitter with several assaults and attacks against each other. The duo also faced several domestic violence cases charged against each other and even got detained. Some of the court proceedings are still on. They parted away in 2019, and both started another relationship, agreeing to co-parent their child, Ariana. Despite the separation, the duo's fight didn't come to a stop.
---
Jen Harley is an American businesswoman popularly recognized as the ex-girlfriend of 'Jersey Shore' star Ronnie Ortiz-Magro. The pair is infamous for their domestic disputes and arrests.
Who is Jen Harley?
Jen Harley is a former reality TV star who starred in Hollywood Medium (one episode) and Jersey Shore: Family Vacation, both in 2018. She is also a businesswoman involved in the real estate industry, working at The Nitro Group. She obtained the license in 2020.
More than her relationship with the Jersey Shore star, Ronnie Ortiz-Magro, Harley received more attention for frequent domestic disputes with him. Despite breaking up and entering into a new relationship, their argument never seems to cease. The former couple has a daughter, Ariana, who they co-parent even after separation. 
Early life and Education
Jennifer Harley was born on 28 October 1987 in Tulsa, Oklahoma, and raised there. She relocated to Las Vegas at the age of 18 after graduating from a high school in Tulsa. Harley's mother died on 29 February 2020, and her father died of cancer in 2016.
Career
Harley's debuted on-screen in 2018, starring in a few TV shows, namely, Hollywood Medium (one episode) and Jersey Shore: Family Vacation, in which she appeared in about twenty-five episodes. She co-starred with her ex-boyfriend, Ronnie Ortiz-Magro, in both the series and had never been seen on screen after that. 
Then, Harley went on to establish herself as a real estate agent with The Nitro Group, a real estate agency in Las Vegas that focused on luxury properties. She obtained a license for the same in January 2020. She is said to have sold several multimillion-dollar properties. Harley has actively made her Instagram followers and admirers become the firm's clients. 
To supplement her income, she also teamed with apparel brands and companies that offer various adult items. Her Instagram handles further tag her as a Fashion Nova Ambassador. She has more than 50,000 followers on Instagram.
According to Showbiz Cheat Sheet, starring on Jersey Shore: Family Vacation, business ventures, and Instagram endorsements have earned Harley a net worth of $4.3 million.
Relationship with Ronnie Ortiz-Magro
Harley was in a relationship with her college-mate before dating Ronnie Ortiz-Magro. Her first son Mason was born out of her previous relationship with her college friend.
She then began dating Ronnie in 2017. They became parents within a year after they got acquainted with each other. In April 2018, Harley gave birth to their daughter, Ariana Sky. They started facing severe turbulence in the relationship within a few weeks after she gave birth to their daughter.
Relationship Troubles
Despite having a serious relationship with Ronnie Ortiz-Magro for almost a year, Harley had intimate photographs and videos with her ex-boyfriend on her phone, which turned Ortiz-Magro furious.
 "Can't turn a natural born H*E, into a HOUSEWIFE," he vented on Instagram. Then he urged his followers to vote 'yes' or 'no' on whether it was rude to preserve sex videos of their ex even after being with someone else for a year. 
"If your significant other keeps sex videos of their ex, shouldn't they show enough respect to delete them, esp after being in a new relationship for over a year? #GiveMeYourThoughts." he wrote.
"Can't turn a coke head into a father!," Harley wrote back in response to his remarks.
Ortiz-Magro took to Instagram within a few hours after their open feud and this time for an apology. But their feud didn't end there. Harley went on Instagram live a few days later to broadcast a dispute she was having with Ortiz-Magro. Viewers could hear the two bickerings and Ortiz-Magro attempting to pull the phone from Harley's grip. Ortiz-Magro eventually apologized for his conduct, and the two separated as a result of the incident but later got back together.
Police Case and Domestic violence
Another altercation followed in an episode of Jersey Shore: Family Vacation, when Harley attempted to attack Ortiz-Magro while inside a hotel room, and security had to handle the situation. Subsequently, she was arrested for another act of domestic assault on 24 June 2018 after allegedly dragging Ortiz-Magro with her car while their daughter was present in the backseat.
"He was screaming for her to stop the car as she was driving," an anonymous source revealed. 
"She hit the median and got a flat tire which caused her to slow down. He begged to get out and opened the door but she continued to pull away while he was getting out and it tore up his entire arm. It's a mess from road rash and from being dragged along the street as he was caught in the belt", it added.
Despite the severity of violence and assault in their relationship, the couple didn't separate their ways right there. They patched again.
On 2019 New Year's Eve, the couple got into another furious dispute, and Harley allegedly slammed an ashtray at Ortiz-Margo's head, causing minor injuries. Harley was charged with assault.
Detained and pleaded not guilty
In October 2019, Ortiz-Magro was detained in connection with a confrontation with Harley. A representative for the Los Angeles City Attorney's office confirmed to PEOPLE that Ortiz-Magro was charged with felony charges of domestic violence, holding a weapon, child neglect, resisting arrest, and making criminal threats. He was also accused of depriving Harley of her personal liberty.
His representative confirmed to PEOPLE that Ortiz-Magro pleaded not guilty to seven charges in November 2019, including false imprisonment of Harley. In February, two accusations - brandishing a weapon and making violent threats, were withdrawn.
According to TMZ, Ortiz-Magro further pleaded not guilty in May to one misdemeanor of domestic assault and one offense of resisting arrest.
New relationship
In 2019, Harley and Ortiz-Margo parted away, and both went on to start another relationship. Ortiz-Margo uploaded a sizzling Instagram photo of himself propping up his new girlfriend, Saffire Matos, while the two shared a passionate kiss on a yacht in October 2020.
The same week, Harley teased a possible romance on Instagram. During a birthday vacation to Miami, she shared a photo with a new partner, who was revealed as a businessman, Justin Hensley, by E! News.
Harley shared a photo of Hensley pulling her up and kissing her while the two were on a yacht together on her Instagram story, similar to Ortiz-Magro's picture.
She captioned the shot, "Obsessed with you."
As of 2021, she constantly posts pictures with her new love bond on her Instagram handle (readysetjoe).
Getting Daughter amidst Arrest 
According to a spokeswoman for the Los Angeles Police Department, Ortiz-Margo was detained again in April 2021 on allegations of partner violence against his new girl. Jen Harley immediately traveled hundreds of miles from Las Vegas to Los Angeles to pick up her daughter Ariana, who was in her father Ortiz-Margo's custody when he got arrested for the incident. "I want my baby home," Harley posted on her Instagram story. "This is the last time I'll ever make this trips," she added. 
While bringing Ariana back home, she made her second post with the picture of herself cuddling her daughter, "Can't drive home like this, but I'll hold her as long as she needs it."  
"Me...my daughter...till the day I die," Jen captioned a pic of a lioness standing over her cub on her later post.
Ortiz-Margo was released after paying a $100,000 bail.
Children
Harley has a son, Mason, and a daughter Ariana, both born out of two different relationships.
Ronnie Ortiz-Magro and Jen Harley are attempting to co-parent their kid by organizing family activities. But amidst their disputes and circumstances, fans are worried about their daughter's health.
"I feel so bad for that little girl," a fan shared on Reddit. "She never asked for these issues or picked her parents. Jen and Ron are so far up their own a*ses they don't even realize they will hurt their own kid," the message added.
Fact-checking and Ethical Concerns
We assure our audience that we will remove any contents that are not accurate or according to formal reports and queries if they are justified. We commit to cover sensible issues responsibly through the principles of neutrality.
To report about any issues in our articles, please feel free to Contact Us. Our dedicated Editorial team verifies each of the articles published on the Biographyhost.