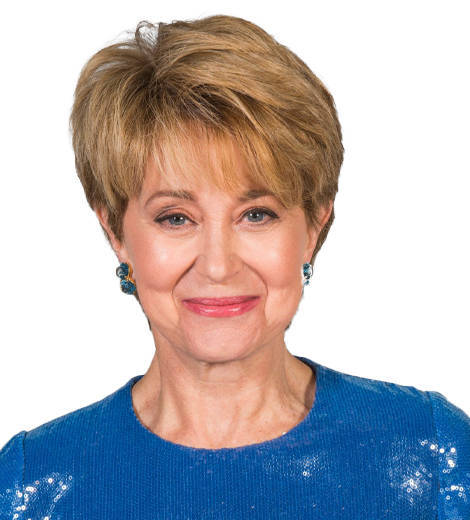 Quick Wiki
Full Name

Margaret Jane Pauley

Occupation

Television Journalist, Author, Television Host

Nationality

America

Birthplace

Indiana, USA

Birth Date

Oct 31, 1950

Age

72 Years, 7 Months
Host Of 'CBS Sunday Morning'
Jane Pauley | Biography 2021
In 2014, Pauley joined CBS Sunday Morning as a contributor and eventually became the show's host in 2016, succeeding television commentator Charles Osgood. As a popular television journalist, Pauley went through bipolar disorder, and since her diagnosis, she became an advocate of mental health issues.
---
Jane Pauley has been hosting the American News Magazine television program CBS Sunday Morning since 2016.
Who is Jane Pauley?
Jane Pauley is an award-winning television journalist, author, news anchor, reporter, and television host. She began her journalism career as a reporter at WISH-TV in 1972. Three years later, she started working at WMAQ-TV and became Chicago's first woman to anchor on a major evening newscast. Her career took a significant break in 1976 when she succeeded a famous broadcast journalist (retired) as a co-host of NBC's Today. She rose to fame, serving the show for 13 years. 
She then became a co-host of the news magazine show Dateline NBC in 1992. She worked for the show for 11 years. She later became the host of The Jane Pauley Show for one season. NBC Universal distributed the show.
In 2014, Pauley joined CBS Sunday Morning as a contributor and eventually became the show's host in 2016, succeeding television commentator Charles Osgood. As a popular television journalist, Pauley went through bipolar disorder, and since her diagnosis, she became an advocate of mental health issues.
Early Life and Education
Margaret Jane Pauley was born on 31 October 1950, in Indianapolis, Indiana, USA. Her father, Richard "Dick" Pauley, was a salesman for the Wilson Milk Company. Her mother, Mary Pauley, was a homemaker and church organist who played the organ at church every Sunday.
Pauley was the youngest of the two daughters in her family. She has considered her older sister Ann as her best friend since childhood. 
Pauley attended Warren Central High School, where she became a speech and debate champion, winning the Girls' Extemporaneous Speaking division of the National Forensic League in Indiana. 
After completing high school in 1968, she studied at Indiana University and graduated in Science in 1972. During her college years, she was a member of the Kappa Kappa Gamma sorority.
Early Career
Upon completing her graduate degree, Pauley began her broadcast journalism career as a reporter for CBS affiliate WISH-TV in Indianapolis. She worked there for three years and joined NBC in 1975 as an anchor in a weekday evening newscast at NBC affiliate WMAQ-TV to become the first woman anchor on a major evening newscast in Chicago. 
'Today'
After working at WMAQ-TV for ten months, Pauley got a big break when she was chosen to replace Barbara Walters on NBC's morning broadcast, Today'show, at the young age of 25.
On her first day, the then co-anchor of the Today, Tom Brokaw, welcomed her as a co-anchor in the show. She responded, "Every story I've seen begins by noting that a year and a half ago Jane Pauley was a second-string newsreader in Indianapolis. That's a fact. Well maybe you're wondering how I got here, and maybe I am too."
Pauley co-hosted the Today show with Tom Brokaw from 1976 to December 1981 and then with Bryant Gumbel from 4 January 1982. While working on the show, Pauley also anchored the Sunday edition of the NBC Nightly News from 1980 to 1982.
Pauley remained on the Today show for more than 13 years, from 11 October 1976 to 29 December 1989. She interviewed thousands of newsmakers and traveled worldwide, including Japan, China, Italy, and Australia, to report numerous major news events. She covered special occasions from the royal wedding to the funeral of Princess Diana. Like the first female co-anchor of the show, Barbara Walters, Pauley marked her name as a professional female journalist. She also became a role model to working mothers after giving birth to twins in 1983 following a very public pregnancy. 
Substitution
However, in 1989, new news anchor Deborah Norville was given a major role in the two-hour broadcast, fueling rumors that Pauley was forced to make room for the younger news anchor, Norville. After prolonged negotiations, Pauley announced that she would be leaving the Today show in December but would soon begin working on other projects at NBC. After her announcement, Pauley received over 4,000 letters from her fans, including one from popular journalist Michael Kinsley, who referred to her as the "heroine of his generation."
After her exit from the show, Pauley got featured in many magazines. It included the cover of the December 1989 issue of Life magazine with the headline 'Our Loss, Her Dream: How Jane Pauley got what she wanted – time for her kids, prime time for herself' and on the cover of New York Magazine's 23 July 1990 issue, which called her "The Loved One."
Eventually, the Today show lost its audience after Pauley left the show. One of The New York Times articles, published on 23 July 1990, reported that Today experienced a rating slump of 22 percent between February 1989 to February 1990. The article was entitled 'Back From the Brink, Jane Pauley Has Become America's Favorite Newswoman.'
'Changes: Conversations with Jane Pauley'
On 13 March 1990, Pauley returned to the air on NBC with a primetime one-hour special, Changes: Conversations with Jane Pauley. During the introduction, Pauley said, "Change is not always an option. Change is not always the right choice. But Change is almost always the most interesting."
Two days later, The Washington Post reported that the one-hour broadcast acquired a 13.3 national Nielsen rating and a 24 percent audience share. 
The success of her primetime special earned her five one-hour specials titled Real Life with Jane Pauley in the summer of 1990. All the five shows were rating hits, and it landed her to launch another half-hour series with the same title in January 1991 on Sunday nights. However, the show was canceled in October 1991, after airing for only one season.
'Dateline NBC'
On 31 Match 1992, Pauley became the co-anchor of NBC's weekly news magazine show Dateline NBC and remained as a co-anchor for more than a decade along with Stone Phillips. The show became one of the most successful primetime television shows that aired five nights a week at one point in time. While working at Dateline NBC, Pauley also did a half-hour show, Time and Again, which aired on MSNBC. The show narrated major news stories taking reference from the NBC News archives.
In 2003, Pauley decided not to renegotiate her expiring contract, which took NBC by surprise. Explaining her decision, she said, "I think women think a lot about cycles, biological and personal. This year another cycle came around: my contract was up. It seemed an opportunity to take a life audit. I keep walking by bookstores and seeing titles talking about second acts in life."
'The Jane Pauley Show'
Despite her surprising departure from Dateline NBC, Pauley returned to television in 2004 as the host of The Jane Pauley Show, a daytime syndicated talk show distributed by NBC Universal. The show was canceled after one season after it could not achieve the intended success. Pauley stated it was the hardest and proudest year of her professional life. "To try something that you've failed at is, in my experience, proving that you had the guts to try," she said.
After the show got canceled, Pauley appeared on several television shows, including PBS's Depression: Out of the Shadows in May 2008. The same year, she also campaigned for President Barack Obama in her home state of Indiana.
In 2004, Pauley also released her bestselling memoir, 'Skywriting: A Life Out of the Blue.'  
Return to 'Today'
After a break from television, Pauley returned to the Today show in March 2009 to host a weekly segment titled 'Your Life Calling.' It profiled people who were more than 50 years old and were reinventing their lives unconventionally and distinctly. The series was on the air through 2013. 
The series also won critical acclamations and also led her to release her second bestselling book, 'Your Life Calling: Reimagining the Rest of Your Life." 
On 30 December 2013, Pauley appeared in a special reunion edition of Today alongside former co-host Bryant Gumbel, then-host Matt Lauer, and current weather anchor Al Roker.
'CBS Sunday Morning'
After appearing in a segment 'Where Are They Now' and being interviewed on CBS Sunday Morning, Pauley joined the show as a correspondent and occasional substitute host on 27 April 2014. 
Her notable coverage during the period included:
A report on Hillary Rodham Clinton.
An emotional interview with Ferguson's 11-year-old African American Marquis Govan-who described the reason behind the people's protest and dissatisfaction-in the post-situation of the Ferguson unrest and the shooting of a defenseless African American man by a police officer.
The only TV discussion with David Letterman about his departure from late-night television.
A report on a group of educators who lived through tumultuous times.
After about two-and-half years, on 25 September 2016, the television announced that she would take over as host of the show to fill in for the retiring Charles Osgood. On 9 October 2016, Pauley became the host of the show. 
She later said that her experience on hosting CBS Sunday Morning was "a culmination of all the skills and journalism" she had overtaken in her life. "And both of my grandsons have looked at the TV and recognized me — never did I think that I would have grandchildren watching me on television," she added.
Net Worth
With Pauley's big breakthrough—transiting from local TV in Indianapolis to being an anchor at Chicago's WMAQ—the new job paid well. According to her book 'Skywriting,' she then received $55,000 per year, which she described as a "raise of nearly 400%" over her previous salary. 
Later, Pauley's pay rose significantly in subsequent times. When she left Today in 1985, Entertainment Weekly reported that she was making $1.2 million per year. During her time on Nightline, that figure rose to $5.5 million a year (contract of five years).
Fixated on national television for over four decades, Pauley has had multi-million deals with reputed networks, making her one of the highest earners in the industry.
According to Celebritynetworth, Pauley has an estimated net worth of $40 million. In July 2020, Pauley and her husband Garry Trudeau sold their real estate property in Palisades for $6.3 million. They had previously purchased it for $2.3 in 2015. They earned a total profit of $4 million from the trade.
Awards & Recognitions
For her excellence in journalism, Pauley has won multiple journalism awards throughout her career. She was a recipient of the 'Glamour Woman of the Year' award in 1990. She was inducted into the 'Broadcast and Cable Hall of Fame' in 1998. For her work on Dateline NBC, she won a 'News and Documentary Emmy Award' for Best Report in a News Magazine in 2002. 
In 2007, she won the 'Walter Cronkite Award' for Excellence in Journalism. In 2008, she was honored with 'The Rona and Ken Purdy Award' for her national contribution to the fight against discrimination and stigma by the National Alliance on Mental Illness. 
For her CBS Sunday Morning show, she was awarded a 'Daytime Emmy Award' for Outstanding Morning Program' twice in 2015 and 2019.
Pauley was also a recipient of the 'Paul White Award' for 'Lifetime Contribution to Electronic Journalism' given by the Radio and Television News Directors Association. She was also the winner of 'Edward R. Murrow Lifetime Achievement Award.' She also won 'Gracie Allen Award' for 'Outstanding Achievement by an Individual from American Women in Radio and Television.' She was also the recipient of the first international 'Matrix Award' from the Association for Women in Communications.
Publishing
 Pauley is also an author of the books; 'Skywriting: A Life Out of the Blue,' which was published in 2004, and 'Your Life Calling: Reimagining the Rest of Your Life,' which was published in 2014. 
Pauley's Health
In 2000, Pauley's health took an unexpected turn when she was 50. She was given steroids to treat her life-threatening hives. But unfortunately, it caused mania and depression. The treatment with antidepressants and steroids led her to have bipolar disorder. 
"That summer, 20 years ago, I was being treated, no kidding, for hives when my first low-grade depression was first observed. I've written about the connection in a memoir I subtitled 'A Life Out of the Blue'. Because, a lot like this pandemic, it arrived out of the blue. I didn't see it coming. My own doctor was visibly surprised months later when he realized the patient he knew both from our visits and TV was suffering bipolar depression", she shared on Sunday Morning.
Bipolar and Mental Health Advocacy
After she was diagnosed with bipolar disorder, she became a vocal advocate for mental health issues. Sharing about her illness and her advocacy work, she said, "I am bipolar. It was triggered by medications for the treatment of hives. Part of my advocacy is not talking about the stigma. It's real, but it doesn't help move us forward. I take my meds every day. No holidays."
She had also shared her experiences about her bipolar disorder in her bestselling memoir, 'Skywriting: A Life Out of the Blue.'
She wrote that adequate sleep, medication, and advocacy helped her to stay healthy and productive. Stating that she took medicine every night, she explained, "It is what has enabled me to be productive. Since my diagnosis I had a daytime show, I wrote two books, I had my grandchildren and now I'm on Sunday Morning. The best part of my life happened after the worst diagnosis of my life."
Further explaining the impact of advocacy in her life, she mentioned, "There is scientific evidence that giving support is as therapeutic as getting it," and continued, "I believe my advocacy is part of the reason I'm as productive as I have been able to be. I'm proud of it." 
In 2008, the National Alliance on Mental Illness recognized Jane with their highest honor, 'The Rona and Ken Purdy Award' for her national contribution to the fight against discrimination and stigma related to mental problems. 
In 2009, she co-founded the Jane Pauley Community Health Center in her home state of Indiana to help underserved patients. The Health Center offers comprehensive healthcare to all individuals and families, regardless of their insurance status.
Marriage
Pauley met Garry Trudeau, a cartoonist and the creator of a comic strip 'Doonesbury,' through a mutual friend Tom Brokaw. Tom Brokaw introduced the pair shortly after Trudeau won the Pulitzer Prize in 1975.
 But Trudeau's illustration abilities weren't what initially impressed Paule. She had never seen the Doonesbury until she met him, although it had appeared in nearly 2,000 newspapers and on the cover of Time magazine.
"I never saw Doonesbury 'til after I met you," she told him. "And your friends told you you shouldn't read it!" Trudeau joked back.
Instead, It was his humor that brought them closer. After dating for a few years, the couple married on 14 June 1980 and started residing in New York City. 
Children
Three years after their wedding, the couple gave birth to twins: Richard Ross Trudeau and Rachel Trudeau, on 30 December 1983. Three years after her first parity, Pauley gave birth to her third child, Thomas Moore Trudeau. 
Ross
Pauley's older son Ross is a writer who produces, films and manages the digital media contents of Fishtank Learning as the Director Of Digital media. In his personal life, he has been in a long-term relationship with Jessie Bullock. 
Daughter
In November 2014, Pauley's daughter Rachel got married to Robert Gary Steinsdoerfer. The pair has two kids: a son and a daughter. As a law practitioner, she works at Liberty Mutual Insurance. 
Youngest Son
Pauley's youngest son, Thomas, is an MBA graduate. He married Juliana Margaret Thorsten in June 2014 and has two sons. Pauley and Trudeau are grandparents to four kids. 
Charity Work
Pauley has supported charities through her earnings, namely, the American Heart Association, American Stroke Association, Boys & Girls Clubs of America, and Children's Health Fund. Similarly, she, along with her husband, has also provided assistance to Freedom From Hunger.
Did You Know?
On 17 November 1992, Dateline NBC aired a report titled 'Waiting to Explode?' that called into questions regarding the safety of some General Motors trucks. The show's producers allowed explosives to be strapped to trucks for a crash-test demonstration to ensure dramatic footage. When GM discovered the scheme, it sued NBC for slander and temporarily suspended its advertisements from its news programs. Then emerged the ultimate humiliation, and the show's anchors, Jane Pauley and Stone Phillips were made to read a 3.5-minute on-air apology to audiences and the GM.
Fact-checking and Ethical Concerns
We assure our audience that we will remove any contents that are not accurate or according to formal reports and queries if they are justified. We commit to cover sensible issues responsibly through the principles of neutrality.
To report about any issues in our articles, please feel free to Contact Us. Our dedicated Editorial team verifies each of the articles published on the Biographyhost.