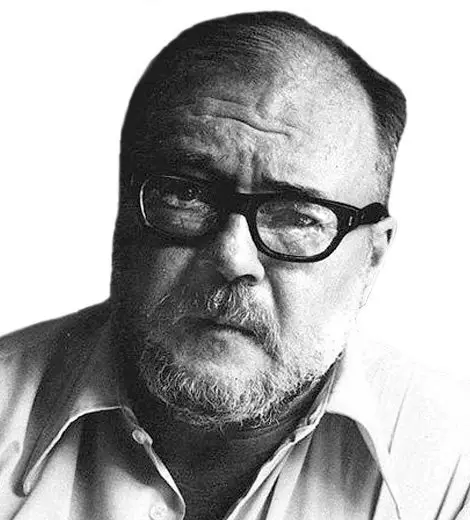 Quick Information
Full Name

James Wright

Occupation

Poet

Nationality

America

Birthplace

Ohio, USA

Birth Date

Dec 13, 1927

Death Date

1980-03-25

Age At Death 52 yrs
American Poet, who won 'Pulitzer Prize'
James Wright | Biography
James Wright's fourth volume of poetry won him the most prestigious award of his career. His 'Collected Poems' (1971), funded by a Rockefeller Foundation grant, earned him the 'Pulitzer Prize' in Poetry in 1972.
---
Quick Information
Full Name

James Wright

Occupation

Poet

Nationality

America

Birthplace

Ohio, USA

Birth Date

Dec 13, 1927

Death Date

1980-03-25

Age At Death 52 yrs
James Wright was an American poet best known for his work 'Collected Poems,' for which he won the 'Pulitzer Prize.'
Who is James Wright?
James Wright was an American poet who wrote about grief, redemption, and self-discovery, often using pictures of nature and industry from his native Ohio River valley. He received the 'Pulitzer Prize' for 'Collected Poems' in 1972. (1971). His other works include 'The Green Wall' (1957), 'Saint Judas' (1959), 'The Branch Shall Not Break' (1963), 'Shall We Gather at the River' (1968), 'To a Blossoming Pear Tree' (1977), and 'This Journey' (1982).
Early Life and Education
James Wright, in full, James Arlington Wright, was born on December 13, 1927, in the small Ohio town of Martins Ferry. His father worked for fifty years in a glass factory, and his mother dropped out of high school at the age of fourteen to work in a laundry. None of them completed eighth grade.
About how he developed an interest in poetry, Wright, in one of his interviews, said, "At age eleven... when a friend, "started to teach me Latin. He gave me the collected works of Lord Byron." " Wright was so moved that he wrote his first poem on the spot, 'Fortunately.'
In 1943, Wright had a nervous breakdown in high school and missed a year of school. A year later, after his graduation, Wright entered the army and was stationed in Japan during the American occupation of Japan. Soon, he returned to study under John Crowe Ransom at Kenyon College. In 1952, he earned a bachelor's degree with distinction and became a member of the honor society, Phi Beta Kappa.
Wright then married Liberty Kardules, a Martins Ferry resident. The couple then traveled to Austria, where Wright studied the works of Theodor Storm and Georg Trakl at the University of Vienna on a Fulbright Fellowship. They returned to the United States for Wright to study at the University of Washington. He graduated from the University with master's and doctoral degrees. Here, he studied with the classic poets Theodore Roethke and Stanley Kunitz. Later in his career, he taught at the University of Minnesota, Macalester College, and Hunter College in New York City.
Poetry
Wright wrote his first two novels, 'The Green Wall' (1957) and 'Saint Judas' (1959), driving inspiration from the poetry of Edwin Arlington Robinson, Georg Trakl, and Robert Frost. Wright's first novel, 'The Green Wall,' won him the 'Yale Series of Younger Poets Award,' in 1957. His second novel 'Saint Judas' (1959), was about men and women who have lost love or who have been marginalized from society for reasons such as poverty or sexual orientation. The book allowed readers to step in and feel the pain of their alienation.
With an ability to discover a new writing style at his wish, Wright could quickly shift from one point to another. While his initial works followed traditional meter and stanza structures, Wright's creations became to be more flexible and had looser forms as the days went by.
His third work, 'The Branch Shall Not Break' (1963), explored the free verse style of writing, and it was considered one of the most influential volumes of the 1960s.
In 1966, Wright was appointed as a teacher at Hunter College. He remarried a year later to sculptor Edith Anne Crunk, and she became the source of inspiration for many of his later poems. His fourth volume of poetry won him the most prestigious award of his career. Wright's 1971 'Collected Poems,' funded by a Rockefeller Foundation grant, earned him the 'Pulitzer Prize' in Poetry in 1972.
Following the success of Collected Poems, Wright published 'Two Citizens' (1973), a collection of 31 poems about his European travels, childhood in America, and love for his wife.
Wright's works and poems contained descriptions, depictions, and narration of his native place and the town he grew up. It was seen in his works 'Autumn Begins in Martins Ferry' and 'Ohio,' which had the reflection of his home state of Ohio with portrayal on mill towns, football stadiums, and heroes' dreams. In another poem collection, 'Shall We Gather at the River' (1968), Wright depicted the Ohio River Valley.
Wright continued to compose and publish poetry until his death from cancer in 1980. In 1982, Anne gathered her husband's friends and colleagues to edit and publish James Wright's final work, 'This Journey.'
Personal Life
In 1952, Wright married his first wife, Liberty Kardules, after his graduation, with whom he had two children.
After a year as a professor at Hunter College, Wright met Edith Anne Runk and married her in 1967. The couple moved to New York, where Wright cut down on his drinking habit with the help of his new wife. The duo led a nomadic life traveling from hotel to hotel to write poetry and have fun. Wright, however, was diagnosed with inoperable cancer after developing a sore throat in 1979. On March 25, 1980, Wright passed away.
'James Wright: A Life in Poetry'
In December 2017, Jonathan Blunk's 'James Wright: A Life in Poetry' was published on the 90th anniversary of his birth. It was the definitive, accepted, and long-awaited biography. Blunk revealed a fascinating tale that had been little known until now. He portrayed how a young boy from a poor family in Ohio stole the show and became a 'Pulitzer Prize' winner and one of the most influential American poets of the twentieth century.
For this, Blunk was given unique and complete access to Wright's estate, including the extensive paper archives containing letters, personal journals, poems, and translations that Wright had left behind.
Over the last three decades, Blunk had conducted over 240 interviews with Wright's family, relatives, teachers, and colleagues. Each of these interviews was captured by Blunk, and a digital archive was created to preserve Wright's memories.
Jonathan Blunk is a radio editor, an author, a critic, and an essayist. His work has appeared in publications such as The Country, Poets & Authors, The Georgia Review, and others. He helped with the editing of James Wright's selected letters, 'A Wild Perfection.'
Fact-checking and Ethical Concerns
We assure our audience that we will remove any contents that are not accurate or according to formal reports and queries if they are justified. We commit to cover sensible issues responsibly through the principles of neutrality.
To report about any issues in our articles, please feel free to Contact Us. Our dedicated Editorial team verifies each of the articles published on the Biographyhost.