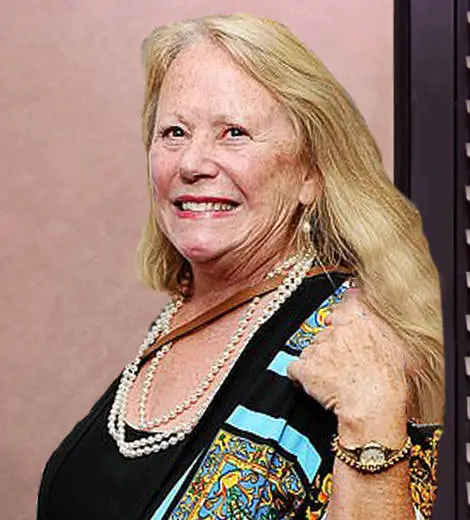 Quick Wiki
Full Name

Jacelyn Reeves

Occupation

Former Air Hostess

Nationality

American

Birthplace

Seattle, Washington

Birth Date

Dec 21, 1951

Age

71 Years, 5 Months
Ex-girlfriend Of Actor Clint Eastwood
Jacelyn Reeves | Biography
Mother of American actor Scott Eastwood
Around the mid-1980s, Jacelyn met Clint Eastwood at an American Restaurant, Hog's Breath Inn, that Clint owned. Eastwood was already established by then; he was an actor, film director, composer, and producer. He was also married to his then-wife, Maggie Eastwood.
---
Jacelyn Reeves is a former girlfriend of famous Hollywood star Clint Eastwood. She began dating Clint Eastwood in the 1980s.
Who is Jacelyn Reeves? 
Jacelyn Reeves is a former air hostess who is remembered for her relationship with Clint Eastwood in the mid-1980s. She is also known as the mother of American actor Scott Eastwood. 
Reeves was born to father Maxwell Scott Reeves and mother Bertha Miriam Wordsworth in Seattle, Washington on 21 December 1951. 
She completed her graduation in Arts & Communications. After graduation, she trained to be an air hostess.
Jacelyn Reeves & Clint Eastwood
Around the mid-1980s, Jacelyn met Clint Eastwood at an American Restaurant, Hog's Breath Inn, that Clint owned. 
Eastwood was already established by then; he was an actor, film director, composer, and producer. He was also married to his then-wife, Maggie Eastwood.
After Clint and Jacelyn started dating, they kept his affair with Jacelyn out of the public spotlight. Their liaison continued for five years, and they had two children. Their son Scott Eastwood was born on 21 March 1986 at the CHOMP community Hospital, Carmel, and their second child, daughter Kathryn Eastwood, was born on 2 February 1988. 
According to Mail and various other mainstream magazines, their relationship reportedly ended in the 1990s. After that, Jacelyn moved to Hawaii to raise her children as a single mother. On the children's birth certificate, she did not disclose the father's identity and mentioned 'father declined.' 
Before Jacelyn, Clint Eastwood had had a failed marriage (1953 to 1984) with Maggie Johnson. He also had a secret relationship with actress Sondra Locke and stuntwoman Roxanne Tunis during her marriage with Johnson. He was still living with Locke when he had children with Reeves.
On 25 March 2016, Jacelyn was spotted on the 'Ketel One Vodka celebrates Scott Eastwood's 30th birthday' event at the San Diego Polo Club in San Diego, California.
Scott Eastwood
The pair's firstborn, Scott Eastwood, followed his father's footsteps and became an actor. But before that, he used to work as a bartender. He also worked in construction and as a car park valet. He had kept fire fighting as his backup job if acting did not work out. 
He lived in Carmel, California, till he was 9 or 10, and then lived in Hawaii with his mother for four years before moving back to Carmel. He completed his high school at Carmel High School and graduated from Loyola Marymount University LA with a major in communications. 
Despite being Clint Eastwood's son, Clint did not appear as his father on his birth certificate, which read "Father Declined." In fact, his birth certificate wrote his legal name as Scott Clinton Reeves. However, Scott revealed to Men's Journal that Clint was there for him. "For sure, he was busy," he explained. "You gotta remember, at his height he was doing two or three movies a year. But he definitely was there. I shot my first gun with my dad; he taught me how to fish. He did a lot of that stuff." 
Growing up, Scott regarded his father as his biggest influence and his hero. Clint's age was 55 when Scott was born. According to Scott, his father handled his birth smoothly. In an interview with Men's Journal, he said, "My dad at 50 was like most dads at 30." He added. "He was ripped. He's just a natural athlete." 
Scott also revealed that his father was "pretty hard-ass" as a parent. "Big shocker. He was very tough, very matter-of-fact about it. My dad was gonna man me up for sure. There were no handouts. It was like, go out and get a job, get it done. It gave me a lot of drive: Are you gonna keep busing tables the rest of your life, or are you gonna go work hard and create something?" he said.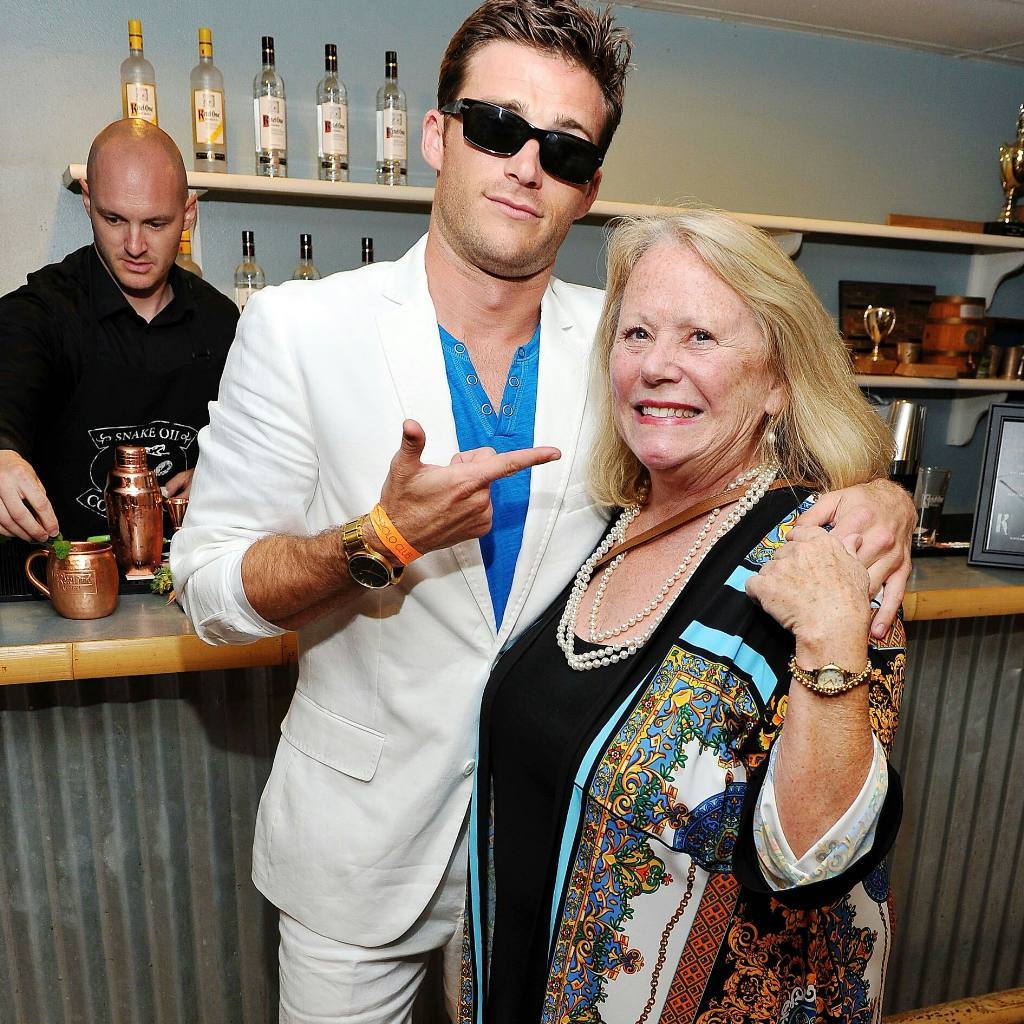 Getting Into Acting
Scott never dreamed of being an actor, but he liked movies and the art of telling a story. For him, acting was something of a craft, but not his "life." During his early career, Scott refused to take the benefits of his father's last name and went with his birth name, Scott Reeves. When his own stardom eventually rose, Scott would adopt his father's famous last name in 2008. 
"The actor thing was more of a conduit to learn the craft and be a part of it, but I didn't make it my life. I always thought in the back of my mind, 'I'm gonna give this till I'm 30—and if it doesn't work out, I'll just go be a firefighter.' My identity was never wrapped up in being an actor," he shared.
At the age of 17, he finally decided to try acting when he was attending a community college in Santa Barbara. He started busing tables at a brewpub. His formative years included moving back and forth between different cities where his father and mother lived and taking on different jobs to support his acting pursuit. He busied tables at a brew club and drove to LA with his 1991 Crown Vic, which he regarded "a piece of crap." Later, he would also be involved in valet parking, construction, and bartending to make his end meet.
At the age of 18, Scott requested his father to let him audition in his movie Flags of Our Father. After the audition, he landed a small role despite auditioning for a bigger role. It was his also debut role.
Years later, in 2018, Scott shared to Men's journal that he never got "bigger roles" in his father project's. "That's how it rolls with him on every project. I've auditioned for a lot of the bigger roles in his films and never got them," he said.
After his debut role, he auditioned and acted in small roles in his father's projects such as Invictus, Trouble With the Curve, and Gran Torino. He also took on small roles in other movies. He gradually made it to an acclaimed professional who worked on lead roles in movies (such as in Overdrive and Walk Of Fame) and acted on bigger movies such as Snowden, Fury, Suicide Squad, and Pacific Rim Uprising. He has also done producing stint in a couple of projects.
Kathryn Ann Reeves
Clint and Jacelyn's daughter, Kathryn Ann Reeves, has also pursued acting and writing. She has worked in Jersey Boys (2014), Virus of the Dead (2018), and American Virus (2015). She also appeared as Mrs. Muse in the short fantasy movie Mr and Mrs Muse: Retribution and Lily in the musical short drama House Slave in 2014. 
In 2016, she was cast as Natasha Miller in the short thriller drama Roots of Entanglement and Jade in the short drama Thick Water. In 2020, she appeared in the segment 'The Making of American Virus' of Banned, Exploited & Blacklisted: The Underground Work of Controversial Filmmaker Shane Ryan, which a collection of Shane Ryan's works, including short films, behind-the-scenes footages, concept trailers, and trailers/clips from both released feature films and uncompleted features. 
In addition, she has walked the stage as 'Miss Golden Globe' at the 2015's Golden Globe event.
Personal Life Of Clint Eastwood: Affairs and Children
An acclaimed Hollywood actor, Clint, currently in his 90s, had a string of affairs, married twice, and had eight children. He met a secretary for auto-parts suppliers Industria Americana, Margaret Neville "Maggie" Johnson, in 1953, on a blind date and almost immediately began dating. They engaged in October and wedded in December of the same year. The pair together had two children, Kyle, in 1968, and Alison, in 1972. 
Later, when he was still with his first wife, he began a 14-year-long extramarital affair (started in 1959) with Rawhide dancer and stuntwoman Roxanne Tunis, with whom he had a secret daughter, Kimber, in 1964. Later, Clint filed for legal separation from Margaret in 1978, and their divorce was finalized by November 1984.
In 1975, Clint started dating actress and his co-star Sondra Locke. She had two abortions and tubal ligation throughout their relationship. Their relationship ended bitterly with a palimony suit in 1989. 
Clint had begun dating flight attendant Jacelyn Reeves in the mid-1980s while he was still with Sondra. With Jacelyn, he had two children, Scott, in 1986 and Kathryn, in 1988. Their relationship also ended in the 1990s. He later started dating actress Frances Fisher in the early 1990s, and with her, he had a daughter, Francesca Ruth, in 1993. They eventually parted away in 1995.
After ending his relationship with Frances, Clint married for the second time with a 35-year younger television news anchor Dina Ruiz in 1996. They first met in 1993 when she interviewed him. The pair welcomed their daughter, Morgan, in December 1996.
However, their marriage came to an end when Dina filed for divorce in October 2013, and they legally separated in late 2014. After a few months, Clint became romantically involved with his new girlfriend, restaurant hostess Christina Sandra, whom he met at the Mission Ranch Hotel.
Laurie Eastwood
Despite being the oldest child of Clint, Laurie Murray/Eastwood, born on 11 February 1954, was revealed to the public as his daughter (she discovered Clint as her father in her thirties) only in 2018. She was born out of Clint's affair with a woman in Seattle when Clint was already engaged to his first wife.
After her birth, she was secretly put up for adaptation by her mother. A couple in Seattle then adopted her. After many years, she hired someone to find out who her biological parents. She later finally found out the paperwork in which her birth mother had written Clint Eastwood's name.
Once she reunited with her father in her thirties, they developed a close relationship over the years, and they shared family vacations, weddings, and a passion for golf.
Kimber Lynn Eastwood
Clint's daughter with his ex-girlfriend Roxanne Tunis, Kimber Lynn Eastwood, turned out to be a production makeup artist, actress, and producer. She appeared in the full and short movies such as The Freeway Maniac (1989), Absolute Power (1997), Stuck (short movie, 2007), and The Vanishing Hitchhiker (short movie 2016). She has produced films such as Rapture (2014), Domination (2015).
Kimber has been married thrice. Her first marriage was with Anthony Gaddie, an ex-marine, on 7 November 1983. With him, she welcomed her only child, a son, Clinton Eastwood Gaddie, on 21 February 1984. The pair separated in 1990. Later that same year, she tied the knot with Douglas McCartney, but they also divorced in 2000. After 14 years, she married for the third time when he tied the knot with Shawn Midkiff on 18 October 2014.
Kyle Eastwood
Kyle was Clint's first child from his first wife, Margaret, but Clint already had at least two other children before Kyle from extramarital affairs. Kyle pursued his career as a musician. He has released several albums, including Paris Blue (2004), Now (2006), Songs from the Chateau (2011), The View from Here (2013), and Cinematic (2019). In addition, he has also composed music for several movies, documentaries such as Letters from Iwo Jima (2006), Gran Torino (2008), An Unlikely Weapon (2008), Invictus (2009), Homme Less (2014), and To the Moon and Back (2016).
Alison Eastwood
Clint and his first wife's second child, Alison, has earned credits as an actor, producer, director, model, and fashion designer. She has appeared in films such as Midnight in the Garden of Good and Evil (1997), Absolute Power (1997), and The Mule (2018).
Francesca Eastwood
Francesca, Clint's daughter with actress Frances Fisher after breaking up with Jacelyn, was born on 7 August 1993. Francesca eventually became a model and actress. She has appeared in films such as Final Girl (2015), The Vault (2017), M.F.A. (2017), and Awake (2019). She has also appeared in TV Series such as Oh, You Pretty Things! In 2014, Fargo in 2017, and Twin Peaks in 2017. She was awarded the 'Miss Golden Globe' in 2013.
She has been married twice. She was married to talent manager Jordan Feldstein (deceased, 2017) from 17 November 2013 to 25 November 2013, but their marriage was annulled. On 1 January 2017, she married actor Clifton Collins Jr. The pair welcomed daughter Alexander in September before separating in the same year.
Morgan Eastwood
Morgan Eastwood was born as the youngest daughter of Clint and his second wife, Dina Ruiz. Even though her father was Hollywood's one of the biggest stars, Morgan grew up relatively normal. She appeared in some of her father's films, such as Million Dollar Baby (2004) and Challenging (2008). Later, she starred in the short drama I See You in 2019. 
Jacelyn Mother's Alzheimer
Jacelyn had seven hard years of her life when her mother was diagnosed and battled with Alzheimer's disease. This irreversible, progressive brain disorder slowly destroys memory and thinking capacity, and eventually, the ability to carry out even the simplest tasks. The condition usually occurs in older adults.
 According to her son Scott, who grew up watching her mother's trauma while caring for her grandmother with Alzheimer's disease, his mother would return home heartbroken and exhausted every day after visiting to care for his grandmother since she wouldn't recognize her own daughter. 
In an interview with The People in September 2018, Scott revealed how his grandmother's Alzheimer's disease took a toll on his family, stating, "It takes a toll on the whole family." He continued, "I know how hard it was to see my mom in so much pain having her mother forget who she is. I can't even imagine having to go through that and having my mother and my father not remember who I am or not remember that I called the day before."
Her grandmother died when Scott was ten years old. Later, Scott teamed up with Allergan and LearnAboutAlz.com to raise awareness, provide resources to caregivers and remind them that they are never alone while celebrating World Alzheimer's Day on 21 September 2018.
"We just want people to know they're not alone," he said. "It's a day where people can remember their loved ones who passed away and give support to other caregivers."
He stated that young people should not neglect the disease as an older person's disease since everyone gets older. He added, "It's not at the front of young people's minds because they think, 'Oh, it's an old persons' disease'... Well, the reality is, it's an every person disease. We're all going to get older, and dementia is a real problem. I think the more we can be ahead of it and understand it, the better we will all be."
Did You Know?
Many smaller web sources have reported that Jacelyn Reeves started dating "Private Bell" after she and Clint separated. After dating for a few years, she reportedly wedded him privately in the absence of the cameras and the spotlight.
They were said to have settled happily in Hawaii after their marriage. However, after the rumors about their divorce, she was thought to have remained single. However, none of the reports on her relationship with the alleged husband have presented trustworthy evidence to base the facts. Jacelyn hasn't commented on the matter yet.