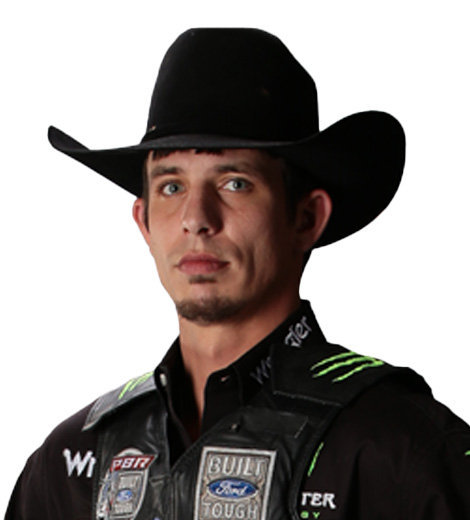 Quick Wiki
Full Name

James Burton Mauney

Occupation

Bull Rider

Nationality

America

Birthplace

North Carolina, USA

Birth Date

Jan 09, 1987

Age

36 Years, 10 Months

Zodiac Sign

Capricon

Wife

Samantha Lyne

Height

5feet 10inch

Net Worth

$5 million to $10 million

Ex-Spouse

Lexie Wiggly

Children

Bella Mauney (first wife), Jagger Briggs Mauney
Quotes
"Nothing's guaranteed in this sport. You don't have a contract that if you get injured you're still getting paid. If you don't ride, you don't get paid."
Famous Bull Rider
J. B. Mauney | Biography 2021
J.B. Mauney made a record by making the highest earnings of $7 million in PBR's history and cemented his name as the richest bull rider. He said, "It's a sport where you can make a good living in it, but you've got to be damn tough to do it."
---
J.B. Mauney is an American professional bull rider and a two-time World Champion (2013 and 2015). He is the Professional Bull Rider's (PBR) most popular cowboy.
Short Bio
J.B. Mauney, in full, James Burton Mauney (pronounced Mooh-nee), gave his first stint in rodeo at a very young age of three in sheep riding. He then began bull riding at the age of 13 with the mentorship of 1995 World Champion Bull Rider Jerome Davis.
At 18, he joined the sports organization PBR and became a professional bull rider. In the first year of professional competition, Mauney was named the 'Rookie of the Year' in 2006. He won the 'World Champion Bull Rider' title twice - in 2013 and 2015. Mauney also won the PBR World Finals twice, in 2009 and 2013. 
Besides several injuries while riding bulls, Mauney continued to pursue his professional bull riding career.
In November 2016, he cemented his name as the richest bull rider by making more than $7 million in his career.
How Old Is J.B. Mauney?
Mauney was born on 9 January 1987. He was born and raised in his hometown of Charlotte, North Carolina, United States. He is 35 years old as of 2022. 
He Began Riding At Three
Mauney began riding on animals at the tender age of three. He started in rodeo, riding sheep. Stating how he got into riding, he said, "They put me on a sheep when I was three."
Gradually, his interest turned to bull riding. After being mentored by the 1995 World Champion Bull Rider, Jerome Davis, J.B. Mauney rode his first bull at 13. Two years later, he purchased his first bucking bull. 
In 2005, when Mauney was 18, he broke his ribs on his right side and lacerated his liver. He was hospitalized for ten days and missed four months of competition that year. He was told he couldn't ride for eight months but waited only for four months before becoming a professional the same year.
Later in 2005, he joined the Professional Bull Riders (PBR) Velocity Tour and became a professional bull rider. He referred to the tour as the minor leagues. Mauney soon earned enough points in about a month to move up to the main televised tour Unleash the Beast. 
"It all just happened real fast," he said. "I never really thought of it as a job or that I could make a living doing it; I was just having a blast riding bulls," Mauney added.
He Is A Two-Time PBR World Champion
Mauney won several awards and recognition during his professional bull riding career. In the first year of his professional journey, he was named the PBR' Rookie of the Year' in 2006. He won the PBR World Finals in 2009 and 2013. He also won the World Championship twice in 2013 and 2015.
Mauney earned the world championship in 2013, riding on the superstar of bucking bulls, Bushwacker, with a 90-point ride. He became one of two bull riders to stay on the Built Ford Tough Series for the full eight seconds and one of three bull riders to stay on Bushwacker for the full eight seconds.
How Much Did J.B. Mauney Earn During His Career?
According to Forbes, Mauney made $66,616.50 with PBR and became the PBR' Rookie of the Year' in 2006. He then made in the six-figure range in each of the following six seasons between 2009 and 2011. During that period, his earnings reached the highest of $772,207.59 in 2009 and the lowest at $210,621.42 in 2011. 
Mauney secured a most successful stretch riding from 2013 to 2015 and bagged a massive earning worth of $1.385 million for winning the 2013 PBR World Finals. He also won the World Championship and earned a career-high $1.8 million that year. In 2014, Mauney finished with a runner-up performance at the World Finals and earned $497,597.98. He returned the next year to win another World Championship, which again earned him $1.542 million.
On November 5, 2016, Mauney made PBR history by being the first bull rider to earn $7 million in a bull riding career.
Marking a record of earning more than $7 million in a bull riding career, Mauney reached even more heights when he accumulated $3,177.54 after winning the first round of the elite PBR Unleash The Beast's Lucas Oil Invitational in Des Moines, Iowa.
In his 14 years as a professional on tour, he won more than $7.3 million, becoming PBR's all-time money earner.
His Earning Shrinked After Suffering From Injury
After the record year, Mauney suffered a significant injury to his right arm consisting of ligament tears, torn rotator cuff, bicep tendon tears, and bone fragments In 2017 in the Calgary Stampede. The injury required surgery to install a screw and 13 anchors. He earned $146,477.49 that year. 
Subsequently, Mauney returned to riding but broke his T1 and T2 vertebrae in his upper back in 2018 in Sioux Falls, South Dakota. That year, he only made $71,420.69, his lowest earnings since his debut season.
Stating about the risks and gains in sports, he said, "It's a sport where you can make a good living in it, but you've got to be damn tough to do it," and continued, "Nothing's guaranteed in this sport. You don't have a contract that if you get injured you're still getting paid. If you don't ride, you don't get paid."
Did J.B. Mauney Retire?
Even though Mauney suffered a slew of career-threatening injuries in 2017 and 2018, he did not give up on his professional bull riding career. He continued to pursue his career after his career-threatening right shoulder injury, which he suffered on 14 July 2017. He again suffered a serious back injury on 8 April 2018, but he returned to his game after recovery. 
According to Mauney, he rode bulls regardless of his health and injuries. "For some reason I've always fought through it; I'm hard-headed I guess," he told Forbes in January 2019. "A lot of times I shouldn't have rode, but I still did. I'll pay for it later on in life, but you only live once."
He later told Monster Energy in March 2019 that getting injured is a part of being a cowboy. "It's part of being a cowboy. When you crawl into a chute, nothing else matters. You tie your hand and you don't give up until you hit the dirt," he said. 
While he was still writhing in pain in the PBR Sports Medicine room in April 2018, he took to Instagram to share that he was not retiring. He even announced that he would not be wearing a helmet. "To get a few things straight! No I'm not hanging it up I will be back and no I'm not wearing a helmet! Thanks for all the wonderful opinions!" he wrote on an Instagram post on 11 April 2018.
In a subsequent interview with PBR.com, he shared that he wanted his fans to know about his state of mind after a wreck that caused him to break his back. 
He recalled one of the comments on social media that said, "Wicked bull. I think it is time you hang it up J.B," and claimed that he rides bulls for a living and not for fun. 
"People that never have ridden bulls for a living trying to tell you when to hang it up is what gets me. People that don't have a clue and don't understand. They say, 'You are hurt and beat up,' and they want to bring my daughter into it. People don't realize this is how I make my living. It is not like I am out there just doing this shit for fun and getting hurt and being out of a job. This isn't just for fun," he explained.
Mauney went on to say that he would decide when he would be done with his career. He, at the time, said that he still felt like in his head that he could ride them. "As long as I think that, I will still show up," he claimed.
He further said that he was not bedridden or house ridden. He said he would let the injuries heal naturally and step back in the arena in the second half of the year. He also attended physical therapy to get treatment for the muscles near his broken bones.
Mauney returned to ride bulls in January 2019 but again broke his left leg and tore his knee during a game in Sacramento, California. 
Despite the constant commitment to pursuing his work, he admitted in a March 2019 interview that there were times during the previous two years when he thought he might not win again on the premier series. He said that that time had been the hardest part of his career, physically and mentally.
However, Mauney tied fellow two-time World Champion Justin McBride and won the Bad Boy Mowdown in Little Rock in March 2019 regardless of his broken left leg and torn ligaments in his left knee. 
He went on to prove himself during his ride on Stone Cold Crazy. He rode Stone Cold Crazy for 84.25 points in Round 2 during the event at the BOK Center in Tulsa. He was first slammed to the ground following his ride in Round 2 to take over the event lead. He had to crawl to the back of the bucking chutes before being helped off the dirt by the PBR sports medicine team. He then recorded the 72nd 90-point ride of his career in the championship round. He covered Big Black for 90.75 points before being flung off onto his feet at eight seconds. He could not even stand up following his winning ride and had to ask for assistance.
Further speaking about the bull riding profession, he said, "This sport is all about pride. If you don't take pride in riding bulls and you are not here to be the baddest son of a bitch going, then there is no point in getting on."
He Abandoned PBR To Pursue A Career In NFR
After focusing on his career in the PBR since he turned pro in 2006, Mauney announced in July 2021 that he would be making a run at the Wrangler National Finals Rodeo, the premier rodeo competition by the Professional Rodeo Cowboys Association (PRCA). 
He told PBR.com that he originally planned to return to PBR competition in the 2021 PBR season, but he preferred to rest his body for the NFR. "The easiest way to put it is you do something almost every weekend of your life for 15 years and change ain't so bad every once in a while," Mauney said.
He started PRCA ProRodeos in June 2021 and quickly got a major boost in the standings after winning the standings at the Reno Rodeo. He rose to the fifth position in the PRCA bull riding standings following an impressive summer run, pointing to him qualifying for the NFR for the first time. 
However, he suffered a lacerated kidney on 9 September 2021, after a 90-point ride at the Tri-State Rodeo in Fort Madison, Iowa. As per ProRodeo.com, he was seventh in the world standings in September 2021.
In December 2021, Mauney sustained multiple facial lacerations during the competition before being qualified for his first Wrangler NFR in Las Vegas.
What Is J.B. Mauney's Net Worth In 2022?
The exact net worth of Mauney remains undisclosed. However, some online sources have speculated Mauney's net worth to be between $5 million and $10 million.
Though his exact net worth is unknown, he still ranks as PBR's all-time money earner. According to PBR.com, he has earned $7,419,474.90 during his PBR career. Additionally, his career earnings as a pro rodeo are $185,709, as per ProRodeo.com.
He Has Been Married Twice
In 2012, Mauney married Lexie Wiggly, with whom he had a daughter named Bella. But they eventually broke up in 2015. He then tied a knot with Samantha Lyne, a champion barrel racer, on 3 January 2017. 
His Current Wife Is A Professional Barrel Racer
Mauney's wife, Samantha Lyne Mauney, is the daughter of five-time Professional Rodeo Cowboys Association (PRCA) World Champion Phil Lyne. She grew up riding horses, and she began a barrel racing career on one of her father's steer roping horses named Tom. 
According to Wrangler Network, Samantha graduated with a degree in interior design from Texas Christian University, but she put her career in interior design on hold and became a professional barrel racer in 2013. She has ridden many horses to her first Wrangler National Finals Rodeo (NFR) than most cowgirls, starting on a horse named Seven that she purchased in 2013 from Sabra O'Quinn. In 2014, she became an NFR Qualifier.
He Has A Son With His Wife
Mauney and his wife Samantha welcomed their son Jagger Briggs on 23 January 2019. "Little Jagger Briggs came out of the womb looking for 90 points as he was holding his umbilical cord as if it was a bull rope," Mauney told PBR.com a couple of days after the birth of his son. 
However, he also admitted that he was at first a little worried about his son when doctors informed him and his wife that their son's heart rate was dropping when his wife was in labor. He said his son's heart rate dropped every time his wife was having contractions. Doctors predicted that the cord had wrapped around his son somewhere, but luckily they gave Samantha an epidural. Jagger was born a couple of hours later.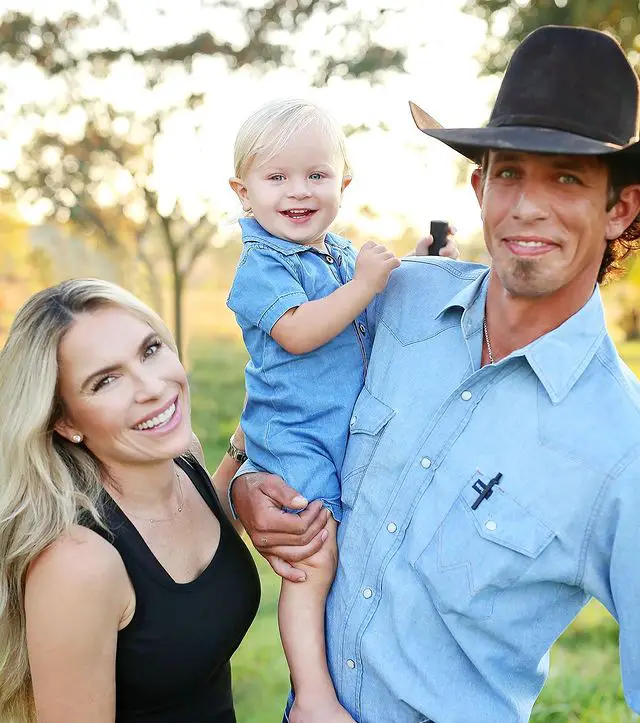 Mauney, who began riding at the tender age of three, started training his son into it at an even earlier age. On 2 September 2021, a clip of Jagger practicing his rodeo skill on a toy horse and playing with sheep was posted on his own Instagram account, created by his parents. The caption reads, "It ain't easy be being 2ï¸Â⃣. If ya didn't believe me, here's a glimpse of my day. Mom says she's too old to be running a marathon, but keeping up with me is basically the same. ðŸÂƒðŸÂ¼‍♀ï¸Â She's lucky I don't charge her for this kinda training, I hear those runners pay big bucks for training like this."
Mauney's son is also seen wearing cowboy hats and riding bulls, horses, and sheep on his Instagram account.
He Happily Lives With His Family In North Carolina
Mauney is currently residing in Statesville, North Carolina, with his wife Samantha, their son Jagger, and Bella, Mauney's daughter from his previous relationship. 
He celebrated his third anniversary on 3 January 2020 as he posted a picture of his wife and son on Instagram, captioning, "3 years ago today we said I do! Best decision I've ever had! Happy anniversary to the best mother and wife I love you." 
Mauney wishes his wife on her birthday, Valentine's Day, and 'Mother's Day' on Instagram and admires her for being a good mother and wife. He also called his wife "smoke show wife" on her birthday on 21 March 2021 on Instagram.
He frequently posts pictures with his son and daughter on Instagram, depicting his quality time with them.
He Is Popular For His Cowboy Hat
Mauney typically wears a black cowboy hat. He used to wear a helmet while riding bulls but eventually decided to wear just a cowboy hat. In an interview with 247Sports.com,Mauney said that his parents made him wear a helmet when he was younger, but he never liked wearing it. Eventually, he decided to stop wearing it and started wearing a cowboy hat instead. 
He was known for wearing a hat with a turkey feather during his early career. In February 2009, when ESPN's Melanie Jarrett asked him the story behind his signature black cowboy hat with a turkey feather, Mauney said that he had always worn a feather in his hat. He said many people usually wear such hats, and they stopped wearing them, but he never stopped wearing a feather in his hat. He further informed that he wore a turkey feather because they were not allowed to wear a migratory bird feather.