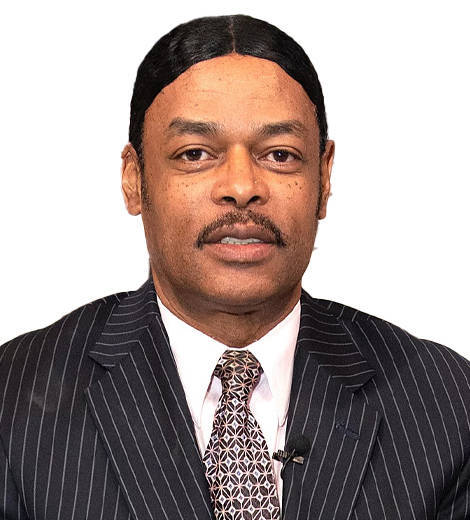 Quick Wiki
Full Name

Issac Wright Jr.

Occupation

Lawyer, Politician, Former Music Producer

Nationality

American

Birth Date

Jan 23, 1962

Age

61 Years, 8 Months

Birth Date

Moncks Corner, South Carolina, U.S.
Democratic Candidate, 2021 New York Mayoral Election
Isaac Wright Jr. | Biography 2021
His Life Story was Loosely Based on Television Series 'For Life'
In late 2020, Issac Wright Jr. announced that he was running for the mayor of New York City under the democratic party's candidacy in 2021. He also addressed about his competency as a candidate in his interview with the New York Amsterdam News in February 2021. Eventually, Issac got 0.2 percent of the first-choice votes in the 2021 New York City primary results.
---
Issac Wright Jr. is an American lawyer who ran for mayor in the 2021 New York City Mayoral election. 
Who is Issac Wright Jr.?
Issac Wright Jr. is prominently known as the inspiration behind the ABC-produced series, For Life (2020). 
Wright was initially an entrepreneur in New York and managed a girl group band called Cover Girls in the 80s. But in 1991, he was wrongfully arrested and convicted on a drug charge. The prosecutors accused him of being a drug kingpin and corrupt. He was imprisoned for life by the Somerset County Court. He then spent seven years in prison studying law, helping other inmates prove their innocence or lower their sentencing, and overlooking his case's appeals.
In 1996, he successfully could illustrate that in 1991 he was framed by the head prosecutor, presiding judge, and the investigating authority of his case in the evidentiary hearing of his case. His case was schemed by the officials by creating false reports and planting shreds of wrongful evidence.
He went on to prove his innocence and get a law degree in 2007. He received his attorney license in 2017, after which he met the infamous star 50 cents. He told his story to 50 cents, who helped pitch the story for a possible plot for tv-series.
ABC picked the pitch and created the tv show For Life, which released its first season in 2020 and second season in 2021. In the year 2020, Wright also announced that he was running for Mayor election as a democratic candidate for the state of New York.
Early Life
Wright was born on 23 January 1962 in Moncks Corner, South Carolina, to mother Sandra B. Wright and military father Issac Sr. He grew up with five siblings in Moncks Corner. He attended Berkeley High School, where he was on the track team. After that, he completed one semester at Trident Tech.
During his high school years, he used to DJ at a roller skating rink of Hot-Wheels in Summerville. He also used to work at Sears in Northwoods Mall. While working at Sears, he was wrongfully fired just because he made a phone call asking his brother to pick him up during a thunderstorm. Later, Wright discovered that he was fired because the boss wanted to hire his nephew instead.
The injustice left a deep impression on Wright, after which he dropped out of school and moved to New York.
As Music Producer
After moving to New York, he started working in the entertainment industry. He was involved as a music producer of the pop-urban musical girl group, Cover Girls, in which one of the members was his vocalist wife Sunshine. The band was making dance-pop hits in the 80s, and Wright was financially doing well. 
Wright and his wife eventually decided to move to New Jersey and settle down.
Conviction
But in 1991, when Wright was 29 years old, he was arrested under the allegations of being a drug kingpin and for corruption.
Reminiscing his day of arrest, Wright narrated, "The day I was arrested, the police brought this guy to see me. He was in a suit, I thought he was my attorney. But he said, 'I just wanted to come here to introduce myself. I am Nicholas Bissell, the chief prosecutor, and I am trying your case personally.' That was major. A head prosecutor got out of his bed in the middle of the night to come to tell me that he was going to be trying my case personally. I knew at that point that I was in a lot of trouble. Later, after seeing the corruption, the lies, the false police reports … there was no doubt in my mind that I was going to prison for something I didn't do, and no one was going to be able to prevent it."
As the case proceeded, Wright observed series of planted evidence, false police report, and lying witnesses on the stand. The attorneys he had interviewed suggested he plead guilty and spend 15 to 20 years in prison. He eventually made peace because he thought he would not win this on his terms and did not get an expensive lawyer.
Therefore, Wright represented himself in his trial at the Somerset County Courtroom. He lost his case and received a life sentence in prison. He was convicted under the New Jersey Drug Kingpin Law.
While his stay in prison, he continued studying law and in-process provided legal aid in over 20 cases of the inmates. He alongside saw the appeals of his own case, and in a 1996 evidentiary hearing, he cross-examined veteran police, James Dugan. Dugan was presented as one of the leading officers in Wright's 1991 arrest. Wright, while cross-examining, broke Duncan's chain of answers and made him confess the police misconduct on Wright's case. That confession uncovered the false convictions and systematic misconduct by the head prosecutor during Wright's trial.
It was revealed that Duncan, head prosecutor and the presiding judge of Wright's case, framed Wright by fabricating evidence and compelling the witnesses to lie on the stand, eventually establishing that Wright was a drug kingpin.
The Turnaround
During the hearing, Mr. Wright and his lawyer Francis Hartman were able to justify that Bissel initiated an illegal seizure of cocaine through his detective squad. The strong part of their case was that the two could justify that then Somerset County prosecutor Bissel awarded leniency to three co-defendants and used pre-juried testimonies by them to frame Wright. 
After that confession, a criminal investigation was launched against the head prosecutor Nicholas Bissell and all his cases from 1982 were reviewed. During the investigation, it was discovered that 14 complaints were already lodged against Bissell, which were not taken into action. The presiding judge of Wright's case was discarded from the bench and disbarred. Later, Bissell committed suicide in response to the possible criminal charges against him.
The hearing ended with the judge ordering a new trial at a future date after Bissell's successor as Somerset Prosecutor, Melaine B. Campbell, argued that the prosecution still had enough evidence to retry Wright. But Campbell's team sent a letter to the judge later which said that the second trial would be adjourned until the Attorney General's office completed its inquiry.             
In the end, Wright's bail was set out to 250,000 dollars from 500,000 dollars. His friends and relatives bailed him in December of 1996 after he stayed in prison for seven years
"Once I made the decision to represent myself, I knew that I was very, very far behind in learning, understanding, and in skills. I just went on a quest and spent 16 to 18 hours every day teaching myself the law. It was a very onerous undertaking. But one of the things I realized early on is that the holdings of the courts are separated by key numbers. I went through the entire library in seven years, just reading key numbers," Wright said how he handled the case.   
Release
After his release, he spent another seven years studying law and graduated from Saint Thomas University School of Law in 2007. He passed the New Jersey Bar in 2008. Due to his criminal records, he was sworn for the license of attorney only in 2017.
Then he started working as a general practitioner specializing in criminal law in New Jersey law firm Hunt, Hamlin, and Ridley. Wright states that his criminal justice practice in Jersey was a way of utilizing his skills in helping other people who have become a victim of the broken system. "At this point, I think the journey, what I have gone through, the way I have been delivered, and my trials and my tribulations were for a purpose—for me to go back and deliver those who could not deliver themselves. I am going to live and die in the trenches."
Later Wright also founded the Issac Wright Jr. Network for Justice, a  non-profit national online database service for legal and social justice. Wright, through the foundation, has worked in international justice projects, including Spain, Nigeria, Thailand, and Mexico.
Is there a Movie about Isaac Wright Jr?
Issac's life story has been loosely filmed for one on-screen credit, but it was a television series 'For Life,' rather than a movie.
Origin of 'For Life'
While working as an attorney, Wright came across the famous rapper/singer Curtis James Jackson III (50 Cent) in an illegal fight club. There, Wright shared his journey to becoming a lawyer with Jackson, to which Jackson responded that Wright's story would fit in a movie. This conversation between the two would eventually be the prime step in making the show For Life (2020).
In the American legal drama television series, Wright was actively involved in the show's writing; he read through every script and was also present during the filming of the show. 
On the other hand, Jackson was one of the executive producers of the show that premiered under ABC tonight. He previously thought of making it a movie but then became sure that two hours would not do justice to the story and proceeded to make it a tv series. "Most important parts of this story will be told. This is something that people are going to want to hear and see every week," Jackson remarked about the production in an interview.
The characters of the story were portrayed by Nicholas Pinnock, Indira Varma, Joy Bryant, Dorian Missick, and Tyla Harris.
The first season was released in 2020, followed by the second season in 2021. ABC also produced behind the scenes, capturing the Wright family's experience with the broken justice system. Eventually, ABC canceled the show after two seasons in May of 2021, but co-producer Sony Picture was expected to shop the show to other networks. 
Was 'For Life' Renewedvfor Third Season? 
In 2021, Amazon's free streaming service IMDB TV agreed with Sony to show stream the previous seasons on its platform. According to Deadline, the two networks would evaluate the show's performance and decide whether to extend it for season 3. 
Mayor Election
In late 2020, Wright announced that he was running for the mayor of New York City under the democratic party's candidacy in 2021. He also addressed about his competency as a candidate in his interview with the New York Amsterdam News in February 2021.
Connoted, "Running for mayor is a part of me finding and identifying that person who calls himself Issac Wright Jr. None [of the other candidates] have the kind of experiences moving through the kinds of challenges that I endured. My experience has prepared me for this moment in time. No candidate has the background I have with criminal justice. I understand that there's someone who worked in law enforcement running for mayor, but he didn't change the lives of Black and Brown people and the militarization of the police. The reason they don't have the answers is because they haven't been on the other side."
Wright further added that he was not planning to run for the candidacy until recently when he found the right purpose. With that, he also said that he didn't count himself as an activist, but a fighter who had different aspects than other candidates in tackling the problem. "I don't consider myself a true activist, in the sense that I don't like to do a lot of talking. I'll ask once or twice, and then it's time to fight. That's the core of my makeup: to fight for what's right."
Wright also received consistent support from his admirers and friends. The famous rapper 50 cents promoted Wright's mayor agenda through his Instagram handle with the caption, 'This is our guy, soon to be mayor of New York City Isaac Wright Jr., He is the real deal. We need people like him."
Result
American politician Eric Adams finally won the democratic primary. Issac got 0.2 percent of the first-choice votes in the 2021 New York City primary results.
Did Isaac Wright Jr. And His Wife Get Divorced?
Wright was married to Adriel McNair Wright, also known as Sunshine from the infamous girl group Cover Girls. During his time in prison, they got a divorce. They had one daughter, Tikealla.
In an interview, Wright told that his family was one of the pillars that made him strong enough to fight for more than seven years, and on the day of the trial when he was overturning his convictions, he called his family to watch. Then at the time of clarity during the trial, when the police officer broke down and admitted that Wright was framed, the only sound he could hear was his mother sobbing in the background.