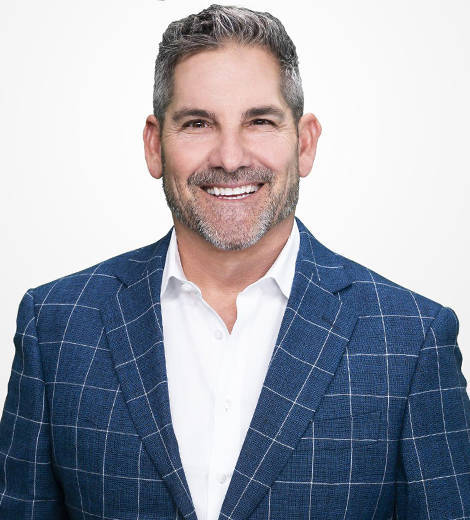 Quick Wiki
Full Name

Grant Cardone

Occupation

Motivational Speaker, Entrepreneur, Author

Nationality

America

Birthplace

Louisiana, USA

Birth Date

March 21, 1958
Grant Cardone | Biography 2021
Grant Cardone is an American motivational speaker, author, entrepreneur, real estate investor, CEO of CardoneCapital, and the founder of the 10X movement.
---
Grant Cardone is an American motivational speaker, author, entrepreneur, real estate investor, CEO of CardoneCapital, and the founder of the 10X movement.
Who is Grant Cardone?
As an author of numerous motivational books, Grant Cardone is renowned for his motivational speaking sessions on real-estate investing, leadership, entrepreneurship, social media, and finance. He is also the mastermind of the Grant Cardone Sales Training University, an online business training platform. 
He owns and operates seven multi-million dollar companies and a 1.4B dollars portfolio of multifamily properties. His companies generate more than 100 million dollars annually. Titled as the no. 1 marketer to watch by Forbes in 2017, Grant has been chosen as one among the Forbes 25 Marketing Influencers of 2017.
Early Life
Grant Cardone was born on March 21, 1958, in Louisiana, USA, to father Cutis Louis Cardone and Concetta Neil Cardone. His parents were children of Italian Immigrants to America in the early 1900s. He had four siblings, including his twin brother Gary. His oldest brother died when he was 20.
His father, a licensed stockbroker, was making significant money until he died at 42 when Grant was just 10-years-old. As he was the breadwinner of the family his mother had to sell their lakefront house and moved to the city for their future with the money she had. The sudden slide of the family's economy broke Grant. While facing the money issue, Grant once said to his mother that he would become rich, 'grow out of the middle-class segregation', which his mother used to label their lifestyle.
 "My mother had that look on her face that every parent gets when a kid crosses the line. She was furious, disappointed, and frustrated. Still, I felt an overwhelming sense of powerlessness, knowing I couldn't do anything about anything at the time," he recalls the incident,
As a high school student, Grant has always been a troublesome and opinionated boy, and so he used to be kicked out of school. Just because his mother had promised his father to send all their children to college, Grant went to college. He eventually went into the wrong hands, drinking and using drugs yet maintaining grades to stay in the college. He also graduated as an accounting major from McNeese State University alongside becoming a debtor of 40,000 dollars that he got as a student loan.
Grant got a job as a car salesman. He was displeased with the work and was not good at it. He continued doing drugs and lived in a small apartment in Lake Charles Louisiana, with his dog Capo. When he was 23 years old, one of his friends got him robbed. He was beaten black and blue and was left to die at the front door. His then-girlfriend admitted him to the hospital for three days, and he got 70 stitches on his head. His mother couldn't even recognize him when he went to meet his mother after the incident.
Grant had tried several times to quit drugs before and after the incident but could not help himself. At the age of 25, his mother gave him an ultimatum to stop visiting her and avoided him to her business unless he quits. Right after that, Grant joined a treatment center. He stayed in the center for 29 days, where he was sober during the entire stay but had to leave after 29 days as his insurance money ran out. 
When he was about to return to his previous life, his counselor suggested that he give up his dreams of success, money, and only focus on 'not using drugs', otherwise he would come back to the treatment center. It tested his self-esteem.
After moving back, he committed to be good at sales. He started reading, watching sales training videos, and concentrated on self-growth. He even borrowed 3000 dollars from his mother to enter into sales training. Gradually, he started getting a 3000-4000 dollars commission on his sales job, which kept him motivated to do better. By the age of 30, he had already become a millionaire.
Business
After his subsequent financial growth from sales, he opened a consulting company relating to the automobile industry, the Grant Cardone Enterprises, in 1989. Through this company, he began consulting manufacturers and car dealers in America and Canada, giving them ideas on attracting customers by adopting consumer-friendly sale tricks. 
Eventually, he started giving a 30-min free session trailer for his two-day consulting session. He later founded his sales training company, Grant Cardone Sales Training, in 1992. The number of viewers watching his trailers and coming to his consulting session increased and people even traveled across the country to listen to him. Later, he started giving 250 sessions a year.
With the extra income, he expanded his investments into company and network marketing. Further, he extended his reach to real-estate and established the Cardone Capital in 1996. It was his umbrella company that generated nearly 800 million dollars annually.
Then he started writing books and creating programs. He has written seven books in total and has composed 21 online business programs. His books have earned the reputation of New York Times bestseller. His first book, Sell to Survive was published in 2008, and subsequently released, If you're not first, you're last, Sell or be sold, The 10X Rule, Be obsessed or be average, etc.
Tasting success in online business programs, he opened an online learning platform, Cardone University, and Cardone On-Demand. He focused on education for sales organizations and entrepreneurship. 
He established the Cardone Technologies Incorporation in 2001 to develop visual and audio products to enhance individual and production through sales. Then he opened a studio business called 10X media production following the success of his book The 10X Rule (2011). The book created momentum, which consisted of a rule; figuring out your goal or aim and multiplying the expected time and effort needed to reach the goal by 10. 
To accommodate the success of the book, Grant organized the 10X Grown Conference in Las Vegas in March 2021. The participants learned the strategies from the most influential entrepreneurs in the world. Through this conference, he taught people to focus on goals rather than being driven by the passion of the work or what they love to do. His grand vision for the momentum was: "Why make only 1 million dollars within 90 days when you can make 10 million of it?"
He has taken inspiration from the world leaders known to be ambitious, such as Alexander the Great and Genghis Khan, and wealthy magnates like John D. Rockefeller. He prefers to learn their strategies on managing the golden empires and create a branded legacy.  
On March 2, 2021, on the last day of Black History month, he used the Clubhouse App to raise money and launch a book authored by Tim Storey. Tim started his career as an entrepreneur, business coach, and author. Some of his books are It's time for your comeback, Utmost Living, and Staying steady in unsteady. Grant created a chatroom for Tim and two-thousand audiences to exchange questions and answers related to Tim Storey's new book, The miracle mentality. Grant supported Black History Month and brought attention to the marginalized communities and societies while supporting the black and brown leaders.
Personal Life
Grant's first marriage took place when he was 35 years old, and it lasted only for a year. He settled the divorce with 1 million dollars. He later got married to Elena Lyons in 2004. Elena began her career in Hollywood as an actress and model in TV and films. She then proceeded to business. Elena is a published author of the book Build an Empire: How to have it all. She has produced events such as Build an Empire and is appointed as the executive producer of the annual 10X Ladies Event. Grant dedicated his latest book Be Obsessed or Be Average, to his wife. The couple welcomed their first daughter Sabrina Cardone in 2009 and second daughter Scarlett Cardone in 2011.
Fact-checking and Ethical Concerns
We assure our audience that we will remove any contents that are not accurate or according to formal reports and queries if they are justified. We commit to cover sensible issues responsibly through the principles of neutrality.
To report about any issues in our articles, please feel free to Contact Us. Our dedicated Editorial team verifies each of the articles published on the Biographyhost.