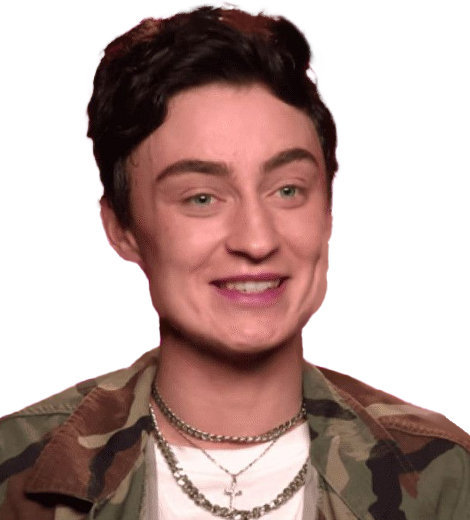 Quick Wiki
Full Name

Kade Gottlieb

Nickname

Gottmik

Occupation

Drag Queen, Reality Star, Internet Personality, Makeup Artist

Nationality

American

Birthplace

Scottsdale, Arizona, U.S.

Birth Date

Aug 19, 1996

Age

27 Years, 1 Months

Sexual Orientation

He identifies as pansexual. He is a transgender man who prefers he/him out of drag and she/her in drag.
Former Cast of 'RuPaul's Drag Race'  
Gottmik | Biograpghy 2021
First Trans Man to Appear On 'RuPaul's Drag Race'  
Gottmik highlights his gender identity as pansexuality. "I do identify as pansexual; to me it just means that I do not care about gender at all. All I really care about is a really gorg personality," he said. He is the first transgender man to appear in RuPaul's Drag Race. He joined the show in 2020 and reached the final in 2021. He later shared with Nylon in 2021 what it would have meant to him if he had won. "Oh my gosh. It would mean the world to me for so many reasons. One, because I've grown so much and worked my ass off to get here. But also, I was on the show representing that drag is an art and not an identity."
---
Best recognized by her drag name Gottmik, American drag performer and makeup artist Kade Gottlieb the first transgender man to appear on RuPaul's Drag Race from 2020 to 2021.
Who is Gottmik?
Gottmik identifies as a femme transman and is known for being the first trans man to participate on RuPaul's Drag Race, season 13 (2020-2021). This credit was not, however, his first appearance on reality television. He had previously worked as a makeup artist on Germany's Next Top Model in 2020 and Queen of Drags. 
He also appeared on the TV series Build and Whatcha Packin' in 2021. In the same year, he was a presenter at the TV special, 2021 MTV Movie & TV Awards: Unscripted, and appeared in a short video, Gottmik: Where Does the DJ Go. In addition, he contributed as a stylist in Dido's Lament in 2018. She also shared the cover of Out Magazine with a Canadian YouTuber and beauty influencer, Gigi Gorgeous, her close friend, in 2020.
He prefers he/him pronouns when he's not in drag and she/her while she's in drag. In addition, Gottmik is also recognized for his work as a hair and makeup artist on The Vivienne Takes on Hollywood (2020), Dido's Lament (2018), and Sharon Needles: Monster Mash (2019), among other projects.
Kade Gottlieb is his real name, and he goes by the drag name Gottmik, taken from the famous phrase "Got Milk?" The phrase was used in an American advertising campaign to stimulate milk consumption. His drag name also relates to his last name Gottlieb.
Pride Month 2021 

"Pride is the most important thing in the world to me," Gottmik told Glamour Magazine in 2021. He further expressed his thought on how the queer community loves Pride, "We may have had to hide that as kids or young adults. And then when you're an adult, you get to go to Pride and celebrate and be the person you've always wanted to scream for the rooftops that you are."

Similarly, he conveyed that Pride was a celebration of all the pain and effort the LGBTQ+ people have accumulated throughout their acceptance journey. According to him, it was the representation of the voices for identity.

Pansexuality

In a 2021 interview with Them, Gottmik highlighted his gender identity: pansexuality. "I do identify as pansexual; to me it just means that I do not care about gender at all. All I really care about is a really gorg personality," he said. "Love is love, period," Gottmik further added.

In 2019, Gottmik had revealed that he was a trans male drag queen. In the interview, he had also disclosed his different experiences as a child. She shared that the experiences and the right support from friends helped him to realize that he was a transgender person as a teenager.

"I've known my whole life that something felt different. When I was a child, I only wanted the Happy Meal with the boy toy, and I only wanted to wear the boy uniform to school. Society told me I was just a tom-boy, but it wasn't until I was 18 when I finally got the right group of friends around me that allowed me to be myself and come to terms with the fact that I was transgender."
Early life and Education
Born on 19 August 1996, Gottmik was raised by a conservative family in Scottsdale, Arizona. He attended Catholic school while in Arizona and relocated to Los Angeles at the age of 18 to pursue a career in fashion design. He attended the Fashion Institute of Design and Merchandising (FIDM) at LA. In addition to his studies, he participated in the makeup industry and eventually made a career there.
Career
Gottmik began experimenting with makeup and drag while still at high school. "The first time I ever performed was in a bar in Tucson, Arizona [when I was 18]," Gottmik told Vogue in 2021. "I looked so crazy. I had a flat, shake-and-go wig, and I did a duet with one of my friends to some crazy punk song. We were just dumping beer on each other and being crazy. It was so fun and messy."  
He later relocated to Los Angeles to pursue a degree at FIDM and also worked as a makeup artist for celebrities such as Kaia Gerber, Paris Hilton, and Lil Nas X. After his move to the city, his passion for makeup fostered his love for drag even more. "The only type of makeup that excited me was crazy, over-the-top drag makeup," he shared with Vogue (2021). 
Gottmik was signed to a cosmetics agency at the age of just 21 and showcased an aptitude in fierce avant-garde and retro circus-glamour-inspired makeup.
In the 13th season of RuPaul's Drag Race from 2020-2021, Gottmik became a finalist but unfortunately did not win. he shared with Nylon in 2021 what it would have meant to him if he had won. "Oh my gosh. It would mean the world to me for so many reasons. One, because I've grown so much and worked my ass off to get here. But also, I was on the show representing that drag is an art and not an identity," he said.
He further added, "I think I've done a really good job at hammering that into people's heads and crashing the cis-stem and getting everyone to think outside of this societal patriarchy box that everyone's trying to put us in."
'RuPaul's Drag Race'
RuPaul's Drag Race is an Emmy Award-winning television series hosted by RuPaul. It aired from 2009 to 2021 and has broadcasted up to season 13. The show pits America's drag queens against one another in fashion and performance challenges in its search for the next drag superstar. 
The show's season 13 had four finalists: Gottmik, Symone, Kandy Muse, and Rose. Symone won the title of 'America's Next Drag Superstar' and a $100,000 cash prize.
Gottmik is the first transgender man to appear on the show and also one of just a few overtly trans competitors. The show had been condemned in the past for its gap in transgender representation; thus, Gottmik's participation was particularly significant.
In 2021, he admitted to NBC News that being "a first" terrified her and that he had to conquer his fears of not being flawless. "I walked in there overthinking everything. I wanted to be the perfect trans role model and wanted to do the exact right thing and say the right things for everyone, and then the second I just let go and have fun and was open to learning the most amount of stuff possible, it ended up working," he shared.
Gottmik's Popularity on the Show
Gottmik was a highlight in the show as a result of her pace-setting campy style, inspired by high-end fashion designers such as Jon Gallaino, Vivienne Westwood, and Alexander McQueen. "I love any designer that has a grunge feel but makes it just so polished; I feel like that's reflective of my drag style," he said. She proved to be a holistic talent on the show through segments corresponding to fashion, makeup, storytelling, comedy, and a few drag performances. She had won two maxi challenges in the show, the Ball challenge, and Snatch Game. 
In one episode of season 13, Gottmik donned two breast pasties and a tiny LBD covering her private and rear regions. She stated that the move was her attempt to broaden the cis men focused definition of drag from the LBD moment.
Cover Photo for Attitude
Gottmik was featured on a cover story for Attitude, the April edition (2021). For the occasion, he discussed the acceptance of her identity as a femme trans man, his path as a drag performer, and a few pieces of advice for potential trans allies on the magazine.
"I've learned so much about the power of embracing your identity," Gottmik told Attitude. "Even before I transitioned medically, I was [debating], am I trans? I would look at all the trans guys in the media and be like, 'That is just not me. That is not who I am. I'm way more feminine.'"
She further added on her realization on her identity and stated, "I love drag, and just looking at these really trans masculine men, I was like, how could that possibly be who I am? She thought, 'Girl, if cisgender men can be feminine, a trans guy can be feminine. Just because it's beyond you, doesn't mean it's not there.'"
To Attitude, Gottmik also suggested that potential trans allies should listen to trans people and their story of transition.