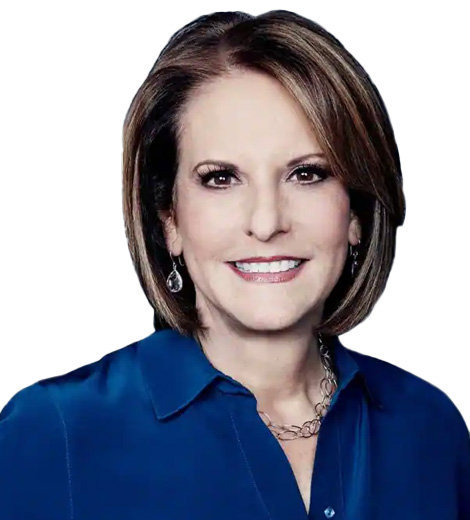 Quick Wiki
Full Name

Gloria Borger

Occupation

Media Correspondent, Journalist, Political Pundit

Nationality

American

Birthplace

New Rochelle, New York

Birth Date

Sep 22, 1952

Age

71 Years, 2 Months
CNN's Chief Political Analyst
Gloria Borger | Biography 2021
Regularly Appears on CNN Shows such as 'The Situation Room with Wolf Blitzer,' 'The Lead with Jake Tapper'
In 2007, she joined CNN as a senior political analyst. Her recruitment was targeted to get viewership to the upcoming 2008 election cycle coverage, Campbell Brown's new prime-time show, and other CNN programs. 
---
Gloria Borger is currently serving as CNN's chief political analyst. She contributes to CNN's daily coverage by reporting critical political headlines, issues, and news bulletins such as midterm and presidential elections, major Supreme Court rulings, and Congressional investigations.
She also lends her hand to CNN.com as a column writer and regularly appears on CNN shows such as The Situation Room with Wolf Blitzer, and The Lead with Jake Tapper. She also contributes as a contributor to her in-depth specials series, Gloria Borger Reports.
Who is Gloria Borger?
Gloria Borger is an American journalist, political pundit, and columnist. She was born on 22 September 1952 to a Jewish family in New York. She is a well-known political journalist and has worked with arrays of news outlets and networks corresponding to that discipline.
Borger began her career as a reporter for the Washington Star and worked her way up to CNN in 2007. Her early career also entailed involvement in Newsweek magazine as a Washington-based chief congressional correspondent before making another start at U.S. News & World Report as a contributing editor and columnist.
Before CNN, Borger was CBS News's national political correspondent and CNBC Capital Report's co-anchor from 2002 to 2004. 
Early Age And College
Borger was raised in New Rochelle, New York, in a middle-class family. Her father, Richard Borger, owned an electrical appliance business under their family name Borger's.
She graduated from New Rochelle High School in 1970 and went on to Colgate University, where she majored in English and graduated in 1974.
Colgate University
According to Borger, her varied experiences being the first batch to attend co-educational classes at Colgate prepared her to pursue a career in political reporting. Despite the logistical challenges that came with the arrival of more than 100 women in what was previously an all-boys setting, she says she felt very welcomed at Colgate. In many interviews, she has expressed her gratitude towards Colgate University for paving the way for her successful journalism career.
"Colgate has changed for the better, it's what you want a liberal arts college education to be," she said. "It is an institution that tries to meet the needs of its students. It has always tried to be a leader in its group. It's a very forward-looking place."
Reporting flight at Colgate University
Borger and her female friends were immediately drenched in campus life. They even founded some of the first women's studies groups and female sports teams. They also participated in school governance.
"The women of my class were absolutely amazing. They didn't think of themselves as pioneers in any way and integrated into the community in a great fashion and really contributed so much," she retrospected in an interview. "Anyone looking back at it would say the University thrived because women came to Colgate."
She would also manifest her passion for understanding trending issues through her involvement in Maroon, the campus newspaper. As a senior, she became the publication's first-ever female editor-in-chief and covered uncomfortable issues such as sexual assault outside the campus. 
"Back in those days, there weren't a lot of stories about that, and I don't think we did it because I was a woman editor," she said. "We were just trying to figure out what Colgate was like, all of us together, and particularly women and how we were going to fit in."
Borger's impeccable dedication to Colgate continued even after graduation, serving as its board of trustees from 1992–2001. She says that she learned to "get things done without alienating people" and use her "voice" o be a powerful woman.
On Colgate and Relating Journalism to Younger Students
In 2021, on the occasion of Colgate's 50 years of coeducation celebration through a zoom meeting, she shared some wise words regarding journalism. "Information was always the key to success; if you know something as a journalist, that gives you longevity because you're doing your job. I'm not just a pundit or a 'pundette,' as my husband calls me — I'm a reporter. I covered Russia and the Mueller Investigation. The important thing to keep in mind is to know something, not to just say 'this is my opinion," Borger said.
"The students at Colgate never believed they were the smartest person in the room, and that's why they became the smartest person in the room," Borger said. "You look at what Colgate graduates have done, and I think so much of that has to do with the way we were taught to learn at Colgate." 
Career
Borger began her career as a reporter for the Washington Star and worked her way up to CNN in 2007.
Early career
After graduating from Colgate, Borger landed a job with the Washington Star in 1976. There, she covered political bulletins and co-wrote 'Federal Triangle,' a satire on political life in Washington that was eventually published as a book. 
During her early career, she also received 'The Watson Traveling Fellowship' to study at the British Press.
Post Washington Star And Joining CBS News
Borger began to work as a political columnist for the U.S. News & World Report in 1986 and as a general assignment reporter at Newsweek magazine's Washington bureau in 1978. She would cover issues and events such as the presidential campaigns and the Three Mile Island nuclear accident in the latter role. 
Later, she started contributing to CBS News as a national political correspondent. From 2002 to 2004, she was co-anchor of CNBC's Capital Report. 
Before embarking on her journey at CNN, Borger had served as CBS News national political correspondent and the network's other news shows such as Face the Nation, CBS Evening News, 60 Minutes II, and its special events coverage. In 1997, she began to appear on Face The Nation as a regular panelist. She was also given the role of contributor in the same year. 
CNN
In 2007, she joined CNN as a senior political analyst. Her recruitment was targeted to get viewership to the upcoming 2008 election cycle coverage, Campbell Brown's new prime-time show, and other CNN programs. 
"CNN is re-energizing and reinventing political coverage on television through bold innovations like the YouTube and New Hampshire debates and the daily Situation Room, which has become can't-miss political television, Borger said. I wanted to be a part of that transformation and am honored to join some of the top political journalists anywhere." she remarked on her new association with CNN. 
Coverage and In-depth Reports
Borger contributes to CNN's daily coverage by reporting on a wide range of political and breaking news items. She has covered many breaking stories, such as the Gov. Chris Christie's bridge scandal, the 2013 government shutdown, the inspection of the Boston bombing case, and the death of Osama bin Laden. 
She has also demarcated a reputed self-brand in CNN by conducting diversified in-depth interviews that aid the network's daily headlines. 
As part of the Gloria Borger Reports series, she comprehensively interviewed the then Vice President, Joe Biden, amidst the rush of the 2014 midterm elections and conducted an exclusive, headline-rendering interview with former Defense Secretary Leon Panetta. 
At CNN, she has also presented an in-depth report on presidential succession and various political star profiles ranging from Senator Elizabeth Warren (DMA) to the esteemed former Louisiana Governor Edwin Edwards. 
Other Important Contributions
She also facilitated the first extended post-election interview with Grand Old Party (GOP) Presidential nominee Mitt Romney and his wife, Ann Romney. The interview presented a candid discussion about the election campaign. Borger also profiled the then-House Budget chairman, Representative Paul Ryan, in 2012 before becoming Mitt Romney's vice-presidential candidate.
Borger was a prominent analyst for CNN during the 2012 election season and was a crucial part of the network's political coverage in 2010.
Reported Documentaries
Borger has hosted various CNN documentaries, namely, Fight for the White House: Joe Biden's Long Journey (2020), All Business: The Essential Donald Trump (2016), and Almost President: The Agony of Defeat (2016), and many more.
Coverage
In 2012, Borger traveled to France to conduct an in-depth interview to report a documentary on the life and career of Mitt Romney. There, she reported 1.5 hours long documentary stressing upon the life journey and career of Mitt Romney—his political voyage and allegiance to his Mormon belief.
In 2015, she reported the one-hour-long documentary Bush V. Gore in October 2015. It comprised the ultimate story of the recount of votes during the 2000 election based on insider stories from each side.
In September 2016, she reported All Business: The Essential Donald Trump and Almost President: The Agony of Defeat. Borger encompassed the life journey of Donald Trump from his childhood to his early times in Atlantic City and Manhattan. In the two-hour-long documentary, she reflected upon his campaign trail, popularity, and candidacy for president.
Likewise, in the one-hour documentary Almost President: The Agony of Defeat, Borger interviewed former presidential nominees such as Mitt Romney, Michael Dukakis, John McCain, and Walter Mondale. All of them briefed about how they endured through the biggest public failure in America by being defeated in the presidency.
During the making of Fight for the White House: Joe Biden's Long Journey in 2020, she exchanged her talk over then President-elect and took a deeper look at Biden's almost five decades of civil service, along with his personal shortcomings that molded his perspective and leadership. She also played a key role in CNN's coverage of the Republican National Committee (RNC) and Democratic National Committee (DNC) conventions and election nights.
Television Shows and Appearances
In 2017, Borger appeared as herself in season 5 episode 9 of the Netflix political thriller series House of Cards. The episode aired on 30 May 2017. The series was created for television by Beau Willimon. It was based on Andrew Davies' 1990 BBC mini-series of the same name and adapted from Michael Dobbs' 1989 novel of the same name.
Borger has also appeared as a guest in various television shows. She appeared in two episodes of the talk show Charlie Rose in 1996 and 2001. She frequently participated in the news and political round table television show The Chris Matthews Show. She appeared in five episodes of the show between 2005 and 2013.
Awards and Recognitions
Borger 2013's program, Marriage Warriors: Showdown at the Supreme Court, acclaimed the 'National Headliners Award' and 'American Gavel Awards.' In addition, her analysis regarding the 2012 election night helped her receive an 'Emmy Award' for outstanding live coverage. She was also nominated for another 'Emmy Awards' for her 2010 segment, The Odd Couple, in which she interviewed the attorneys David Boies and Ted Olson, who led a legal alliance to support same-sex marriage.
CNN network also received the 'Peabody award' for its profound coverage of the 2008 presidential primary campaigns and debates.
Husband and Son
Borger married Lance Morgan, a public relations executive in Beth El Synagogue, New Rochelle, on 8 September 1974. Following the marriage, Borger went to study under a Watson Traveling Fellowship and Morgan worked as a freelancer. Morgan, who formerly worked as a reporter for The Buffalo Courier-Express would later become a chief communication strategist at a public relations firm Powell Tate. He is an alumnus of Colgate University and he earned a master's degree in Journalism from Columbia University.
Eleven years after their marriage, in 1985, their first child, Evan Morgan, was born. Evan graduated from the University of Pennsylvania and eventually became a partner at Revolution Growth, a Washington D.C.-based venture-capital company that invests in disruptive, innovative companies.
Evan later married Mary Anne Huntsman, the daughter of politician Jon Huntsman Jr.'s, on 17 October 2015. They were introduced by their mutual friend businesswoman Lynn de Rothschild.
Daughter-in-law
Mary is the oldest daughter of Jon Huntsman. She has six siblings, namely Abby, Elizabeth, William, Jon, Gracie, and Asha. 
Mary is a Washington D.C.-based concert pianist. She kicked off her career as a soloist at Carnegie Hall in January 2014. She performed with the China Philharmonic Orchestra in Beijing in June 2015. 
She is a supporter of the Peak and Abyss Foundation, a non-profit organization dedicated to giving underprivileged children access to classical music. She is also a board member of a non-profit group Foundation for Survivors of Abuse that works to encourage and empower sexual abuse survivors in Salt Lake City and New York. 
Mary rose to prominence as one-third of the "Huntsman girls," who played a significant role in promoting their father's 2012 presidential campaign using social media platforms like Twitter and YouTube.
Criticism
In July 2017, Borger was criticized by her colleague and CNN anchor Wolf Blitzer over the credibility of her White House sources live on air while appearing on The Situation Room. He told Borger the sources she approached were 'not good sources.' He continued, "You've got to be careful with those sources down the road... Either they don't know what they're talking about, or they're lying." 
In response, Borger said that she is not the only one reporting on the White House. "And when you get differing stories from the White House in which there are competing interests and you have to understand the decider is the President of the United States, and I was told the president made his decision, but you never know until you know in these situations…particularly with this White House," she said.
Social Media
Borger has a verified Twitter account with more than 189k followers. She joined the platform in August 2012.
Did You Know?
In an interview with Gloria Borger, Joe Biden, the 46th president of the United States and then-Vice President, revealed that the then-president Barack Obama offered to help his family to support the family in its finances when their eldest son Beau Biden, was fighting a severe illness (cancer). "He got up and he said, 'Don't sell that house. Promise me you won't sell the house,'" the current president shared to Borger how Obama tried helping the family.

The famous YouTube star, PewDiePie, has parodied Borger. In 2018, PewDiePie portrayed the popular political pundit in a series of comedic skits on his YouTube channel. 

Borger 

underwent 

successful plastic surgery which gave her the younger look while hiding all of her wrinkles. She did the surgery to look beautiful and fresh on television.