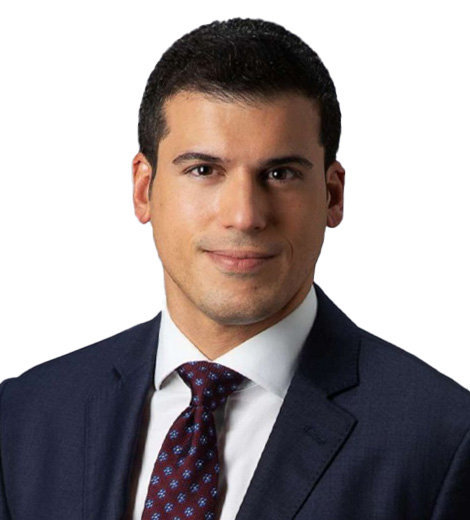 Quick Wiki
Full Name

Gio Benitez

Occupation

Host, Reporter, Television Producer

Nationality

American

Birthplace

Miami, Florida

Birth Date

Oct 29, 1985

Age

37 Years, 10 Months

Ethnicity

North American

Zodiac Sign

Scorpio

High School

Miami Coral Park High School

University

Florida International University

Education

Graduated

Relationship Status

Married

Husband

Tommy DiDario

Wedding Date

16 April 2016

Height

Undisclosed

Net Worth

Undisclosed
Pride Month 2021 Special: Benitez's 'It will all be OK' Letter to His Younger Self
Gio Benitez | Biography
Transportation Correspondent for ABC News
In 2019's National Coming Out Day—which is celebrated worldwide on 11 October in remembrance of the 1987 National March on Washington that was held in support of lesbian and gay rights—Benitez dedicated a letter to his past self. In the letter, he uses a tone of empathy to comfort his 12-year-old self, who had then been confused by his sexuality. "You're only 12, but your mind is already asking questions no 12-year-old could possibly answer. Questions that will take years to explore, embrace and understand," Benitez adds. "Questions that may flip your whole world upside-down," he writes.
---
An openly gay Latino journalist, Gio Benitez is the transportation correspondent for ABC News. He was the first reporter to shoot a TV story exclusively with an iPhone (June 2009).
Short Bio
Giovani "Gio" Benitez is perhaps best known for his work as a news anchor for ABC's news programs, such as Good Morning America and World News Tonight, 20/20, and Nightline. He's also the host of Nightline on Fusion TV. Since 21 February 2021, he is also seen hosting the AETV's show "I Survived a crime," a show that aims to showcase the stories of the survivors of sudden crime. In 2020, he also hosted ABC's 'What Would You Do?' special edition show called Would You Lie For Me? 
On 16 April 2016, Benitez and his boyfriend, Tommy DiDario (Lifestyle contributor, fitness expert, tv host, and blogger), got married. They had previously gotten engaged in September 2015. 
Benitez has earned three Emmys and eight Emmys nominations for his work in television. ABC promoted him to Transportation Correspondent on 9 April 2020. 
Is Gio Benitez Gay?
The Cuban-American ABC correspondent, Benitez, has always been open about his sexual orientation. As a result, he is a proud LGBTQ+ celebrity. Moreover, on 11 October 2019, he shared his experience of coming out with his gender orientation via a letter. He dedicated the letter to the young Gio Benitez. Below is the detailed context of Benitez's coming-out letter.
Gio Benitez's Coming Out Letter
On 2019's National Coming Out Day—which is celebrated worldwide on 11 October in remembrance of the 1987 National March on Washington that was held in support of lesbian and gay rights—Benitez dedicated a letter to his past self. In the letter, he uses a tone of empathy to comfort his 12-year-old self, who had then been confused by his sexuality. 
Benitez writes,
"You're only 12, but your mind is already asking questions no 12-year-old could possibly answer. Questions that will take years to explore, embrace and understand. Questions that may flip your whole world upside-down."
The letter further elaborates on younger Benitez's struggle to fit societal norms, his encounter with homophobia in his community and school, and how he internalized it till adulthood.
"Your community sometimes uses tough language. A beautiful Spanish accent doesn't mask ugly words. When you hear these words, you laugh, you deflect, you distract. You don't know any better. You're scared, and just doing the best you can. The kids at school use the word 'gay' as if it's synonymous with 'eww.' They're pointing their fingers directly at you. They make fun of everything: your hair, your teeth, your skinny frame. But that word, 'gay,; sticks the longest. It hurts," he writes.
"After school, you escape it all with TV shows, books, and your own imagination. Mom asks, 'how was school?' You always say it was great. You'll spend years trying to be more "manly." You'll work out for hours each day, you'll style your hair differently, you'll get braces to fix those teeth, and you'll date brilliant, beautiful girls. Hiding the truth won't stop you professionally either: a once-in-a-lifetime scholarship at a TV station in Miami helps you become a TV producer and then a local news reporter," he retrospects.
In the letter, he eventually requests his younger self to embrace himself and wait to come out until he is ready to see the magic of acceptance. He shares how acceptance from his mom helped him and goes on to comfort his younger self, stating that everything would be ok.
 He writes,
"But the truth about who you are is still itching to get out.I want to tell you: it will all be OK. In fact, it'll be more than OK, he explains. "When you finally tell your mom your secret (at 24 years old), she will embrace you. It takes her just 24 hours to understand what took you 24 years. Though one friend warns, 'you can't be gay and successful in the media,' your colleagues will celebrate you. What's the big deal?, they'll wonder, and send you on your next assignment. And when ABC News calls to hire you, your colleagues there will celebrate you, too.In fact, when you get engaged and ultimately marry your husband, your colleagues will show your photos and congratulate you on America's No. 1 morning show, 'Good Morning America.'"
"You and your husband will be a trending topic on social media all around the world. Kids struggling to understand themselves will write to you. Their parents, transformed by the loving photos you share, will thank you. Don't rush it, kid. You don't need to reveal your secret just yet, if you don't want to. You're only 12. Just know that you're special, and someday you'll feel that too, and everything will be OK.When you're ready, start living your truth. That's when the magic happens. With lots of love and tremendous pride," he adds.
Pride Month Special

On 1 June 2021, Benitez hosted a special Pride Month program called PaleyImpact: Salute to LGBTQ+ Pride Achievements in Television. The event brought together leading luminaries from the entertainment and sports industries on 19 May 2021.

The panel discussed the vast range of accomplishments, issues, and experiences of LGBTQ+ stars and community, including the creator Ilene Chaiken's decision to come out by co-creating LGBTIQ+ series The L Word for Showtime, actress Laverne Cox's reaction to being the first trans performer of color to be nominated for an Emmy, the issue of why more sportspersons haven't come out since Jason Collins' breakthrough actions in 2013, and how being told to be less feminine invigorated artist Adam Rippon to become the first openly gay American to win a 2018 medal at the Winter Olympic Games among many more. 
Also Read: Bob Pockrass - 'Fox Nascar,' Net Worth & Age
Benitez Comes From A Latino Immigrant Family
On 29 October 1985, Benitez was born and raised in Miami, Florida. Although born in the USA, his family had immigrated to the USA from Cuba before his birth. Further, there are no details about his parents and other family members on authentic internet sites.
Benitez also spoke about his Latino roots with latinoreporter.org. He also talked about the advantages of being an immigrant journalist, covering the stories of other immigrants in the USA. He related his own and his family's stories with the stories of immigrants on the border. 
"When we were on the border, one thing I didn't expect was all these families coming up with stories that were very similar to my own family story," he said.
According to him, his experience of being a Latino immigrant helped him with his job. He knew what questions he could ask other immigrants to get the best of their stories. In his words, "The fact that my parents were immigrants only helped my job because I always used that experience and those feelings, those stories to inform my reporting not to dictate how I do that reporting, but I use it to inform my questioning."
Benitez is a Florida International University Graduate
The ABC reporter attended Miami Coral Park High School. From there, he graduated in the year 2004. The same year, he enrolled at Florida International University in his hometown. In 2008, he received his bachelor's degree in anthropology and sociology.
Apart from academics, Benitez also has fluency in at least two major languages. He is bilingual since his childhood and fluently speaks both English and Spanish.
CBS's WFOR TV and ABC
Benitez started his professional career at the age of 17 at CBS affiliate CBS4's WFOR TV in Doral, Florida. He joined the network as an intern at Park High School. He was later promoted to a reporter's position after covering various stories as an investigative producer. At the station, he had started his journey as an Emma L. Bowen Foundation work-study scholar.
In 2009, he was active as an investigative producer for the network when he shot an entire local news story on the release of the new iPhone with new iPhone. He then presented it for airing after self-editing the video (via Final Cut Pro) on his laptop. Doing so, he avoided taking assistance from regular workforce resources such as video editor, cameraman, camera, editor, reporter, editing resources, and the news coverage vehicle. 
 Although the final video was somewhat shaky and looked unpolished, Benitez got widespread popularity for the cost-cutting and innovative idea, both from local media and the fans alike, for his dedication to presenting the story. The story also increased the viewership of the local station.
In 2012, ABC News hired him as a correspondent with the responsibility of reporting on all platforms. 
Career Before ABC
Before being established as the staple of ABC News segments, he worked as a reporter for Miami's WFOR-TV. As a reporter, he covered various news-making stories about the presidential election of 2012 across the critical battleground state of Florida and the Trayvon Martin's death case. He was awarded two regional Emmy awards as a reporter for the station. 
Before starting as a CBS4's WFOR TV reporter, he excelled as an investigative producer at the CBS-owned network. There, he handled stories related to issues such as Medicare fraud, public safety, and government corruption. 
Benitez also traveled to Haiti in January 2010 to film humanitarian activities following the terrible earthquake. His return trip to Miami was changed into a rescue mission when he flew to Curaçao with injured Haitian evacuees. 
Career at ABC
Benitez has been an integral member of ABC News since joining the network in 2012. After joining the network, he worked his way up the ranks to become a producer and then an on-air reporter at ABC.
 "I actually didn't truly know if I could do the job," he said to People about ABC calling him in 2012.
After joining, Benitez was soon seen delivering the news alongside Robin Roberts and George Stephanopoulos on Good Morning America and Diane Sawyer on ABC World News Tonight.
During his journey at ABC, he has covered several major stories, including the Pulse nightclub shooting, El Chapo's underground escape from a Mexican prison, and the Boston Marathon bombing. He also traveled across the United States, reporting on airline and helicopter catastrophes, railroad derailments, and the potentially fatal impact of hot vehicles on youngsters.
In April 2020, he began his new journey at the organization as the ABC News' transportation correspondent based in New York and Washington, D.C.
Benitez reports for all ABC News platforms, notably Good Morning America, ABC World News Tonight, Nightline, 20/20, ABC News Radio, and ABC's streaming program, ABC News Live. He covers aviation, railroads, the car industry, and space. He has also reported on how the COVID-19 pandemic caused major shifts and disruptions in the transportation industry.
Benitez's Salary At ABC News
Benitez has spent almost a decade of his career at ABC News. Beginning in 2013, he has appeared as the correspondent on several famous ABC shows like Good Morning America, Nightline, World News Tonight, etc. Moreover, as of 2022, Benitez is one of the highest-paid news correspondents in the network. He gets a whopping $750 thousand annual salary.
Benitez Proposed DiDario In Front Of The Eiffel Tower
In 2019, Benitez revealed his engagement with DiDario on Instagram with a beautiful snapshot of the proposal, which took place just in front of the Eiffel Tower in Paris. He captioned it, "Time is what's left behind in the wake of love."
After accepting the proposal, DiDario also shared some similarly emotional portraits. He captioned an Instagram photo of both of them wearing rings and wrote,
"Today I said yes to my true partner in life, couldn't be happier to stand next to you forever."
In 2015, Benitez first came across his husband Tommy DiDario through Instagram. In a 2016 interview with People, Benitez revealed that both of them are avid social media users. As a result, they had a perfectly modern first meeting on Instagram. He said,
"We decided to meet for a drink and that's when we both realized this was more than a 'like' online. The chemistry was instant."
According to him, the more they talked on dates, the more they looked into one another's eyes. They eventually knew that their relationship was turning into far more than a crush. He explained that both of them were experiencing pure love for the first time in their lives, and that's where the adventure began. 
He continued by revealing that they were inseparable from then on. They were jumping on planes for spontaneous weekend excursions, seeing everything New York City offered, visiting every zoo and aquarium they could find, and admiring the world around them. 
"Months after our first meeting, I began looking for engagement rings and planning a surprise proposal with photographer Pierre Torset in Paris," Benitez added.
Benitez and DiDario Read their Self-written Vows at Wedding
Benitez has been married to his boyfriend DiDario since 2016. After the pair first met in 2015, they went out on their first date at Tacos, Guac, and Margarita. After dating for quite a while, they eventually bonded and engaged in September of the same year.
On 16 April 2016, the couple got married in the historic Walton House, a private English home encircled by tropical gardens in his hometown, Miami. 
Benitez and DiDario exchanged self-written vows in the ceremony before sundown in front of 160 friends and family. DiDario's sister officiated the ceremony.
Benitez and DiDario Both Have Massive Fan Following On Instagram
Tommy is a fitness trainer, model, and Instagram influencer. He is available on Instagram as @tommydidario, with over 241k followers as of March 2022. He regularly shares pictures of his amazing athletic body and updates details of his life for his followers and fans.
Similarly, Benitez features on Instagram as @giobenitez, with around 197k followers as of this writing. He also regularly posts pictures of his work and personal life in it. For example, on 12 March 2022, Benitez shared a couple of beautiful portraits with DiDario in Hudson Yards, Manhattan. He quoted the pictures as, "Verified Sunset walks with my love. Happy Friday!"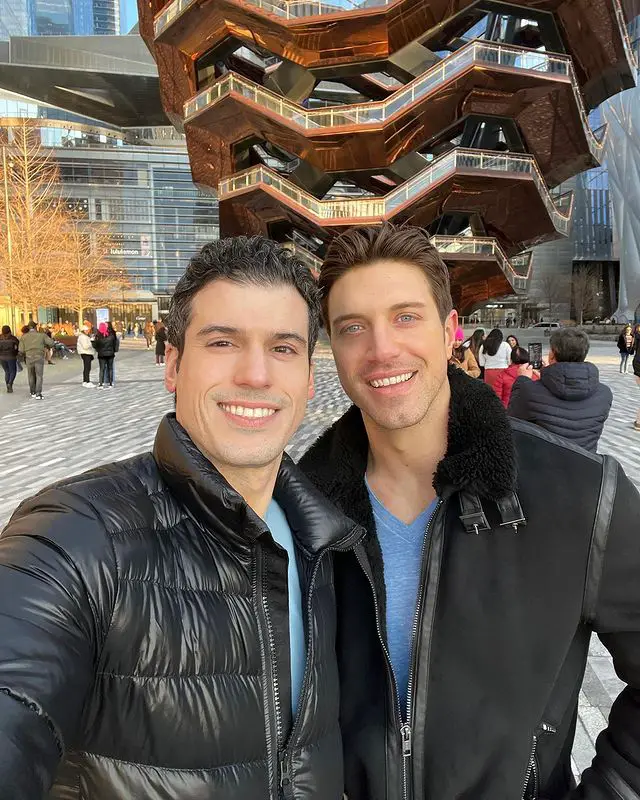 Gio Benitez's Husband is also a TV Correspondent
Apart from being a fitness enthusiast and social media influencer, DiDario is a lifestyle contributor, model, host, writer, and actor. As his husband, he is no stranger to the spotlight. He has appeared on Rachael Ray, Entertainment Tonight, and The Today Show, among other shows.
Moreover, he has interviewed several celebrities on his Instagram page. The list includes Alicia Silverstone, Joseph Morgan, Kiernan Shipka, Alexander Ludwig, and many more.
David Muir and Gio Benitez
Before linking up to Tommy DiDario, Benitez was rumored to be dating his ABC News colleague David Muir. The rumors first took the heat of the internet after they were papped together on several occasions.
However, the gossip related to them turned out to be mere speculations from the public. On the one hand, Benitez engaged to his boyfriend DiDario soon after the rumors started. On the other hand, David Muir is not gay.
Muir had previously been linked with several partners, and none of those were men. Moreover, in 2015, Kate Dries referred to him as her boyfriend in her article titled, 'My Boyfriend Is A Monster.'
David Muir is best known for his anchoring works with ABC World News Tonight. He also appears on another show, ABC News Magazine 20/20, as its co-anchor. 
Muir recently made it to the headlines of several major United States media after he interviewed US president Joe Biden. President Biden announced that he would be running for re-election in the same interview as long as he remains healthy.