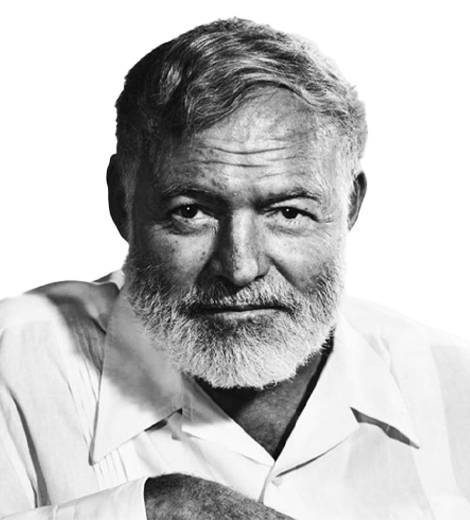 Quick Information
Full Name

Ernest Hemingway

Occupation

Novelist, Short-Story Writer

Nationality

America

Birthplace

Illinois, USA

Born Year And Birthday

July 21, 1899
Ernest Hemingway | Biography
Ernest Hemingway is an American novelist, short-story writer. His book 'The Oldman and the Sea' won the Pulitzer Prize and the Nobel Prize for literature in 1953.
---
Quick Information
Full Name

Ernest Hemingway

Occupation

Novelist, Short-Story Writer

Nationality

America

Birthplace

Illinois, USA

Birth Date

July 21, 1899
Ernest Hemingway is an American novelist, short-story writer. His book 'The Oldman and the Sea' won the Pulitzer Prize and the Nobel Prize for literature in 1953.
Who is Ernest Hemingway?
Hemingway is one of the prominent writers of the twentieth century. His writings ranged from novels, short stories, poems, and memoirs. He volunteered for the Red Cross in Italy during the first world war.
There, he received the 'Italian Silver Medal for Valor.' After the war, he traveled to Europe, Africa, and Asia, writing his best compositions. He was married to four women during his journey. He had survived two accidents in Africa and was appointed as a war correspondent during the second world war.
Some of his novels were 'In Our Time' (1925), 'The Sun Also Rises' (1926), 'Men Without Women' (1927), 'A Farewell to Arms' (1929), 'For Whom the Bell Tolls' (1940), and 'The Oldman and the Sea' (1952).
One of his novels, 'The Oldman and the Sea,' received the Pulitzer Prize and got the Nobel Prize for Literature. After suffering from the chronic illness of Hemochromatosis and depression, Hemingway committed suicide in 1961.
Early Life
Ernest Miller Hemingway was born on July 21, 1899, in Oak Park (previously known as Cicero), Illinois. Hemingways' father, Clarence, was a medical doctor and his mother, Grace, was a voice and piano teacher. Hemingway was raised in a suburb of Chicago. As his parents also owned a cabin in Northern Michigan, he spent most of his childhood learning to fish and hunt.
He graduated high school in 1917 from Oak Park Public School System. He wrote for his school newspaper. After graduation, he followed his passion for writing and started writing for the Kansas City Star as a young reporter. He learned journalism from his work. He once said that what he had learned from writing was the rules he was taught while working as a reporter, and he would never forget them.
Serving in WWI
During the first world war, Hemingway wanted to serve in the army. Due to his poor eyesight, he was given an ambulance driver job for the Red Cross in Italy. An Austrian mortar shell severely wounded his legs after one month of his service in Italy. He also got another injury from a machine-gun fire while carrying a fallen Italian soldier to safety. He was the first American to have been injured in the war in Europe. Hence, he was titled a hero for his actions and was awarded the 'Italian Silver Medal for Valor.'
The surgery required removing 200 shards of shrapnel from his leg, and he was transported to Milan for recovery. In Milan, he met a nurse with whom he fell in love. He had mentioned her in one of his works in the future.
Post War Career
Hemingway was 20 years old when he recovered from the wound. He returned to Northern Michigan and rented a room in a house in Petoskey. He then took a job with the Toronto Star Weekly. He met his first wife, Hadley Richardson, at this point of his life, and both got married in September 1921.
In Europe
Hemingway and Hadley then moved to Paris and lived in the Latin Quarter. He wrote for the Toronto Sun, simultaneously creating his pieces. He became well acquainted with writers of that time, like James Joyce, Gertrude Stein, and F. Scott Fitzgerald, who were rewriting books of literature. He recounted his early days in Paris in one of his memoirs, ' A Moveable Feast.'
While he was writing on things that interested him, he gained the confidence to compose short stories and poems in his distinct signature. He was writing Nick Adams tales, including a short story 'A Way You'll Never Be' when he lost his writings in the Lyon train station. He had stored all his sketches and writings in a travel bag.
Devastated after the loss of his collections, writer Stein proposed he move to Spain. So, Hemingway and Hadley moved to Spain, where Hemingway successfully wrote his first major novel 'The Sun Also Rises.' He then went to Canada, where Hadley gave birth to their first child. The couple again returned to Paris, and here Hemingway wrote 'Big Two-Hearted River,' following that he went to Austria and wrote Nick Adams stories and 'Hills Like White Elephants.'
In Africa
Hemingway and Hadley divorced in 1927. Subsequently, he married Pauline Pfeiffer, an heiress. The couple went on a trip to Africa, as a Christmas present to Pauline, from him. They reached Nairobi by traveling 300 miles by train, then visited Kapiti Plains, the Ngong Hills, and Serengeti Plain. Here, Hemingway wrote two of his prominent short stories, 'The Short Happy Life of Francis Macomber' and 'The Snows of Kilimanjaro.'
While traveling around Africa, the couple met with two accidents. The first one occurred when the Cessna aircraft they were flying crashed near the 400-foot Murchison falls and had to make an emergency landing. The second one was when Hemingway was going to Butiaba in Uganda along with other tourists. The plane they had piloted ground-looped into a sisal plantation and caught fire. He was not worried about the incidents then, but it left huge distress on him, which surfaced in the future.
In Cuba
Hemingway and Pauline divorced in 1940, and he got married to a writer Martha Gellhorn. They traveled through China and settled in Cuba. The couple rented a farmhouse outside of Havana for their convenience to work. Here, Hemingway composed 'For Whom the Bell Tolls.'
His book, published in 1940, 'A Fictionalized Account of the Spanish Civil War,' became one of the best sellers. Gellhorn also garnered a reputation as a journalist. After the Japanese bombed Pearl Harbor in December 1941, both of them were signed as war correspondents as Cuba had become one of the most important allies of the US.
Hemingway volunteered in his fishing boat and was even allowed on board a troop transport ship, from which he watched the invasion of Normandy in June 1944. Alongside, Hemingway formed a counter-espionage unit of the writers he had worked with. The unit tried to retain the thousands of pro-Franco Spanish people living in Cuba, who were allegedly Nazi sympathizers. It was later discovered that Hemingway was scrutinized by the Federal Bureau of Investigation (FBI) itself.
Publications
Throughout his journey to Europe, Africa, and Asia, Hemingway composed landmark literature of the century. They were 'In Our Time' (1925) containing 'The Big Two-Hearted River,' 'The Sun Also Rises,' (1926), 'Men Without Women' (1927), which consisted of 'The Killers,' and 'In Another Country,' 'A Farewell to Arms' (1929), 'For Whom the Bell Tolls' (1940), 'The Oldman and the Sea' (1952), etc. Hemingway took inspiration from his childhood experiences at Michigan and writer Stein while penning his remarkable pieces.
Awards
'The Oldman and the Sea,' published in 1952, received the Pulitzer Prize in 1953. Hemingway also won the Nobel Prize for Literature in 1954 for the book.
Personal Life
Hemingway was married to four women in his lifetime. First, he was married to Hadley Richardson from 1921 to 1927. They got married after one year of their first meeting. They had a son in 1923 and named him Jack Hemingway.
Hemingway secondly married Pauline Pfeiffer, who was also known as Fife. She was a journalist for Vogue in Paris. They were married from 1927 to 1940. The couple also had two children, Patrick Hemingway and Gloria Hemingway.
The same year after Hemingway divorced Pauline, he married Martha Gellhorn, and their relationship lasted five years. They were married from 1940 to 1945.
Hemingway married his fourth wife, Mary Welsh, from 1946 to 1961, until he took his own life.
Death
In early 1961, Hemingway was diagnosed with Hemochromatosis. The illness, along with the trauma of his life encounters, failed marriages, drove him to depression. On July 2, 1961, after a painful electroconvulsive therapy, Hemingway shot himself in front of his house.
Fact-checking and Ethical Concerns
We assure our audience that we will remove any contents that are not accurate or according to formal reports and queries if they are justified. We commit to cover sensible issues responsibly through the principles of neutrality.
To report about any issues in our articles, please feel free to Contact Us. Our dedicated Editorial team verifies each of the articles published on the Biographyhost.