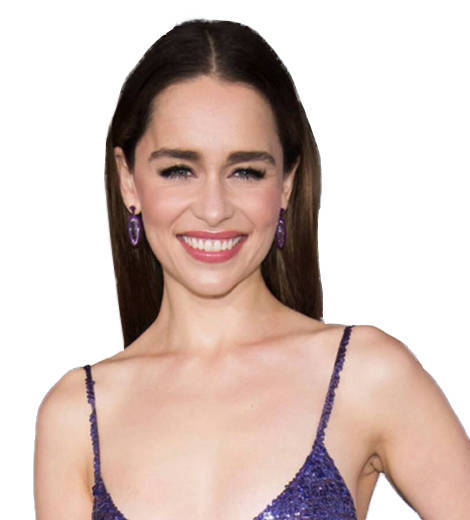 Quick Wiki
Full Name

Emilia Isobel Euphemia Rose Clarke

Nickname

Milly

Nationality

British

Birthplace

London, United Kingdom

Birth Date

Oct 23, 1986

Age

36 Years, 7 Months

Father

Peter Clarke

Mother

Jennifer Clarke
Daenerys Targaryen On 'Game Of Thrones'
Emilia Clarke | Biography 2021
Actress, Former Waitress
In 2010, Clarke was in a make-or-break stage of her career dilemma. She had given her a year to figure out her stand-in acting. Eventually, she had started to think about alternative life plans and the subsequent struggles before she got a call from her agents about auditioning for the role of Daenerys Targaryen in HBO's television series 'Game of Thrones.'
---
Summary: In 2010, Clarke was in a make-or-break stage of her career dilemma. She had given her a year to figure out her stand-in acting. Eventually, she had started to think about alternative life plans and the subsequent struggles before she got a call from her agents about auditioning for the role of Daenerys Targaryen in HBO's television series 'Game of Thrones.'
Emilia Clarke is a British actress who rose to international prominence after her portrayal of Daenerys Targaryen in HBO's epic fantasy television series Game Of Thrones.
Who is Emilia Clarke?
Emilia Clarke is better known as "Mother of Dragons" amongst the Game Of Thrones fanbase. Emilia Clarke is an actress who has had almost as fascinating a life as the character that made her famous. At just three years old, she had aspired to be an actress, and two decades later, she is one of the most known faces in the entertainment industry.
Clarke's acting career began after debuting in the television soap opera Doctors in 2009. She has earned international recognition, fame, and multiple awards with credits such as Game of Thrones to Me before you.
Early Bio and Nationality
Elimia Clarke was born on 23 October 1986, in London, England, to Peter and Jennifer Clarke. Her father, Peter Clarke, was a theatre sound engineer. He passed away in 2016 due to cancer. Her mother, Jennifer Clarke, is an experienced marketing executive. Emilia grew up in Berkshire and Oxfordshire (near Oxford university), bucolic countrysides, located within an hour-plus drive outside of London. She has an elder brother. 
During her interview with Vanity Fair magazine in May 2018, she recalled her childhood with her father, mother, and brother. Her father used to remind her and her older brother, Bennett Clarke, that "Your bookshelf should be bigger than your TV." She said, "My mum, my brother, my dad, and I would sit around a table, and my happiest place was just discussing stuff." Her father's behind-the-scenes work had sparked her interest in acting in the first place.
Her brother also worked behind the scenes as a cinematographer on Game of Thrones. "He's in the camera department, which is brilliant. It's amazing," she told Entertainment Tonight (ET) in May 2019. However, she also revealed the uncomfortable downside to having her brother work on the show, especially when filming intimate scenes for the series. "There are some days when he's like, 'Oh, I'll swing by' because he's literally in the next unit that's, like, filming next door, and I'm like, 'No, it's good! I'm good. You can stay there,'" she says. He's like, 'just wanted to say hi, I haven't seen you in ages!' And I'm like, 'No.'" She would later quip her brother as the more embarrassed sibling in that scenario.
Early Acting Interest 
Her interest in acting sparked when she was just three years old. Her mother had taken her to see the musical Show Boat, and she fell in love with acting right away. 
"We sat her in the front row in house seats—Showboat at the London Palladium," Emilia's mom, Jenny, shares. "She sat on my lap the whole way through, transfixed by the whole thing," she adds.
At the age of five, she played the lead part in a play at her school. Seeing her passion for acting at such a young age itself, her father took her to the West End audition for The Goodbye Girl, but she didn't get selected. However, she continued acting in several school productions.
Education
Clarke attended Rye St. Antony School and St. Edward's School in Oxford. Since they were upper-crust boarding schools, she never felt at home with her many wealthier classmates. She shared to Vanity Fair in 2018, "I didn't really fit in, like everybody who ever went to school ever." 
"It was a fancy school," she said. "And we weren't that fancy." She was an artsy kid at a school that wasn't that artsy. "People were good at hockey and wanted to be lawyers. I just wanted to be everyone's friend."
Eventually, she channeled her energy into performing. After graduation, she applied to top drama schools such as The Royal Academy of Dramatic Art (RADA), London Academy of Music and Dramatic Art (LAMDA), and Guildhall School of Music & Drama but got rejected from all of them. However, the rejections didn't stop her. She then started working as a waitress. The job helped her save up some money and backpacking around India and Southeast Asia. Eventually, she again re-applied to "a bajillion schools" only to get rejected from all of them. 
She later got into the Drama Centre London, where she majored in drama and graduated in 2009. But, she had got enrolled at the drama school out of luck. In her words, she got into the school after getting a phone call in which an authority said, 'This girl broke her leg. This place is free if you want it.'"
She had to learn to earn her place at the drama school. She was never the favorite and ingenue. In the school productions, she played old ladies and bedraggled prostitutes. "They broke us down," she recalled. "But if you're a favorite at school, you're fucked for life. I mean, you come out and you're like, 'Hey, where's my golden egg?' Whereas when you haven't had that at all, you're just like, 'I will do anything. I will work harder than you could imagine.'"
Career
After graduating, Clarke initially appeared in several plays and commercials. Her television debut came with a guest appearance in the medical soap opera Doctors in 2009. The following year, she played in the television horror sci-fi movie Triassic Attack. 
'Game of Thrones'
In 2010, Clarke was in a make-or-break stage of her career dilemma. She had given her a year to figure out her stand-in acting. 
Eventually, she had started to think about alternative life plans and the subsequent struggles before she got a call from her agents about auditioning for the role of Daenerys Targaryen in the HBO's television series Game of Thrones, a television adaption of George R.R Martin's series of fantasy novels titled 'A Song of Ice and Fire. 
To prepare herself for the audition, she googled for a crash course on George R.R. Martin's 'A Song of Ice and Fire.' She then went for the audition and stood before the show's casting director and several show producers.
In the audition, she did a dance mix of the "funky chicken" at some point. "There was a huge, incredible plateau of fruit," Clarke recalled the well-built produce during the audition. "I was like, 'Wow, I've arrived. This is a serious audition.'"
Eventually, Clarke was appointed (alongside stars such as Kit Harrington and Sophie Turner) due to her humble profile that met HBO's expectations. They wanted someone with the vulnerability of not being a star power but having had a humble journey. In Clarke's case, she was that potential candidate, who grew up with her working mother, studied in secretarial school, and went on to have big dreams in acting.
Later, the role then went on to cement her name in the entertainment industry. 
Daenerys Targaryen
The actress portrayed Targaryen in the HBO epic fantasy drama for eight seasons before it ended in 2019. Her character was killed in the series finale at the hands of Jon Snow's Kit Harington.
How did Clarke feel about the 'Game of Thrones' Ending?
She confessed she had trouble coming to terms with her character being killed off in the end after she had gone insane from power. However, after a few years that the series has ended, Clarke is more at ease with the franchise that made her an international star. When asked if she's at peace with "Thrones," the actress told The Hollywood Reporter, "I really have. I really, really, really have."
The fans were also pretty upset with the final showdown after her character died.Talking with the Happy Sad Confused podcast interview with Clarke revealed she understands the fan frustrations while having to remain neutral for the sake of her job. 
"I get why people were pissed, I totally get it. But, me being the actor, you can't do justice to the character that you poured your blood, sweat, and tears into for a decade without getting on the same page." She continued. "So like, I'm not just going to be there being like, 'Fine, I'll do the scene, whatever. I'm so pissed.' You have to turn up."
Clarke also paid tribute to her successful character of Mother of Dragons in her new comic book titled 'M.O.M.: Mother of Madness.' In a June 2021 interview with Hollywood Reporter, she noted that the main character of the book, Maya, didn't just happen. She wanted Maya to be a single mother foremost.
"So I'm not going to say I'm Jenny from the Block, but it's an acknowledgment of how I'm able to give this beautiful fanbase this other thing that I did because they supported me and gave me the props when I was doing [Game of Thrones]," she continued.
'Last Christmas'
Last Christmas is a romantic - comedy film released in 2019. The holiday movie is directed by Paul Feig and written by Bryony Kimmings and Emma Thompson.
Clarke's character Katarina "Kate" Andrich, an aspiring singer, works as a disillusioned Christmas store worker who starts a friendship with a mysterious guy named Tom Webster (played by Henry Golding). She eventually falls for him and her life takes a new turn. 
However, for her character, it seems too good to be true.
'Above Suspicion'
Above Suspicion is a 2019 crime mystery thriller movie starring Clarke, Jack Huston, Sophie Lowe, Chris Mulkey, Austin Hébert, Omar Miller, Karl Glusman, Kevin Dunn, Thora Birch, and Johnny Knoxville. 
The film is directed by Phillip Noyce which is based on Joe Sharkey's non-fiction novel of the same title about Susan Smith's death and based on true events during 1988-89.
Clarke played the lead role of Susan Smith. The story follows a Kentucky drug dealer who sees an FBI agent as her romantic retreat from a dead-end life.
'Solo: A Star Wars Story'
Solo: A Star Wars Story is a sci-fi 2018 movie starring Han Solo from the Star Wars franchise. It is the second Star Wars anthology movie, released after Rogue One. 
The action-adventurous movie is directed by Ron Howard, produced by Lucasfilm, and released by Walt Disney Studios Motion Pictures. 
The film follows Han Solo as he takes part in an operation in the criminal underground 10 years before the start of Star Wars: Episode IV - A New Hope. Clarke portrayed Han Solo's romantic interest, Qi'ra in the movie. 
Clarke expressed her wish to reprise her role as Qi'ra in the Star Wars universe in an interview with THR. The actress spent a lot of time thinking about Qi'ra's past and where her story would eventually go. According to her, there is still a lot to be done with her story and she said she had many ideas that she may just pitch a series to Disney+.
"She's the one that has the most unfinished business... I really had pages about what her life was and what it would be afterward. But I'm afraid I've heard nothing of [Disney+] being the case, so maybe I'll just write it and send it to them. I'll be like, 'Hey guys, I've got a few ideas."
'Terminator Genisys'
Terminator Genisys is a science fiction action movie released in 2015. The film is written by Laeta Kalogridis and Patrick Lussier and directed by Alan Taylor. It is a reboot of the Terminator franchise, diverging from the fundamental plot of the first film.
Clarke played Sarah Connor in the 2015 Terminator sequel, which received relatively poor reviews and collected only $89 million at the box office in the United States.
In an interview with Vanity Fair, the actress reflected on the turbulent production of Terminator Genisys, admitting that "no one had a nice time" shooting the sequel. The director was "eaten and chewed up" on the movie set, according to Clarke. 
Clarke stated, "He was not the director I remember. He didn't have a good time. No one had a good time."
'Voice from the Stone'
Clarke portrayed Verena in the 2017 thriller mystery movie. Verena is a tenacious young nurse assigned to assist a mute young heir (played by Edward Dring) in a remote Tuscan castle. 
Verena becomes increasingly persuaded that the youngster has fallen under the influence of a powerful and supernatural identity locked within the house's stone walls.
'Dom Hemingway'
Dom Hemingway is a British dark comedy-drama film released in 2013. The movie is directed and written by Richard Shepard. It was also screened at the Toronto International Film Festival in 2013.
The movie follows Dom Hemingway, who tries to collect an outstanding payment from Demian Bichir's mafia lord and reunite with daughter Evelyn (played by Clarke) after 12 years in prison.
'Murder Manual'
The horror- thriller movie was released in 2020. Clarke played Malu, a young lady kept hostage by a circus, in the short film, which depicts the desperate attempts to free her.
Success And On Jon Snow
Game of Thrones was considered HBO's one of the most successful shows as its rating succeeded throughout all eight seasons (2011-2019). 
"Never in a million years did I think Game of Thrones was going to take off like it did," Clarke told The Hollywood Reporter in March 2015.
Clarke was part of the initial starting cast of the show, and she remained a part of the series throughout the last season, which concluded after the eighth season in May 2019.
In an interview with The Sunday Times in March 2020, she shared that HBO's series finale, which ended with Daenerys becoming the primary antagonist of the series and the character being killed by Jon Show, left her annoyed. She said, "Yeah, I felt for her. I really felt for her. And yeah, was I annoyed that Jon Snow didn't have to deal with something? He got away with murder — literally." She continues, "I knew how I felt [about the ending] when I first read it, and I tried, at every turn, not to consider too much what other people might say. But I did always consider what the fans might think — because we did it for them, and they were the ones who made us successful, so it's just polite, isn't it?"
Even though she was upset Daenerys didn't get a "happy ending," she regards Game of Thrones as "a gift" for her as an actress. She says she will always be thankful about getting a part of one of the biggest TV shows of all time.
More Movies, Theater, and Television
Her outstanding performance in Game of Thrones earned her name and fame, which led her to movies and other projects. "I've had the good fortune of being in this incredible show with this incredible character," she said in an interview. 
In 2012, Clarke made her film debut in the music drama Spike Island. The same year, she also appeared in Shackled. The following year, she played Holly Golightly in a Broadway production of Breakfast At Tiffany's, a stage adaptation of Truman Capote's 1961 novella of the same title. Later, she also played in the British comedy-crime drama Dom Hemingway, opposite Jude Law.
She was later approached to play in Fifty Shades of Grey, but she turned it down, stating that she didn't want to be pigeonholed in "nudity roles. In an interview with Time Out magazine in May 2016, she said that she was glad she turned down the role of Anastasia in Fifty Shades of Grey because of the expectations towards nudity. She stated to Timeout in 2016, "For better or worse, people love to talk about me being naked. That's the one thing that grinds my gears. It only happened in "Game of Thrones" a couple of times, because it was part of the plot. I don't walk around naked all the time. I definitely wouldn't say I won't do nudity again because there's loads in life. Being naked is not something that defines me, but at that point it was the only question people asked."
In 2015, she appeared in the American sci-fi movie Terminator Genisys as Sarah Connor opposite Arnold Schwarzenegger. Next up was the female lead role in the romantic comedy Me Before You (2016), which was adapted from the best-selling novel of the same name by Jojo Moyes.
Her next significant movie was the action sci-fi film Solo: A Star Wars Story (2018). The movie was a stand-alone Star Wars film that centered on the character Han Solo. 
Later in 2019, she starred as the female lead in the romantic comedy Last Christmas. In 2020, she was cast as Nina in a production of Anton Chekhov's The Seagull at Playhouse Theatre, London.
In addition, Clarke also voiced in the animated series Futurama (2013), Robot Chicken (2016), Animals (2017), and Thunderbirds Are Go (2017).
'Me Before You'
Clarke starred as Louisa "Lou" Clark in the 2016 romantic drama film Me Before You. In the film, she portrayed the role of a young, happy, and clumsy woman who lives in a small town with her working-class family. After losing her job at a local cafe, she desperately searches for a job to support her family. She later gets a job, which no one wants to do—a caretaker for recently paralyzed wealthy young man Will Traynor, played by Sam Claflin. She eventually forms an unlikely bond with him while taking care of him.
Initially, the filmmakers were skeptical if Clarke would be the right fit for the role of Louisa, as they had mainly seen her as the fearless queen she played on Game of Thrones. But during her audition, Clarke accidentally showed behavior that seemed totally in line with the clumsy Louis. 
"She got down on all fours and started apologizing profusely, embodying Louisa's klutzy nature," recalled Thea Sharrock, director of the film. 
On the flipside, Clarke would relate the movie's character to herself. "I just felt so much that someone had written me down -- that a part of myself was written in a book," she told Los Angeles Times in June 2016. "She wants to be happy. She's got this innocence that I -- after six ... years in this industry -- I've lost. What I've managed to go through within this industry has, I think, given me a maturity at a speed which I wouldn't have normally had. I was forced to grow up and take responsibility for myself, because whatever mistakes you make? You can't be putting nothing on no one. You have to be cool with the choices you're making."
Comic Book: 'M.O.M.: Mother of Madness'
In addition to her acting career, Clarke has penned her first comic book series titled 'M.O.M.: Mother of Madness.' On 21 April 2021, Clarke revealed the cover of her upcoming comic and details about the comic on Instagram. Describing her comic book by posting a video, she said, "I'm so excited to share today something that has been taking my entire heart and soul for the last two years: the comic that I have made 'Mother of Madness.' This is all about a badass, beautiful, fierce, fabulous superhero woman!" 
Later, she had an interview with Entertainment Weekly on that same day in which she described how the comic was born. She shared that it originated "about three years ago" when she was with her friends in a car. 'Hey, guys, wouldn't it be really funny if…' And then I woke up the next day and was like, 'That would be funny. That would be f---ing cool. Why not?'" she shared how she started on the comics.
Clarke co-wrote the comic book alongside the 'GLAAD Media Award' nominated writer Marguerite Bennett whereas artist Leila Leiz illustrated the book.
The three-issue superhero series follows a story of a single mother named Maya who discovers her superpower and uses it against human traffickers. Clarke says, "We're always calling mothers superheroes, and I'm like, what if they were? What if they legitimately were superheroes?" She describes the comic as a Deadpool-Esque blend of "a lot of silliness" and ironic humor, combined with the latest feminist sensibility "explored in an extreme genre-bending atmosphere."
On her Instagram announcement, she also revealed that the first edition of her comic book would be out on 21 July 2021 via Image Comics.
Upcoming Projects
Clarke will be the lead cast as the voice of a streetwise cat, Maurice, in the upcoming CGI animated fantasy film The Amazing Maurice, adapted from Terry Pratchett's 2001 novel titled The Amazing Maurice and His Educated Rodents. The voice cast for the film was announced in November 2020. The film is scheduled to be released in the UK in 2022 by Sky Cinema.
She is also expected to appear in an upcoming Marvel Studio's web TV series Secret Invasion. In April 2021, Variety reported that she had joined the show's cast, which emerged out from the Marvel Studios and Disney + decision to collaborate. 
Aneurysms & Brain Surgery
Clarke suffered from low blood pressure from an early age. When she was 14, she had a migraine that kept her confined to bed for a couple of days. Not just that, she also used to collapse frequently in drama school. 
During the early years of Game of Thrones, she suffered from two brain aneurysms, due to which she had to go through multiple surgeries. "I had just finished filming Season 1 of Game of Thrones. Then I was struck with the first of two aneurysms," Clarke said.
In February 2011, she suffered from "a life-threatening stroke" called subarachnoid hemorrhage, caused by a ruptured aneurysm, which needed urgent surgery. 
"One night, after I'd passed that crucial mark, a nurse woke me and, as part of a series of cognitive exercises, she said, "What's your name?" My full name is Emilia Isobel Euphemia Rose Clarke. But now I couldn't remember it. Instead, nonsense words tumbled out of my mouth, and I went into a blind panic. I'd never experienced fear like that—a sense of doom closing in. I could see my life ahead, and it wasn't worth living. I am an actor; I need to remember my lines. Now I couldn't recall my name," she recalled.
She subsequently suffered from aphasia—a disorder caused by brain damage that impairs her ability to speak, write and understand language. During those days, she went through pain, and she often thought she would die. She could not even recall her own name. However, she went through intense treatment procedures to get her everyday life back. But in 2013, she needed a second aneurysm surgery with a more complicated procedure than the first surgery.
"In the years since my second surgery, I have healed beyond my most unreasonable hopes. I am now at a hundred percent," she wrote in the article 'Battle For My Life' in 2019.
Personal Life
Clarke is currently single. Previously, she dated American comedian and animator Seth MacFarlane for several months from 2012-2013. Later, she was rumored to be romantically involved with actor James Franco in 2013. She was also rumored to be dating Cory Michael Smith (co-presenter in Breakfast at Tiffany's) and Jai Courtney (co-star in Terminator Genisys) in 2014.
In 2018, she dated film director and writer Charlie Mc Dowell. But their relationship only lasted for several months, and they got separated in February 2019.
Awards & Nominations
Clarke was nominated for numerous awards and also received several of them for her outstanding acting skills.
She was named UK Star of Tomorrow by Screen International magazine in 2010.
Later, her role in Game of Thrones won her Scream Awards for Breakout Performance-Female in 2011, Gracia Awards as 'Outstanding Female Rising Star in a Drama Series or Special' in 2012, SFX Awards as 'Best Actress' in 2013, Empire Awards as 'Empire Hero Awards' in 2015, and Saturn Awards under the category 'Best Actress in Television' in 2019.
Britannia Awards honored her as British Artist of the Year in 2018.
Net Worth
As of 2020, Clarke has a net worth of $20 million, according to Celebritymetworth. She earned a total of $10 million ($500,000 per episode) for the 20 episodes she shot for the fifth and sixth seasons of Game of Thrones. Her salary for the final two seasons of the series was $1.1 million per episode. Those two seasons consisted of 14 episodes that aired between July 2017 and May 2019, in which she earned a total of $14.3 million.
Interesting Facts
Clarke was voted as the 'Most Desirable Woman; of 2014 by AskMen.
Apart from acting, she is also into singing. She is highly skilled at singing ballads, blues, cabaret, and jazz numbers. She can also play the piano, flute, and guitar.
In 2015, Clarke was voted as the 'Sexiest Woman Alive' by Esquire.
Clarke contributed to several charitable organizations. In 2018, she became the ambassador to the Royal College of Nursing in the UK.
In 2019, she founded her own charity SameYou "to raise funds and help increase neurorehabilitation access after brain injury and stroke."