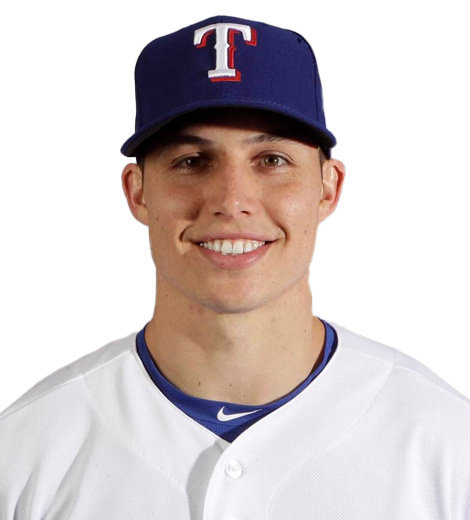 Quick Wiki
Full Name

Drew Elliott Robinson

Occupation

Professional Baseball Player

Nationality

Aerican

Birthplace

Las Vegas, Nevada, U.S.

Birth Date

Apr 20, 1992

Age

31 Years, 1 Months
Player of Sacramento Triple Cats
Drew Robinson | Biography 2021
Baseball Infielder and Outfielder
Despite taking the help of books and therapies, Robinson was still struggling deep inside because of his self-questioning and insecurity. He began to overthink that he would spend the rest of his career in minor leagues. Eventually, he pondered about ending his life and went to a gun range in Pheonix
---
Drew Robinson is an American professional baseball player playing in the minor league for Sanfrancisco Triple-A affiliate Sacramento Triple Cats.
Who is Drew Robinson?
Drew Robinson is a famous professional baseball player. He began his career in 2010 as a freshman in Silverado High School in Las Vegas. Later, he was drafted by theTexas Rangers in the fourth round of the 2010's Major League Baseball draft.
On 5 April 2017, Robinson made his major league debut for the Texas Rangers. He was later traded to St. Louis Cardinals in 2018. Due to his injury on his left elbow, he was placed on the injury list on 26 June 2019. After going through a partial Tommy John surgery, he was subsequently released on 28 August by the St Louis Cardinal. 
Later, on 6 January 2020, San Francisco Giants signed a minor league contract with him, and since then, he has been an infielder and outfielder for the San Francisco Giants.
Early Bio
Drew Elliott Robinson was born on 20 April 1992 in Las Vegas, Nevada, United States. Born as the youngest of the three children of Renee and Darryl Robinson, he has six years older sister, Britney, and four-and-a-half years older brother, Chad. He grew up on the street called Magic Moment Lane in Las Vegas. The street lies on the outskirts of the city.
As a child, Robinson was an archetypal little brother who just wanted love and attention. He was also a tagalong and an annoyance. He would sneak in a neighbor's doggie door to steal food for the Robinsons' menagerie of pets: dogs, cats, iguanas, and a caged rat. He would ride a bike without his clothes, and his sister would get embarrassed when her friend would say, "Your brother's naked again."
When he was seven, Robinson bought a ring worth $7.77 for her mother. The ring was made of chintzy metal and glass chips. Her mother wore it until it fell apart.
She later made a sturdier version of the ring with the help of a jeweler and has worn it since then. She remembered her mischievous son every time she slipped it on her finger. When he bought the ring for her mother, his parents were divorcing, and it devastated him. At the time, he questioned his existence and wondered why his parents were channeling their anger and frustration on him.
"We all were not very good at handling our emotions," Robinson said. "And that caused a lot of stress and internal struggles. I think we all had this idea of a perfect family and things like that. When it didn't live up to that, we really questioned everything we were doing."
The Robinson family splintered after the divorce. Robinson and his brother went to live with their father, and his sister stayed with his mother. His brother grew to 6 feet 5 inches, becoming one of the best prep right-handlers in the country, while Robinson was smaller in height than his brother but was skilled, smooth, and natural. Almost every weekend, the Robinson brothers gathered at a baseball tournament.
Career
Robinson joined as a freshman in Silverado High School in Las Vegas. He played some games in his sophomore year and hit a growth spurt before his junior year. Finally, he turned into a prospect when he grew to 6 feet 5 inches with a powerful left-handed swinging and the ability to play shortstop and outfield. 
136th Pick
At age 18, Robinson was drafted by the Texas Rangers with the 136in the fourth round of the 2010's 'Major League Baseball Draft,' which led him to receive a $198,000 signing bonus.
Minor League
In the summer of 2010, he played for the Arizona Summer League. He batted .286 with a .406 On-base Percentage (OBP) in 44 games. In 2011, he played for two teams, AZL Rangers and Spokane Indians, batting a combined .200 with four Home Runs (HR) and a .313 OBP in 51 games. The following year, he batted .273 with a .409 OBP, hitting 13 home runs with 67 Runs Batted In (RBI), 10 Stolen Bases (SB), and 86 International Walks (IBB) in 123 games for the Hickory Crawdads. He won his first 'Player of the Week' title that year. 
With the Myrtle Beach Pelicans in 2013, Robinson batted .257 with 369 OBP, eight HR, 70 RBI, and 10 SB in 122 games, earning another 'Player of the Week' honor. In 2014, he split between Frisco RoughRiders and Round Rock Express, hitting a combined .198 with 12 HR and 45 RBI in 104 games.
He continued in 2015 with the Frisco RoughRiders and Round Rock Express, batting .235 with 21 HR, 66 RBI,16 SB, and 87 IBB in 133 games. He earned another 'Player of the Week' and was also named Mid-Season All-Star and MiLB.com Organization All-Star that year.
In 2016, he played for Round Rock, hitting .257 with 20 HR, 67 RBI, and 5 SB in 125 games. He was again named MiBL.com Organization All-Star in 2016.
Major League Debut
On 5 April 2017, Robinson made his major league debut for the Texas Rangers. He flew from Las Vegas to Texas for the opening day and made it to 2017's opening day roster. He spent most of the season with the Rangers minor league affiliate Round Rock Express team that year and batted .268 with 11 HR, 40 RBI, and seven SB in 66 games, earning another 'Player of the Week' title in his career. On 25 June 2017, he had his first major league hit (a home-run against pitcher Michal Pineda). Rangers won the game with a result of 7-6 against New York Yankee. 
Eventually, Robinson suffered from multiple injuries and a period of inconsistencies before he was traded to the St. Louis Cardinals in 2018. That year, he had played for the Frisco RoughRiders and Round Rock Express, hitting .297 with 11 HR, 32 RBI, and six SB in 55 games before moving to the Cardinals. 
With Cardinal's affiliate Memphis in 2019, he batted .265 with .385 OBP, .423 slugging performance (SLG), 6 HR, 28 RBI, and 10 SB in 55 games. On 26 June, he was placed on the injury is. Later on 15 August, he underwent a season-ending, "progressive" version of Tommy John surgery on his left elbow. Then on 28 August, he was released by the St Louis Cardinals. 
On 6 January 2020, Robinson signed a minor league contract with San Francisco Giants as a free agent and was also invited to spring training. The next day, he was assigned to its affiliate Sacramento River Cats. Later in the year, in November 2020, Giants re-signed him to a minor league contract.
Suicide Attempt
On 16 April 2020, after a month into the coronavirus pandemic, Robinson attempted suicide. At the time, he was struggling with depression, and as a result, he shot himself in the right temple at his home in Las Vegas, Nevada.
Before shooting himself, he wrote a letter explaining to the five most important people of his life (fiancee Daiana, father Darryl, mother Renee, sister Britney, and brother Chad) that he decided to take his life because he hated his life. He wrote in the letter that he was in contempt because no one knew about his self-doubting internal feelings about himself.  
According to Robinson himself, he started to clean his house after penning the letter since he didn't want his family to have added troubles. He also opted out from consuming alcohol, as he didn't like to link it to his death. He eventually placed the letter on the kitchen table (the most visible part of the house) and left the house to reach a nearby park to attempt suicide.
However, he didn't feel right to end his life at the park or in another location he had then decided. At last, he ended up shooting himself in his home. He had also been living alone in the house for the past one month because of the pandemic.  
"I hope eventually that you guys will realize that no one could've seen this coming to prevent it because of how hard I try to hide it...and that it's no one else's fault," he expressed to his family members in the letter.
In February 2021, Robinson shared his remarkable story with ESPN, revealing how he attempted suicide and how he survived after the attempt. According to the story, he spent almost an entire day at his home in Las Vegas with a big hole on the right side of his head and another hole on the left side of the head from where the bullet exited. As soon as he shot himself, he looked around and was confused. He thought, "What happened? Why am I still here?" He did not even feel pain at the time. 
The story also detailed how he spent time laying on the floor, showering, and brushing his teeth despite having a hole in his head. He then went to sleep, thinking that he would die in his bedroom. But he woke up the following day, and the pain finally hit him. He thought of reshooting himself but decided to take a shower instead. When the pain worsened after several hours, he was choosing between shooting himself and calling 911. There was a gun in his left hand and the phone in his right hand. He instantly realized, "I want to live." Then he chose to dial 911 and was hospitalized, finally after 20 hours of shooting himself. His life was saved, but he lost his right eye.
In December 2020, he decided to tell his story to speak out about the importance of mental health. Stating "I am here for a reason," Robinson said that he recognized how lucky he got, how he needed therapy and medication, and how it was "oK to not be ok." 
"I was supposed to go through that." He continued, "I'm supposed to help people get through battles that don't seem winnable. It was completely supposed to happen. There's no other answer. It doesn't make any sense. It was supposed to happen." He further said, "I'm free now. I shot myself, but I killed my ego."
After recovering from his injuries, he has been fitted with a prosthetic eye. His remarkable story of survival was also featured in an E60 documentary titled Alive: The Drew Robinson Story. An updated version of the documentary made its television debut on ESPN on 13 May 2021.
Losing His Eye
On 5 May 2021, he was named to the San Francisco Giants' Triple-A roster and on 6 May, he made his debut with the Gaints' Triple-A affiliate Sacramento River Cats. 
He made a lengthy Instagram post on 5 May stating about his return to baseball after losing his eye in the 2020 suicide attempt, in which he wrote:
I'm officially a one-eyed professional baseball player. I'm lucky enough to say that I've made the Giants Triple-A roster for the Sacramento Rivercats. And the fact that we open our season in my hometown of Las Vegas just really can't get anymore full circle." He further wrote, "I kind of started baseball again hesitantly and worked hard just to see what could happen. Plenty of times, I went down the road of not thinking it was possible and that I was wasting my time. But here I am, getting ready to play another professional season, with an astronomical amount of meaning attached to it. This is so much bigger than me. I'm excited, nervous, empowered, and more importantly, ready for a magical experience.
After losing his right eye in the 2020 suicide attempt, Robinson made a remarkable comeback on 11 May 2021 with his first home run of the season for the Giants Triple-A affiliate. He launched the home run to the right field to put his team 4-1 up in the second inning, although the team lost the game 10-7 to the Las Vegas Aviators. For Sacramento River Cats, he batted .164 with .288 OBP, .327 SLG, 2 HR, and 5 RBI in 18 games (as of 2 June 2021).
Personal Life
Robinson met Daiana Anguelova when he was about to graduate from Silverado. Anguelova had wanted to meet him a long ago. She even had told one of their mutual friend about it. His energetic personality and his attempt always to try to portray himself as cool attracted her. 
 Their first conversation happened when Robinson was requesting one of his friends to sign his yearbook. He also ended up asking if Anguelove would want to write something, to which she wrote, "You're a cutie." At the time, Robinson was already famous in the school because of his baseball and was not involved in a committed relationship. 
By the last two seasons at high school, he was known as one of the best players in the historic Vegas-area Class of 2010, which had future stars such as Bryce Harper and Kriss Bryant. After Rangers signed him with a signing bonus of $198,000, he moved to Arizona with only some clothes and a pair of spikes. He was soon confronted with the new reality of pursuing a professional career in baseball.
The space was demanding, and he was only an 18-year-old who was looking after his finances, building relationships, and at the same time fighting for his place in the competitive industry. Robinson eventually developed a dual feeling for baseball—he would love or hate the game depending on the situation. 
In 2012, Anguelova and Robinson eventually started texting each other. At that time, she was in college. It was only the end of the 2013 season after he had conquered High-A when they realized they were ready for one another. She would then act as his confidente and the closest counselor. She was someone with whom he could share about his struggles and lows in baseball. 
However, out of nowhere, he broke off the relationship in 2015 out of his insecurity. But later, they reconciled and got back together. 
Career Struggles
Robinson struggled in the Ranger's rooster and spent most of the seasons proving himself in its Triple-A affiliate. He desperately wanted to play in the major league with the top rooster. still, He would only be called to be sent off to the minor league. Robinson always questioned himself, and the culprit was the accompanying voice in his mind that would always be there to doubt anything in his life.
"Why does everything suck? Why is this happening to me? Is there something I'm doing wrong? Why can't you just be real with everyone and let them know how much you hate yourself?" he would have thoughts that would not let him act confidently on or off the field. 
In December 2018, after he was traded to the St. Louis Cardinals, he proposed to Anguelova and decided to have a fresh start in his personal life and career.
Anguelova also accepted his proposal, and they set a wedding for 14 November 2020. But fate would have other plans for Robinson. He would again have a one-and-off relationship with the Cardinal's major league roster, spending most of his time with the team's Triple-A affiliate. Later, he would have a career-ending injury in his non-throwing left elbow before being released in August 2019.
She thought they were going to get married but all of sudden he broke up with her again. "He said, 'I don't know why you like me,'" Daiana shared with ESPN. "I was so shocked. In my head, I was like, 'What do you mean, you don't know why I like you?.' I will never forget that. That was the first time something went off where I was like, 'Is there something deeper?'" She tried to empathize and rationalize, and she tried to see in him what he couldn't see in himself. After several months, they got back together for the third time in 2019, only to get separated again.
"She's the most selfless person I've ever met," Drew later said in an interview post surviving suicide. "So anytime there was any little hint of me being not happy, she wanted to help. Because I was so closed off, I didn't want that. So it pushed me away from her. I pushed myself away from her."
Brief Recovery
Post Robinson's exit from Cardinals, he even took the help of a therapist and read self-help books after realizing that he had to take care of his suicidal thoughts. Eventually, he was signed in a minor league contract by San Fransisco Giants. At this point, everyone could see how hard he was trying to accept his vulnerability. 
Tough Decision
Despite taking the help of books and therapies, Robinson was still struggling deep inside because of his self-questioning and insecurity. He began to overthink that he would spend the rest of his career in minor leagues. Eventually, he pondered about ending his life and went to a gun range in Pheonix.  
"Could this be a real possibility? How would I even do it? Where would I do it? No... That's too extreme. Just talk to someone. We can do it. Just talk to someone. Find anyone, even if it's a surface-level conversation. Make a joke. Have a light moment. No. Nobody wants to hear it. Nobody needs to hear it," he retrospected at the time regarding the possibility of a suicide. 
Later, the Covid-19 halted regular baseball, and he returned to his empty Vegas house. At the time, Robinson and Anguelova had their latest breakup. She was trying to move on with her life, because of which she refused his request for a meeting. 
On 17 April 2020, he shot himself and called 911 a day after. His family members, including Anguelova, played their parts in his recovery. Anguelova and Robinson later started building their relationship slowly without looking far ahead and focusing on each other's respective lives and careers individually.
"Most people in this situation, when you tell them what happened, think, wow, that's great. He survived...Nobody realizes the things that come with it. It's not like you survive such an extreme thing and everything is perfect. You're starting over. The past isn't gone," Aguelova later shared in an interview.