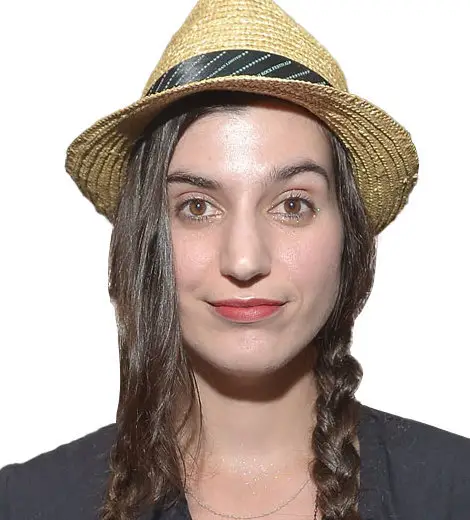 Quick Wiki
Full Name

Diva Zappa

Occupation

Artist, Actress

Nationality

American

Birthplace

California, USA

Birth Date

Jul 30, 1979

Age

44 Years, 2 Months
Youngest daughter of Frank Zappa
Diva Zappa | Biography
Owner of Clothing Business 'Hand Manufactured Beauty'
Diva Zappa released 'When the Ball Drops,' a comedic single about her "search for someone to make out with on the Millennium," in the year 1999. Tipper Gore played percussion, and Kristin Gore sang backup vocals on the album. In 2020, she starred in Kenn Rott's film 'Vampire Burt's Serenade,' a bloodthirsty vampire musical. Her upcoming movie is, 'I heard Sarah,' directed by Kimberly Harris. The story is about a troubled rockstar who eludes mandatory rehab in a desperate attempt to face his innermost issues. She has also starred in an upcoming documentary 'Allee Willis Loves Detroit.'
---
Diva Zappa is an American artist and actress.
Who is Diva Zappa?
Diva Zappa is an American singer, songwriter known for a one-off comedy single and various acting roles in film and television. The youngest daughter of famous musician Frank Zappa, Diva Zappa made her first film debut in the 1998 Anarchy TV. In addition, she has been running her own website/business, Hand Manufactured Beauty, since 2002.
Why did Frank Zappa name his daughter Moon Unit?
Diva Muffin Zappa was born on 30 July 1979 in Los Angeles, California, the United States, in an unconventional and highly prominent family. She is the youngest child of singer Frank Zappa and his wife, Gail Zappa. Her other sisters were named Moon Unit Zappa, Dweezil Zappa, and Ahmet Zappa. The firstborn, Moon Unit Zappa, got her middle name from her father—her birth signified that his family became a "unit." He chose the name Moon over Motorhead.
"My dad was a complex guy. He did things and said things as they happened in his head. He had no boundaries," Dweezil shared in an interview.
Diva's Name
Diva's parents chose her name because of her loud voice. In an interview, her father Frank shared, "'Diva' because of the loud quality of her voice. She's audible at 300 yards."She never had a natural aptitude for music, despite growing up listening to her father's free-form and sophisticated melodies. She preferred to pursue arts instead. At the age of twelve, Zappa won a poster contest promoting child abuse and family violence awareness. Her parents taught her to exhibit her imagination from a young age. She says she learned about changing human emotions through her father's tours, mother's parties, and the hierarchies of Los Angeles schools. 
Her website states that she has learned how to put her insights into good use, assisting her family, friends, and even strangers. In addition, she pursued restorative yoga and tarot training and gave herself the freedom to experiment as a self-taught artist.
Knitting for Clothing Business 
Diva Zappa has been running her own clothing website/business, Hand Manufactured Beauty, since 2002. She offers her self-designed apparel through the platform. Hats, ponchos, and skirts, mostly knitted or crocheted, are among the popular garments in her online shop. The Creative Visions Foundation receives a portion of all proceeds. 
Before knitting, she used to do crocheting. Zappa was taught how to knit by American actress Laurie Metcalf, better known for her role as Jackie Harris in the American comedy series Roseanne. "I was only crocheting for three months and then my friend Laurie Metcalf was like 'you need to knit," Zappa recalled.
"She showed me in ten minutes how to knit and I literally haven't stopped since. I rarely pick up a crochet hook because it hurts my hands and it takes much more concentration for me." 
Zappa especially specializes in making a poncho that doubles as a skirt. In a 2011 interview, she was asked about her favorite aspect of her creation and knitting experience. She replied she was impressed that anything was possible to be made from a single string of fabric. "It's so cool to me that you can actually mould a straight line. It's so astounding to me when I knit that it starts out… it's just creation, it's totally cool. I blow my own mind looking at a piece of string all the time! It's ridiculous."
Her knitted items have been flaunted by celebrities for major occasions on the red carpet. Chloe Trujillo, the wife of Metallica bassist Robert Trujillo, wore a beautiful long outfit she knitted to the 2009 Grammy Awards. She also crocheted a cape for American writer Diablo Cody, who is prominently known for her memoir, 'Candy Girl: A Year in the Life of an Unlikely Stripper.'
Diva Zappa's scarf Emilio
Diva has been knitting Emilio, her signature scarf, for over a decade. According to her website, the scarf is expected to be a mile long when it is completely done, and it is estimated to take another fifteen years to complete it. 
Diva started knitting Emilio when she was sitting at an audition in Los Angeles. In an interview with Parade, she remembered about the initial stages of the scarf, "I never know what I want to make when I start. I never know what I want to make, each piece speaks to me. I want to be a dress. I want to be a hat. Right at the beginning, an inch and a half in this piece immediately told me, 'My name is Emilio, I want to be a mile long, and I am a scarf." The beginning of the scarf looks like a video game in a movie I saw many years ago where Emilio Estevez is trapped in a video game. My sister [Moon Zappa, of Valley Girl fame] is in it."'
Photography Passion 
Rock shows are the type of photography that Zappa is particularly drawn to and enjoys doing. Zappa enjoys capturing the beauty of super close and macro kinds of aspects of objects such as flowers and certain sections of things. But, according to her, she does not take portraits of landscapes or big things because many things are happening in the picture.
Zappa carries her camera wherever she goes and captures the moment to make it a picture-perfect memory. 
Embroidery with the Photos
She got the idea of adding beautiful embroideries to her photographs through her friend, Michael Patrick King, producer of Sex In The City and Two Broke Girls.
Patrick was inspired by her knits when he viewed them and advised her to knit something that could be hung on the wall. At the time, she was adamant about not knitting anything for the furniture or the walls because, according to her, everything she made was for a person.
Instead, she opted to take a photo of her knitwear, printed it, and hung it on the wall to fix the problem. 
However, it wasn't enough for her when she printed the photograph on canvas. It was far too straightforward. As a result, she began embroidering the knit picture. 
Soon, she began creating wacky couture canvases. While on a visit to a bird sanctuary, she photographed a bird and stitched it. She also went to a flower garden and took images of them before beginning to work on them. She realized that adding the embroideries added more value to her creation and art.
Zappa also knits many wearable pieces of art, such as Emilio. She says she knits her art pieces without the use of any patterns. She believes that these pieces get their shape while knitting. She likes to work on the spur of the moment rather than planning her work.
Sculpture
Working with photography, painting, Zappa has also worked with large-scale sculpture in the past few years. While she was in residence at Chateau Orquevaux, located three hours outside of Paris in the French countryside, she began working on an experiential piece.
Movies and Other works
Diva Zappa made her film debut in 1998 and would go on to appear in films such as Children of the Corn V: Fields of Terror (1998) and National Lampoon's Pledge This! (2006), and TV shows, including Felicity, Brothers & Sisters, and The Mighty Boosh.
In 1999, Zappa released When the Ball Drops, a comedic single about her "search for someone to make out with on the Millennium." 
In the year 2020, she starred in Kenn Rott's film Vampire Burt's Serenade. 
Her upcoming movie is, I heard Sarah, directed by Kimberly Harris. The story is about a troubled rockstar who eludes mandatory rehab in a desperate attempt to face his innermost issues. Diva plays the character, Bolt, in the movie. She has also starred in an upcoming documentary Allee Willis Loves Detroit.
'Good Girls'
Zappa portrayed the role of midwife, Harvest, in an episode titled 'Thelma and Louise' in season 2 of Good Girls in 2019. The series is about three suburban moms who become frustrated with their financial situation; they decide to stand up for themselves by robbing the local grocery shop. 
The comedy-infused thriller initially premiered in 2018 and continued till June 2021 with four seasons and fifty episodes. 
After four seasons on NBC, the popular but under-watched linear drama series was canceled in June 2021. The NBC show was produced by Jenna Bans, Dean Parisot, and Jeannine Renshaw for Universal Television.
'200 Motels'
In October 2013, Zappa played Groupie 2(Lucy) in the UK premiere of her late father's symphonic work 200 Motels at the Royal Festival Hall in London. She featured alongside artists such as Michael Des Barres, former Zappa band member Scott Thunes, and drummer Joe Travers.
About Her Father 
Frank Zappa was born on 21 December 1940 in Baltimore, Maryland. He was a self-taught artist whose three-decade-long remarkable career encompassed various musical genres, including rock, jazz, synth, and orchestras.
Frank produced most of his 60+ albums as a solo artist and a band member of The Mothers of Invention. His albums are well known not only for their sublime virtuosity and humor but also for alienating many groups, especially conservatives, religious and political.
In addition, he also designed album covers and directed feature films and music videos. 
His Death
On 4 December 1993. Frank, Diva's father, passed away after a long fight with prostate cancer. Diva was just 14 years old at the time.
About Her Mother 
As per a Rolling Stones article, Gail was born Adelaide Gail Sloatman in January 1945. She lived in London and New York before moving to Los Angeles. She met Frank while working as a secretary at the Whisky A Go Go nightclub in Los Angeles.
When Sloatman was 22 years old, the couple got married and was pregnant with their son, Dweezil Zappa. According to a statement provided by her family, Gail passed away on 7 October 2015. She was 70 years old at the time. After her husband died in 1993, Gail was in charge of launching over 30 of her husband's albums.
Zappa Family Trust and Inheritance Battle 
The vast musical and cultural legacy of Frank Zappa became the focus of public and bitter family conflicts. 
Four Zappa siblings became the legal owners of the Zappa Family Trust following the death of Diva Zappa's mom, Gail, in October 2015. 
The trust is in control of Frank Zappa's vast musical legacy, as well as proceeds from product sales and republishing his albums and songs. It includes over 60 albums released during Frank Zappa's lifetime and 40 more released after his death.
It also allows or prohibits the use of Frank's name and files litigation against unauthorized use.
Inheritance & Net Worth
 Diva and her younger brother Ahmet received 30% of the family trust ownership once their mother passed away. Moon and Dweezil, the eldest siblings, were granted smaller shares of 20% each. This disproportionate distribution of the Family Trust resulted in a bitter quarrel between the siblings.
The Richest estimates her father Frank's net worth at $40 million.