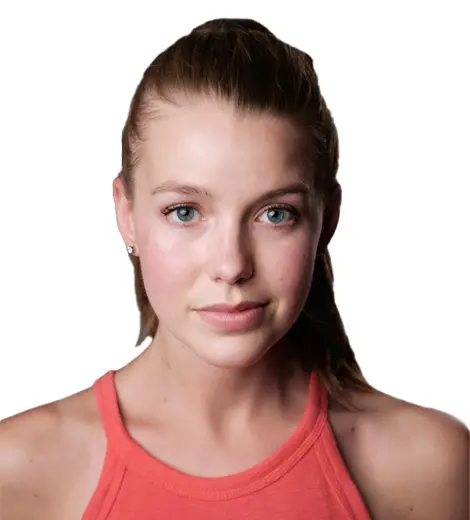 Quick Wiki
Full Name

Devon Hales

Occupation

Actress

Nationality

American

Birthplace

Atlanta, Georgia

Birth Date

Dec 05, 2000

Age

22 Years, 9 Months
Cast Of Netflix Teen Comedy-drama 'Teenage Bounty Hunters'
Devon Hales | Biography
Hales plays the role of a mean controlling girl named April Stevens, who in the beginning does not like the twins (Sterling Wesley and Blair Wesley) and is their academic rival. She later turns to like them and changes her character to a nice girl. However, by the end of the season, she returns to her previous stance of rivalry. April even resorts to blackmail and other forceful measures to get what she desires. She was usually portrayed as a cynical nemesis to Sterling Wesley, portrayed by Canadian actress Maddie Phillips.
---
American actress Devon Hales is known for portraying April Stevens in the show Teenage Bounty Hunters.
Who is Devon Hales?
Devon Hales was a theater major from Atlanta before studying performing arts at Georgia's Kennesaw State University. Her initial acting journey began in theaters; she participated in plays such as Arms and the Man, Into the Woods, along with others during college, followed by Shakespeare in Love, I and You, The Dancing Handkerchief, Appropriate, and The Light in the Piazza. 
Hales was also listed as one of the '8 Young Atlanta Actors to Watch' in 2017 by the local paper, Atlanta Journal-Constitution.
Then she made minor appearances on shows such as Swamp Murders in 2013, Stan Against Evil in 2016, and The Resident in 2018. Eventually, she got the role of April Stevens in the Netflix show Teenage Bounty Hunters.
The show was released in August 2020, and it gained significant popularity because of its intriguing and intense plot. In addition, fans praised hales for her excellent portrayal of the mean girl who remained the show's antagonist for most of the season.
Unfortunately, within two months of its release, Netflix announced the show's cancellation. The cancellation news then led to a Twitter uprising and petitions signing the show's revival.
After Teenage Bounty Hunters, Hale was in another teenage movie, ICON, released in March 2021.
How Old Is Devon Hales?
Devon Hales was born in Cumming, Georgia, of Atlanta state on 5 December 2000. She is 21 years old as of 2021.
Education
She studied middle school in a private Christian school and then transferred to public school to finish her high school studies. During her senior year in high school, Hales discovered that she was interested in theater studies, so she decided to join a college that had a theater program. Subsequently, she enrolled at Berry College. However, a couple of months into the semester, she realized that the environment in that college was not encouraging her.
She would later recall her decision of wanting to leave Berry:
"At Berry, there were a lot of great people, a lot of talented people who were doing theater, but that was not their ultimate goal, that was not sometimes even their major. It took being in an environment where I wasn't necessarily being challenged (to make) me say, 'Oh my God. No judgment, but I do not want to be like that. I really, really want to do this for real and I need to be in an environment where I am around people who want to do the same thing and who are pushing me to be better and really work for it.'"
Hence, she transferred after freshman year to join Kennesaw State University and graduated wit9h a B.A. degree in Theatre and Performance Studies.
During her time at the university, she trained herself in stage performance and took part in well-known plays such as Arms and the Man, Closer Than Ever, Falsettos, Into the Woods, Cabaret, and Red Hanrahan.
Professional Theater
After finishing college, she continued to perform in plays. Hales got acquainted with the theater houses of Atlanta. 
She acted in the play The Frog Prince as Alaina, As You Like It as Amiens, and was also in the One Man, Two Guvnors, all performed at the Georgia Shakespeare Theater. Followed by that she was Wendy Darling in the Peter Pan at the Atlanta Lyric Theatre performance, she was Caroline in I and You at Aurora Theatre, Cassidy in Actor's Express's Appropriate, and Sammie Sue in the 110 in the Shade performed at the Theatrical Outfit.
'The
Light
in the Piazza' and 'Miss Bennet'
In addition to that, in 2016, she was the lead actress in the original Broadway Musical plays The Light in the Piazza. It was the musical version of a novel written by Elizabeth Spencer. The plot was chronicled in the 1950s where a mother and daughter from North Carolina go on a covert trip to Florence. At Florence, the daughter falls in love with a local young guy against her mother's desires. And the story further elaborates on their emotional issues and the reason behind their trip.
Hales played the role of the daughter, Clara during her first year in Atlanta as a professional theatrical actress. It was produced by Theatrical Outfit. She had to go through a range of mental and emotional turmoils as Clara who seemed normal but was not deemed to be. And among the scenes she did, she found the least dialogued and musical scene tough to perform, due to the intensity of the character.
Further, Hales was also in the Theatrical Outfit's Miss Bennet. The play was based on Jane Austen's classical novel Pride and Prejudice's character Mary Bennet. It was written by Lauren Gunderson and Margot Melcon and titled, Miss Bennet: Christmas at Pemberley.
Hales played the role of Lydia in the story that follows from the time after all the Bennet sisters are married, but not Mary. The bookish and opinionated sister, Mary prefers to spend her time listening to Beethoven's classical than talking and bonding over romance.
But when Arthur de Bourgh, a newly appointed lord and scientific scholar, comes to Pemberley, Mary connects with him over their shared love of maps and philosophical discussions. On the other hand, the youngest sister Lydia plots her own plans for Brough. While executing her scheme she slips a note into his book which later falls into the wrong hands. The play further portrays a sequence of comic misadventures ensues, as such in Shakespeare's Twelfth Night.
Other than that, Hales acted as Trixie in Alliance Theatre's production of Knuffle Bunny. Then she was in Shakespeare in Love and portrayed Hermia in A Midsummer Night's Dream at the Alliance Theatre.
Eventually, for her excellence in theater acting, the Atlanta Journal-Constitution named Hales as one of the '8 Young Atlanta Actors to Watch' in 2017.
In the honorable mention, she tributes her mother's endless support towards her endeavors and talked about her goal in theater acting. "New York is one of those things where if I don't try it, I'll regret it. To be able to do eight shows a week and not have to have a side job, that is the dream."
Movies and Television
Hales made her big-screen debut in a short movie, Storage in 2011. Further, in 2013, she was on Swamp Murders, a television series documentary. Then in 2016, she was in another television show, Stand Against Evil, and also in the popular medical drama The Resident in 2018.
'Stand Against Evil'
In the 2016 tv series Stand Against Evil, Hales appeared as Charlene on the episode, 'I'm Gleaning My Coven'. The series was about a small New Hampshire town where an old police sheriff forms work with the new sheriff to fight the evil creatures haunting the town.
'The Resident'
Then in the 2018 TV series, The Resident Hales appeared as Lisa Logan on episode 00:42:30. The episode followed an unexpected blackout at the Chastain Memorial hospital and the doctors tackle the day-to-day crisis with the added day's challenge.
'Teenage Bounty Hunters'
In 2020, Hales appeared as one of the recurring casts in the Netflix television series Teenage Bounty Hunters. The show's first season was made available on 14 August 2020.
The story of the series is based on two siblings who are fraternal twins and are high school students. They seem to look like normal teenagers of a small town living with their parents, but they are bounty hunters working under an ex-cop and bounty hunter called Browser. They entail a path of solving crimes along with balancing their high school life.
Hales plays the role of a mean controlling girl named April Stevens, who in the beginning does not like the twins (Sterling Wesley and Blair Wesley) and is their academic rival. She later turns to like them and changes her character to a nice girl. However, by the end of the season, she returns to her previous stance of rivalry. April even resorts to blackmail and other forceful measures to get what she desires. She was usually portrayed as a cynical nemesis to Sterling Wesley, portrayed by Canadian actress Maddie Phillips.
Hales describes April Stevens as an intense person with a strong personality and ambition. "She [April] is OK with herself and with her Lord about how she identifies. Even though she is inside this Christian community that can be very intolerant, she does not believe, as she says, that God is going to smite her for being a lesbian," Hales said. "She's like, 'Nah, I'm all good with the Lord. I'm just not good with all you people who are going to judge me and who are going to get in the way of my plan.' But then she and Sterling have a moment — have a couple of moments, and Sterling totally disrupts her plan and sort of shakes her understanding of their relationship and what she thought she knew about herself."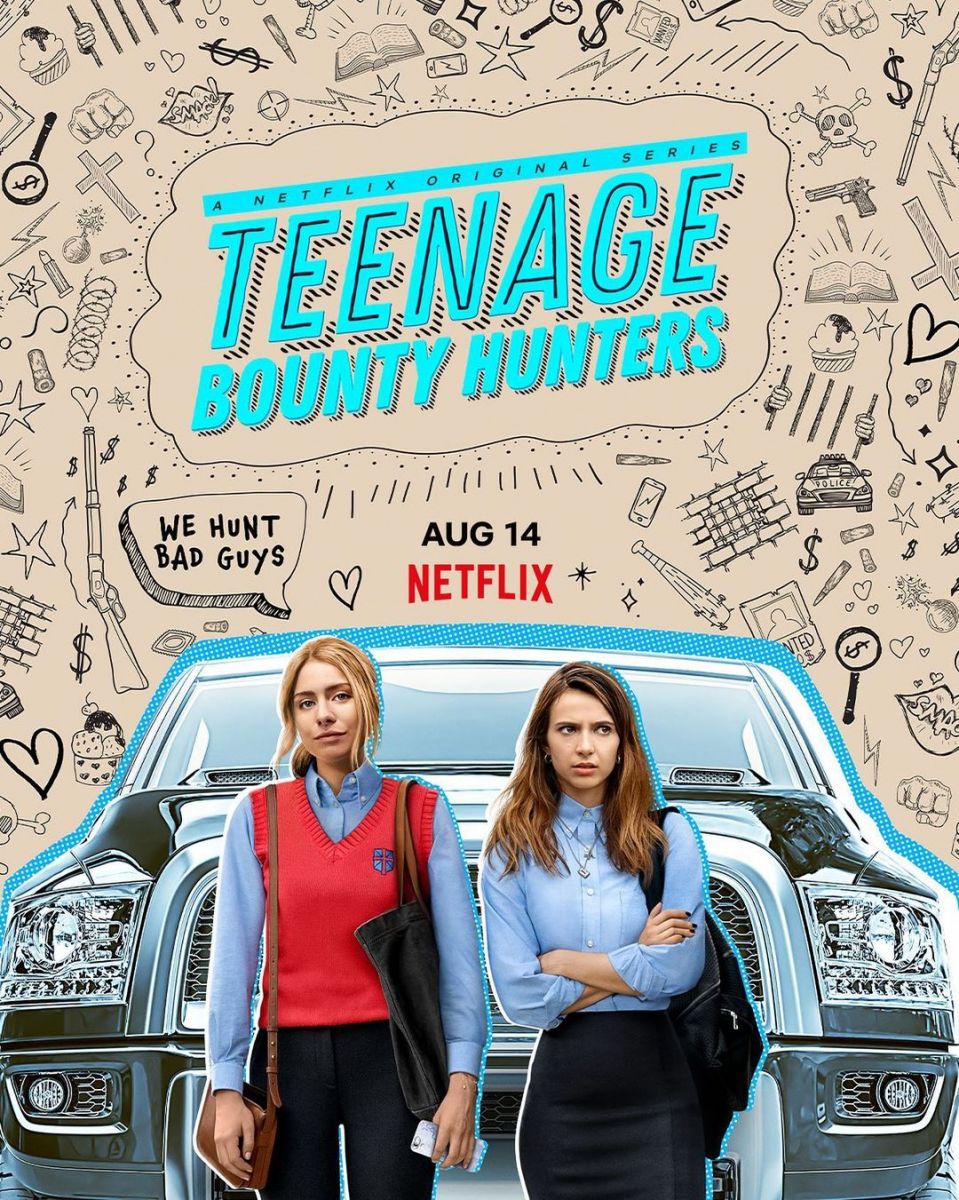 Stevens and Sterling Wesley
The relationship between Hales's role and Phillips's role of Sterling made a significant influence on the viewers. As the first season furthers, the story ultimately explains why Sterling and Stevens were arch-enemies, it was because they were drawn to one other.
Sterling gives in to her desires and lounges to kiss Stevens in one of the scenes. There it was disclosed that  Steven knew that she was gay for some time but refuses to reveal her identity. It leaves both characters in a melancholic phase as Stevens inhibited her choices because of religious beliefs and the dread of their parents.
Although most of Stevens's character development was aimed for the second season, in the first season Steven resonated with a frequent topic of the LGBTQ+ community. It addressed people's fear of being expelled because of their sexuality.
Hales admitted that it was a prominent problem in the society where female sexuality is kept as a hush-hush topic especially in southern religious families. She shared her experience growing up in the south where most girls were sexualized from a young age and that never allowed her to freely express herself.
And I know specifically, not the way that I was raised by my mom, but the way that I was raised in school, that third to eighth grade, you start having conversations about that and it's about, 'How short is your skirt?,' 'How low is your shirt?' and 'Don't tempt the boys because all they think about is sex and they're just insatiable,' and there's never any mention of our desires or the way that we think. It's not a myth, it's real. I think that can be extremely damaging and it takes a long time to unlearn. That the ways that I'm feeling are normal, and every other girl is feeling them too and nobody is talking about it. And so the ways that this show discusses that and chooses to address it.
Hales added that being the actress to represent a character who had such issues, empowered her younger self. She said, "When I was growing up, I did not see that on TV. There was no representation of that, nobody was talking about it. Specifically, female masturbation. That happens in this show. TV and media make jokes about guys doing that every five seconds, and it's never ever discussed for those who are female or identify as female. So that's very frustrating. The fact that this show talks about that and it's interwoven slightly in my own storyline makes me extremely proud to be a part of it. It's something that our creator Kathleen felt very strongly about representing and I think it's great."
Reception And Cancellation
The fans of the show singularly praised Hales as one of the intriguing characters—she was highly praised for portraying the characters' dual identities: April Stevens was from a religious background and later identified herself as a lesbian.
The show was also critically praised for its engaging plot and the portrayal of millennial teenagers who are abundantly talented in solving crimes via social media. Yet in October of 2020, Netflix announced that Teenage Bounty Hunters was not picked for further seasons.
Fans of the show did not accept the cancellation, which led to a Twitter campaign pledging for the show's revival. Over 300,000 people on social media signed petitions on the show continuation and were primarily supported by the queer fans stating that the show was not given a chance to grow.
Hales also added on Twitter that the news of cancellation made the series more famous than it was after its release. She quoted, "An exaggeration but why do I feel like more people are going to hear about Teenage Bounty Hunters in the next 24 hours than heard about Teenage Bounty Hunters in the last 2 months."
'ICON'
In 2021, Hales appeared in Tony Ahedo's movie ICON. The movie was directed, written, and produced by Ahedo.
It was an independent feature film, produced in Central Florida. It follows the story of a young skateboarder Sam who falls in love with the lady of his dreams, Ana. Both of them are normal high school students, but when Anna gets pregnant, everything changes. Sam must learn to be the father he never had.
The story furthers that when, Sam feels compelled to pay for Ana's abortion, which costs $850. In a broader picture of Sam's life, he lives with his single mother, Lisa, who works long hours in order to provide a comfortable life for Sam. His father was not present while growing up and his mother refuses to talk about him. As a result, he finds it hard to disclose Anna's pregnancy to his mom.
Hales played the role of Ana and Parker Padgett played Sam. And although it was a small-scale production, it got rated 8.2 out of 10 by the IMDB. It elaborates the teenager's confrontation to challenging questions in terrible situations. Both leading actors were highly praised for their skills and Ahedo was critically acclaimed for the production.
Social Media
Hales joined social media after the release of the Teenage Bounty Hunters. She has over 50k followers on Instagram as of 2021.