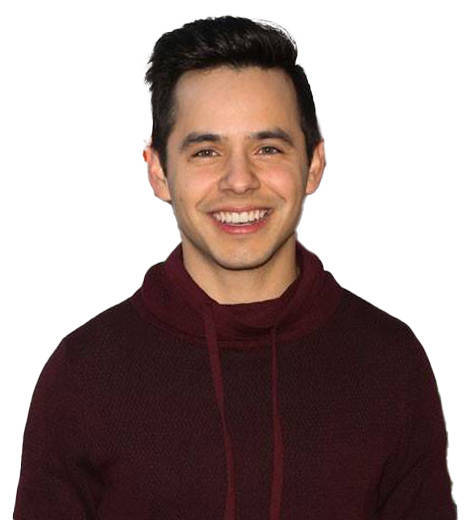 Quick Wiki
Full Name

David Archuleta

Occupation

Singer, Musician

Nationality

America

Birthplace

Florida, USA

Birth Date

Dec 28, 1990

Age

32 Years, 8 Months
American Pop Singer
David Archuleta | Biography 2021
Archuleta participated in 'American Idol' Season 7 and became the second runner-up in May 2008. The same year, he released 'Crush,' the first single from his debut album David Archuleta. The single climbed at number two on the 'Billboard Hot 100' chart. 
---
David Archuleta is an American singer-songwriter, musician, and actor. He is a former American Idol contestant who rose to fame after releasing his first single, 'Crush,' from his self-titled debut album.
Who is David Archuleta?
Aspiring to become a singer from a young age, David Archuleta won the children's division of the 'Utah Talent Competition' at age ten. He became the 'Junior Vocal Champion' on Star Search 2 in 2003 when he was 12 years old. At 16, Archuleta participated in American Idol Season 7 and became the second runner-up in May 2008. The same year, he released 'Crush,' the first single from his debut album David Archuleta. The single climbed at number two on the 'Billboard Hot 100' chart. 
He is a member of The Church of Jesus Christ of Latter-day Saints. In 2012, he took a break from music to serve a two-year mission in Chile for the church. He came out as gay to his family in 2014, but he opened up about his sexual orientation to the public only in June 2021. However, he is still uncertain about his sexuality and he described himself as "some form of being bisexual since he is still attracted to both whether he want or not." He also revealed his identity of being a member of the LGTBQIA+ community to Mormon Church leaders, and fortunately, he has not felt ostracized by his religious community.
Early Life and Education
David James Archuleta was born on 28 December 1990 in Miami, Florida, the United States. He was born as a second child to Jeff Archuleta, a jazz musician, and Lupe Marie, a salsa singer and dancer. 
He has four siblings: Daniel and three sisters—Claudia, Jazzy, and Amber. 
As Archuleta grew up in a musical family, he started singing from a very young age of six after being inspired by the musical drama Les Miserables. 
Archuleta used to sing carols with his family during his elementary school days. His mother and siblings taught him the technique of singing Christmas songs in three-part harmony. He was surprised to see the impact of music on Alzheimer's and Dementia patients as his singer parents often performed at hospitals and nursing homes.
Early Journey
Archuleta started his public performance when he was ten years old. He participated and won the Children Division of the 'Utah Talent Competition' by singing 'I Will Always Love You,' by Dolly Parton. 
In 2003, he participated in the television talent competition show Star Search and became the 'Junior Vocal Champion' on Star Search 2 at the age of 12. His participation in Star Search led him to appear as a guest on the Jenny Jones Show, where he met the finalists from season 1 of American Idol. Archuleta performed a cappella of 'And I Am Telling You I'm Not Going' from Dreamgirls and received praise from Season 1 winner Kelly Clarkson. Later, he also appeared on CBS's chat show The Early Show. 
A year later, he appeared in Star Search, Archuleta was diagnosed with partial vocal paralysis, but he declined risky surgery and said he almost recovered afterward. However, he sang only for specific occasions, such as the Independence Day celebration at Brigham Young University Stadium.
'American Idol'
Archuleta was an ardent fan of American Idol. In 2007, he turned 16 and became eligible to participate in the talent show. But, when he came to know about the announcement of season seven of American Idol, he had already lost confidence in himself.
"I thought it would be a waste of everyone's time if I auditioned," Archuleta recalled and added, "I didn't think I had a shot, and I didn't know how my voice would handle it."
However, with the support of his family and friends, Archuleta decided to participate in the audition. His father helped him choose music for the auditions and finally left for San Diego for the Hollywood audition in July 2007. Eventually, Archuleta made it to the semi-finals at the Hollywood audition and became one of the 24 contestants to compete on the show. He battled his fellow contestants for the next 13 weeks and made it to the finale. He ended up as a second runner-up of season seven of the American Idol.
Discontent with the Show's Coverage of His Personal Life
Even though making it to the finale was a milestone for Archuleta, he got affected by the PTSD (Post Traumatic Stress Disorder) that came with it, especially after the media and even the TV show producers misrepresented his relationship with his father.
During an interview with Yahoo! Entertainment, he opened up about his experience on American Idol and how the TV show affected him, stating, "Just all the pressure. You're basically a character on a TV show, and parts of it are worked so that it fits the TV show — but they're using your personal life. So you become this character, but it's with your own name, parts of who you actually are, but other parts that are portrayed in a way that you're not actually."
During his time in the show, his father was depicted as a manipulative manager who reportedly yelled at Archuleta during the recording session. Clarifying the controversy, he said, "I think one of the biggest misconceptions people did have was with my dad. Yeah, I don't always get along with my parents, and I did have some struggles with my dad, but I feel like a lot of those struggles were created from American Idol." 
He further stated that such controversy affected his relationship with his family. "They don't know what's going on in my home. They don't know how this is affecting us, and how people look at us," he added.
Later, one of his fellow American Idol contestants referred him to a therapist specializing in treating reality television stars. Eventually, Archuleta and his family began to heal. Sharing the importance of therapy comparing how mental health was viewed in the past, he said, "I think therapy is good for anyone. Mental health is something that was so taboo before. My grandma struggled with mental health in the '80s, but no one really wanted to talk about it… They didn't know what to say, because in their culture it was just something you didn't talk about."
'Crush'
Following American Idol, Archuleta signed a recording contract with Jive Records in June 2008.
His first single, 'Crush,' was released in August 2008 and got second place on the 'Billboard Hot 100' chart, becoming the highest new entry of 2008. It was the seventh single to debut inside the top 10 of the 'Hot 100' in 2008. Even the song was not performed on the popular show American Idol, it scored the best opening by an American Idol finalist. The track sold 166,000 downloads in the first week and eventually sold 1.92 million digital copies in the United States. 
Reviewing the song, Chuck Taylor of Billboard magazine praised it for an appropriate match for Archuleta, citing it as a "hummable, age-appropriate midtempo pop ditty for the 17-year-old, showcasing his fine mass-appeal vocal stylings with creamy harmonies and some nice falsetto effects."
Archuleta also became second in the Forbes list of 'Breakout Star of 2008', in which American Idol winner David Cook got the first position. In August 2008, Cook and Archuleta co-presented an award at the '2008 Teen Choice Award,' where Archuleta also won the 'Teen Choice Award' for 'Choice Most Fanatic Fans.' 
David Archuleta on 'iCarly'
In 2008, Archuleta also made his acting debut when he guest-starred, playing a fictional version of himself on an episode of Nickelodeon's show iCarly, 'IRocked the Vote.' The episode aired on 7 February 2009. 
In the show, he portrayed the role of a 16 years old contestant who became one of the youngest finalists on an Idol-esque show called American Sings and wins the contest upon receiving a huge spike in votes after being endorsed on the show Carly's website.
'Hannah Montana'
In 2009, Archuleta appeared on an episode of popular TV show Hannah Montana, 'Promma Mia,' as himself. On the show, he also sang the song 'I Wanna Know You' with the lead cast of the show Hannah Montana, played by Miley Cyrus.
Songs and Albums 
In November 2008, Archuleta released his eponymous debut album, David Archuleta.
His album's release was undoubtedly his most significant achievement, but he constantly clashed with the record label.
"Record label management wanted to make me into a person that was so different from who I had presented myself to be on Idol. People would say, 'You don't know who you are. You don't know what you want to be. This is who you are.' But I told them, 'You know what? That's not who I am. Regardless of what will get more radio play, that's not what I'm supposed to do. I don't want double-meaning lyrics. I don't want things to be taken the wrong way,'" he said and further added, "Music has an impact, and as an artist, I can influence the way people think, the way they feel. No one can tell me what I am and am not. I'm just going to be true to myself."
On 22 April 2009, he returned to the American Idol stage in its eighth season and performed the third single from his debut album titled Touch My Hand. Within a week, he made his first UK television appearance on The Paul O'Grady Show.
'Christmas from the Heart' and 'The Other Side of Down'
In October 2009, Archuleta released his second album, and first Christmas album Christmas from the Heart. Released through Jive Records, only the song which he co-wrote titled 'Melodies of Christmas' of the album was the original song while the rest of the songs were cover songs. The album featured 13 songs, including the song titled 'Have Yourself A Merry Little Christmas' in collaboration with Jake Zyrus, a.k.a. Charice Pempengco and it was released on 7 December 2009. The cover songs included 'Silent Night,' 'O Holy Night,' 'Pat-A-Pan,' 'Ave Maria,' and a Spanish track 'Riu Riu Chiu.'
The following year, he released the third album, The Other Side of Down, which featured his lead single, 'Something 'Bout Love.'
'Forevermore' and 'Begin'
In March 2012, he released his first Original Pilipino music album and his fourth album, Forevermore, exclusively in the Philippines. His fifth album, Begin, was later released on 7 August 2012. The album was composed of ten tracks, which included nine cover songs and one original track titled 'Broken' co-written and sung by Archuleta himself. The album was released under the label of Highway Records and it featured the cover songs from the hit tracks including 'Bridge Over Troubled Water' recorded by Simon and Garfunkel, 'Angel' by Canadian singer-songwriter Sarah McLachlan, 'True Colors' by American singer Cyndi Lauper, and 'Pride (In the Name of Love)' by Irish rock band U2.
Break from Music and Return
Later in the same year, Archuleta took a break from music and went for a two-year religious mission of The Church of Jesus Christ of Latter-day Saints in Chile on 28 March. 
In March 2013, his compilation album, No Matter How Far, was released. Following the end of his missionary trip, Archuleta returned to Utah in early 2014 and set out on tour. He released several stand-alone singles in the following years, including 'Nunca Pense' and 'Glorious.' In 2015, he recorded a version of 'The Prayer' with classical singer Nathan Pacheco for the holiday season. The video was a part of a Christmas series promoted by the Mormon church, where he served a two-year religious mission from 2012 to 2014. The song eventually peaked at No. 4 on the 'Billboard Holiday Digital Song Sales' chart and also reached no. 6 on the Christian Digital Song Sales.
'Postcards in the Sky' and 'Winter in the Air'
In 2017, he released his sixth studio album, Postcards in the Sky, featuring 16 tracks, including its lead single 'Numb' and 'Invincible.' In 2018, Archuleta released his seventh studio album, and second Christmas album, Winter in the Air through Shadow Mountain Records. The album consisted of 12 tracks, which featured Archuleta's three co-written original songs and the rest were cover songs of classic holiday tunes. This holiday-themed music collection included the first single 'Christmas Every Day,' which Archuleta co-wrote with Cason Cooley and Dave Barnes. The song featured backing vocals by Archuleta's fellow American Idol alum, Melinda Doolittle. 
According to Archuleta, he wrote the lead single 'Christmas Every Day' to have some fun and also because he wanted to write a song that would make people's holiday happy and joyful. He also shared that the song was inspired by Mariah Carey's song titled 'All I Want for Christmas Is You' and Kelly Clarkson's 'Underneath the Tree.' 
In addition to 'Christmas Every Day,' Archuleta also co-wrote the title track of the album and song titled 'He Is Born' for the album. "'Winter in the Air' was inspired by walking outside in the wintertime with the snow crunching under your feet," he said about the thing that inspired the title track of the album. Further sharing why he wrote 'He Is Born,' he said, "I wanted to write a song honoring and praising Christ in his birth."
The cover songs included 'White Christmas,' 'God Rest Ye Merry, Gentlemen,' 'Holly Jolly Christmas,' and 'Mary, Did You Know?' About his cover songs, Archuleta said, "I always wanted to record 'Mary, Did You Know' and I [had] wanted 'God Rest Ye Merry Gentlemen' on my first album. 'Holly Jolly Christmas' is one of my favorite Christmas songs. I usually listen to the Burl Ives version. For this album, I listened to Christmas albums by Michael Bublé and Nat King Cole. My producers' goal was to get that sound with a big reverb board to capture the classic vibes of the '50s and '60s."
Archuleta had thought about recording a second Christmas album right after completing the recording of his first Christmas album in 2009. He said, "When we finished my first Christmas album, we were already talking about recording another one. There's always a place for it because there are so many great Christmas songs."
'Therapy Sessions'
On 26 March 2020, Archuleta released a new single and music video, 'OK, All Right,' uncovering the internal struggle he faced over the past few years and how he managed to fight his demons. About this song, he shared, "It's like a little chant I just chanted to myself where I'm having this war with feeling lousy and all these thoughts in my head." He added, "I'd fight with my own thoughts saying, 'You know what? Go away. It's gonna be okay, I'm fine.' And I just think positively. I changed my way of thinking. I'm just gonna get through this until the negative thoughts come back."
Later on 20 May, he released his eighth studio album, Therapy Sessions, which consisted of 10 original tracks, including songs' OK, All Right,' 'Paralyzed,' and 'Just Breathe. All of the songs in the albums reflected his mental health journey and therapy. "Its music based off actual therapy that I was going through. [The album] felt like I was completing my therapy because writing music is very therapeutic; you get out a lot of emotions that you hold in and put it to music," he told Celeb Secrets about the album in June 2020. He shared that he battled with negative feelings towards himself since his childhood and he found writing about his worries and negative thoughts on paper and song helped him to deal with his internal struggles. He said, "I guess just being able to be open about what I was worried about, what I thought of myself, just feeling down, feeling anxious and depressed... All of that I was able to get out on this album." He added, "All of the songs talk about this battle in my head against guardedness and fear and being anxious and paranoid versus looking at the good and having the courage to go through these fears."
The album peaked at No. 1 on the Amazon and iTunes Pop Charts and No. 2 on the rest of the genres. 
Later, on 14 May 2021, Archuleta's 'Losin' Sleep' was released. 
Awards and Nominations
Archuleta was a two-time 'Teen Choice Award' winner. He won the award under the category 'Choice Fanatic Fans' in 2008 and under the category 'Choice American Idol Alum' in 2010. In 2010, he was also nominated for the same award under the category 'Most Fanatic Fans.' In addition, he was honored as 'Male Artist of the Year' by Stagie Awards in March 2021.
Concerts, Tours And Events
From April to May 2009, he went for a tour in the United Kingdom, supporting the British Band McFly. Archuleta also served as the special guest for Demi Lovato's Summer Tour 2009 that began on 21 June. In August, Archuleta received three 'Teen Choice Awards' under the 'Breakout Artist,' 'Love Song,' and the 'Music Tour' categories. In September, he won the Year in Music's 'Rising Male Star Award' at the ALMA Awards. During the event, he also performed a cover of the standard 'Contigo en la Distancia.'
On 8 December 2018, he performed an array of Christmas songs and three original songs from the new album in a concert held at the Logan High School auditorium. It was also a part of his Christmas tour for his new album Winter in The Air. 
In December 2019, he announced that he would go for a six-week spring tour across North America beginning from 30 March 2020, in Los Angeles, California, in support of his forthcoming new pop album, which featured the song 'Ok, All Right.' However, the coronavirus pandemic completely rescheduled his spring plans. Some tours were postponed, while some were canceled. 
During the pandemic, he also became a part of the 'Billboard's Live at Home' concert series on 15 April 2020. The concert series was conducted to raise funds for Covid-19 relief.
'Be Still, My Soul'
In March 2009, Archuleta sang a religious song, 'Be Still, My Soul,' to the Mormon Tabernacle Choir during a rehearsal. He was accompanied by Kendra Lowe, who arranged that version. He joined the Choir for the Christmas concerts at the Conference Center in the next year. 
The song also helped him to keep himself grounded during his time on American Idol. On one of his 26 April 2020 Facebook posts, he wrote, "This hymn was really important to me during my time on American Idol, where during moments where I was feeling overwhelmed and even beginning to panic, I would pull out the lyrics to this hymn and play the melody in my head as I read them." He later recorded the song before going to the two-year religious mission in Chile. He added, "I kept the lyrics in my school folder (I still had school as a 17-year-old) and would pull it out to remind myself who was on my side, and that the Lord would help me through it. It helped me again many times through challenges while I was a missionary in Chile for 2 years, as I recorded the hymn right before I left for my mission in 2012."
'Glorious' for 'Meet the Mormons'
While still a missionary in Chile, Archuleta recorded the song for the Church-backed documentary. In an interview with FM100.3 on 28 September 2014, Archuleta stated, "My mission president … called me and he said, 'We have a special request from the Church. We don't want to distract you from your work, but we think this is a good missionary opportunity.' So I actually went and recorded the song for the film as a missionary." 
The exclusively recorded inspirational song 'Glorious' was featured in the 2014 feature-length documentary Meet the Mormons, which documented the lives of six devout Mormons living in the United States, Costa Rica, Nepal, and beyond. The inspirational song, written by Stephanie Mabey, was originally performed by Russ Dixon for the Efy 2012: Especially for Youth (Arise and Shine Forth) album. As per the request of documentary filmmakers, Archuleta also recorded a faster version of the song for the documentary.
'I Will Go and Do'
In 2019, Archuleta sang the 2020 youth theme song, 'I Will Go and Do,' written by Nik Day. The songwriter initially had wanted to sing the song with his wife, Darla, but after thinking Archuleta's voice would fit the song perfectly, he asked Archuleta to sing it. Archuleta immediately accepted his offer. 
'I Will Go and Do' was written as a part of 2020 EFY and FSY (For the Strength of Youth). 
About the song, Nik Day said, "It's a very iconic scripture, and they needed a song that captured the spirit of the message. I decided to focus on Nephi's journey from Jerusalem to the promised land. Nephi relied on the Lord every step of the way, and that was the only way he would make it through all the trials he faced. I focused on the idea 'He'll provide away,' and even called the song 'He'll Provide a Way' until we released it. It's all about how the Savior is always watching over us, and He will provide a way. No matter what He asks of us, He will always be there and help us cross deserts and oceans until we reach our own promised land."
'The Vocalist'
Later, Archuleta was announced to be the on-stage judge for The Vocalist competition. Auditions for aspiring singers aged 12 and older were called to audition for Archuleta via the annual Fall River Rural Electric competition in April 2021. 
After a review of all the entries, contestants will be selected for the next round of the competition, which has been scheduled to be held in August 2021, in Afton, Wyoming, as part of the Lincoln County Fair. Archuleta will be one of the judges to judge the aspiring singers during the contest.
What Is David Archuleta's Net Worth?
According to Celebrity Net Worth, Archuleta has an estimated net worth of $5 million, which he earned through his album sales and tours worldwide.
Gay Rumors and Tweet that Offended Gay Community 
After being spotted in a gay nightclub in April 2010 in New York City, some people began to query about his sexuality on social media. But actually, he had visited the club just to see his dance-artist friend Charice perform. He later denied the speculation and posted on his Twitter to let his fans know that he was not gay, writing, "Can get crazy quick. NO worries all, I wouldn't get into things like that intentionally haha." The second tweet came moments later, in which he stated, "I just didn't want you guys to be worried so had to let you guys know the facts!"
In 2015, he offended the LGBT community by tweeting a quote from church leader Boyd K. Packer, which read, "Romantic love is incomplete. It is a prelude. Love is nourished by the coming of children, who spring from the fountain of love... expressed between a man and a woman in marriage. #PresPacker (sic)." 
His tweet quickly drew criticism from those who considered his tweet as an anti-gay message. Two days later, he apologized if he offended anyone with his tweet and stated that his intentions were misunderstood. He posted a statement on his website, which read, "I apologize if I have offended anyone with the quote I sent out Saturday. I guess I didn't think about the line 'expressed between a man and a woman in marriage' being stressed when the whole quote didn't fit in just 1 tweet."
He further stated, "I am sorry my intentions were misunderstood, as my main focus was that too often romance is looked at as the end-all when there is so much more. The bonds that can be there within a family and raising kids, as that is the most valuable thing I have: my family. I do hope however, that whoever may have been offended may know I respect everyone's freedom to believe and live as they choose. I hope others can respect what I value most in my life as well. Again, I'm sorry and please forgive me if I offended you."
Coming Out
People had speculated Archuleta of being gay earlier in 2010, which he denied at the time. However, he came out as gay to his family in 2014, and it took him several more years to come out to the public. "I think I was a lot more scared before. Because I always felt there was something that I had to keep to myself," Archuleta told ABC News' Steve Osunsami on 23 June 2021 while sharing the reason behind his reluctance to come out. However, he shared that he felt relief after revealing his secret. He said, "There's so much relief to not feel like you have to hide a part of yourself, like a secret."
Archuleta made headlines after he opened up about his sexual orientation on 12 June 2021 on his lengthy Instagram post amidst Pride Month. In his Instagram post, he revealed that he originally came out as gay to his family in 2014, but has since become uncertain about his sexuality. He wrote, "I've been open to myself and my close family for some years now that I am not sure about my own sexuality. I came out in 2014 as gay to my family. But then I had similar feelings for both genders so maybe a spectrum of bisexual." He added, "Then I also have learned I don't have too much sexual desires and urges as most people"
In an interview with Osunsami on Good Morning America TV show, Archuleta shared that he still does not know his sexual orientation. He said, "I would still -- I'd say that I don't know, I guess. Some form of being bisexual because I still -- I'm still attracted to both. Whether I want or not."
When Archuleta was asked if he ever dated another man, he replied, "I haven't." He added, "In my post I mentioned I still believe in saving myself for marriage." He described himself as "some form of being bisexual since he is still attracted to both, whether he want to or not." 
Archuleta further said that it was not easy for him to accept his sexuality and he even prayed to God for changing his feelings. He shared, "I was praying like God, you can do all things. You are a God of miracles. And I know you've allowed the blind to see and he rose -- the dead to rise again. And I thought, you know, if I do everything I'm supposed to, maybe he can change me as well." He continued, "So I would say, 'Please take these feelings away from me because I don't want to. I don't want to feel things I shouldn't. I don't want to feel things that would be wrong."
"So that's been the process I've had to learn how to love myself, even when I don't understand why I'm the way I am but to learn that's how God has created me," he added.
He also wrote about it on his Instagram post, in which he stated, "I've tried for almost 20 years to try and change myself until I realized God made me how I am for a purpose. And instead of hating what I have considered wrong I need to see why God loved me for who I am and that it's not just sexuality. So many other traits of who I am come from how I've been created."
Mormon Church After Opening Up
As a member of The Church of Jesus Christ of Latter-day Saints, also known as the Mormon church, Archuleta shared the truth about his sexual orientation with a few leaders in the Mormon church. He told Good Morning America that thankfully, he hasn't felt rejected since he shared his truth to the leaders. In his coming out Instagram post also, he shared that he came out to motivate other members of the Mormon church to accept themselves who identify as LGBTQIA+ community. He captioned, "I like to keep to myself but also thought this was important to share because I know so many other people from religious upbringings feel the same way." 
He shared that Christians, including Mormons, who identify themselves as a member of the LGBTQIA+ community should be allowed to accept themselves as LGBTQIA+ and a person of faith at the same time. He wrote, "There are people experiencing the same feelings of being LGBTQIA+, who are wrestling to follow their beliefs that are so important to them, just as I have. Idk what to make of it and I don't have all the answers. I just invite you to please consider making room to be more understanding and compassionate to those who are LGBTQIA+, and those who are a part of that community and trying to find that balance with their faith which also is a huge part of their identity like myself." He continued, "I think we can do better as people of faith and Christians, including Latter-day Saints, to listen more to the wrestle between being LGBTQIA+ and a person of faith. There are more than you may realize going through that wrestle after all the misunderstandings that come with it. I don't think it should come down to feeling you have to accept one or the other." He added, "For me to find peace the reality has been to accept both are real things I experience and make who I am. Again I don't feel comfortable sharing it, but felt I needed to bring more awareness to people in my same situation and let you know you're not alone. You can be part of the LGBTQIA+ community and still believe in God and His gospel plan."
He appealed to people to be kind to the LGBTQIA+ community since the people of the community experience and struggle with things differently. He wrote, "For people who don't really understand how feelings outside of just being heterosexual can be possible and okay I just plead that you be more understanding to people who experience and struggle with things that you may not experience and understand yourself." He added, "If other people choose to live differently than what you've been raised to believe is right, please have compassion because it's most likely been an exhausting journey for them to be okay with the feelings they have and never have been able to change."
Charity Work
Archuleta has engaged in several charity works and worked for several causes. In 2009, he teamed up with the youth-focused organization Do Something and the Dunkin' Brands Community Foundation to encourage willing teenagers to help other people prepare for natural disasters or provide disaster relief. He also took part in DoSomething's 'Teens for Jeans' charity initiative, which donated denim to homeless teenagers across the nation. 
He also supported several other charities and foundations, including, Habitat For Humanity, Lisa Lopes Foundation, Muscular Dystrophy Association, Music for Relief, Stand Up To Cancer, and We Are The World Foundation.
In December 2019, he donated $15,000 to a widow Maila Galo, a mother of five in Pocatello.
How old is David Archuleta?
In December 2020, Archuleta posted a picture on his Twitter holding candle 30 in his hand.
Social Media And Merch As Of 20 May 2021
Archuleta has been active on different social media platforms where he keeps updating about his songs and connects with his fans. He has his official accounts on Twitter, Instagram, Facebook, and YouTube. He joined YouTube on 11 June 2008, and his videos have been viewed 236,063,110 times, while he has 689k subscribers on his YouTube channel. Similarly, he joined Twitter in March 2009, and he has 1.1 million followers on his Twitter account.
In addition, Archuleta has a Merch Shop, which offers apparel and accessories featuring designs by independent artists.
Did You Know?
With his soulful voice, catchy tune, touchy lyrics, and charming personality, Archuleta has earned millions of global fans.