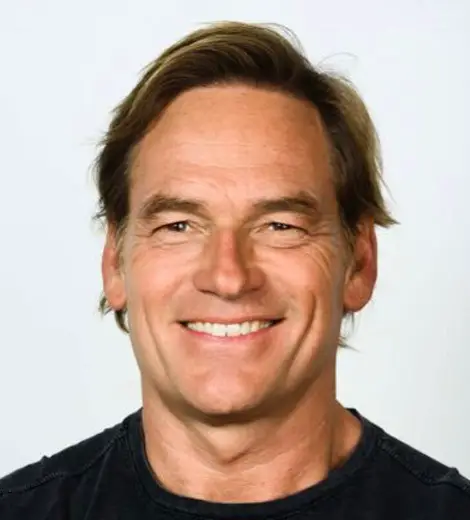 Quick Information
Full Name

Darin Olien

Occupation

author and podcast host

Nationality

American

Birthplace

Minnesota, United States

Birth Date

4-11-1970
Darin Olien | Biography 2021
author and podcast host
Darin Olien is the co-host of the Netflix documentary-series 'Down to Earth With Zac Efron' and host of the Health and Wellness podcast 'The Darin Olien Show.'
---
Co-host of the Netflix documentary-series Down to Earth with Zac Efron, Darin Olien is a self-proclaimed wellness expert who also has a podcast named The Darin Olien Show where he discusses healthy living and holistic wellness.
Who is Darin Olien?
Darin Olien is a healthy living guru, an explorer of superfoods, and a supplement formulator. He has co-presented the Netflix original documentary Down to Earth with Zac Efron, where Olien, along with Efron, travel around the world seeking healthy and sustainable lifestyle options.
He is a certified herbal psychologist and a physiology/nutrition major who hosts the podcast The Darin Olien Show, where he emanates knowledge in fitness and inspiration on healthy living.
Olien is an avid advocate of sustainable living and opts to eliminate his carbon footprint as much as possible. A published writer, his book SuperLife: The 5 Simple Fixes That Will Make You Healthy, Fit, and Eternally Awesome is a lifestyle guide to battling sickness and retaining excellent health through natural means.
Early Life
Olien was born on November 4, 1970, in Minnesota, USA. After completing his schooling, he did his BA in Corporate Fitness, Physiology and Nutrition from the University of Saint Thomas in 1994. Then he went on to get a Rehabilitation, Herbs, and Message Therapy certificate from the MTIC, Denver, Colorado, in 1995. After that, he completed a Master's in Psychology from the University of Santa Monica, graduating in 2002.
In a podcast, he revealed that, along with a number of illnesses he faced when he was young, a football injury he sustained during his college years diverted him towards non-western medicine to heal his body.
Business
Olien started his first company, Darin's Naturals, LLC., in 2005 in California. The company focused on health, wellness, and fitness and worked towards finding superfoods around the globe and then import and formulate possible products. It worked directly with indigenous people in discovering rare supplements and herbs.
In 2010, he was on the advisory board of RainCatcher, an organization that provided clean water to the people who do not have access to it.
Olien published his first book, SuperLife: The 5 Simple Fixes That Will Make You Healthy, Fit, and Eternally Awesome, in 2015. In the book, he covered the mechanism of 'life forces'; the composition of quality nutrition, detoxification, oxygenation, and alkalization, and how they should be weaponized to create a lifestyle that could determine a person's health and their ability to fight sickness. The book also featured recipes, his guide for his lifestyle, and effective ways to take certain supplements.
From 2016 to 2020, he was the Director of Nutrition in Totimed Group International (TGI). TGI focused on using innovation to provide the next generation of all-natural, stem-cell regenerative treatments, products, and technologies, enabling healthier living and enhanced quality of life.
In 2017, he co-founded Barukas Inc. at Carlsbad, California. He discovered Barukas when he was traveling in Brazil and found that the super-food was going unproduced due to dispute in the region. Reminiscing his discovery, he said, "This indigenous group was trying to make the Barukas expand. They were given money, a lot of money by an NGO, and without having a lot of structure, they ended up kind of having indigenous wars as a result of so much money so fast and not understanding how to manage it. So, it kind of exploded in their face and became almost impossible for them to get this nut out…Something that we're extremely proud of [is] that we say to those people in Brazil, 'You gather the Barukas, in these areas, we'll give you these fair wages, which we'll announce on the radio so that no one can undercut you and we'll buy it for the next 20 years.' So it will create security, longevity, and integrity."
In April 2020, he cofounded GREEN PATH, partnered with the 121 Tribe, and launched the 121 App with them. The app was based on whole food plant-based eating, easy to follow education, habit tracking, and exercises through videos, articles, and podcasts.
Olien also operates his own podcast—The Darin Olien Show—where he inspires people to take a closer look at their health choices, affecting themselves and the plant.
His other projects include his work with Beachbody, a fitness company, in formulating one of the top superfoods shakes in the USA, which was a whole-food supplement, "Shakeology"; also the plant-based detoxification program, "Ultimate Reset 21-day".
'Down to Earth With Zac Efron'
Olien, alongside Zac Efron, starred in the Netflix documentary Down to Earth Zac Efron (2020). They met after Efron reached out to him following an encounter on Rich Roll's podcast. Olien primarily pitched for the series and was the executive producer of the documentary's first ten episodes.
The documentary follows their journeys around the world in search of healthy, sustainable ways to live. They meet sustainability experts who have worked on renewable energies, clean water further visited an eco-village and the Italian town known for its population of centenarians.
Personal Life
Olien was married to actress Eliza Coupe from 2014-2018.
He eliminated animal products from this diet as an experiment to see his bodily requirement of animal protein for a higher level of fitness.
A dog person, Olien has a German Shepard named Chaga.
Fact-checking and Ethical Concerns
We assure our audience that we will remove any contents that are not accurate or according to formal reports and queries if they are justified. We commit to cover sensible issues responsibly through the principles of neutrality.
To report about any issues in our articles, please feel free to Contact Us. Our dedicated Editorial team verifies each of the articles published on the Biographyhost.