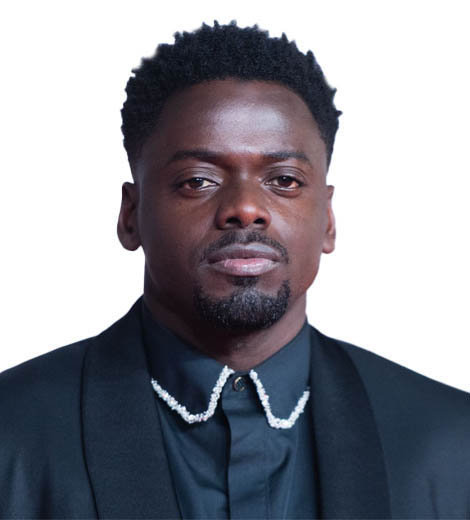 Quick Wiki
Full Name

Daniel Kaluuya

Occupation

Actor, Writer

Nationality

British

Birthplace

London, England

Birth Date

Feb 12, 1989

Age

34 Years, 9 Months
'Academy Award' Winner
Daniel Kaluuya | Biography 2021
In 2021, he won 'Oscars' for his portrayal of Fred Hampton in 'Judas and the Black Messiah.' Fred Hampton was an influential Black Panther Party leader who was killed in a government conspiracy because the authorities deemed him a "radical threat." He was killed in 1969 at the age of 21.
---
Daniel Kaluuya is a British actor famous for his role in the Oscar-nominated movies Get Out (2017), Black Panther (2018), and Judas and the Black Messiah (2021).
Who is Daniel Kaluuya?
Daniel Kaluuya was born in London to Ugandan parents. He began his acting journey by writing a play at the age of 9. The play was performed at the Hampstead Theatre. Kaluuya eventually started taking impromptu sessions and acting at the Anne Scher Theater.
In 2006, he made his first credited acting in the BBC's controversial drama, Shoot the Messenger. The year later, he joined the cast of the British teen drama series Skins. In the television series, he worked alongside some distinguished actors such as Dev Patel and Nicholas Hoult. Kaluuya was the chief writer of the two episodes, 'Jal' and 'Thomas.' 
After that, he did a couple of movies, television series, voiced a radio character, and also went back to perform at the theater. In 2010, he won the 'Critics' Circle Theatre Award' and 'Evening Standard Award' for his portrayal of the lead role in Roy Williams' Sucker Punch.
In the year 201, he appeared in the blockbuster movie Get Out, which earned him several deserving nominations, including an 'Academy Award.'
Later, he appeared as a supporting character in the infamous Marvel movie series Black Panther in 2018. He played another breakthrough character in the 2021 Oscar-nominated movie Judas and the Black Messiah, which earned him his first 'Academy Award' ('Best Supporting Actor') at age 32. 
Early Bio
Kaluuya was born on 12 February 1989 in London, England. His parents were from Uganda, but his later mother migrated to London and gave birth to him. His mother raised him and his older sister without his father. 
Similar to numerous low-income families, he grew up in hostels until he was two years old. After that, his mother got a house in a public housing project (council estate) at Campden, which was haunted by a severe drug problem. His family was under the welfare security status of the government. 
Despite growing up with challenging circumstances, Kaluuya brought good grades in school (St. Aloysius College) since his mother always insisted that he focused on his study. He recalls that the environment in the Catholic school was filled with "fighting energy'—which invited "year-long detention" and school closure due to the constant "fights and knife crime." He says:
School was a place that was majority Black— where I found out a lot of my blackness through black people. I found out how dark I was at 11. I didn't know I was dark-skinned to the point where other Black people thought it was odd," he explained. "I was made to feel like an "other" from Black people, which was quite a weird experience. Obviously, in the Black context, I'm dark-skinned. If I'm navigating the professional context, the majority of people are white—so, in that context, I'm Black, but even the concept of being a minority is fucking wild. I'm not a fucking minority. There are a billion white people in the world, and there are a billion Black people in the world. What part of me is a minority?
Kaluuya was noted as a 'very busy' child by a primary school teacher, so she suggested he try acting. Then, he wrote a play that would go on to win a local competition. The play was even performed at the famous Hampstead Theatre. He would, in the future, write and perform as a teenager at the same theatre.
Kaluuya was potentially interested in soccer while growing up, but after his play won a local competition at the theatre, he started acting. But before that, his life story saw a pause in his acting pursuit when he left acting for soccer, his childhood interest. But later, he rejoined the acting world through Anna Scher Theater, where he was on the waiting list for four years. The theatres' inexpensive improvisation classes helped him grow his acting prowess. As for his mother, she disliked the idea of her son joining arts, but she had let him join the classes to keep him out of the streets.
"Being young, working-class, and black, everything you do is policed," Kaluuya shared the experience he had after joining the classes. "If someone hits you and you hit back, you are aggressive. If you cry, you are weak. You are kind of always pretending to be something. But in those improv classes, there was no pressure to be anything except honest, and that made me happy."
But he says he still lacked confidence about pursuing an acting career even after joining the classes at the theatre. He says he couldn't express about his dream because he was a kid from the "estates."
"If you are from the estates, you don't say that," he remarked. "Actually, the biggest problem is that you don't know it's possible. You don't have the vocabulary, conceptually, to articulate that wish."
Professional Acting Career
Kaluuya was primarily involved in theatre writing and acting in plays during his teenage years. In 2008, he did Oxford Street, a stage comedy, and then in 2010, he did Sucker Punch both at the London's Royal Court Theatre.
In 2006, he was 16 years old when he won a role in the BBC controversial television drama Shoot the Messenger. The role was his first on-screen debut. He had landed the role after he kept seeking opportunities through auditions for many projects. He had been motivated to audition after he saw fellow students from the theatre getting parts on television. The following year in 2007, he joined the casts of the classic teen drama Skins as an actor. He would also write two episodes of the series later. 
Then from 2009 to 2011, he acted in the British psychological thriller television series Psychoville. He also appeared in one of the episodes of the popular series Black Mirror in 2011.
He then did a small part in Rowan Atkinson's movie Jonny English Reborn in 2011. Following that, he acted in Kick-Ass 2 in 2013 and Sicario in 2015.
'Black Mirror'
Kaluuya was featured in Charlie Brooker's science-fiction anthology series, Black Mirror, which aired from 2011 to 2015. He appeared in the second episode of its first season, namely,'15 Million Merits,' in 2011 where he portrayed the character, Bingham Bing Madsen. According to Entertainment Weekly, Kaluuya's audition convinced Brooker that the project needed to hire him.
"When it comes to Daniel, when we saw his audition it was a bit of a no-brainer," Brooker conveyed. 
"It's a very tricky part because for the first 15-20 minutes he hardly says anything. He's sort of depressed. When he comes to that big speech at the end where he has this huge explosion and rails against everything in that world, he was so incredible in that scene, such a towering performance, that I remember thinking, 'As soon as anyone sees this, surely this guy will get snapped up by everyone", he added to his statement to Entertainment Weekly. 
Brooker further expressed his surprise that Kaluuya's career did not take off immediately following the Black Mirror episode as he signed up for a supporting role in Denis Villeneuve's Sicario. Brooker always thought he was meant for big roles.
'Get Out'
 In 2017, Kaluuya played the lead role in actor Jordan Peel's directorial debut,  Get Out. The movie was a mixture of comedy and thriller. Kaluuya portrayed a young black photographer who finds out that his girlfriend and her family covertly transplant a person's brain (mainly black people) to the desired individual. 
The movie was a commercial success and also landed him an 'Oscar' nomination, a 'Golden Globe nomination,' a 'SAG' nomination, and a 'BAFTA' nomination ('Rising Star Trophy') in 2018 for his role. But, the role also garnered the attention of the legendary American actor, Samuel L. Jackson.
Jackson criticized that Kaluuya, a British actor, might not have been the best window to showcase the sequence of racial discrimination faced by an American Person. This comment created a debate about the issue on social media. Kaluuya later explained that he wanted to portray black stories and empathized with the criticism. He said:
 When I'm around black people, I'm made to feel "other" because I'm dark-skinned. I've had to wrestle with that, with people going, "You're too black." Then I come to America, and they say, "You're not black enough." I go to Uganda, I can't speak the language. In India, I'm black. In the black community, I'm dark-skinned. In America, I'm British…Let me say, I'm not trying to culture-vulture the thing. I empathize. That script spoke to me. I really respect African American people. I just want to tell black stories…in order to prove that I can play this role, I have to open up about the trauma that I've experienced as a black person. I have to show off my struggle so that people accept that I'm black. No matter that every single room I go to, I'm usually the darkest person there. I resent that I have to prove that I'm black. I don't know what that is. I'm still processing it.
'Black Panther'
Although it was 2016 when Kaluuya was announced to be cast in the infamous Marvel movie series Black Panther, the movie was released in 2018. He appeared in the role of W'Kabi, a forefront ally of the protagonist Black Panther, who later turns against the hero.
The movie made a history of being the first superhero movie to be nominated for 'Academy Awards: Best Picture.
Kaluuya, in an interview, mentioned that it was an honor to be a part of the cinematic universe in the movie, which showcased rich culture enriched by imagination, "Everyone was so privileged to be part of this moment. It felt like a moment. We're able to show this world in a way that we see us, and it being a Marvel film." He added. "You're bringing something into the world that doesn't exist, and that's just really difficult because there's no blueprint, there's no template. And there's some pain in doing that. But when people receive it and people take it as their own, and kids and families are going dressed to the cinemas, it makes everything worth it."
'Queen & Slim'
Queen & Slim (2019), a crime, drama, and romance hybrid starring Daniel Kaluuya and Jodie Turner-Smith addressed the subject of police violence and racism in the United States. The narrative proceeds with the characters' first date turn sour as their vehicle is stopped by a white police officer. Although it is a fictional scenario, both British stars have informed BBC Arts Editor Will Gompertz that they can empathize with it.
'Judas and the Black Messiah'
After Black Panther in 2018, Kaluuya appeared as a supporting character in Widows in 2018 and a leading character in Queen & Slim alongside Jodie Turner-Smith in 2019.
His subsequent iconic portrayal was in Judas and the Black Messiah in 2021. The movie was based on the charismatic life of Fred Hampton, an influential Black Panther Party leader who was killed in a government conspiracy because the authorities deemed him a "radical threat." He was killed in 1969 at the age of 21.
Kaluuya got an offer to this movie while he was reshooting the previous movie Black Panther by one of the producers Ryan Coogler. After being touched by the story, he decided to take the job. He said, "It came to me on a reshoot of Black Panther when Ryan spoke to me about it and about Fred Hampton, and that Lakeith was a part of it. And then I read the script, and it resonated with me, and I really wanted to go on this journey and delve into this time and understand this time.' He added, "I felt blessed to be a vessel to allow this story to happen because so many people have tried to make it happen, and it hasn't come to pass. Him as a man speaks to my spirit, and because there's so much information about his death, the idea of making something about his life really drew me in."
The movie was a critical hit: Kaluuya won several awards for his portrayal of Fred Hampton, including 'Golden Globe,' 'Critics Choice,' and 'SAG.' Importantly, he also received his first 'Academy Award' under the category of 'Best Supporting Actor'.
Upcoming project
The Upper World, an adaptation of Femi Fadugba's debut novel with the same title is set to feature Daniel Kaluuya as both producer and actor according to Deadline (13 August 2020). As of June 2021, the film is in its pre-production and will be aired in the United Kingdom via Penguin UK in 2021, as well as in the United States via HarperCollins in early 2022. 
Its storyline unfolds in Peckham, London, and follows Esso, who eventually discovers that he has an unusual gift that grants him access to a glimpse of the past and future.
Academy Award and Speech
In 2021, Kaluuya received the 'Academy Award' for 'Best Supporting Actor' for his work in the biographical film Judas and the Black Messiah. He talked about his parent's sex life as he delivered his acceptance speech.
"You got to celebrate life, man! We're breathing, walking, it's incredible. It's incredible. Like, it's incredible," he conveyed to the audiences and viewers all around the world. "My mom met dad, they had sex. It's amazing", he added.
His mother. Damalie Namusoke, who was in the Oscars audience at the BFI in London, had a confused, furious, and humiliated expression on her face as she face-palmed herself. 
He continued. "I'm here. You know what I mean? I'm so happy to be alive. So, I'm going to celebrate that tonight... I appreciate every single person in the room, I appreciate everyone watching at home. You know, peace, love, and onwards, we go again!."
Production Company
In 2019, Kaluuya announced the formation of his production company, 59%. Paramount Players entered into a first-look deal with 59% in May of the same year. He aimed to "bridge the gap between the next wave of storytellers and studio" through his producorial capacity.
Personal Life
Although Kaluuya has not announced about his current relationship status, he is rumored to be dating Amanda Crichlow. The speculations are based on their companionships during several awards show appearances.
Crichlow is known to be the daughter of British Black activist Frank Crichlow, working as an actress and production coordinator. She joined his production company in the year 2019..
Did You Know?
According to Celebritynetworth, Daniel Kaluuya's estimated net worth s $15 million.
In 2013, Kaluuya sued the Metropolitan police for racially profiling him in a drug-related case.
Despite being right-handed, he learned to write with his left hand during the lockdown.