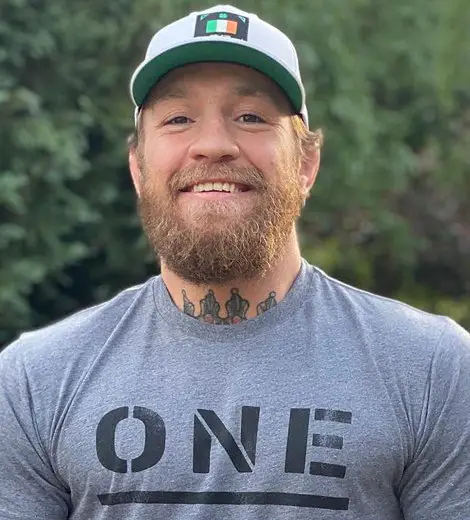 Conor McGregor Biography
---
Conor Anthony McGregor is a retired Irish professional mixed martial artist. He was born on 14 July 1988. He is a former UFC featherweight and lightweight champion who is also known for his ability to use trash talks to dismantle his opponents psychologically before a big game. His aggressive fighting style in the octagon has earned him the nickname 'The Notorious.'
Who Is Conor McGregor?
Conor holds the title as the first UFC fighter to hold knockout finishes in the featherweight, lightweight, and welterweight divisions of the UFC. As of present, his fight record stands at four losses and 22 wins; 19 of those wins were by knockout.
His last fight was with Donald Cerrone on 18 January 2020. Shortly thereafter, McGregor announced his retirement from MMA in June 2020 and suggested that he could be back to the Octagon for a rematch against his arch-rival Khabib Nurmagomedov.
In 2021, Conner McGregor will participate in his first fight of the year against Dustin Poirier on 23 January 2021 at UFC 257. Previously, the pair had met at UFC 178 on 28 September 2014. The match had ended in the first round with McGregor winning the match via TKO.
Early life and Bio In an
Conor McGregor was born in the Dublin suburbs of Crumlin, Ireland. Quality jobs in Dublin were hard to come by. His taxi driver father, Tony McGregor, also wanted his son to take up a trade job so he could have a constant stream of income. Conor, instead, set his sights to become the world's greatest UFC fighter.
However, McGregor's father was not supportive of his dreams. Conor moved out of his house and moved in with his then-girlfriend Dee Devlin.
Personal Life: Marriage
Conor met Dee Devlin in 2008 when he was just 19 years old and the two would go on to be happily married later on.
During the beginning of his MMA career, Devlin worked as a waitress and did several cleaning jobs just so Conor could fully concentrate on accomplishing his dreams to become the best MMA fighter. With a meager annual wage of $1800, she tried to support Conor as best as she could so Conor could commit to his craft. Her patience and support paid off when Conor would go on to be signed by UFC and become a superstar.
Children
Dee Devlin is the mother of Conor's two children— their first child, Conor Jack McGregor was born on 5 May 2017, while their second child, Croia McGregor was born on 4 January 2019. The pair is expecting their third child in Christmas 2021, as per McGregor's Instagram post on 24 December 2020. The picture post featured the family alongside Christmas tree in their home with his wife Devlin holding her ultra-scan picture.
Early Mixed Martial Arts Career
At a young age of 12, Conor McGregor started to apprentice at the Crumlin Boxing Club after his school hours to train under established boxers.
When his family relocated to Lucan, Dublin, McGregor took a plumbing apprenticeship at the behest of his father. There, he met UFC Fighter Tom Egan who was a huge inspiration for Conor in his early days.
Under Egan, McGregor fought in his first professional MMA match in the lightweight division. The match took place on 9 March 2008, and his opponent in the ring was Gary Morris, who he defeated in a TKO in the second round.
Another one of Conor's influential coaches was the Irish MMA pioneer John Kavanagh. Kavanagh is also the founder and head coach of the Irish MMA gym Straight Blast Gym in Ireland. Kavanagh has won the World MMA " Coach of the Year" Award in 2017 and is considered probably one of the best MMA coaches in the world.
Under Kavanagh, Conor made his MMA featherweight debut after winning his second fight against Mo Taylor. His first featherweight fight was a submission loss against Artemij Sitenkov.
Following the second defeat of his professional career against Joseph Duffy in a lightweight bout, Conor went on an eight-match winning streak from 2011 to 2012. During his winning streak, he won CWFC Featherweight and Lightweight championships. This made him the first European fighter in MMA history to hold two division titles simultaneously.
After his sensational undefeated run, UFC offered him a multi-fight contract which officially made him the second fighter from Ireland, after fellow fighter and coach Tom Egan, to join the UFC
UFC Debut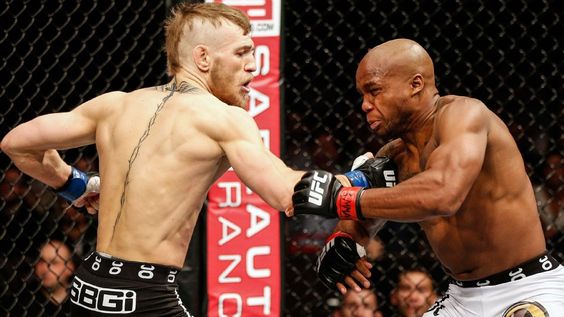 McGregor debut against Marcus Brimage in April 2013 (Photo: Pinterest)
Conor McGregor made his UFC debut in April 2013 at the age of 25. His debut bout was against Marcus Brimage. He knocked out Brimage in the first round which earned him his first "Knockout of the Night" award.
Following his second fight on August 2013 against Max Holloway, McGregor sustained an injury that would put him out of the fighting world for the next 10 months.
In his return match on 19 July, he faced Diego Brandao to a large crowd at the O2 arena in Dublin, Ireland. The win over Brandao earned him his first "Performance of the Night" award.
Thereafter, Conor would go on to win three back-to-back "Performance of the Night" awards. The second award was from his fight with Dustin Poirer on 27 September 2014 and the third award was with Dennis Silver on 18 January 2015.
Conor's three consecutive performances of the night awards meant that he was the top contender for the featherweight championship to be held on 11 July 2015 against Jose Aldo. Dana White, UFC president, said that the Aldo-McGregor fight was the most promoted event in the history of UFC. However, two weeks before the night of the fight, Aldo pulled out of the much-anticipated fight and McGregor instead faced Chad Mendes for the Interim Featherweight Championship. Conor won the fight in a TKO, taking home the featherweight championship.
His featherweight title was short-lived, however, as he was stripped away from that by UFC— his inactivity in the division being cited as the prime reason for the title strip.
On 7 April 2018, Conor was stripped away yet again— this time from his lightweight title— also due to his inactivity in the division. His absence from the division was largely due to his much-hyped 'fight of the century' bout with Floyd Mayweather. The match against Mayweather took place on 26 August and Conor lost that fight in TKO in the 10th round.
McGregor-Nurmagomedov Rivalry
Conor McGregor's rivalry with the Russian fighter Khabib Nurmagomedov is perhaps the biggest rivalry in MMA history. McGregor is widely known for his psychological taunts on his opponents to manufacture a grudge fight. Many rivals like Nate Diaz, Dustin Poirier, Eddie Alvarez, and Donald Cerrone tried to make a splash against Conor but none were able to beat him.
Another fighter came on Conor's radar in the form of a Russian wrestling champion Khabib Nurmagomedov. From as early as 2015, Khabib and Conor had been exchanging smash talks and insults every chance they got.
The road to their eventual showdown was starting to be paved after Conor's first UFC title win in early 2016. Khabib also returned to the octagon after almost two years out of action to win his return match against Darrell Horcher on April 16, 2016. Throughout the match, Khabib showcased his skills and dominated Horcher. After the win, many signs were leading up to the eventual confrontation between the Irish MMA king and Russian undefeated champion.
Within the two years leading up to the fight, Conor would frequently face altercations against Nurmagomedov and his team. The 2018 altercation would see Conor McGregor eventually facing possible jail terms after he hurled a dolly at a bus that Nurmagomedov was in.
Conor was originally charged with a felony and faced possible deportation from the United States. As part of his plea deal, Conor pleaded guilty to misdemeanor disorderly conduct which allowed him to avoid possible jail time and deportation. Conor was sentenced to a mere five-day community service and an anger management course despite some fighters voicing their dissatisfactions.
Conor McGregor Networth 2020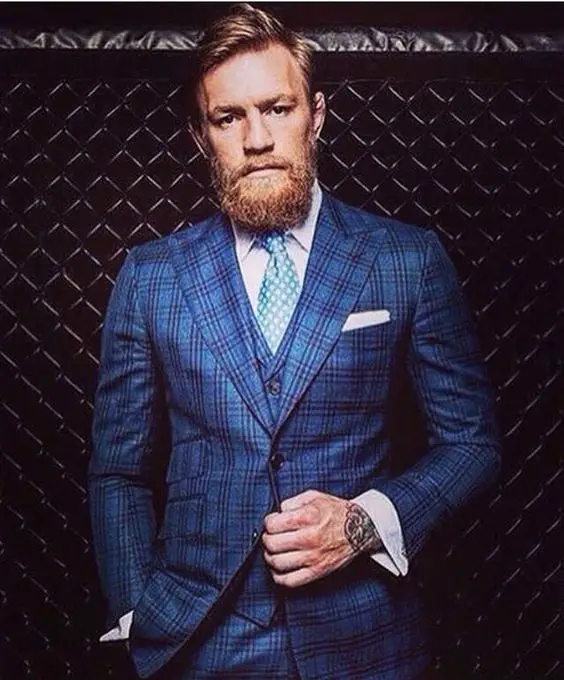 McGregor in August-McGregor Clothing Line (Photo: Instagram)
According to Celebrity Net Worth, Conor's current net worth stands at $120 million. His net worth was said to include a $100 million payday from the 2017 Floyd Mayweather fight and $50 million from his fight with Khabib Nurmagomedov.
Conor's investments outside the ring are also noteworthy. In 2018, Conor launched his Proper No. Twelve Irish whiskey in the market that raked in $750 million in the first year. In 2019, Proper No. Twelve whiskey reached $40 million in sales to account for 4% of total whiskey revenue in the United States.
Apart from his Proper No. Twelve brand, Conor also partnered with two clothing brands. One was with custom clothier David August to create a menswear clothing line inspired by Conor's iconic style. The clothing line was launched in 2017 and is estimated to bring in a total of $66 million profit a year, according to Fighting Irish MMA.
His other clothing deal is with Reebok. According to Sports Keeda, Conor receives $5 million from his yearly sponsorship deal with Reebok. His deal with Reebok is part of a $14 million annual endorsement deal with other brands; This coupled with his various investment returns and a whopping $32 million in fighting salary, Conor's total career earnings puts him at $235 million.