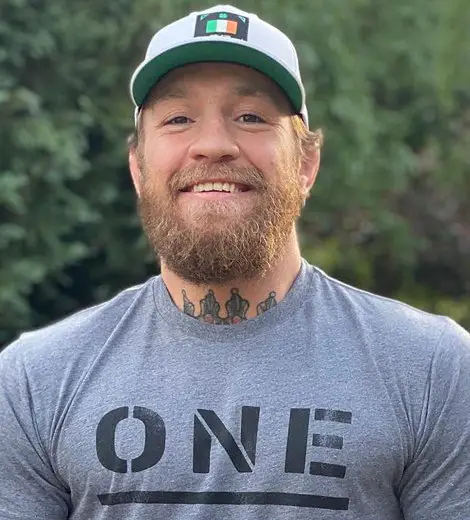 Quick Wiki
Full Name

Conor Anthony McGregor

Occupation

Mixed Martial Artist

Nationality

Irish

Birthplace

Crumlin, Dublin, Ireland

Birth Date

Jul 14, 1988

Age

35 Years, 2 Months

Height

5 feet and 9 inches
Former UFC Featherweight and Lightweight Champion
Conor McGregor Biography
Made his UFC Debut in April 2013 at the Age of 25
McGregor is known for his ability to use trash talks to dismantle his opponents psychologically before a big game. His aggressive fighting style in the octagon has earned him the nickname 'The Notorious.' He holds the acknowledgment as the first UFC fighter to be recognized for knockout finishes in the featherweight, lightweight, and welterweight divisions of the UFC. As of 18 July 2021, his fight record stands at six losses and 22 wins; 19 of those wins were by knockout. 
---
Conor Anthony McGregor is an Irish professional mixed martial artist. He was born on 14 July 1988. He is a former UFC featherweight and lightweight champion. His rivalry with the Russian fighter Khabib Nurmagomedov is one of the most famous rivalries in MMA history.
Who Is Conor McGregor?
McGregor is known for his ability to use trash talks to dismantle his opponents psychologically before a big game. His aggressive fighting style in the octagon has earned him the nickname 'The Notorious.' He holds the acknowledgment as the first UFC fighter to be recognized for knockout finishes in the featherweight, lightweight, and welterweight divisions of the UFC. As of 18 July 2021, his fight record stands at six losses and 22 wins; 19 of those wins were by knockout. 
Before becoming a UFC fighter, McGregor worked as a plumber's apprentice under his father. His journey from an Irish apprentice plumber to a multi-millionaire athlete was the subject of a documentary aptly titled Conor McGregor: Notorious, which was released in November 2017. 
McGregor fought his first professional MMA match in the lightweight division on 8 March 2008, with opponent Gary Morris. Emphasizing that he was 'bored of the game,' he retired from UFC after a match with Donald Cerrone on 18 January 2020 but later returned to the game. His recent two fights were against Dustin Poirier on 23 January 2021 at UFC 257 and 10 July 2021 at UC 264. He lost both matches via KO/TKO (technical knockout). Previously, the pair met in the octagon at UFC 178 on 28 September 2014. McGregor won the match via TKO.
Early life and Bio 
Conor McGregor was born on 14 July 1988 in the Dublin suburbs of Crumlin, Ireland, to father Tony and mother Margaret McGregor. His parents were in their early teens when they met each other; while walking to school. They got together at 16 and married at 21. The pair began their marital life in a two-bed apartment in Dublin 2. Eventually, they managed to save enough money to acquire a mortgage within three years and purchased their first home in Crumlin, Dublin 12, across from Sundrive Park. Erin was their first child at the time, and Aoife and the youngest, Conor, followed her. 
Although Conor is widely known for his notorious, opinionated, and colorful attitude nowadays, yet as a child, he was rather quiet and disciplined. Still, he was also the pack leader among his peers. Much of his current personality was never present when he was younger. He was five when his family moved to their new house, a three-bed semi unit with two bathrooms.
"I was around during the day to make dinners and collect the kids from school, so I got to spend a lot of time with them. I would bring Conor to his football matches on a Sunday morning, even though I would have been working until daylight on Saturday night" Conor's father explained his parenting in an interview with Independent in 2016.
McGregor attended Irish-speaking schools as a kid. He completed his primary education from Scoil Mologa in Harold's Cross. He later did his secondary education from Gaelcholáiste Colaiste de hÍde in Tallaght. While pursuing his secondary-level studies, he also developed a strong interest in sports exclusively. He would go on to play football join a local football team.
When he came into Crumlin Boxing Club at the age of 12, he had an immediate realization that boxing was the sport for him, and that was his headstart in pursuing a career in boxing.
"He came home that night and asked us why we had put him in soccer for all those years?" his father shared. "Like all Irish mammies, Margaret (his mother) wasn't best impressed and didn't want to see her son getting hurt. She still can't bear to look at Conor fight."
Conor's boxing career took off when he was taken under the coaching of Phil Sutcliffe, who operated Crumlin Boxing Club. Later, the family relocated to a five-bedroom, three-story house in Lucan. 
Later, he attended Colaiste Cois Life in Lucan, where he met Tom "The Tank" Egan, a mixed martial arts fan who later became his UFC colleague. Eventually, Conor started training with coach John Kavanagh at Straight Blast Gym Ireland on the Long Mile Road. Tom had introduced Conor to the coach. 
Quality jobs in Dublin were difficult to land and demanding in nature. His taxi driver father, Tony McGregor, also wanted his son to take up a trade job to have a constant stream of income. But, while focusing on plumbing under his father's apprenticeship, Conor dreamt of being the world's greatest UFC fighter. 
However, McGregor's father was not supportive of his dreams, because of which Conor moved out of his house and moved in with his then-girlfriend Dee Devlin.
Early Mixed Martial Arts Career
After training with Egan Egan, McGregor fought in his first professional MMA match in the lightweight division. The match took place on 9 March 2008, and his opponent in the ring was Gary Morris, who he defeated in a TKO in the second round.  
Another one of McGregor's influential coaches was the Irish MMA pioneer John Kavanagh. Kavanagh is also the founder and head coach of the Irish MMA gym Straight Blast Gym in Ireland. Kavanagh has won the World MMA" Coach of the Year" Award in 2017 and is considered probably one of the best MMA coaches in the world.  
Under Kavanagh, McGregor made his MMA featherweight debut after winning his second fight against Mo Taylor. His first featherweight fight was a submission loss against Artemij Sitenkov.  
Following the second defeat of his professional career against Joseph Duffy in a lightweight bout, McGregor went on an eight-match winning streak from 2011 to 2012. During his winning streak, he won CWFC Featherweight and Lightweight championships. This made him the first European fighter in MMA history to hold two division titles simultaneously. 
After his sensational undefeated run, UFC offered him a multi-fight contract which officially made him the second fighter from Ireland, after fellow fighter and coach Tom Egan, to join the UFC. 
UFC Debut
Conor McGregor made his UFC debut in April 2013 at the age of 25. His debut bout was against Marcus Brimage. He knocked out Brimage in the first round, which earned him his first "Knockout of the Night" award. 
Following his second fight in August 2013 against Max Holloway, McGregor sustained an injury that would put him out of the fighting world for the next 10 months. 
In his return match on 19 July, he faced Diego Brandao to a large crowd at the O2 arena in Dublin, Ireland. The win over Brandao earned him his first "Performance of the Night" award. 
After that, McGregor would go on to win three back-to-back "Performance of the Night" awards. The second award was from his fight with Dustin Poirer on 27 September 2014, and the third award was with Dennis Silver on 18 January 2015.
McGregor's three consecutive performances of the night awards meant that he was the top contender for the featherweight championship to be held on 11 July 2015 against Jose Aldo. Dana White, UFC president, said that the Aldo-McGregor fight was the most promoted event in UFC history. However, two weeks before the night of the fight, Aldo pulled out of the much-anticipated fight, and McGregor instead faced Chad Mendes for the Interim Featherweight Championship. McGregor won the fight in a TKO, taking home the featherweight championship. 
However, his featherweight title was short-lived as he was stripped away from that by UFC— his inactivity in the division being cited as the prime reason for the title strip. 
On 7 April 2018, McGregor was stripped away yet again— this time from his lightweight title— also due to his inactivity in the division. His absence from the division was largely due to his much-hyped 'fight of the century' bout with Floyd Mayweather. The match against Mayweather took place on 26 August, and McGregor lost that fight in TKO in the 10th round.
McGregor-Nurmagomedov Rivalry
Conor McGregor's rivalry with the Russian fighter Khabib Nurmagomedov is one of the most famous rivalries in MMA history. McGregor is widely known for his psychological taunts on his opponents to manufacture a grudge fight. 
Pre Fight Narrative
Many rivals such as Nate Diaz, Dustin Poirier, Eddie Alvarez, and Donald Cerrone tried to splash against McGregor, but none could beat him. 
Another fighter came on McGregor's radar in the form of a Russian wrestling champion Khabib Nurmagomedov. From as early as 2015, Khabib and McGregor had been exchanging smash talks and insults every chance they got. 
The road to their eventual showdown was starting to be paved after McGregor's first UFC title win in early 2016. Khabib also returned to the octagon after almost two years out of action to win his return match against Darrell Horcher on 16 April 2016. Throughout the game, Khabib showcased his skills and dominated Horcher. After the win, many signs were leading up to the eventual confrontation between the Irish MMA king and the undefeated Russian champion. 
Within the two years leading up to the fight, McGregor would frequently have altercations against Nurmagomedov and his team. The 2018 altercation would see Conor McGregor eventually facing possible jail terms after he hurled a dolly at a bus carrying UFC fighters, including Nurmagomedov.
McGregor was originally charged with a felony and faced possible deportation from the United States. However, he got a plea deal. McGregor pleaded guilty to misdemeanor disorderly conduct, which allowed him to avoid possible jail time and deportation. He was eventually sentenced to five-day community service and an anger management course despite some fighters voicing their dissatisfaction. 
Fighting traits
Conor McGregor is especially known for his strong fists, which he uses to win fights. Even his coach, an Irish mixed martial artist named John Kavanagh, who has spent decades studying the physics of human conflict and collision, can't explain why his physique of five-foot-nine can hit so powerfully.
When McGregor fights, he maintains an erect stance, a posture that is both enthralling to see and almost absurdly archaic. The President of the Ultimate Fighting Championship, Dana White, said the fighter "looks just like the Notre Dame logo.".
Irish whiskey
During the post-fight news conference of the 'Money Fight' against Floyd Mayweather in 2017, McGregor announced the debut of his booze business. The Irishman marketed the brand under the moniker 'Proper No. 12' a year later.
The brand made roughly $1 billion in revenue in its first year of sales, based on the sportsman's showmanship. 
Later, Proximo Spirits purchased the majority ownership in Proper No. 12 for $600 million on 28 April 2021. Previously, the business held 49 percent of the liquor brand. It's uncertain how much money McGregor made directly from the transaction.
Conor McGregor Networth 2021
According to Celebrity Net Worth, McGregor's current net worth stands at $200 million. His net worth includes a $100 million payday from the 2017 Floyd Mayweather fight, $50 million from his fight with Khabib Nurmagomedov, and an estimated $23 million from his fight with Dustin Poirier at UFC 264. 
Conor's investments outside the ring are also noteworthy. In 2018, McGregor launched his Proper No. Twelve Irish whiskeys in the market raked in $750 million in the first year. In 2019, Proper No. Twelve whiskeys reached $40 million in sales to account for 4% of total whiskey revenue in the United States.  
In addition, McGregor partnered with two clothing brands—one was with custom clothier David August to create a menswear clothing line inspired by his style. The clothing line was launched in 2017.
His other clothing deal is with Reebok. According to Sports Keeda, Conor receives $5 million from his yearly sponsorship deal with Reebok and earns a whopping $32 million in fighting salary.
Controversies
Conor McGregor has one of the most successful and, at the same time, one of the most controversial individuals in the sport of mixed martial arts.
Attacking a Referee in Bellator
McGregor was supporting his teammate Charlie Ward at a Bellator event. Ward's opponent, John Redmond, was injured by Ward's punches at 4:59 of the first round. However, the bout had not yet been stopped in favor of Charlie Ward by referee Marc Goddard. McGregor jumped over the octagon and began celebrating with Ward while attempting to separate the competitors for the rest time in between rounds. When the referee attempted to stop McGregor from continuing the fight, McGregor shoved him and knocked him out.
Assaulted an Old Man
Conor McGregor would be dormant for a long time after his loss against Khabib Nurmagomedov. He did, however, make the news for all the wrong reasons. So, when a video of him punching an elderly guy at an Irish bar surfaced on the internet, it brought back memories for the Irishman. 
When McGregor walked into the tavern, he offered to buy shots of his own 12 whiskeys for the drinkers. However, one person twice declined the cup that was placed in front of him. This enraged McGregor, and he struck at the older man after a brief verbal altercation. As a result, he was arrested and charged with assault. The charges might result in a prison sentence of up to six months and a fine of up to 1,500 Euros, or both. McGregor, on the other hand, was hit with a fine of 1000 Euros.
Nate Diaz Press Conference Feud
When it comes to MMA rivalries, the feud between Conor McGregor and Nate Diaz is also famous. Nate Diaz stunned the world by defeating McGregor in the first match. The animosity, however, did not end there, as they were scheduled to fight again in the main event of UFC 202. And the mayhem that erupted at the press conference just added to the fans' anticipation for fight night. 
Eventually, Conor arrived late to the pre-fight press conference, prompting Nate Diaz to exit the stadium just as Conor was about to take the stage. Both teams tossed water bottles at each other during Diaz's walk-off. Then, McGregor went to the tavern and got some monster energy cans to throw at Diaz's team.
Personal Life: Marriage
Conor met Dee Devlin in 2008 when he was just 19 years old.
During the beginning of his MMA career, Devlin worked as a waitress and did several cleaning jobs so that McGregor could fully concentrate on accomplishing his dreams to become the best MMA fighter. With a meager annual wage of $1800, she tried to support McGregor as best as she could so McGregor could commit to his craft. Her patience and support paid off when Conor would go on to be signed by UFC and become a superstar.
Birth of Third Son
Dee Devlin is McGregor's fiancee and the mother of his two children— their first child, Conor Jack McGregor, was born on 5 May 2017, while their second child, Croatia McGregor, was born on 4 January 2019. The pair welcomed their third child (son Rain McGregor) in May 2021.