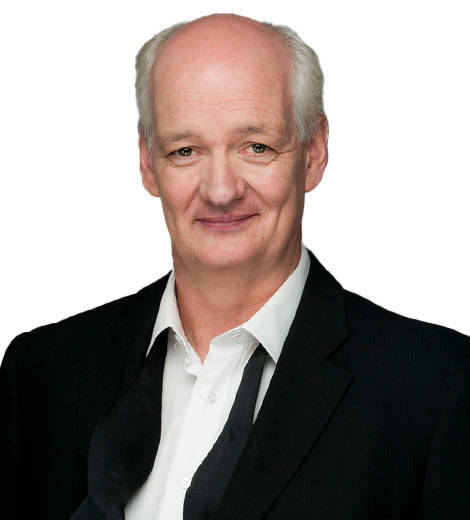 Quick Wiki
Birth Date

Nov 30, 1957

Age

65 Years, 9 Months

Full Name

Colin Andrew Mochrie

Occupation

Actor, Voiceover Actor, Producer, Writer, Host

Nationality

Canadian

Birthplace

Kilmarnock, Scotland, UK
Cast Of 'Whose Line Is It Anyway?'
Colin Mochrie | Biography 2021
Scottish-born Canadian Actor, Improvisational Comedian, Writer, And Producer
After completing his stint with The Second City, Mochrie relocated to Los Angeles. In 1989, he auditioned for the British comedy improv show 'Whose Line is it Anyway?' He could not earn a role two times but got a regular spot on the show in the third effort. It aired on British Channel 4, and Mochrie remained a cast member for nine years until the show concluded in 1998. 
---
Colin Mochrie is an award-winning Canadian comedian, best known for his role in the hit improvisational comedy TV series Whose Line Is It Anyway?
Who is Colin Mochrie? 
Colin Mochrie is a Scottish-born Canadian actor, writer, and improvisational comedian who originally wanted to become a marine biologist. His career took a u-turn when he accepted the challenge from his high school friend to audition for the play The Death and Life of Sneaky Fitch, in which he portrayed the undertaker. He later took professional theatre training at Studio 58 theatre school in Vancouver before starting to perform at Vancouver Theatresports League in 1986.
In 1986, he moved to Toronto and joined an improvisational comedy enterprise, The Second City. He also spent his time touring with the National Touring Company. But his real breakthrough came when he became a part of the British improvisational comedy show Whose Line Is It Anyway? (1988). The show was a big hit in Britain, and soon the American version started in 1998. Mochrie also got his part to play in the latter show.
How Old Is Colin Mochrie?
Colin Andrew Mochrie was born in an Irish Catholic family on 30 November 1957, in Kilmarnock, Scotland, UK. His father was an airline maintenance executive. His family emigrated to a small city Quebec, in Montreal, Canada, when he was seven years old. Five years later, they again relocated to Vancouver, British Columbia, in 1969. He has said that he was a shy kid whose neighbor would tell that he "watched way too much television."
Mochrie did his schooling in Killarney Secondary School in Vancouver and took Science to become a marine biologist. 
Getting Into The Industry
During his high school, upon his friend's dare, Mochrie tried out for a play titled The Death and Life of Sneaky Fitch. He landed an undertaker's role and received his first laughs on stage, which encouraged him to pursue a career in the entertainment industry. He grew up watching television and loved old movies. It was also one of the inspirations to get into the entertainment industry.
"I was not the class clown," Mochrie said. "When I was growing up I never thought of becoming a comedian. I was very serious, a bookworm. I loved reading. And I loved old movies. Maybe that's where my interest in entertainment comes from," he added.
In 1971, he graduated from high school as valedictorian and pursued a four-year course at a professional theatre training school Langara College's Studio 58, in Vancouver.
Shortly after graduating from Studio 58, he joined an improv theatre Vancouver TheatreSports League; the stint would be his full-time job for a long time as he previously only had parts in plays. Mochrie has said that he "literally had to pull people out of McDonald's to come to see the shows" in the beginning.  
During this time, he met Ryan Stiles through a mutual friend Jim McLarty. Stiles later became his long-time best friend and a fellow improviser. Stiles was then involved with Punchline Comedy Club, where he would do comedy. Stiles and Mochrie began working at TheatreSports together.
"Actually, through a mutual friend. My best friend, who I was just visiting in New Zealand, was part of the TheatreSports group and he had been hired by Punchlines to start an improv group there. And Ryan was doing stand-up at Punchlines and got involved and through my friend Jim we met and started working at TheatreSports together.," Mochrie shared.
Later, upon Stiles' recommendation, Mochrie moved to Toronto in 1986 and auditioned at The Second City comedy troupe, where Stiles was working. He also co-wrote and performed in three Second City productions. When he was performing with The Second City National touring company, Mochrie met comedy actress and the company's director Canadian Debra McGrath, who would later become his life partner. She hired him for Second City's National Touring Company, wherein he ended up directing for three seasons and starring and co-writing in three productions.
'Whose Line Is It Anyway?'
After completing his stint with The Second City, Mochrie relocated to Los Angeles. In 1989, he auditioned for the British comedy improv show Whose Line is it Anyway? He could not earn a role two times but got a regular spot on the show in the third effort. It aired on British Channel 4, and Mochrie remained a cast member for nine years until the show concluded in 1998. 
After the British version of the show, Mochrie was hired for the American version of Whose Line Is It Anyway? that broadcasted on ABC. The four members of the previous show (Drew Carey, Wayde Brady, Colin Mochrie, and Ryan Stiles) were also hired as regular cast comedians to perform various comic games and sketches with other comedians and celebrities. Drew Carey hosted the American version of the show, and Ryan Stiles was also the executive producer. The show concluded after eight successful seasons in 2007. 
On the revival of the show on the CW Network in 2013, Mochrie, along with his co-stars Stiles and Brady, returned to join the new season of Whose Is It Anyway?.
Later Career
In addition to his portrayal on Whose Is It Anyway?, Mochrie appeared in numerous other TV series, stage productions, and films. The television series he appeared, include The Campbell (1986), Kung Fu: The Legend Continues (1995), Goosebumps (1996), and Once a Thief (1998).  
Between 1999 and 2000, he starred in three episodes in the sitcom The Drew Carey Show, portraying Eugene Anderson's role. In 2002, Mochrie starred as Barney in the comedy film Jane White Is Sick & Twisted. He also wrote and starred in the comedy series Supertown Challenge (1998) and the sitcom Blackfly' (2001). Furthermore, he is credited with his voice for Santa Claus in the 2005 TV movie A Very Barry Christmas.
Additionally, he was a part of the skit-filled comedy show This Hour Has 22 Minutes (1992). In 2006, he starred with his real-life partner Debra McGrath as the host in the television series Getting Along Famously. He also created about six episodes of Getting Along Famously and wrote about three episodes of the same show.
Later in 2011, Mochrie appeared in the sitcom, She's the Mayor, portraying Scott Linford's role in 2011, and in Space Janitors, acting the part of Wondor Kenway in 2014.
In 2018, Mochrie, with Whose Line Is It Anyway? co-performer Brad Sherwood launched the Scared Scriptless Tour. It was a scriptless comedy tour. Mochrie also made a guest appearance as an interviewer in the 2019 Canadian sci-fi drama film Astronaut. Additionally, he portrayed Roger's character in the movie Boys vs. Girls in 2019 and starred as Ralph Fellows in the TV series Murdoch Mysteries from 2017 to 2021. In 2021, he played himself in the TV series TallBoyz and a few movies, namely, Drifting Snow and Ankle Biters, playing the character John and Detective Morton.
During the Covid-19 pandemic, Mochrie conducted improv shows over Zoom with Sherwood.
'Getting Along Famously'
Mochrie starred in the TV movie Getting Along Famously in 2005, portraying the character Kip Delaney. He also reprised the role in a series version of the same show under the same name but released a year later in 2006. 
Getting Along Famously, as a movie, was set in Toronto with a 1964 setting and revolved around a CBC variety program, It's Ruby and Kip. The program featured Colin Mochrie and Debra McGrath, a real-life couple, as a married/divorced/remarried TV pair, Kip Delaney and Ruby Kendall. Getting Along Famously, as a series, was a spin-off of the given movie encompassing the same but extended plotline; bickers and feuds between Kip and Ruby. 
Besides starring in both the movie and series adaptation of Getting Along Famously, the real-life couple Colin Mochrie and Debra McGrath created and wrote its concept and script.
"It's great to see something you put to paper and suddenly you are responsible to employ the cast and crews and the executives so there is that excitement," Mochrie said in a 2020 YouTube Live stream by Nemrocomedy about his creating and writing experience for Getting Along Famously.
"We hired all our friends because they were great actors and funny people and we wanted it to be a set where everyone could relax and do the best work they can and feel free to add anything. So, there was a really collaborative effort," he added.
Documentary
Mochrie has also worked on a few documentaries. He was a cast member of the 11 minutes documentary, Intangible Adorations: Experience the Icon in 2019. He also starred in an episode titled 'Wayne Brady' of the docu-series corresponding to the history and biography genre, Unsung Hollywood. The documentary featured accomplished black celebrities from Hollywood films, television, comedy, and sports.
Similarly, he was also a part of the 2021 documentary Act Social. The documentary focused on dwindling civic conversation from modern society. Moreover, it used the style of improv comedy to settle disputes. For instance, Karl Rove, a Republican, did improv with Colin Mochrie and enticed a Democratic-dominated group. To improve listening skills, police officers did improv with local children. Likewise, using improvisation, Dr. Daniel J. Wiener saved couples from divorce. Additionally, Second City improv comedians were put in a functional MRI machine by Dr. Charles Limb in the show to study the occurrences in the brain when we improvise.
Producer
Mochrie holds the credit for the production of a few TV shows. He was an executive producer on the 2005 film Getting Along Famously and its television series adaptation (2006). He was also the executive producer of the TV series Whose Line Is It Anyway? (2017-2021) and the producer of Colin & Brad: Out of the Box, a live comedy show that premiered in 2019. 
Writer and Creator
Mochrie is also active in scriptwriting. In 1998 and 1999, he wrote three episodes of the Tv series Supertown Challenge, and in 2006, he wrote three episodes of another television series, Getting Along Famously. Similarly, Mochrie also created and wrote the story of the film adaptation of the same show in 2005. He also created three episodes of the TV show This Hour Has 22 Minutes (2001-2002) and two CBC Winnipeg Comedy Festival episodes, one in 2005 and the other in 2009.
Furthermore, he wrote dialogues for a couple of movies, namely, Expecting in 2002 and This Hour Has 22 Minutes: New Year's Eve Special in 2003. Additional writing credit of Mochrie includes co-writing of the short Downton Abbey at 54 Below: Season 4, Episode 1 Sneak Peak in 2013.
Upcoming TV series and movies
Mochrie has a few forthcoming projects scheduled to premiere on the big screen. According to IMDb, he will play Reggie Deuce in Maybe There's a Tree (2021), which has been completed as of September 2021. Besides, as of September 2021, two of his other projects are in post-production: The 12 Treats of Christmas, in which he will play Mr. Weaver, and A Christmas Letter, in which he will play Sandy.
Other Works
Mochrie supports welfare organizations like Heart and Stroke Foundation of Canada and Canadian Women's Foundation.
Book: 'Not Quite the Classics'
In 2012, Mochrie penned and published the book 'Not Quite the Classics,' consisting of a collection of stories with the humor he exhibits on stage, television, and film.
Awards and Honors
Mochrie won several awards and nominations for his noted improvisational skills. He won two 'Canadian Comedy Awards' for his performance on Whose Line Is It Anyway? (1998) in 2001 and under the category, 'Television - Pretty Funny Writing, Special or Episode' for 'This Hour Has 22 Minutes: New Year's Eve Special' (2003). In 2002, he won the 'B-Movie Award' under the category 'Best B-Movie Hollywood Appearance/Cameo' in Jane White Is Sick & Twisted (2002). 
For his work on This Hour Has 22 Minutes (1992), Mochrie won the 'Writers Guild of Canada Award' in 2002 and the 'Gemini Award' in 2003. He also received the 'ACTRA Toronto Award of Excellence in 2010 for the British comedy film The Anniversary (2014). Mochrie was also the recipient of the 'Best Supporting Actor' and 'Best Ensemble Cast' awards at The Florida Comedy Film Festival 2020 for his role in the teen comedy Boys vs. Girls (2019).
Personal life
Colin Mochrie married comedian and director of National Touring Company, Debra McGrath, on 8 January 1989. Together, the couple welcomed a son, Luke Mochrie, who later came out as a transgender person in 2016. She is now known as Kinley Mochrie. Along with his wife and daughter, Mochrie has become an active supporter of transgender rights and the LGBTIQ+ community.
Post a year after Kinley came out in 2017, Mochrie revealed her daughter's sexuality with a tween in support of his daughter. "My 90-yr-old mother-in-law and 87-yr-old mother love and acceptance of our trans daughter warms me. Wonder why some who are younger can't," he wrote.
It also took time for Mochrie to adjust to calling her by the name Kinley. He said in an interview, "We knew Luke for 26 years so it was very hard to quickly change that. And even now, there are still times when we slip. We're certainly a lot better," he said at the time. "So we now have a Kinley."
Did You Know? 
According to Celebrity Net Worth, Colin Mochrie's net worth is $1 million as of September 2021. 
Interesting Facts
Even though he is a well-known comic, he dislikes stand-up comedy. He thinks it is the toughest of all the comedy cards.
He used the time of pandemic to try different recipes because he had to make two separate meals three times a day; one for his gluten-free wife and another for his pescetarian daughter.